Head north from Bangkok to visit one of Thailand's renowned UNESCO World Heritage Sites, the ancient city of Sukhothai, once the capital of the Sukhothai Kingdom. Today, the modern city of Sukhothai, situated 12 kilometers (7.5 miles) west of the ruins, provides accommodation and restaurants for all budgets, making this a great place to stay while exploring the ruins and the surrounding countryside. A popular short break from the chaos of Bangkok, Sukhothai can be easily reached from Thailand's capital city.
Read about:
• Bangkok to Sukhothai by Flight
• Bangkok to Sukhothai by Bus
• Bangkok to Sukhothai by Van
• Bangkok to Sukhothai by Taxi
• Bangkok to Sukhothai by Train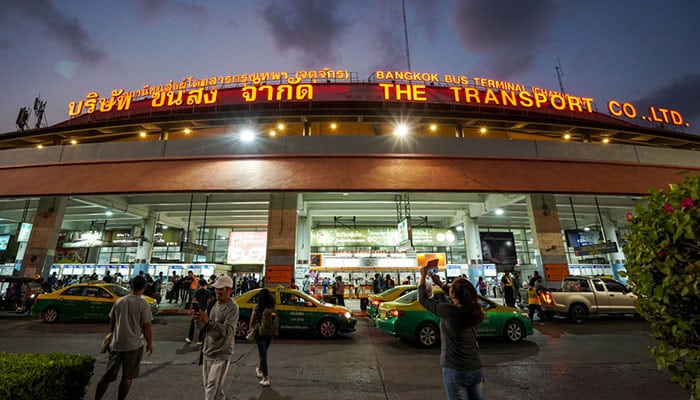 Bus, Van, Train, or Flight to Sukhothai from Bangkok?
It is approximately 427 kilometers (267 miles) from Bangkok to Sukhothai, so it's a reasonable distance between the two. We would recommend you plan your trip in advance as it can take the entire day to get from one city to the other. The good news is that there are several different transport options available to you, including a quick flight and very cheap buses. Read on to learn more about all the different options.
Flight to Sukhothai from Bangkok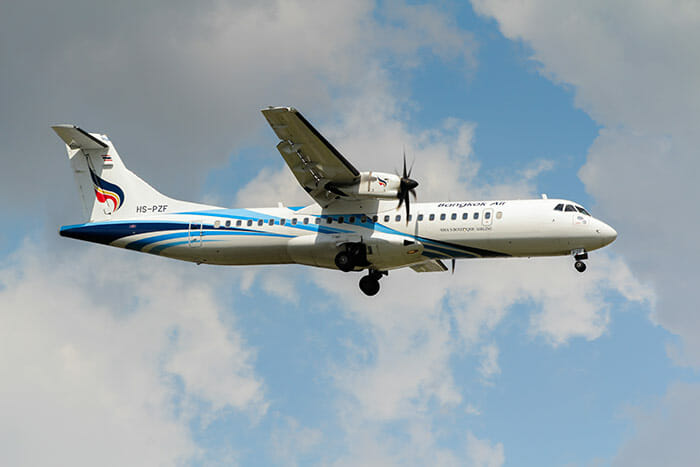 Although the new city of Sukhothai is not particularly large, it does have its own airport so flying from Bangkok to Sukhothai is a viable option. With a flight time of around 1 hour and 20 minutes this is by far the fastest way to get to Sukhothai, even when you add in the time it takes to get to the airport, check-in and go through security. Once you arrive at Sukhothai Airport you will need to get to the city center, about 30 kilometers (19 miles) away, but this is not an issue with plenty of taxis and shuttle buses waiting to greet each flight! If you have arranged your hotel in advance, you could take a hotel shuttle bus for a reasonable cost, and the drive will take somewhere around 20 to 30 minutes.
As you might expect, a flight to Sukhothai from Bangkok is by no means the cheapest option but, seeing as it is so fast you would be able to get to Sukhothai Historical Park and back to Bangkok all in one day, hence saving you the cost of accommodation. There are three flights per day from Bangkok: early morning, around the middle of the day, and in the evening, and flights depart from Bangkok's Suvarnabhumi Airport with Bangkok Airways. Returning to Bangkok, there are also three flights per day.
From Bangkok to Sukhothai by Bus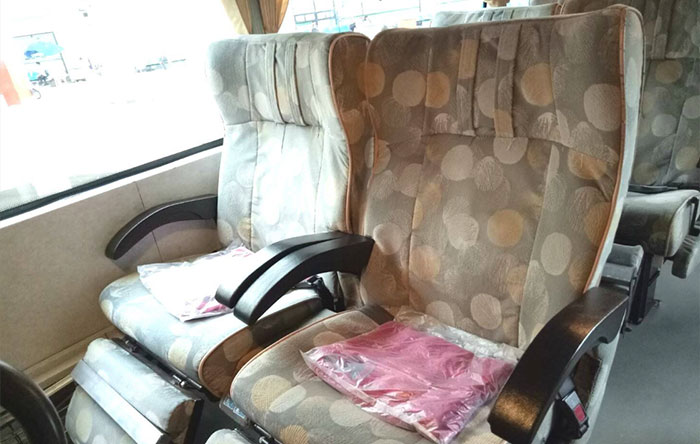 A large number of tourists like to travel around Thailand by bus because it is so affordable. Certainly for budget-conscious travelers, the bus from Bangkok to Sukhothai is by far the cheapest way to get from A to B, and is perfect if you have a little time to kill because the journey does take a while.
Several different bus companies offer this route, departing from Morchit Bus terminal in Bangkok and driving directly to the bus station in Sukhothai. Both Transport Co Intl and Phitsanulok Tour have a couple of options, depending on how much you'd like to spend. At the cheapest end of the spectrum is the Express bus which offers air conditioning, washrooms, snacks and a steward service. Pay a little more and you can catch a VIP bus which will include a meal and TVs onboard too. Buses depart throughout the day, and the scheduled journey takes around 8 hours. There is also an overnight bus, but be advised that because of less traffic on the roads this will arrive sooner than 8 hours. This may sound good, but if you cannot check in to your accommodation until the morning, you could be hanging around the bus station for several hours.
By Van from Bangkok to Sukhothai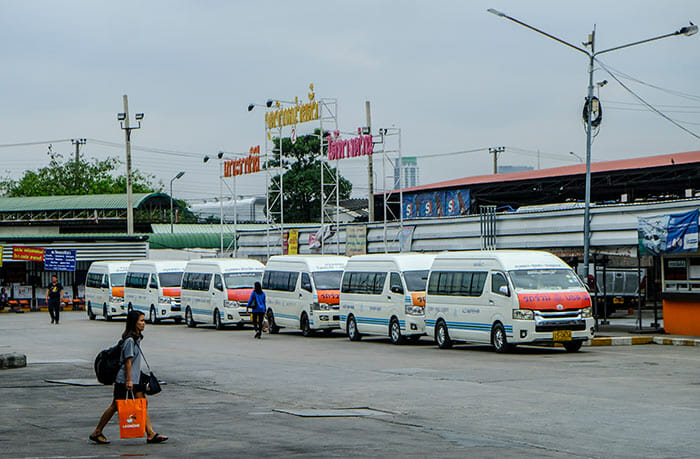 If you'd like to travel by road but don't want to share a bus with many other passengers, you could opt to go by van. For roughly the same price as the higher end VIP bus, a van can be booked through Tara Tour and Travel and should get you to Sukhothai quicker than by bus. The drawback to traveling by van is that facilities are more basic – there will not be washrooms or steward service onboard.
Take a Taxi from Bangkok to Sukhothai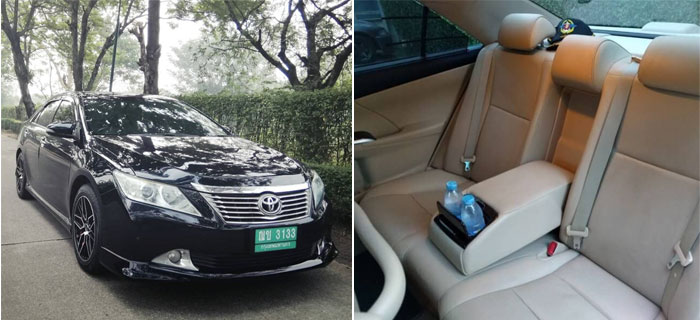 Easily the most expensive way to get from Bangkok to Sukhothai is by private taxi, but you could argue that this is also the most flexible. If you're happy to pay more, a taxi operated by Glassflower will pick you up from your Bangkok hotel at whatever time you want, and drive you all the way to your hotel in Sukhothai. There is even greater flexibility because, if you want to, the taxi can stop along the way, so you can see extra sights or if you want to have a rest stop and stretch your legs. You can travel this way either by car or by van, and, if you have a large family or group of friends, you can fit 9 passengers into a van hence splitting the cost and making it more reasonable.
From Bangkok to Sukhothai by Train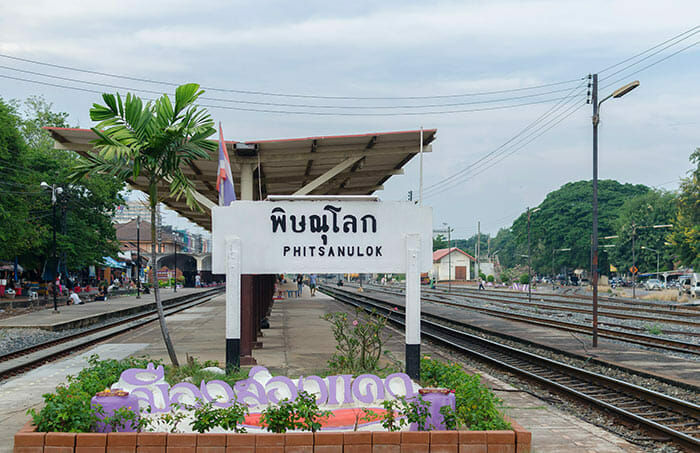 Your final option is to travel by train. This is by no means fast, but traveling by train in Thailand is affordable and offers a nice way to see the passing countryside. Sukhothai itself does not have a train station so you will be catching a train to the city of Phitsanulok. This will get you the majority of the way from Bangkok, as it's then just 60 kilometers (37.5 miles) to Sukhothai by road. Transfer by tuk-tuk to the bus station and from there it's around a one-hour bus ride, while the train portion of the trip will be somewhere between 5 to 7 hours.
So, there you have all the different options for travel from Bangkok to Sukhothai. There's something for everyone, for all budgets and schedules. And remember, for those on a time crunch, you can fly to Sukhothai and be back in Bangkok the same evening!
Did you find this guide useful?
Click on a star to rate it!
Average rating: / 5. Vote count: