Visiting Japan is a unique and unforgettable experience that shouldn't be missed. From the bright neon lights of Tokyo to the tranquil temples of Kyoto, this country offers something for travelers of all kinds. Of course, no trip to Japan would be complete without experiencing the natural beauty of Mount Fuji. This iconic peak is the highest mountain in Japan and serves as a beautiful backdrop for photographs.
Read about:
• When is the best time to visit Japan?
• Top Places to Visit in Japan: A Guide to the Cities
• Transport options in Japan
• Get around in Japan's cities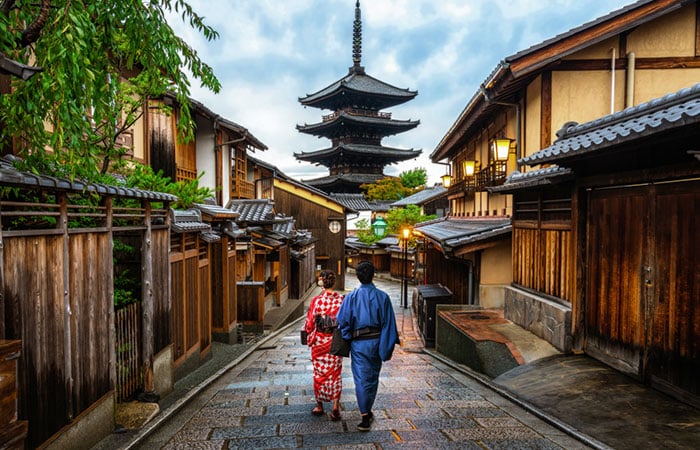 When exploring Japan, visitors can attend traditional tea ceremonies and watch geishas perform their art. There are also many temples and shrines scattered throughout the country where people can appreciate the long history and culture of Japan. With its world-famous cuisine, from sushi to ramen, Hokkaido's delicious seafood dishes, and so much more – foodies will never run out of things to try!
The beautiful springtime brings with it cherry blossom-lined streets and during fall, visitors marvel at the vibrant colors of the leaves changing before their eyes. It's an incredibly peaceful atmosphere that is hard to find anywhere else in the world. No matter what time of year you visit, there is always something new waiting around every corner in Japan. From ancient Buddhist statues to traditional Japanese festivals, there's a wealth of activities that are sure to entertain individuals and families alike.
From its rich culture and history to its stunning landscapes – Japan has something special just waiting for tourists who make their way across the Ocean. Whether you're looking for a nerve-racking urban adventure or a peaceful countryside retreat – this amazing country provides experiences that will never be forgotten!
When is the best time to visit Japan?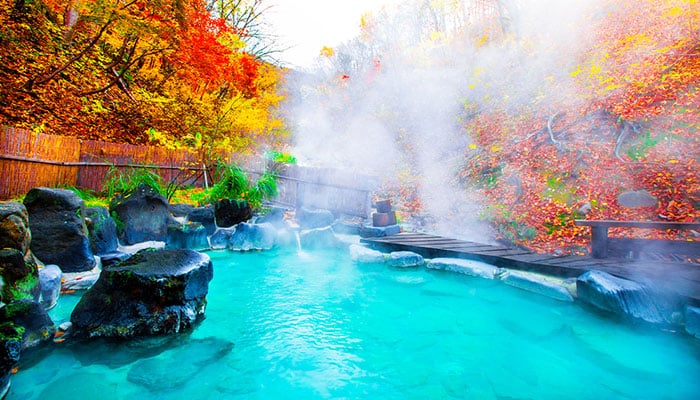 It can sometimes be hard to decide when is the best time to travel to Japan since it has four different seasons, each with its own special charm.
Spring is a particularly popular time to visit as the cherry blossoms are in full bloom and the temperature is mild and pleasant. Summer can be quite hot and humid in some parts of the country, but it's also a great time to take advantage of all the outdoor activities Japan has to offer.
Fall brings vibrant colors as the leaves change and a cooler climate that's more comfortable for sightseeing and exploring. For those who enjoy winter sports, Japan offers plenty of snowfall in certain areas during wintertime, making it a great destination for skiing or snowboarding trips.
Festivals are also a major draw for visitors – from food-centered celebrations to religious observances and traditional arts and crafts displays. There is always something exciting happening in Japan all year round. The cherry blossom festivals in spring are particularly spectacular while fall festivals provide an enchanting backdrop of changing colors.
Overall, no matter what season you choose to visit Japan, you'll find plenty of interesting things to see and do. The best time depends on what type of experience you're looking for and what kinds of activities you want to explore during your trip.
Top Places to Visit in Japan: A Guide to the Cities
Tokyo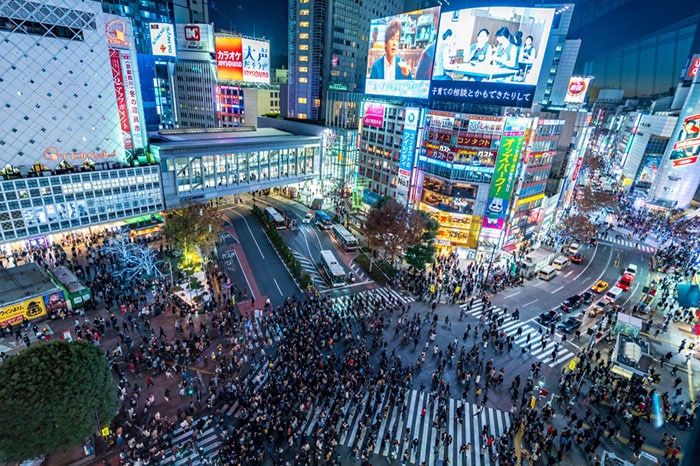 Tokyo is a city of contrasts, with towering skyscrapers that reach for the clouds and traditional shrines and temples scattered throughout its busy streets. Experience Tokyo's unique blend of the past and future with its world-famous attractions, shopping, and cuisine. In Tokyo's center lies the Akihabara district, famed for its electronics stores, manga cafes, and vibrant nightlife. For those searching for a unique cultural experience, there are plenty of traditional activities to explore. Like watching Kabuki theatre performances or participating in a tea ceremony.
Osaka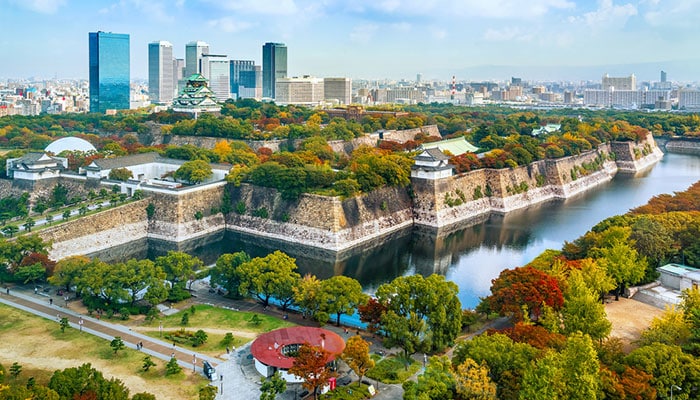 Osaka is the second largest city in Japan with a population of over 19 million people. Often referred to as the "nation's kitchen" due to its famous street food and fantastic seafood, Osaka is known for its friendly locals and bustling atmosphere. Tourists flock to Osaka Castle which stands tall atop its high stone walls, and Universal Studios Japan provides family fun year-round. Osaka also hosts many events and festivals. Worth mentioning is Sumiyoshi Taisha Shrine's New Year's Eve festival, which attracts over 2 million people annually.
Kyoto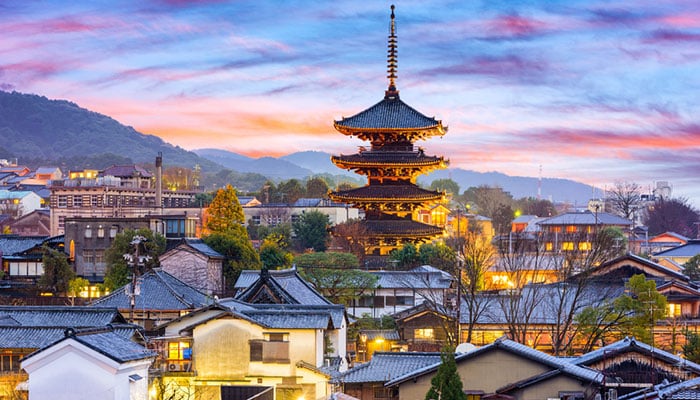 Kyoto is one of Japan's most beloved cities known for its ancient temples, palaces and shrines. Despite Kyoto being bombed severely in WWII, it is still standing tall.
Each April Kyoto comes alive with an explosion of pink cherry blossoms. It's a wonderful time to join in on traditional activities like pottery-making and exploring the geisha culture in one of the city's many geisha districts. Don't miss out on the iconic Fushimi Inari Shrine with its brilliant vermillion torii gates – a must-see when visiting this ancient city!
Nagoya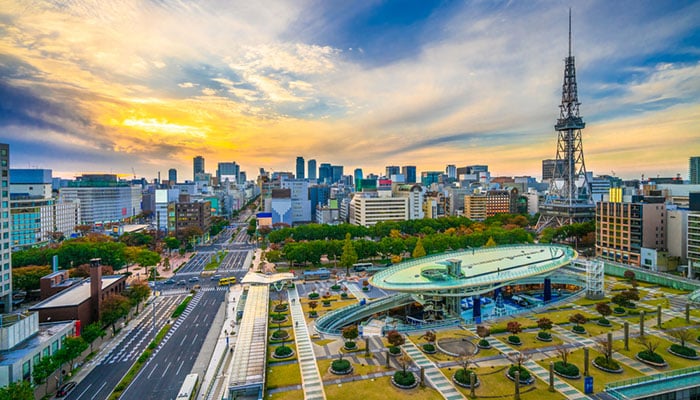 Nagoya is the fourth largest city in Japan. It is located in central Japan and is found on the main island of Honshu. Nagoya is an excellent destination for those seeking unique experiences, offering a variety of options for both business travelers in search of modern facilities and tourists interested in exploring cultural attractions.
It may be lesser known than other cities but Nagoya has several architectural wonders including Nagoya Castle dating back to 1612 and the Toyota Commemorative Museum of Industry & Technology where visitors can learn about Japanese industry history by taking interactive tours around this museum complex built within an old factory site. Of course, no visit would be complete without sampling Nagoya's specialty dishes like miso-katsu (deep-fried pork cutlet served with miso sauce) or Hitsumabushi (eel rice bowl).
Okinawa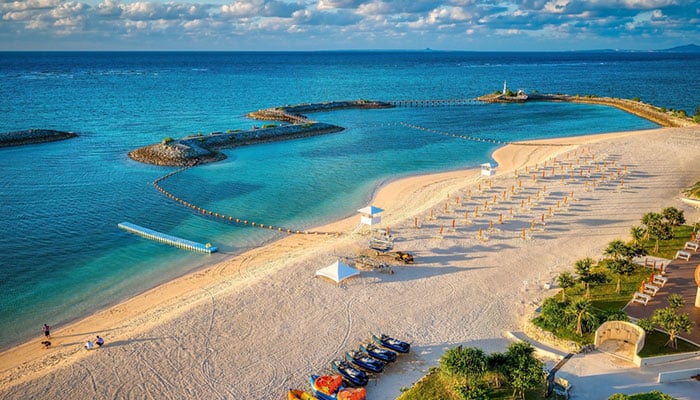 Okinawa is located at the far southern end of Japan. Okinawa consists of four islands: Okinawa Hontō (Main Island), Miyako Islands, Yaeyama Islands, and Iriomote Island – each boasting spectacular white sandy beaches surrounded by crystal clear waters perfect for swimming or diving! Okinawa offers a unique culture different from mainland Japan with influences from China making it feel like you stepped into another world – especially when hearing their local music played on Sanshin (a three-stringed instrument).
Renting bikes to discover the islands is simple. Cycling lets tourists admire breathtaking scenery from secluded mountain paths and savor fresh sashimi at coastal eateries while traveling through these gorgeous islands.
Transport options in Japan
Traveling between cities in Japan can be done in several different ways. The most common modes of transport are trains, buses, flights, and rental cars.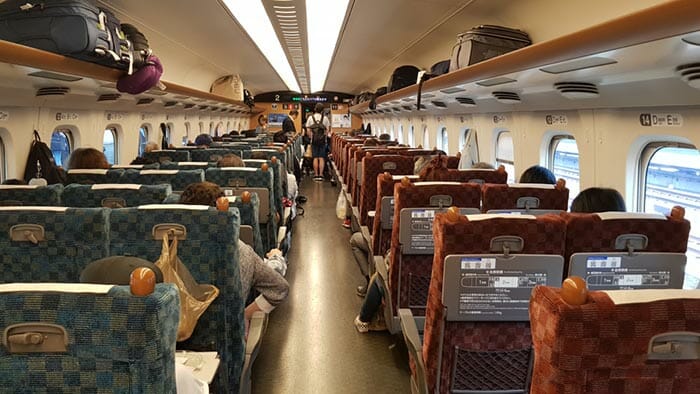 The high-speed bullet train (or shinkansen) is an efficient and comfortable way to get around the country. It operates at speeds of up to 320 km/h, connecting major cities across Japan. Local trains are a bit slower but offer a more affordable option for shorter trips.
Learn more about the Japan Rail Pass for a cost-effective way to travel throughout Japan.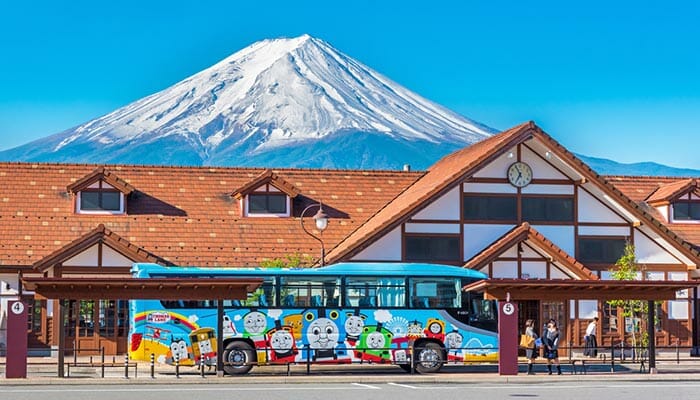 Buses are another alternative for traveling between cities. Local buses are great for short distances, while overnight buses provide a cost-effective way to travel without needing to book a hotel room.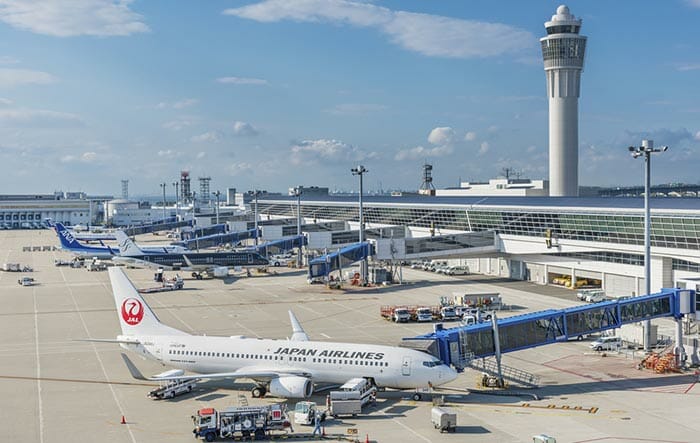 Flights can be a convenient way to get from one city to another. Japan has many domestic airports connecting major cities and smaller regional centers. Although flights are quicker than other forms of transport, they typically come with a higher price tag.
Finally, renting a car is an option for those who want freedom and flexibility during their travels in Japan. However, it is important to note that traffic can be congested in some areas and the country has strict traffic regulations which may be difficult for non-Japanese drivers to navigate.
Moving around in Japan's cities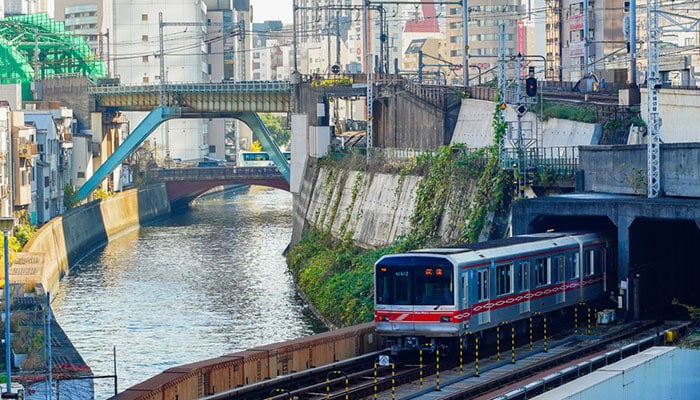 Japan is a pleasant destination for travelers, and its big cities have plenty of options for getting around. One popular choice is the subway system which is both efficient and convenient. Subways are generally clean, safe, and easy to use, making them an excellent option for those who feel comfortable with public transportation.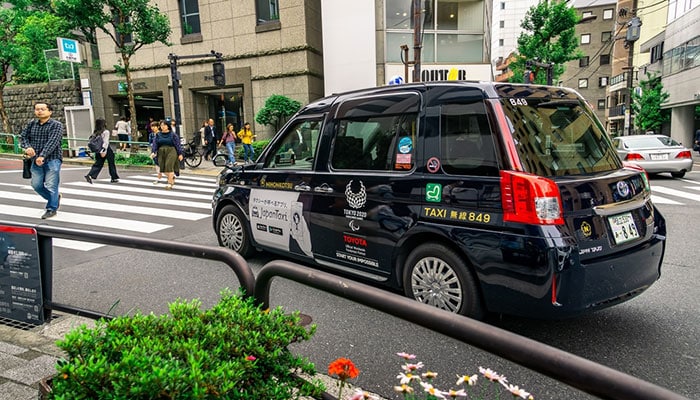 Of course, taxis are also available in Japan's cities. Although they can be more expensive than other transportation methods, they offer the convenience of door-to-door service. This can be particularly useful for travelers who are short on time or don't want to figure out how to navigate the subway system.
Buses are another option that many travelers overlook when visiting Japan's cities. While buses may move a bit slower than subways, they provide a way to see more of the city as you travel from one place to another. Additionally, bicycles can be a great way to get around in smaller cities where it's easier to navigate by bike and take in all the sights at your own pace.
When deciding how best to get around during your trip, consider both your budget and preferences. Research all available options before making your decision so that you can find the most comfortable and cost-effective way to explore Japan's big cities.
Did you find this guide useful?
Click on a star to rate it!
Average rating: / 5. Vote count: