Hanoi is a fascinating and bustling city that boasts a unique blend of rich history, vibrant culture, and modern charm. Vietnam's capital city is home to more than 7.5 million people and is full of things to see and do.
The Old Quarter is a must-visit, with its narrow streets teeming with traditional shops, street food vendors, and vibrant night markets, providing a real buzz of activity.
Hoan Kiem Lake, located at the city's heart, is surrounded by picturesque parks and gardens, offering the perfect setting for relaxation and people-watching. Don't miss the opportunity to explore the Temple of Literature, Vietnam's first national university, which dates back to the 11th century.
If you're a food lover, Hanoi is your paradise. With a variety of mouth-watering street food and delicious Vietnamese coffee, your taste buds will be in heaven. You should also catch a traditional water puppet show, a unique art form originating in northern Vietnam's rice paddies.
Hanoi has several impressive landmarks, including the Ho Chi Minh Mausoleum, Hanoi Opera House, and St. Joseph's Cathedral. If you're looking for a moment of tranquility, head to the ancient Tran Quoc Pagoda, situated on a small island in West Lake.
All in all, Hanoi is an unforgettable destination that has a bit of everything – from its rich history and vibrant culture to mouth-watering cuisine and warm and welcoming locals. It's an enchanting city that you won't want to miss visiting!
Famous places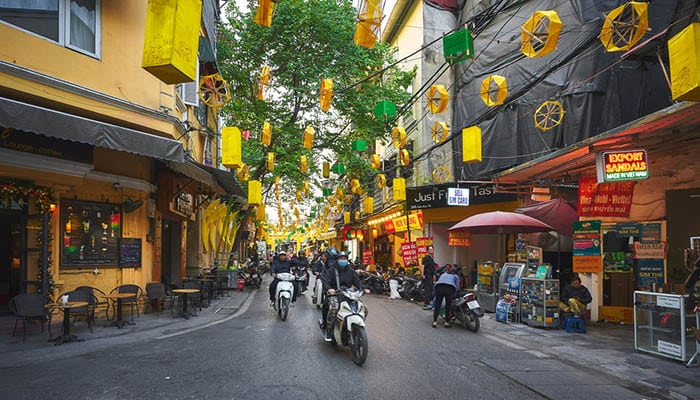 Old Quarter
The Old Quarter is the historical heart of Hanoi, where you can truly immerse yourself in the city's rich culture and heritage. As you wander through its maze of narrow streets, you'll discover a fascinating mix of traditional architecture, bustling markets, and charming street food vendors. Each street has its own unique character, often named after the goods that were traditionally sold there.
At night, the Old Quarter comes alive with vibrant night markets offering a wide array of souvenirs, handicrafts, and mouth-watering local cuisine. Be sure to explore the lively streets, sample some delicious Vietnamese street food, and soak up the atmosphere in this enchanting part of Hanoi.
Hoan Kiem Lake
Hoan Kiem Lake, located in the heart of Hanoi, is a serene and picturesque oasis surrounded by lush greenery and historic landmarks. The lake is steeped in legend and holds great cultural significance, with the iconic red Huc Bridge connecting the shore to the small island that houses the ancient Ngoc Son Temple.
Take a leisurely stroll around the lake, relax on a park bench, or sip on some delicious Vietnamese coffee in a nearby café as you watch the world go by. The area around Hoan Kiem Lake is also a popular spot for locals to practice Tai Chi, play traditional games, or simply socialize with friends.
Tran Quoc Pagoda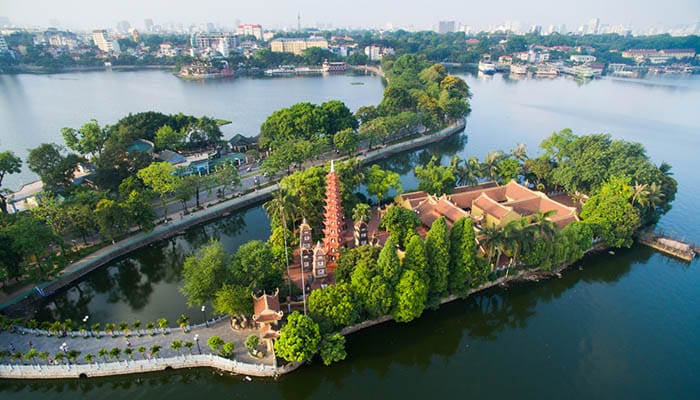 Tran Quoc Pagoda, situated on a small island in West Lake, is the oldest Buddhist temple in Hanoi. With a history that dates back over 1,500 years, this ancient pagoda is a serene sanctuary that offers a glimpse into Vietnam's spiritual past.
As you explore the tranquil temple grounds, you'll be greeted by the harmonious sounds of chanting monks, the calming scent of incense, and stunning views of West Lake. The pagoda is also home to a collection of valuable Buddhist relics and sacred statues, making it an important site for both locals and visitors seeking spiritual enlightenment.
Things to do:
Sampling Hanoi's Street Food
When in Hanoi, there are many exciting activities to experience. One must-try is the vibrant street food scene, which offers a wide variety of delectable dishes, from pho and banh mi sandwiches to the unique egg coffee. You can join a guided food tour or venture on your own, exploring the bustling markets and street-side eateries to taste the city's culinary delights.
Cycling Around Hanoi's Outskirts
If you're looking for a different perspective on Hanoi, cycling around the city's outskirts is a perfect adventure. Rent a bike and explore the scenic countryside, passing through traditional villages and lush rice paddies. You'll be able to experience the authentic rural lifestyle and appreciate the natural beauty that surrounds the city. You might even have the chance to interact with friendly locals, learn about traditional farming practices, or participate in a hands-on cooking class featuring local ingredients.
Watching a Water Puppet Show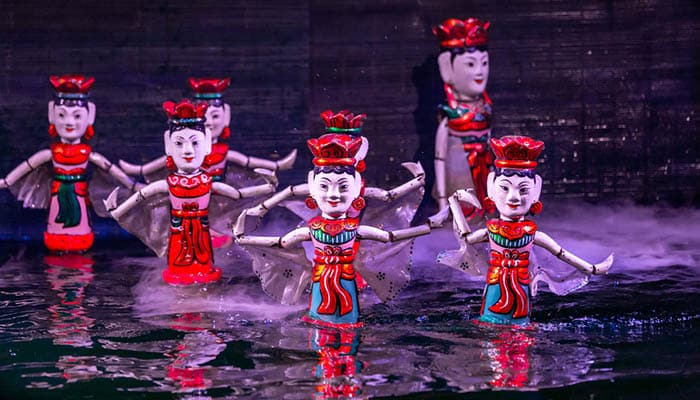 To immerse yourself in Vietnam's rich cultural heritage, you can attend a traditional water puppet show. This unique art form originated in northern Vietnam over a thousand years ago, and features skilled puppeteers manipulating intricate wooden puppets on a stage filled with water, accompanied by live traditional music. The Thang Long Water Puppet Theatre in Hanoi is a renowned venue for this captivating performance, providing an unforgettable evening of entertainment and a glimpse into the country's ancient traditions.
https://thanglongwaterpuppet.com/
Travel from Hanoi
Hanoi to Sapa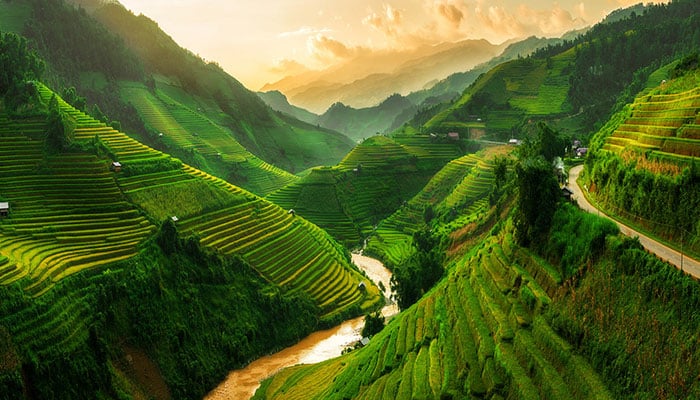 If you're looking for a peaceful getaway from Hanoi, Sapa is a beautiful mountain town well worth a visit. You can reach Sapa from Hanoi in two ways – by train or by road. Although road transport is quicker, trains are the preferred choice among travelers because of their comfort and safety.
On the other hand, buses and minivans are a cheaper and faster way to get to Sapa. Grouptour is a company that operates both buses and minivans, providing VIP services that are comfortable and air-conditioned. The buses are sleeper buses with reclining seats, while the minivans have reclining seats with fewer facilities but more individual experience.
While trains are more expensive, they offer more space and a comfortable sleeping experience. Conversely, buses and minivans are faster and cheaper but lack the same level of comfort. With several options available for transportation, you can choose the one that best suits your budget and schedule. You can read more about traveling by train and bus to Sapa from Hanoi by clicking here.
Hanoi to Hoi An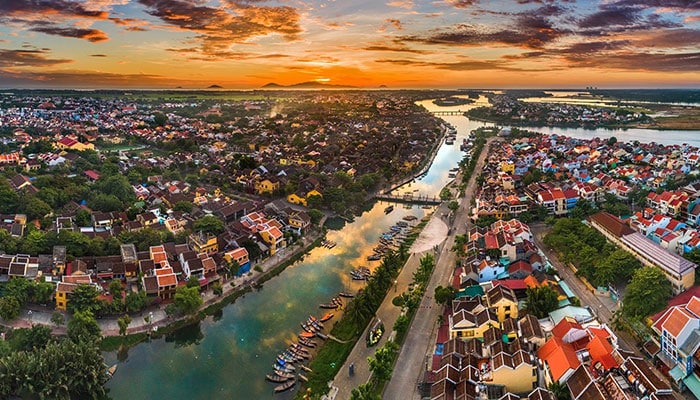 If you're looking to escape the busy streets of Hanoi and visit somewhere quieter, Hoi An is the perfect place. This ancient town boasts a beautiful Old Town that takes you back in time when it was a trading port. You can also hit the nearby beach.
There are several options for travel from Hanoi to Hoi An, including by flight, bus, or train.
Catching a flight is the fastest way to travel, taking only one hour and twenty minutes. However, Hoi An does not have an airport, so you would need to arrive at Da Nang International Airport instead, which is around an hour and a half away from the center of Hoi An. Vietnam Airlines, Jetstar Pacific, and VietJet Air are the three airlines that offer regular flights from Hanoi to Hoi An.
Traveling from Hanoi to Hoi An by bus is the slowest option, taking around 19.5 hours. There aren't many bus companies that offer this route, and most require an exchange, making it inconvenient. The cheapest direct service is by Sapa Grouptour, but their buses are older and lack many creature comforts.
Traveling by train takes around 15 hours and 21 minutes, and while it is a long journey, it is a great way to travel. You have plenty of space, all the facilities you need onboard, and you can watch the passing scenery. Sleeper trains are recommended for such a long journey.
Ultimately, the choice of how to travel from Hanoi to Hoi An comes down to personal preference and budget. Flying is the fastest but most expensive option, while taking the bus is the slowest but cheapest. Traveling by train is a great way to travel but can be just as expensive as flying.
Read more about the different options for travel from Hanoi to Hoi An here.
Hanoi to Ho Chi Minh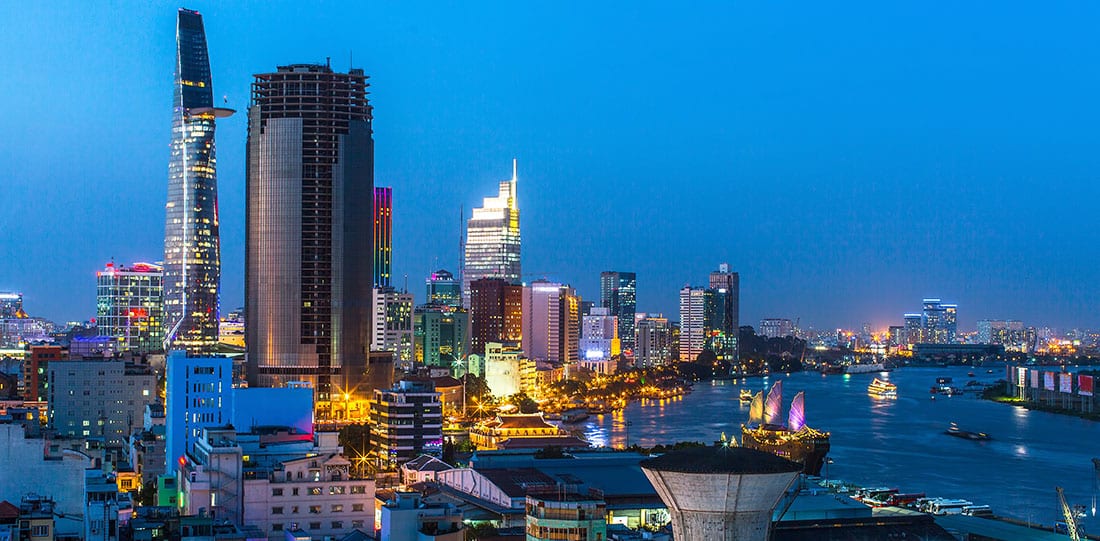 If you're planning a trip from Hanoi to Ho Chi Minh, there are three options for getting there: by air, by rail, or by road. Taking a flight is the fastest and easiest way to travel, with around 50 flights per day from Hanoi to Ho Chi Minh City. Low-cost airlines like Jetstar Pacific and VietJet Air offer affordable options, but if you want a more luxurious experience, you can choose Vietnam Airlines.
On the other hand, traveling by train takes about 29.5 to 34 hours and 40 minutes, but it allows you to see more of Vietnam's beautiful landscapes. Sleeper cabins are available.
Buses take even longer than trains, about 37.5 hours, but they have beds, air conditioning, snacks, and stops for meals and leg-stretching.
The decision of how to travel from Hanoi to Ho Chi Minh City ultimately comes down to timing and personal preference. If you're short on time and not concerned about scenery, a flight is the best option. But if you want to see more of Vietnam and have time to spare, a train or bus may be a better choice.
Hanoi to Ha Long Bay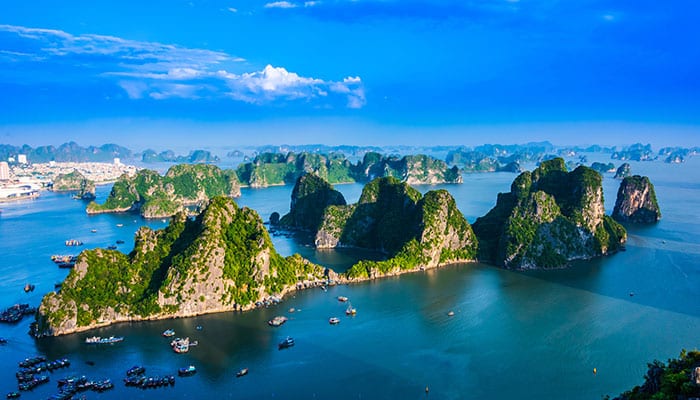 Halong Bay, located 170 kilometers east of Hanoi, is a must-see attraction known for its limestone karsts and islets. There are several ways to travel from Hanoi to Halong Bay, including organized tours, minibuses, shuttle buses, cheaper buses, and private cars. Organized tours can be expensive but offer convenience, while public transport options are more affordable but may take longer.
Minibuses are the most affordable option, costing around €5 from the ticket counter at Gia Lam Bus Station in Hanoi, and take around 4-5 hours to reach Halong City. Shuttle buses offer a similar service to minibuses, while cheaper buses from My Dinh Bus Station in Hanoi are reputed to be more comfortable and faster than minibuses. Private cars are the most flexible and comfortable option, with the option of renting a car or hiring a local driver.
When choosing a tour company or transportation option, it is important to do your research beforehand to ensure you find a reputable company and get the best deal.
Read more about the different options in our guide: Hanoi to Halong Bay – Go by a Tour, Minibus or Bus?.
Other destinations from Hanoi
Getting to Hanoi
Da Nang to Hanoi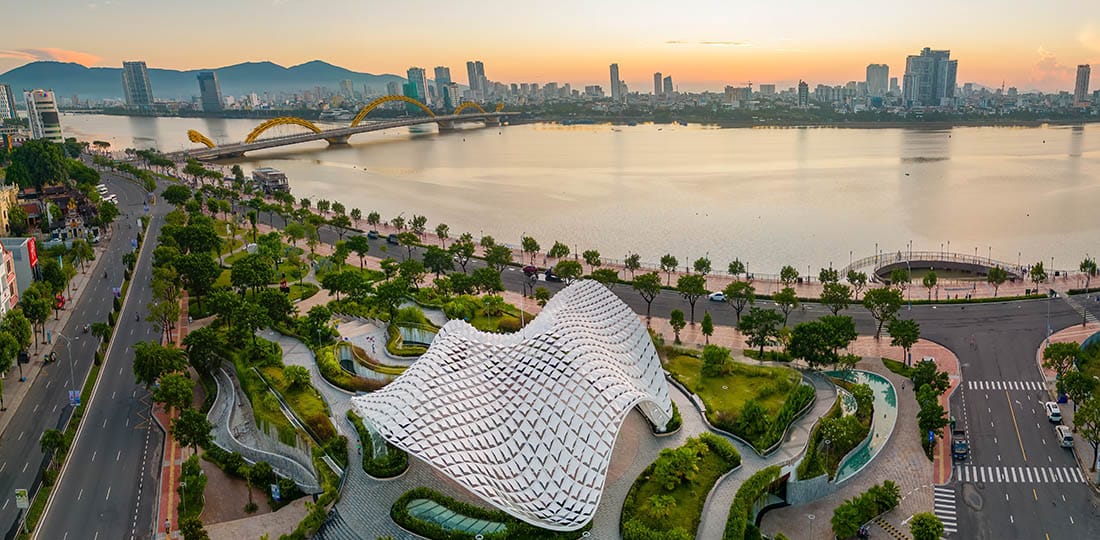 Da Nang, a popular tourist destination known for its beaches and scenic Mable Mountains, is around 768 kilometers away from Vietnam's capital city, Hanoi. Despite the distance, there are several options for travelers who want to get from Da Nang to Hanoi, such as by bus, train, or flight. While taking the bus is the most affordable option, it can take up to 18 hours, and the seats are not very comfortable. However, sleeper buses with companies like Hoang Long can make the journey more comfortable.
Traveling by train from Da Nang to Hanoi is a good alternative, as it gives travelers more freedom to move around the carriages and stretch their legs. Although it costs more than taking the bus, it offers several options, including 2nd class sleeper cabins with thin mattresses and 1st class sleeper cabins with thicker mattresses, as well as VIP sleeper cabins with Violetta Express and Livitrans Express that provide a higher level of comfort and luxury.
The fastest way to get from Da Nang to Hanoi is by flying, with flights taking around 1.5 hours. Flights are available with VietJet Air, Vietnam Airlines, and Jetstar, and there are good deals available if you book ahead. However, flights are usually more expensive than taking the bus or train, and additional charges for baggage may apply.
Read more about the different options in our guide: Da Nang to Hanoi – Go by Flight, Bus or Train?
Luang Prabang to Hanoi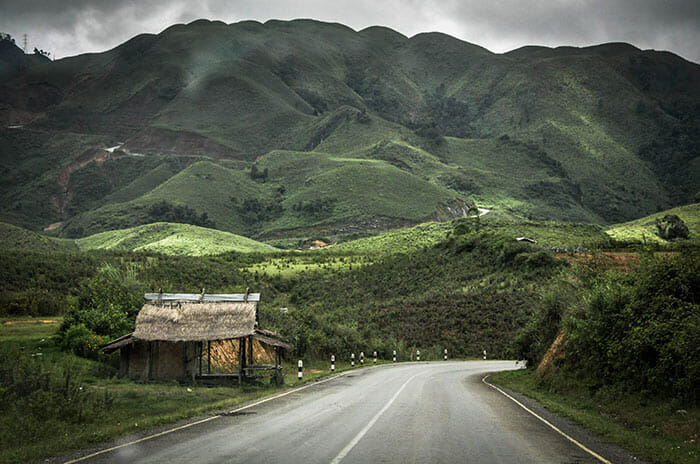 To travel from Luang Prabang to Hanoi, there are two main options: taking a flight or a bus. Flights from Luang Prabang to Hanoi are a popular choice, even though they cost more than buses. The flying time is less than an hour, saving many hours over a bus ride. Lao Airlines and Vietnam Airlines both offer direct daily flights between the two cities. However, Luang Prabang International Airport is about 4 kilometers from the city center, while Hanoi's Noi Ban International Airport is about 45 kilometers away.
Buses from Luang Prabang to Hanoi, on the other hand, take around 24 hours, making this a very long and arduous journey. But the benefit of sleeper buses is that they resemble beds, so you can lie back and relax and get some sleep. Moreover, you won't be on the bus for the full 24 hours as there are multiple stops along the way to stretch your legs, use a bathroom and grab some snacks. The Sinh Tourist and HTX Van Tai are two of the most popular bus companies, and when booking tickets, bear in mind departure and arrival points as these do vary across the bus operators.
Read more about the different options in our guide: Luang Prabang to Hanoi – Go by Flight or Bus?
Did you find this guide useful?
Click on a star to rate it!
Average rating: / 5. Vote count: