Ah, Puerto Princesa – an enchanting city nestled in the heart of Palawan, a paradise just waiting to be discovered! This tropical treasure trove is home to the renowned Puerto Princesa Subterranean River National Park, a UNESCO World Heritage Site. Here you'll find an incredible underground river winding through spectacular limestone caves. It's a sight that will leave you truly awestruck and an experience you won't soon forget! If you're looking for natural wonders and delightful experiences, this is the place for you!
For those looking for a sun-kissed getaway, Puerto Princesa is the ideal destination. From its breathtaking beaches and azure waters to its exciting island-hopping journeys, Honda Bay is sure to amaze with hidden gems such as Starfish Island, Luli Island, and Cowrie Island all offering something unique.
The city itself is a delightful blend of natural beauty and modern convenience, with friendly locals and a vibrant food scene. Wander through the bustling markets, and you'll find a smorgasbord of mouthwatering Filipino cuisine that'll have your taste buds dancing for joy!
For a dash of culture, be sure to visit the Palawan Heritage Center or the Iwahig Penal Colony, both providing fascinating insights into the region's history and traditions.
And let's not forget the thrill of exploring the surrounding wilderness! With lush forests teeming with wildlife, you can embark on a hike up Mount Magarwak or set off on a firefly watching tour at the Iwahig River.
In a nutshell, Puerto Princesa is the perfect destination for anyone seeking a mix of natural beauty, rich culture, and unforgettable adventures. So, pack your bags and get ready to experience the magic of this captivating city!
Puerto Princesa's Treasures: Must-Visit Destinations for Nature Lovers and Explorers
Puerto Princesa Subterranean River National Park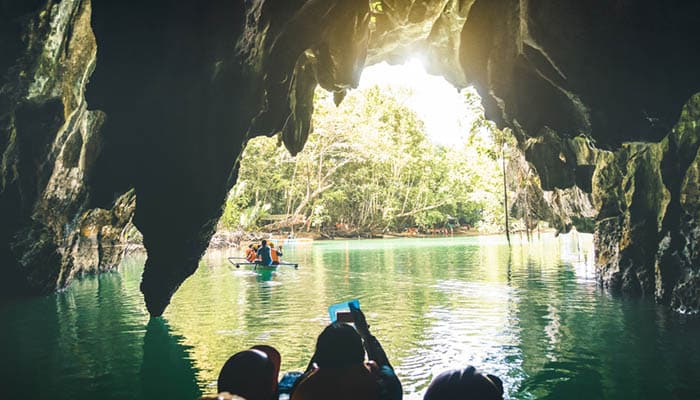 The Puerto Princesa Subterranean River National Park, a UNESCO World Heritage Site and one of the New 7 Wonders of Nature, is a truly breathtaking marvel of nature. Its azure waters wind through 8.2 kilometers of limestone karst landscape, adorned with stunning stalactite and stalagmite formations that have stood the test of time. The park also plays home to an array of flora and fauna – some endemic to Palawan – including the Palawan hornbill, long-tailed macaques, and the elusive Palawan peacock-pheasant. As you explore this captivating wonder, take in its awe-inspiring beauty and be reminded of the incredible power of nature.
Honda Bay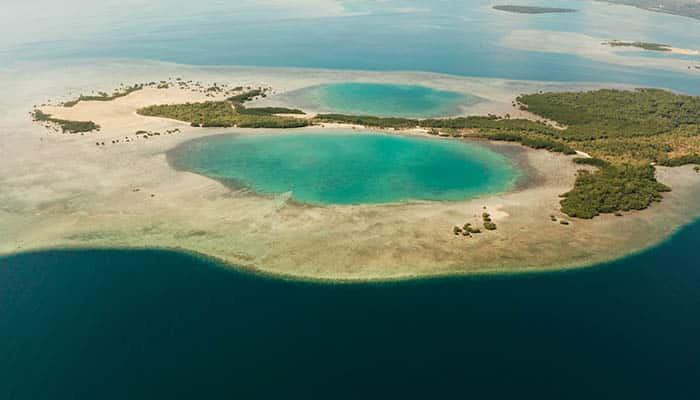 Picture yourself in Honda Bay, an idyllic collection of islands off the coast of Puerto Princesa. With its powdery white-sand beaches, crystal-clear waters, and vibrant coral reefs, it's the perfect destination for a day of island hopping. From soaking up the sun on Starfish Island to snorkeling the azure waters around Luli Island, you won't be short of things to do. Don't miss Snake Island with its unique S-shaped sandbar that emerges during low tide – a sight that will simply take your breath away! Immerse yourself in this natural paradise as you explore each islet, marvelling at Palawan's captivating beauty and gentle swaying sea. It's an experience that will stay with you forever.
Iwahig Firefly Watching
An awe-inspiring natural spectacle awaits you at Iwahig River – the enchanting dance of fireflies. On a tranquil evening, embark on the Iwahig Firefly Watching tour and glide silently through the mangrove forests illuminated by these tiny creatures. While mesmerized by this light show, look up to behold the constellations that grace the night sky with their shining presence. With a local guide to help explain the wonders of nature, you'll learn about fireflies, mangrove ecosystems and celestial bodies – a truly magical experience sure to leave you starstruck!
Baker's Hill
Nestled atop a hill with breathtaking views of Puerto Princesa, Baker's Hill is an enchanting park that offers a unique blend of natural beauty and man-made artistry. As you wander through its lush gardens, you'll find colorful sculptures and flowers plus a mini-zoo. Enjoy the serenity of this place away from the bustling city life.
The bakery at Baker's Hill is the highlight of the attraction – offering heaps of delicious treats such as local hopia and pastries that will definitely satisfy your cravings. Take some time to savor these mouth-watering delights while relishing in the stunning scenery that surrounds you. From here, you can appreciate the vast landscape below and all that the city has to offer.
Discover Puerto Princesa's Activities
Island Hopping Tours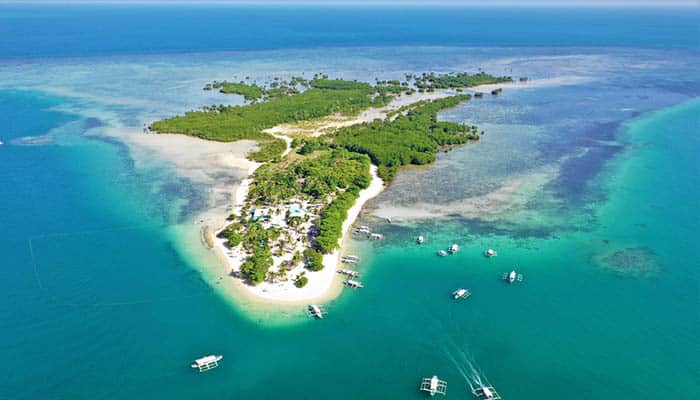 Head out on an unforgettable island hopping tour, where you can explore the azure waters of Puerto Princesa. With its countless untouched islands and islets scattered across the horizon, you'll find plenty of exciting opportunities to discover. Spend your days snorkeling amidst vibrant coral reefs and witness their stunning array of marine life or dive into the deep and uncover its hidden mysteries. From island to island, savor freshly grilled seafood and bask in the sunshine on secluded beaches – an experience you won't soon forget. Make sure to capture this magical moment in your heart forever!
Zipline Adventures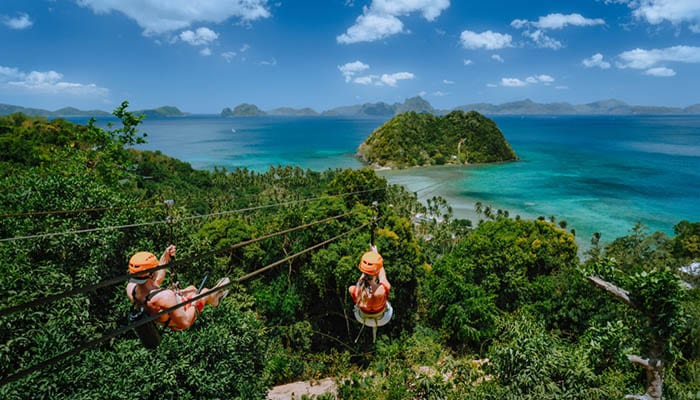 For thrill-seekers and adrenaline junkies, the zipline adventures in Puerto Princesa are not to be missed. Feel the exhilaration of soaring through the air, high above the lush forests and breathtaking landscapes that define the region. Whether you choose the heart-pounding rush of the Sabang X Zipline or the more leisurely glide of the Mitra's Ranch zipline, you'll experience a bird's-eye view of the Palawan's natural beauty. As you hurtle through the sky, savor the thrill of the wind in your hair and the sensation of pure freedom that comes with it.
City Tour and Culinary Experiences
Take the opportunity to delve into the rich history and culture of Puerto Princesa through a guided city tour. Stroll along its bustling streets and explore colorful markets, historic landmarks, and stories from the past. Along the way, treat your taste buds to the diverse flavors of Puerto Princesa's culinary scene, as you sample local delicacies, exotic fruits, and freshly caught seafood. From the lively ambiance of street food stalls to the cozy charm of local eateries, you'll discover the true essence of Puerto Princesa through its food.
Travel from Puerto Princesa
As your time in Puerto Princesa comes to an end, the world awaits with a plethora of new experiences and opportunities. Allow your wanderlust to guide you on your next venture, whether it be bustling cityscapes or untouched wilderness – there's something out there that will capture your heart. Remember all that you've experienced in Puerto Princesa and take with you the spirit of exploration which has led you here. The world is yours to discover; so set forth, pursue the horizon and let the winds of change carry you towards your next great adventure!
Puerto Princesa to El Nido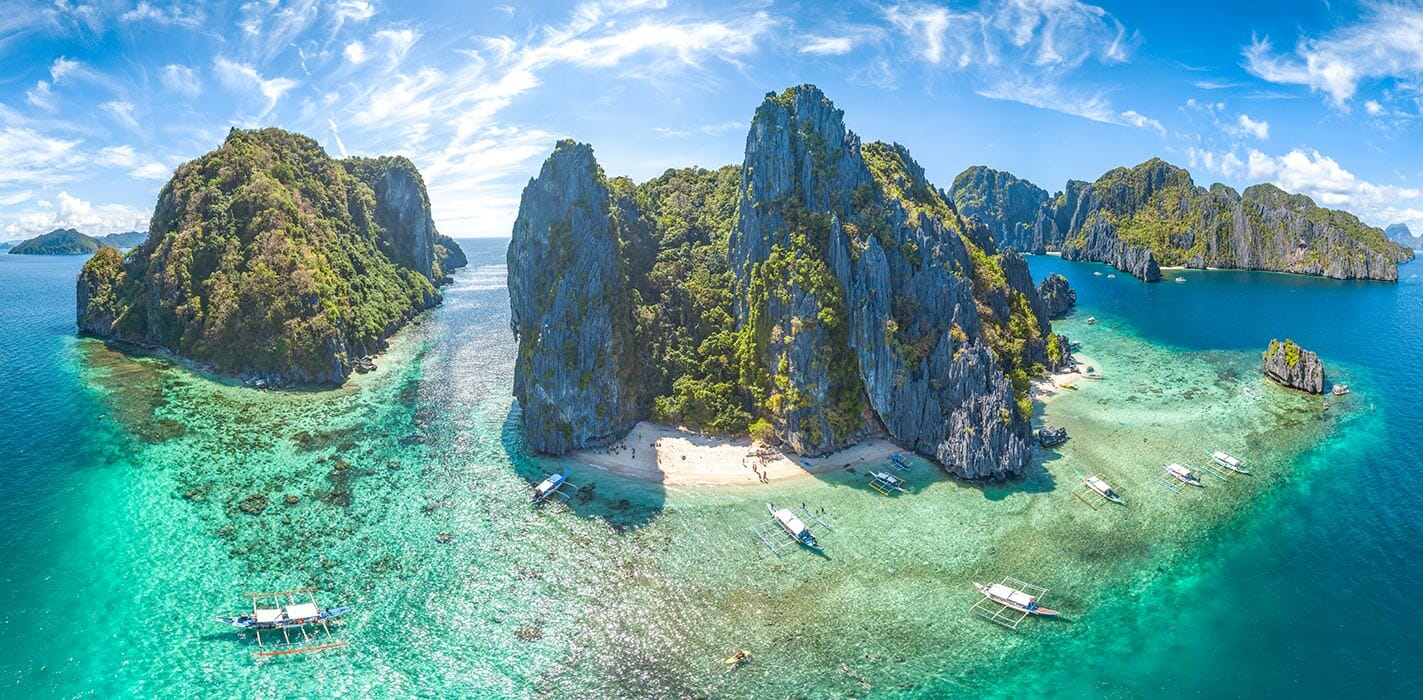 Embarking on a journey from Puerto Princesa to El Nido offers a refreshing change of pace, immersing you in an even more serene tropical paradise. El Nido boasts breathtaking beaches and awe-inspiring scenery, not to mention its own fantastic diving opportunities. The 230-kilometer (144-mile) coastal journey is undeniably scenic, winding through lush green landscapes and offering stunning sea views. Read the detailed information in our comprehensive guide.
There are two primary transport options for the journey: public bus or minivan. While buses offer a more budget-friendly solution, they take considerably longer (6 to 9 hours) compared to minivans (around 5 hours). Minivans have the added benefit of being available at the airport or offering hotel pick-ups, but they may require waiting for a full load before departing. Whichever option you choose, the ride promises to be a memorable part of your Philippine adventure, taking you from the vibrant Puerto Princesa to the tranquil beauty of El Nido.
Puerto Princesa to Coron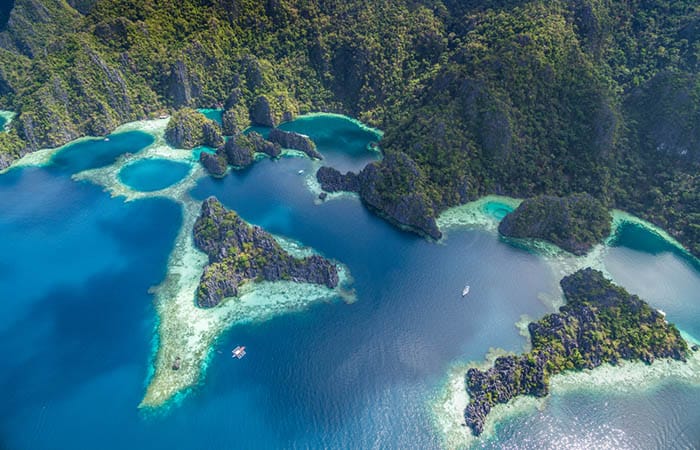 Heading from Puerto Princesa to the stunning island of Coron offers travelers a range of options to choose from. Coron is well-known for its breathtaking scenery, lakes, rugged cliffs, and incredible diving opportunities, including exploring sunken Japanese warships from World War 2. To reach Coron from Puerto Princesa, you can either choose to fly, travel by bus and ferry, or take a direct ferry.
The quickest and most convenient option is a direct flight, taking approximately an hour and ten minutes. Both Air Juan and AirSWIFT offer this route, making it a time-saving choice despite being the most expensive option. For those interested in a more budget-friendly and immersive experience, you can opt to take a bus to El Nido and then a ferry to Coron. This allows you to enjoy beautiful scenery and interact with locals. Alternatively, 2GO operates a direct ferry service from Puerto Princesa to Coron every Sunday, taking around 11 hours. They offer various ticket types, from affordable options to luxury Business Class.
Read more detailed information in our comprehensive guide
Manila to Puerto Princesa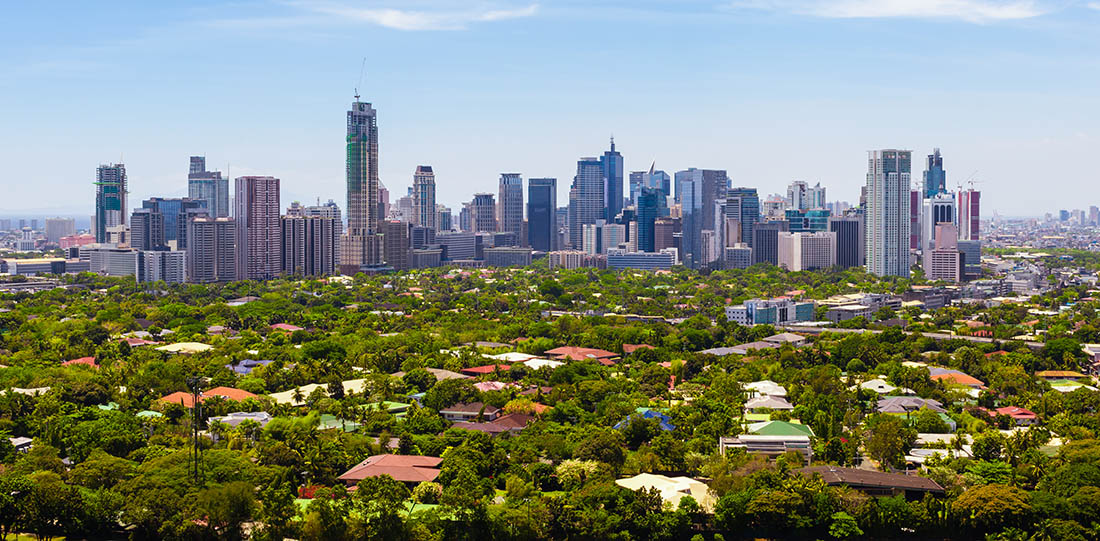 Traveling from Manila to Puerto Princesa offers two main options: flying or taking a ferry. Flights are the fastest and most convenient way to reach Puerto Princesa, with three airlines offering the route: Cebu Pacific, Philippines AirAsia, and Philippine Airlines. Flight times range from 1 hour 15 minutes to 1 hour 30 minutes, and ticket prices are quite similar among the airlines. For the best fares, booking early is recommended, especially during Philippine holidays.
If you're looking for a more relaxed journey and don't need to save time, taking a ferry from Manila to Puerto Princesa is ideal. While the ferry trip takes about 24 hours and might not save you money compared to flying, it offers a unique experience with a range of ticket options and accommodations. The ferry route is known to be choppy at times, so it is not suitable for those prone to motion sickness. 2GO Travel is a reliable ferry company with well-equipped vessels, including dining options and onboard activities.
Did you find this guide useful?
Click on a star to rate it!
Average rating: / 5. Vote count: