Beautiful beaches, luxurious spas, breathtaking scenery… just three of the reasons why the island of Koh Samui is renowned as one of the best beach destinations in the world. Situated in the Gulf of Thailand, it is the country's second largest island and attracts around 2.5 million visitors every year. For a taster of Thailand's amazing beaches, Koh Samui is the perfect place to start your vacation, and once you've worked on the suntan and got used to the hot weather, head north to the capital city, Bangkok. You'll find a complete change of pace and atmosphere on the streets of Bangkok, but its people, its temples, its parks, and its cuisine are not to be missed. Connected by direct flights as well as bus, train and ferry routes, it's easy to travel from Koh Samui to Bangkok.
Read about:
• Koh Samui to Bangkok by Flight
• Koh Samui to Bangkok by Ferry, Bus and Train
• Koh Samui to Bangkok by Bus and Ferry
• Taxi from Koh Samui to Bangkok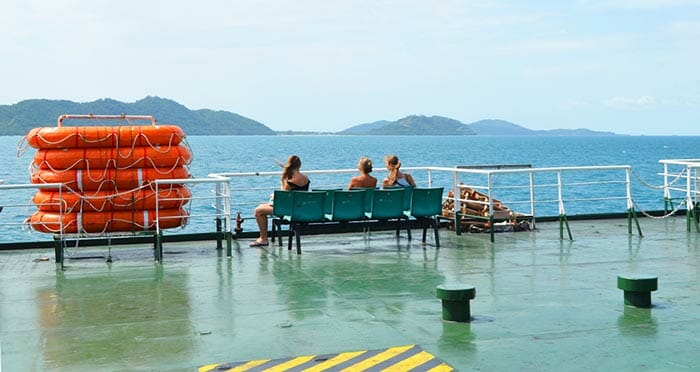 Your Options for Travel from Koh Samui to Bangkok
The distance between Koh Samui and Bangkok is over 700 kilometers (438 miles), so be prepared for a lengthy journey, whichever mode of transport you choose! The quickest way to travel between these two destinations is by air, and because this is a popular route there are plenty of flights departing Koh Samui every day. But with flights being expensive, cheaper options are also popular. If you don't fly, you'll have to catch a ferry for one segment of your trip to get you onto the mainland, and from there you have several choices: you could take a bus all the way to Bangkok, or you could catch a bus and then get on a train, or you could even choose to take a private taxi the entire way. We discuss all of these options below so you can choose which way you think it's best to travel from Koh Samui to Bangkok!
Koh Samui to Bangkok by Flight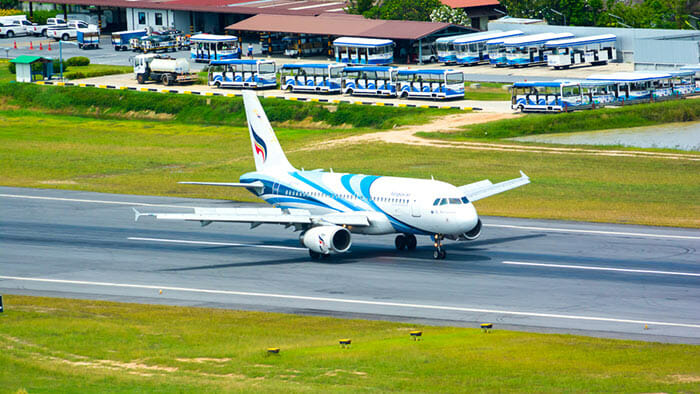 With a flying time of only one hour and 15 minutes, getting from Koh Samui to Bangkok by air is an appealing option. Add in a few hours spent getting to and from the airport at either end, going through security, and collecting your bags once you get to Bangkok, and you're probably still looking at a door-to-door travel time of around 3 to 4 hours, making this easily the fastest way to travel. Of course, with speed usually comes an increased cost, and nowhere is this more apparent than on flights from Koh Samui to Bangkok.
Bangkok Airways unfortunately still has the monopoly of planes flying this route, but as they were the ones to originally build the airport, you can see why! If you want to fly direct, Bangkok Airways is the only airline available but the good news is that they have multiple departures every day and when we say 'multiple' we mean there are loads of them! You could fly any time from 7:00am in the morning, until 9:30pm in the evening, so for flexibility and speed of travel, flying is difficult to beat, but there is the cost issue.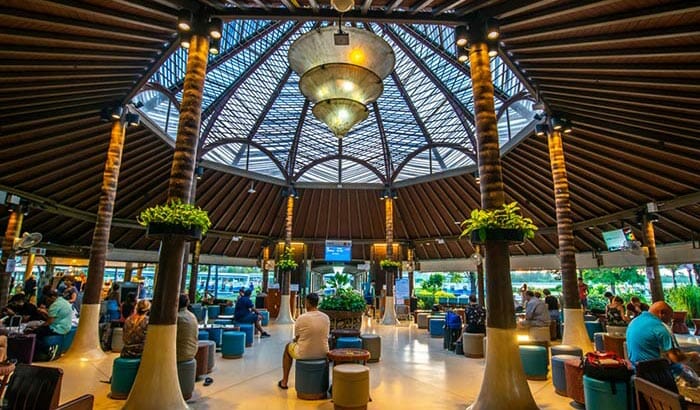 As Bangkok Airways is the only carrier, they can get away with charging more. You'll be looking at spending several hundred dollars, but you can try to minimize the cost as much as possible by booking your tickets as far in advance as you can. Try to avoid Thai holidays as flights get booked up well in advance during these times.
There are a couple of other options for flights between Koh Samui and Bangkok. You could fly from Surat Thani Airport or Chumphon Airport. Both are on the mainland and so both of these options will also require you to take a ferry from the Koh Samui island. Ferry connections are good though, and with low cost air carriers providing flights from both airports to Bangkok, you could save yourself a significant amount of money traveling this way. If you use a booking site like 12Go you can easily see what flights and ferry combinations are available, how long the total travel duration and how much they cost. This is a useful site for you to compare days of travel as well. Flying from Koh Samui to Bangkok is likely to be more expensive on a Sunday for example, because weekend-trippers will be heading back to the big city that day.
From Koh Samui to Bangkok by Ferry, Bus and Train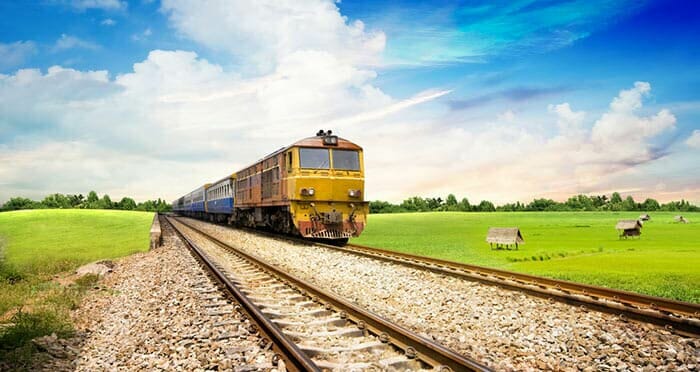 If you're someone who likes to travel for the experience of seeing places, then this option could be for you! Traveling by train in Thailand is an experience in itself, and we'd highly recommend doing this at least once during your stay. However, while it is a great experience to travel this way, and prices are far cheaper than flying, this is the slowest way to get to Koh Samui so if you're in a hurry or you don't have much time in Thailand, this is not an advisable way to travel. The total journey time is just under 18 hours.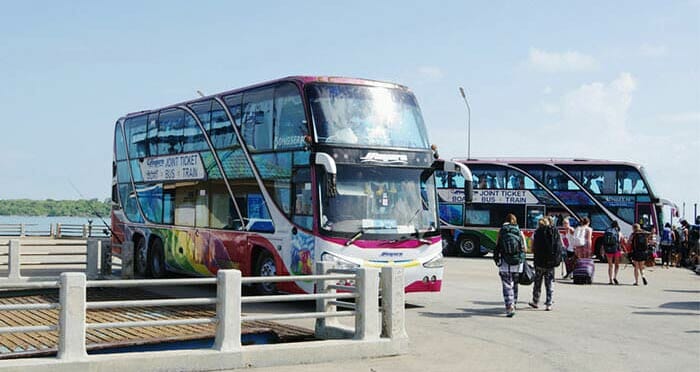 Even so, there are plenty of advantages to traveling by ferry, bus and train. Firstly, you can buy a joint ticket that covers all different segments of the trip. Buy your tickets through 12Go and it's really easy; far more simple than trying to buy all the tickets separately. You'll depart from Na Thon on Koh Samui, traveling with Lomprayah on their high-speed catamaran. Once on the mainland you'll transfer by bus to Surat Thani Train Station – the transfer is included in the ticket so this is all taken care of for you. Then, early evening, the train leaves Surat Thani to go to Bangkok. Traveling overnight means you'll get to see some scenery before it gets dark, and again in the morning after dawn, but the good thing is that you'll be traveling on a sleeper train so you should be able to get some sleep. There are two options: a 1st class sleeper or a 2nd class sleeper. 2nd class is less private whereas 1st class you'll be in a small cabin with your own wash basin. The train arrives at Bangkok's new Krung Thep Aphiwat Central Terminal around 7:00 am so you'll be there early and ready for the day ahead!
By Bus and Ferry from Koh Samui to Bangkok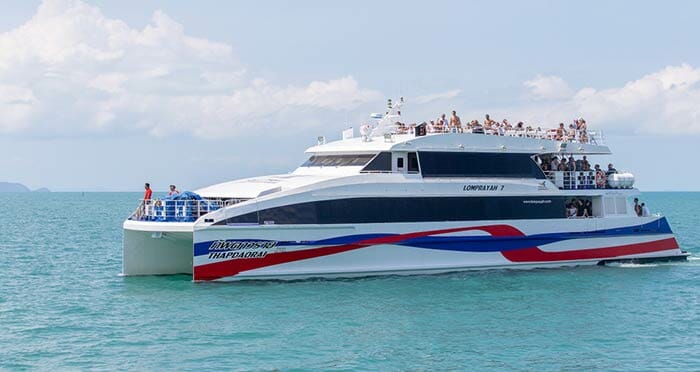 The cheapest way to get from Koh Samui to Bangkok is to travel by bus the majority of the way. You'll still need to take a ferry or catamaran from Koh Samui to the mainland, but then you'll get on a bus that drives all the way to Bangkok. There are several different companies offering these combined tickets, including Krungsiam Tour and Lomprayah, using either standard ferries, speedboats or catamarans. Which ferry you get on will reflect on the overall journey time, which could be anywhere from 12 and 16 hours.
You also have the option of including a pickup from your hotel on Koh Samui. This adds to the convenience, but does bring the cost up as well.
Taxi from Koh Samui to Bangkok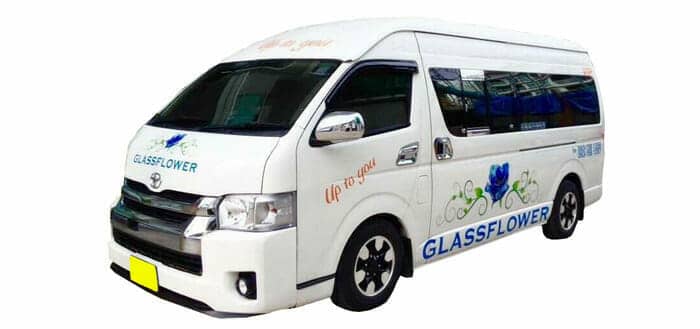 A final option to consider if you're traveling as part of a group, or you have a large family, is a private taxi from Koh Samui, all the way to Bangkok. Obviously the taxi will take you on the ferry, so there will still be a crossing involved, but this is a very convenient way to travel as the taxi will drop you right at the door of your Bangkok hotel. Although expensive, the price for this is actually comparable to one seat on an airplane, so if you use a 9-passenger van, it works out to be quite an affordable option.
So, there are four different options for your travel from Koh Samui to Bangkok. Weigh up whether you want to save money or time to decide which way is best for you.
How long is the ferry from Bangkok to Koh Samui?
You cannot catch a ferry direct from Bangkok to Koh Samui. You would have to take a bus or train to the south first, and then a ferry across to the island. The good news is you can buy combined tickets for the entire journey through 12Go, with connections guaranteed. Total journey time will range from 10hrs 30 by bus and ferry, to over 17hrs by train and ferry.
How far is Koh Samui from Bangkok?
When you travel by ferry and road, the distance from Koh Samui to Bangkok is around 760kms (475mi) which will take anywhere between 12 and 16 hours, depending on ferry connections. Buses are the cheapest way to travel, while ferry, bus and train is another affordable option. Flights are fastest (around 75 minutes) and most expensive, but you should compare all the prices and book tickets online at 12Go.
How do you get from Koh Samui to Bangkok?
To avoid a lengthy journey by ferry and then road, the easiest and fastest way to get from Koh Samui to Bangkok is a flight with Bangkok Airways, but, if you want to save money and don't mind taking all day traveling, buy a ticket that covers both the bus and the ferry. You can get these, as well as book flights, on the travel website, 12Go.
How many piers are there in Koh Samui?
There are four main ferry piers on Koh Samui, staggered at different points around the coast of the island: Pralan Pier, Nathon Pier, Lipa Noi Pier, and Big Buddha Pier, plus there are many smaller piers for charters and tour boats. Research where your ferry will arrive and choose your accommodation accordingly to avoid a long transfer, then book your ferry tickets at 12Go.
Where is the ferry port in Koh Samui?
Being a large and very popular island, Koh Samui has several ferry ports, usually called piers. Which one you use will depend on where you're coming from or going to. The four main ones are: Pralan Pier, Nathon Pier, Lipa Pier, and Big Buddha Pier, which is closest to the airport. Book ferry tickets online through 12Go and their search results will show you which pier you need.
Did you find this guide useful?
Click on a star to rate it!
Average rating: / 5. Vote count: