While the islands of Koh Samui and Koh Phangan are well known and very popular, they are a considerable distance from Bangkok and require a full day of travel by road or rail. Koh Samet is a different story though; situated on the eastern side of the Gulf of Thailand, Koh Samet is considerably closer to Bangkok. This makes the island an ideal weekend getaway destination if you need to leave the hustle and bustle of the city for a while and would like to spend time on the beach.
Read about:
• Bangkok to Koh Samet by Taxi
• Bangkok to Koh Samet by Bus
• Bangkok to Koh Samet by Minivan
Visit Koh Samet and enjoy beautiful white sand beaches, crystal clear waters, and a quieter atmosphere than places like Koh Samui, in a fraction of the time it takes to get there. Here are the different ways that you can travel from Bangkok to Koh Samet.
Flights to Koh Samet from Bangkok
Because Koh Samet is only 220 kilometers (137 miles) southeast of Bangkok there is no point in trying to get there by air. Koh Samet is only a small island so does not have its own airport, and the closest airport (U-Tapao–Rayong–Pattaya International Airport) on the mainland does not have any flights from Bangkok anyway, because there is no demand.
Taxi or Private Minivan to Koh Samet from Bangkok

The relatively short distance between Bangkok and Koh Samet means that a taxi or private minivan does not cost the earth, especially if you're traveling as a family or with a group of friends. In terms of convenience, you cannot beat this service because they will pick you up from any hotel in Bangkok and take you directly to the Ban Phe ferry pier in Rayong. The drive takes around 3 hours but does not include the ferry ticket or the crossing. Buy a ferry ticket and check the ferry schedule online. There is also a slow 60 thb ferry available at Ban Phe Pier that you will need to buy in person once you arrive at the pier. It leaves every hour.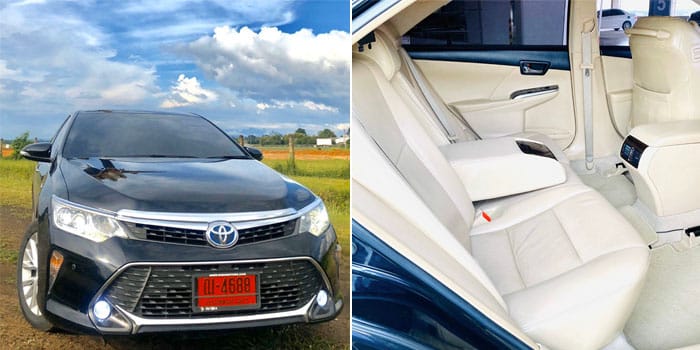 Note that ferries do not operate throughout the night, but if you arrive after they have stopped running there is a speedboat option. These speedboats operate 24 hours and have the advantage of being able to drop you directly to where you want to go, rather than just stopping at the public pier. They are more expensive than the ferries but also faster, taking approximately half the time a ferry would take.
Combined Bus and Ferry from Bangkok to Koh Samet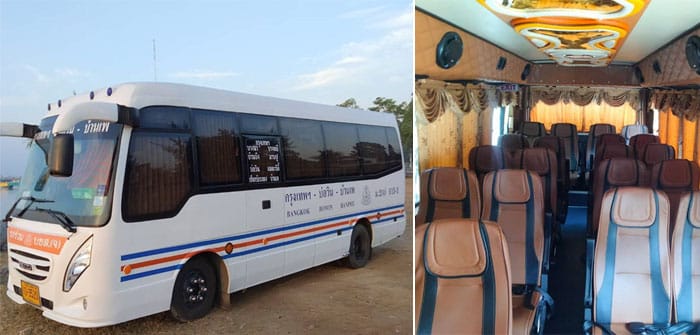 A much cheaper option, and some would argue no less comfortable or convenient than the private service, is a tour company minivan from Khao San Travel Mart. You can buy a combined bus and ferry ticket for a very low price, departing from Khao San Road. The bus / minivan will take you down to Rayong and the Ban Phe pier, then you already have your ticket to get on the ferry across to Koh Samet which is about a 30 minute ferry ride. Check the schedule and buy the ferry ticket online. The entire journey should take around 5 hours, and these buses usually leave in the morning from Bangkok.
Minivan, Minibus and Bus Services from Bangkok to Koh Samet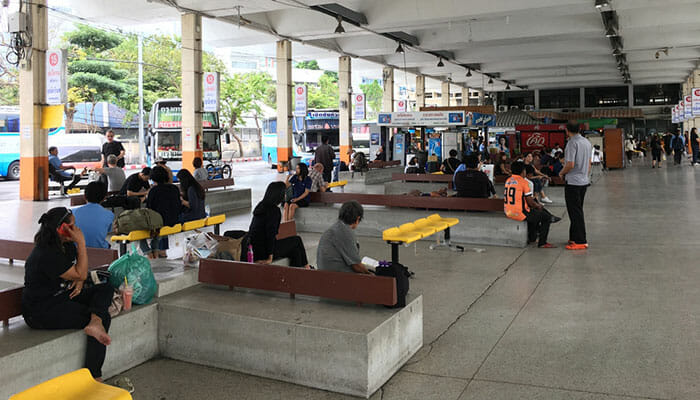 If you like the idea of traveling from Bangkok to Koh Samet by minivan you could pick up a minivan from Bangkok's Eastern Bus Terminal (next to Ekkamai BTS-station). These also take you all the way to the ferry piers and offer another affordable option. Or, if you're in the south of Bangkok you can go to the Southern Bus Terminal and get a minibus to Ban Phe. These usually leave approximately every two hours and cost a little more than the minivan option from Eastern Bus Terminal.
A regular bus service is also available between Bangkok and Koh Samet. These buses also leave from Bangkok's Eastern Bus Terminal (Ekkamai BTS-station) and are again comparable in price to the minivans. The journey may be a little longer as there could be more stops en-route, but you should figure on it taking somewhere around 3.5 to 4 hours down to the ferry piers in Ban Phe. You can buy your ferry ticket at the same time as buying your bus ticket. Or check the schedule and buy the fast ferry ticket from Ban Phe pier to Koh Samet online.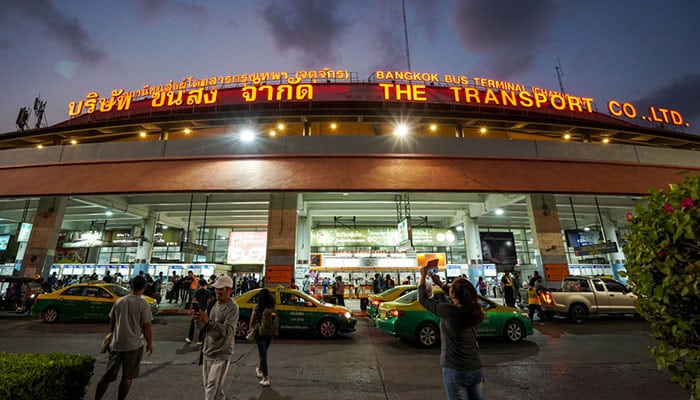 If you're staying in Bangkok close to Mo Chit Bus Terminal this does offer one final option. However, buses from Mo Chit do not go all the way down to the ferry piers, instead stopping in Rayong itself. This is not a huge inconvenience as you can easily take a Songthaew from the town to Ban Phe for a minimal charge, and when you compare this to traveling across Bangkok to get to one of the other departure points, the buses from Mo Chit may be a better alternative for anyone staying close by.
Koh Samet National Park Entry Fee
One final thing to note is that because Koh Samet is within the Khao Laem Ya-Mu Ko Samet National Park, everyone coming onto the island must pay a national park entrance fee upon arrival. As with the majority of these things in Thailand, the entry fee is minimal compared to Western prices and, as is usually the case, tourists do pay more than Thai nationals.
How do I get from Bangkok to Koh Samet?
It's easy to travel from Bangkok to Koh Samet, with plenty of vans and buses departing daily to the pier at Ban Phe, near Rayong, to catch the ferry over to Koh Samet. The entire journey from Bangkok will be around 5 hours. Buying combined tickets in advance is the best idea, and you can get these online from 12Go where there are also options for private taxis too.
How much is a taxi from Bangkok to Koh Samet?
Take a private taxi from Bangkok to the Rayong area, where you will then have to catch a ferry across the water to Koh Samet. These private taxis (and joint ferry tickets) can be booked online through 12Go who sell tickets for many taxi companies. Fares start as low as 2,500 baht for Bangkok hotel pickup, 2,600 baht pickup from Don Mueang Airport, or 2,600 from Suvarnabhumi Airport.
How far is Koh Samet from Bangkok?
Koh Samet is one of the closest islands to Bangkok, making this a popular getaway destination. You can't fly to Koh Samet from Bangkok but there are ample private taxis, vans and buses that will drive you to the piers in Rayong (220kms/137mi), taking around 3 hours. You then catch a 30-minute ferry. Book online at 12Go and you can buy combined tickets for the entire journey.
Did you find this guide useful?
Click on a star to rate it!
Average rating: / 5. Vote count: