The capital and largest city of Laos, Vientiane offers a very different atmosphere to the chaos of Bangkok. Still relatively small, Vientiane is both beautiful and laid-back, filled with gorgeous temples and historic French villas, it is an easy city to walk around and provides visitors with the opportunity to witness the Asian culture in a different light.
Read about:
• Bangkok to Vientiane by Flight
• Bangkok to Vientiane by Train
• Bangkok to Vientiane by Bus
• Tourist Visa for Entry into Laos
Situated roughly 646 kilometers (404 miles) from Bangkok by road, it is relatively easy to travel between these two cities, and several different modes of transport are available. Read on for some of the ways you can travel from Bangkok to Vientiane.
Flights from Bangkok to Vientiane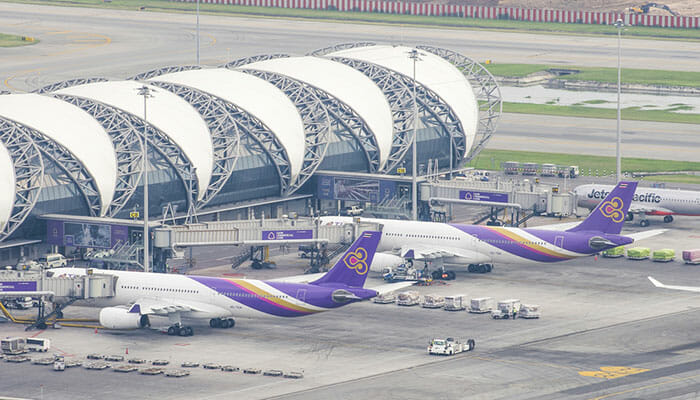 If money was no object you would definitely want to choose a flight from Bangkok to Vientiane because it's fast and convenient. Flights between these two cities take only around 1 hour, so, if you left Bangkok first thing in the morning you could visit Vientiane and be back in Bangkok in time for dinner! Of course, we wouldn't recommend this as Vientiane is such a lovely city that you should plan on spending a couple of days here at least, but if you're tight on time, flying is the best option.
There are three airlines offering flights from Bangkok's Suvarnabhumi Airport and these are Bangkok Airways, Lao Airlines, and Thai Airways, while Thai AirAsia have flights from Don Mueang Airport. Whichever airline you choose you will be arriving at Vientiane's Wattay International Airport which is located just 3 kilometers (2 miles) outside of the city center. Getting into the city and quick and easy by taxi and tuk-tuk from right outside the terminal, however, if you book your hotel room ahead of time you can often get a free pick up provided by your hotel from the airport.
Travel by Train from Bangkok to Vientiane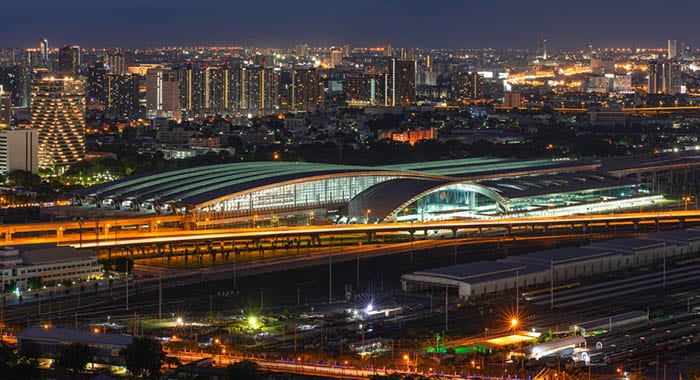 Since 2009 it's been possible to travel from Bangkok to Vientiane by train following the opening of the railway link across the Friendship Bridge, connecting Thailand and Laos across the Mekong River. Unfortunately, you cannot stay on just one train for the entire journey, because you are crossing an international border, but the trip is still easy and affordable.
Take the overnight sleeper train which runs direct from Bangkok to Nong Khai – the last city on the Thai side of the border – and from there you will get on a special international shuttle train to the railway terminal at Thanaleng in Laos, situated approximately 13 kilometers (8 miles) from the heart of Vientiane. Once there, travel by minivan into the center of Vientiane. This entire journey from Bangkok to Vientiane is comfortable, affordable and safe, and the sleeper trains allow you to enjoy a good night's sleep before arriving in Vientiane the next day. These overnight trains take roughly between 10 and 12 hours, then you'll need to add on the wait for the shuttle train plus some time to get into central Vientiane.
There are of course non-sleeper trains that you can take if you prefer. Travel through the day and you'll get to enjoy the scenery, and by insisting to the ticket vendor that you do not want a combined ticket, you can save yourself a little money by independently making your way over the bridge and into Laos.
Direct Bus from Bangkok to Vientiane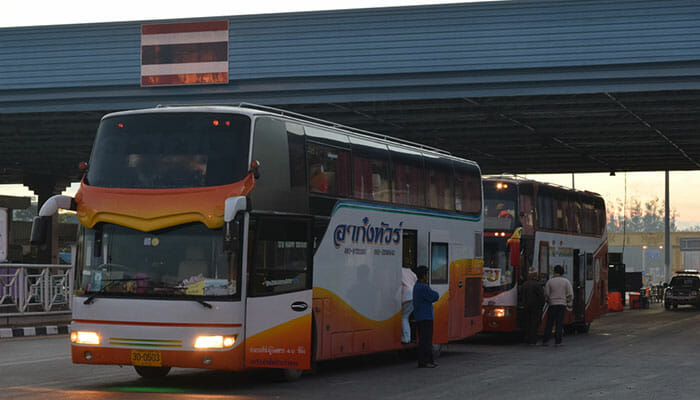 For a comparable price to the train, and sometimes even cheaper than the train depending on which one and which class you choose to travel, consider taking the direct bus from Bangkok to Vientiane. Convenience-wise this direct bus is great because you don't have to worry about changing and finding different ways to get across the border. However, be aware that there is only one company who offers this direct bus service and that is Transport Co Intl, operating out of Morchit Bus Terminal in Bangkok. There are other bus options (see below) but they are not direct.
The direct bus to Vientiane travels overnight, departing from Bangkok at 8pm and arriving at the Talat Sao bus station in Vientiane at 7am the next morning. You could argue that comfort levels are not as good as on a sleeper train and some of these buses do look a little tired. There are not as many facilities as you'll find on a train either, but, they do have bathroom stops along the way, and snacks and water as well as a late dinner are provided onboard. Considering that the prices are fairly comparable between trains and buses to Vientiane, which one you choose will probably come down to personal preference and availability.
As mentioned above, there are other buses from Bangkok to Vientiane that you could take as well although these are not direct and when you add in the extra hassle and cost, the direct bus with Transport Co Intl is really your best choice for traveling by road.
Tourist Visa for Entry into Laos
One thing to remember when traveling from Bangkok to Vientiane is that you will be entering into another country. Laos is a friendly and welcoming place though, and for most nationalities, tourist visas (valid for 30 days) can be purchased once you cross the border for a reasonable fee. Have a ready supply of passport sized photos with you as this will save you having to spend extra when getting your visa – two are required for a Lao tourist visa.
Did you find this guide useful?
Click on a star to rate it!
Average rating: / 5. Vote count: