Cambodia is a destination with something to offer everyone and should not be missed! With ancient temples, stunning natural beauty, and friendly people, it's a country full of fascinating experiences.
Perhaps the most renowned attraction in Cambodia is the stunning Angkor Wat temple complex, which dates back to the 12th century and remains one of the best-preserved ancient temples in the world. Angkor Wat offers visitors a glimpse into the country's cultural and spiritual traditions while providing them with awe-inspiring visuals they won't forget.
Read about:
• When is the best time to visit Cambodia?
• Places worth visiting in Cambodia
• Travel in Cambodia
• Traveling within Cambodian cities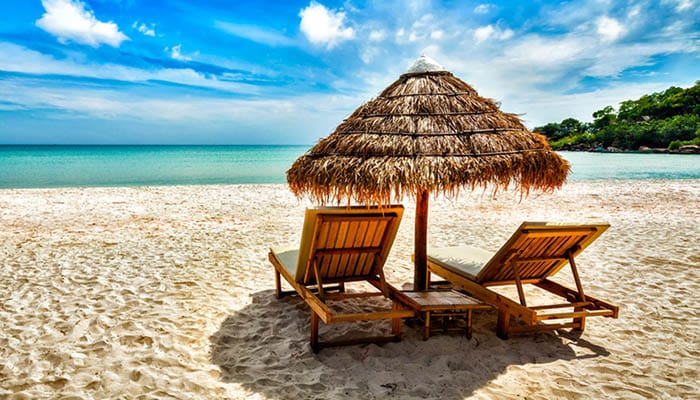 In addition to its impressive temples, Cambodia boasts natural beauty as well. The country's beaches are among some of the most beautiful in the world, while its rolling hills and lush forests provide an ideal environment for adventurers who wish to explore nature up close. For those looking for an aquatic experience, its picturesque rivers and waterways offer breathtaking views.
But what sets Cambodia apart is its people: known for their hospitality and friendly nature, Cambodians are always warmly welcoming to visitors worldwide. Whether it be a smile or simply a friendly conversation, their kindness is sure to leave you feeling welcomed no matter where you go in the country.
Ultimately, if you're looking for a unique destination that combines rich history with stunning landscapes and unforgettable locals, then Cambodia should definitely be on your list! With all it has to offer–from majestic temples to breathtaking nature–Cambodia provides visitors with an unparalleled experience that will stay with them forever.
When is the best time to visit Cambodia?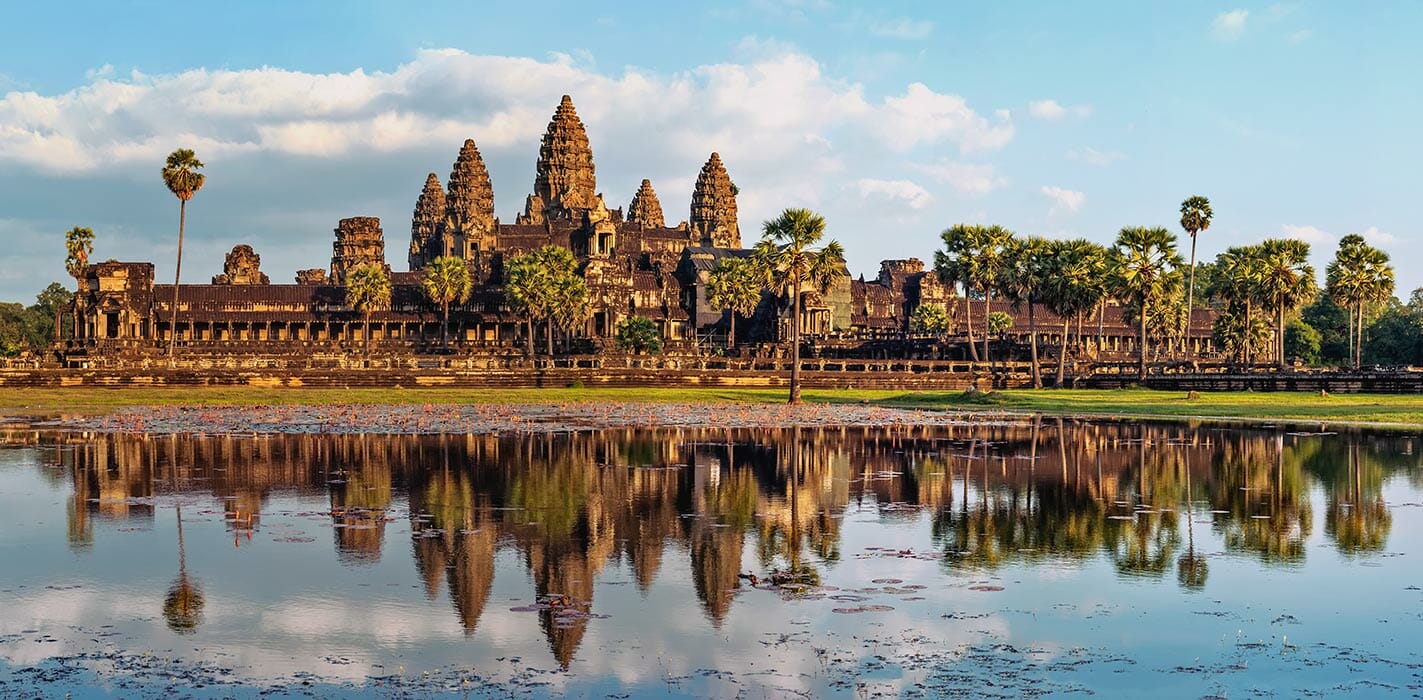 Cambodia is a destination where visitors can enjoy a plethora of activities and attractions. But when should you go? Depending on your personal preferences and what you're hoping to experience, there are a few things to consider before deciding the best time to visit.
The country has a tropical climate with high temperatures and humidity throughout the year. If you're looking for cooler weather and fewer crowds, then the ideal time to visit would be between November and February. During these months, the temperature is milder, with less humidity in the air. However, it's also peak tourist season, meaning prices will be higher than usual and there will be larger crowds.
If you're looking for a more budget-friendly option that still allows you to take advantage of all Cambodia has to offer, then visiting during the rainy season (May-October) is a better option. Even though rain is expected during this period, it usually doesn't last all day which means you can still enjoy outdoor activities like sightseeing or exploring temples without worrying about wet weather ruining your plans. Plus, prices are lower than during peak season, so it's a great way to get more value for your money.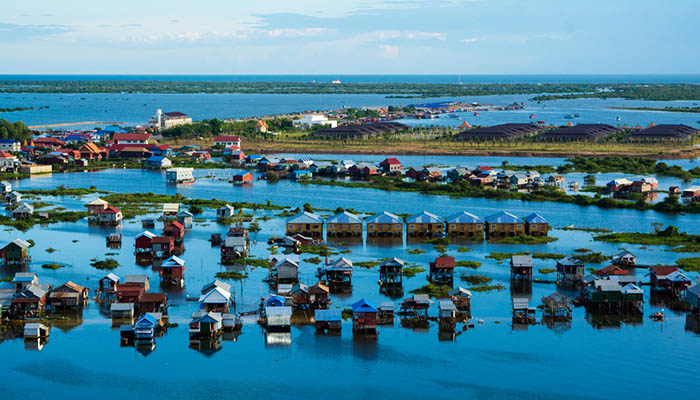 In addition to its favorable climate conditions, Cambodia also boasts an array of unique festivals throughout the year that is definitely worth checking out if you have the chance! For example, every November marks the Water Festival, which celebrates the end of the rainy season with festivities such as music performances and traditional food celebrations; while Chinese New Year in January/February is another popular event that features colorful parades and plenty of cultural activities.
Overall, no matter what time of year you choose to travel to Cambodia it will certainly not disappoint! With stunning landscapes full of vibrant life, charming people, and incredible festivals – it's sure to have something everyone can enjoy.
Places worth visiting in Cambodia
Now that you know why and when you should go, let's take a closer look at some of the most popular places to visit in Cambodia.
Phnom Penh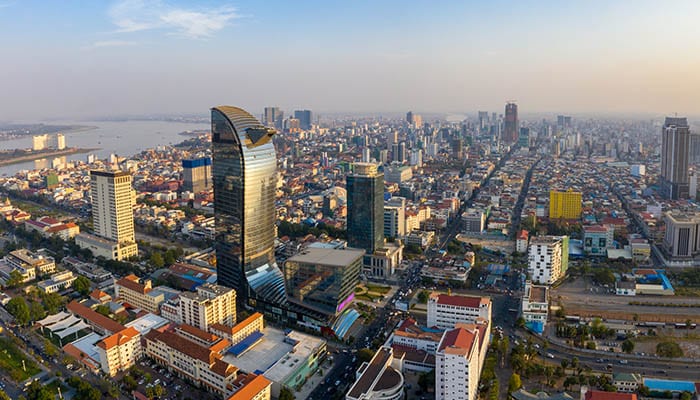 Phnom Penh is the bustling capital and largest city of Cambodia, rich with history and culture. This vibrant metropolis is home to the breathtaking Royal Palace, the renowned National Museum, and Central Market – a must-see for any traveler. After dark, enjoy the lively nightlife with an abundance of chic bars, clubs, and eateries.
Sihanoukville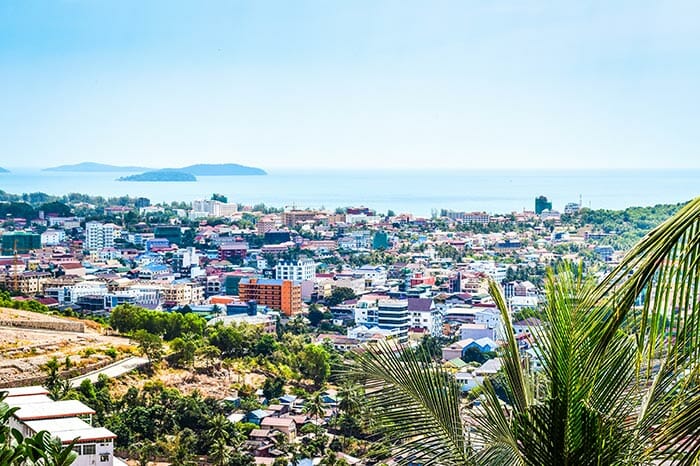 When you seek peace and tranquility away from the hustle and bustle of cities, make your way down south to Sihanoukville – a coastal paradise dotted with white sand beaches and crystal clear waters. Enjoy some rest and relaxation while discovering a range of beachside resorts or tuck into delicious seafood dishes at local restaurants.
Siem Reap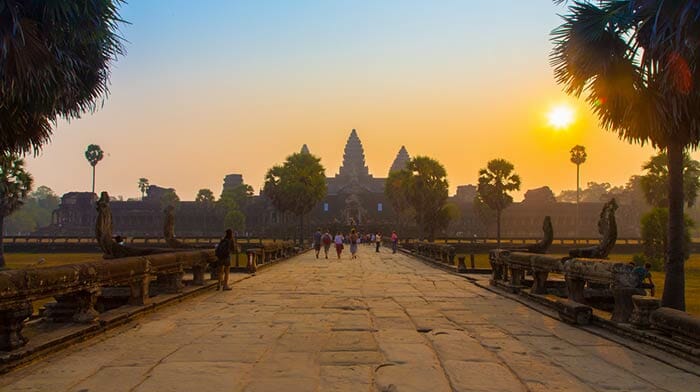 Siem Reap lies in northwestern Cambodia and serves as the gateway to the Angkor Wat temple complex. An awe-inspiring concoction of temples built by ancient rulers, Angkor Wat, has been hailed as one of the most impressive archaeological sites in the world. Aside from temples, Siem Reap also offers a variety of markets, restaurants, and cultural performances that will make your stay unforgettable.
Koh Rong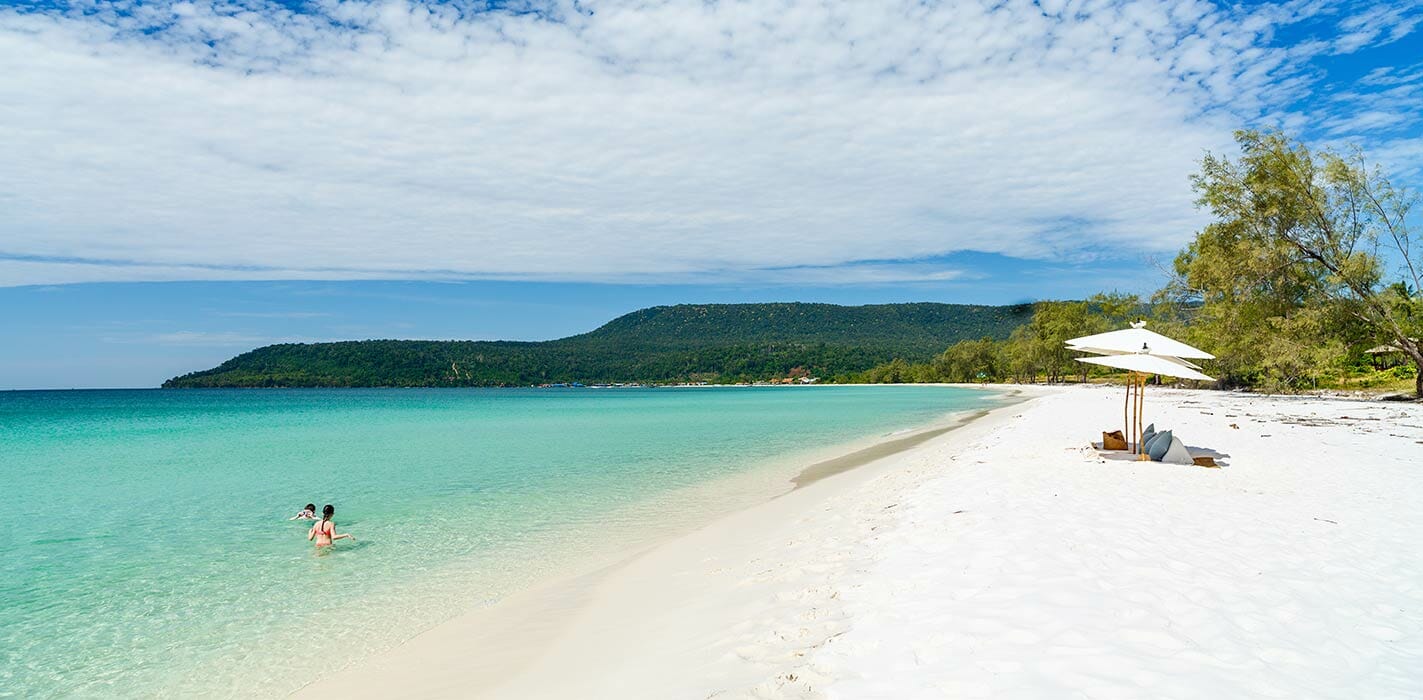 Immerse yourself even further into serenity on Koh Rong – an idyllic island situated off the coast of Sihanoukville. Here you can escape the crowds as you stroll along winding paths amid lush greenery or kick back on stunning white beaches beneath bright blue skies. Accommodation ranges from bungalows to guesthouses to luxury resorts for all tastes and budgets.
Travel in Cambodia
Traveling between cities in Cambodia can be done by several different modes of transportation, including train, bus, and plane.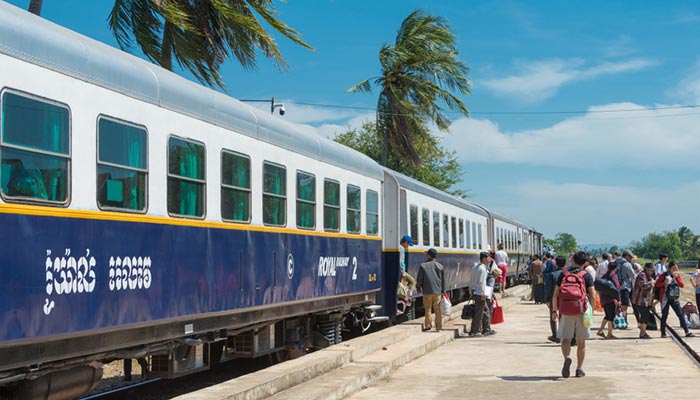 Trains in Cambodia are primarily used for transporting goods. But a few passenger trains operate between Phnom Penh and other cities such as Battambang, Poipet, and Sihanoukville. While traveling by train may be slower than going by bus, it can be more comfortable and offers scenic views.

Buses are considered to be the most popular form of transportation for city-to-city travel in Cambodia. Many private bus companies (Virak Buntham, Mekong Express and Giant Ibis) take you from one destination to another. Tickets can be purchased at the bus station or through a travel agency. Buses usually have a variety of classes available to suit different budgets, and they generally get you from point A to point B faster than if you opted for the train.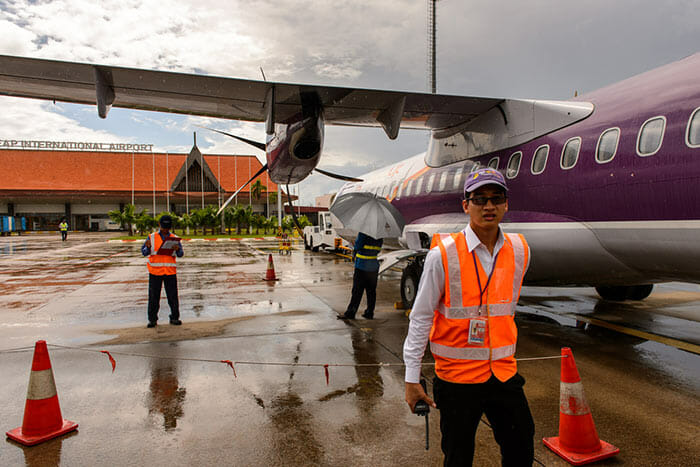 If time is of the essence or if your destination is not easily accessible by rail or road then taking a plane is the best option for you. There are numerous domestic flights available throughout Cambodia that offer quick and convenient transportation between cities. The downside is that flying tends to be the most expensive means of transportation. So it's important to bear that in mind when making plans.
When choosing how to get around in Cambodia, it all comes down to personal preference as well as budget and timeline constraints. For those with more time on their hands, traveling by bus or train offers an affordable and picturesque way to go about things; however, flying may be better suited for those who need to get somewhere quickly yet don't want to compromise on comfort or convenience despite the additional expense incurred.
Traveling within Cambodian cities
Cambodia's big cities offer multiple options for getting around, from taxis and tuk-tuks to motorbike taxis and even on foot. Taxis are a convenient way to travel, with the options of hailing one on the street or using a ride-hailing app such as Grab or PassApp. Note that not all Cambodian taxis have meters, so it's important to agree on the fare with the driver beforehand.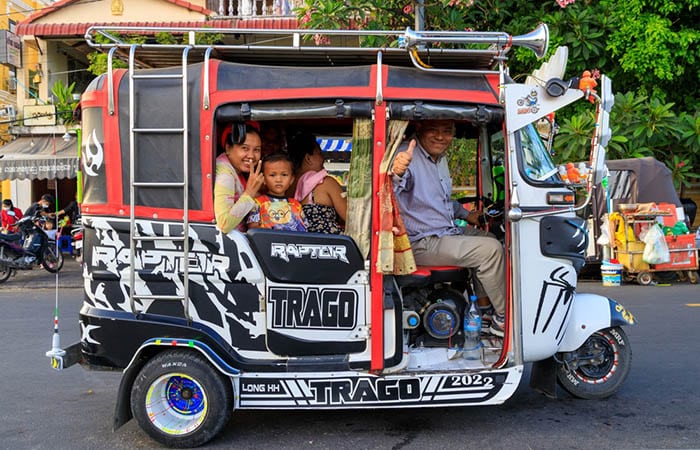 Tuk-tuks are a popular choice in Cambodia due to their affordability – however, they are slower and less comfortable than traditional taxi cabs. Before setting off, it is essential to negotiate the cost with the driver.
Meanwhile, motorbike taxis (or moto-dops) can be faster and more agile than tuk-tuks but they also pose greater risks which should be kept in mind when considering them as an option. Regardless of the mode of transportation used, it is essential to wear a helmet and hold on tightly while riding via motorbike taxi.
If you're staying in a central location, you may find that walking is an ideal way to get around in Cambodia's big cities – although caution should be taken due to chaotic traffic conditions and sometimes poor sidewalk maintenance.
Ultimately, choosing the best way to get around will depend on your budget, comfort level, and desired destination. Taxis or ride-hailing apps might be suitable for those looking for speed or convenience; tuk-tuks or motorbike taxis could offer a more affordable and local experience; while walking could provide an opportunity for sightseeing and interact with locals.
Did you find this guide useful?
Click on a star to rate it!
Average rating: / 5. Vote count: