Traveling by train has always been seen as romantic and special, and train travel in Thailand is no exception. Trains make their way across the countryside from city to city and province to province, showcasing the beauty of Thailand and providing views and glimpses in Thai life that are only possible from the window of a train. While there are many great train journeys you could take across Thailand, the train from Chiang Mai to Bangkok is without doubt one of the best, and it's the most highly recommended way to travel between these two cities. If you're looking for information on the train from Chiang Mai to Bangkok, here is everything you will need to know.
Read about:
• Why Take a Train from Chiang Mai to Bangkok?
• Chiang Mai to Bangkok Train Times
• Chiang Mai to Bangkok Train Tickets
• Chiang Mai Railway Station
• Arrival by Train in Bangkok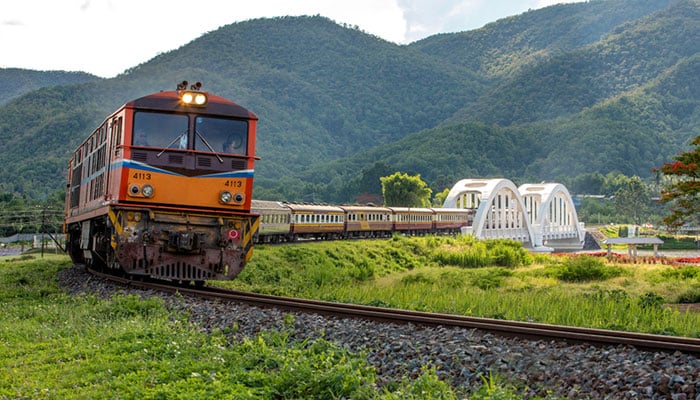 Why Take a Train from Chiang Mai to Bangkok?
There are many ways you can travel from Chiang Mai to Bangkok, so what makes a train so special when flights, buses and taxis will all get you there too?
The most expensive way to travel from Chiang Mai to Bangkok is by private taxi. It costs a lot, but it is also a very convenient option. Next there's air travel; a flight between these two cities is available with a number of airlines, and tickets are cheaper than you might think. Buses are always seen as the most affordable, while trains lie somewhere in-between all of these. There are very cheap tickets on trains (even cheaper than buses) if you don't mind being uncomfortable, while trains can also cost nearly as much as a flight if you book the most expensive tickets.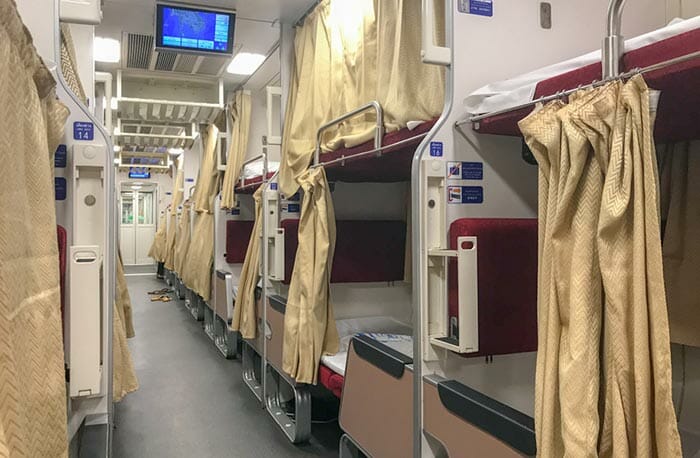 But the real reason why taking a train from Chiang Mai to Bangkok is so highly recommended, is because it's all about the experience. Until Thailand opens up a number of high-speed train lines (which are planned), trains are still traveling at quite slow speeds making this a relaxing way to travel. You can choose a train that travels through the day to see some of Thailand's most beautiful scenery, or you can buy a sleeper berth ticket and travel through the night, catching up on sleep and arriving in Bangkok ready for sightseeing the next morning, having saved the cost of an extra night in a hotel. If you're planning to travel between Chiang Mai and Bangkok by train both ways, why not pick a daytime train one way and a night train the other so that you fully maximize the travel experience?
Chiang Mai to Bangkok Train Times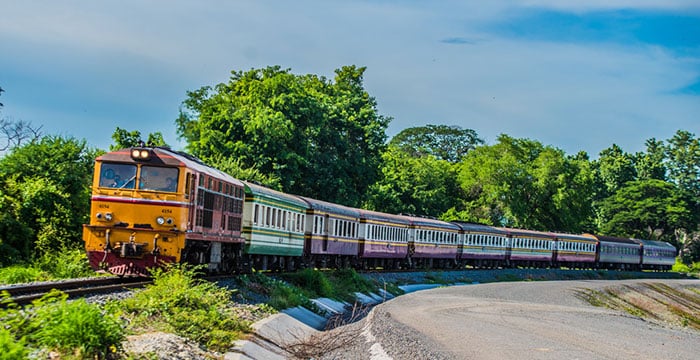 There are five direct trains between Chiang Mai and Bangkok every day of the week, so it doesn't matter if you are traveling on a weekday or at the weekend, the train times will always be the same. What you do need to look at is what type of train service it is, as this can impact the journey time a lot. It sounds funny, but the slowest train is called 'Rapid', while the next slowest is called Express. The fastest trains are called Special Express services.
| NR | CHIANG MAI | BANGKOK | TRAVEL TIME | TRAIN SERVICE |
| --- | --- | --- | --- | --- |
| 102 | 06:30 | 21:10 | 14 hrs 40 mins | Rapid |
| 8 | 08:50 | 19:25 | 10 hrs 35 mins | Special Express |
| 52 | 15:30 | 05:25 | 13 hrs 55 mins | Express |
| 14 | 17:00 | 06:15 | 13 hrs 15 mins | Special Express |
| 10 | 18:00 | 06:50 | 12 hrs 50 mins | Special Express |
So, you can see from the table above that the slowest train is the Rapid service, taking a total of 14 hours and 40 minutes to complete the journey from Chiang Mai to Bangkok. Seeing as this train arrives in Bangkok later than the next train, it seems a little pointless to choose to travel by Train 102 unless you're in no particular rush and want to enjoy the train experience as much as possible!
For a daytime train journey, Train 8 is a better choice because it gets you to Bangkok faster than any other train.
If you prefer to travel overnight, the fastest night train from Chiang Mai to Bangkok is Train 10, departing Chiang Mai at 18:00 (6pm), and arriving into the capital city at 06:50 (6:50am) the next morning. The other two overnight trains take a little longer, but there is not too much time difference between these three.
Chiang Mai to Bangkok Train Tickets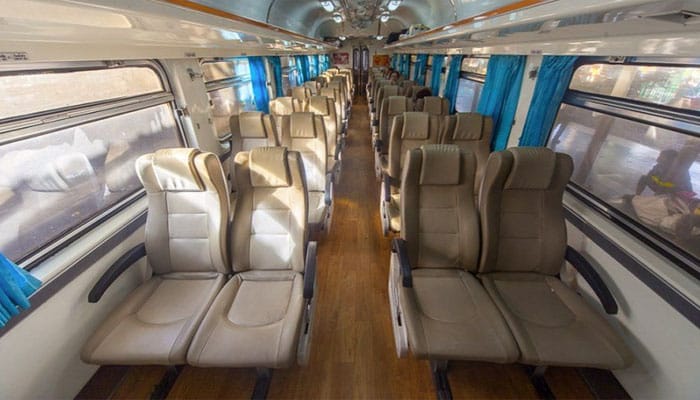 It comes as no surprise that Train 8 is usually the most popular train from Chiang Mai to Bangkok, and for this reason it is advisable to book your tickets for Train 8 at least a few days in advance. If you're planning to travel during a holiday or festival period, then it is advisable to book as far in advance as possible, as trains (especially sleeper cabins) can be booked up weeks in advance during busy periods.
The less popular trains are not so much of a problem, but even these can get booked up ahead of the travel day when it's a popular time to travel, so do bear this in mind. It is usually only the 3rd Class seats that wouldn't need to be booked in advance as it is said that 3rd Class tickets will never sell out.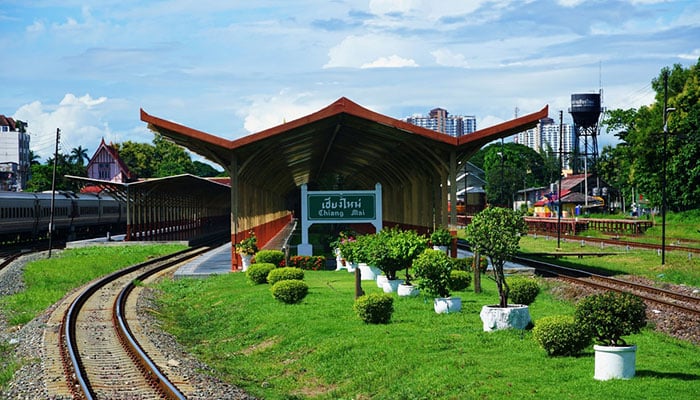 You can buy your tickets direct at the ticket counter at the station, and it's possible to go in a few days before you want to catch a train from Chiang Mai to Bangkok to get your tickets in advance. Online booking is also an option. There is an online booking system run by the State Railway of Thailand. The website seems to work quite well but for the best flexibility – easy to look at different dates and compare tickets and train types – look at booking through 12Go. You will pay a small booking fee through this reputable Asian travel website, but this is not unusual; there is also a booking fee when you buy tickets in advance through the State Railway of Thailand booking system too. The only way not to pay an advance booking fee is to buy your tickets directly at the station.
As mentioned, there are multiple different ticket types available on these trains from Chiang Mai to Bangkok. To give you an idea of the differences in price, below are the ticket prices that are applicable if you buy direct at the ticket counter. Remember that booking online you will pay a little more, but the booking fee is worth paying if it guarantees you a seat on the train you wanted to travel on.
| SEAT / TICKET TYPE | PRICE TO BUY AT STATION |
| --- | --- |
| 1st Class A/C Single Sleeper | 1,953 THB |
| 1st Class A/C Sleeper | 1,453 THB |
| 2nd Class A/C Sleeper | 821 to 881 THB |
| 2nd Class A/C Seat | 641 THB |
| 2nd Class Fan Sleeper | 581 THB |
| 2nd Class Fan Soft Seat | 391 THB |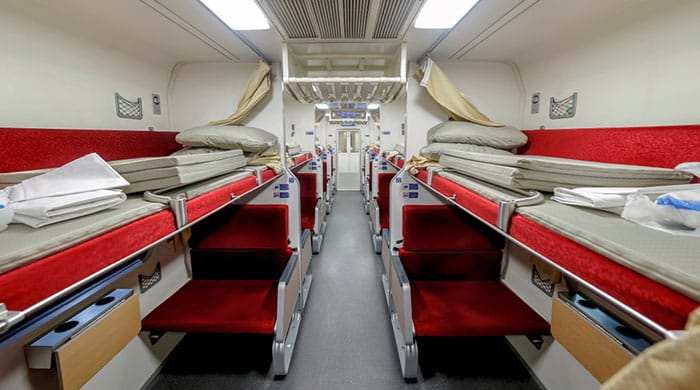 When booking tickets for Chiang Mai to Bangkok trains in advance, you need to book at least 3 days ahead. Usually advance booking opens 90 days prior to the date of travel, so that will be the earliest you could book your tickets.
Booking through 12Go is quick and easy, and you can compare ticket prices, trains and timetables and read customer reviews before making a decision. One of the best advantages of booking through 12Go is that they email you your ticket. The e-SRT ticket can then be printed off and shown to the officer when boarding your train. This is easier than some other options where you have to collect your ticket from somewhere specific. The only hassle is finding somewhere that you can print the e-ticket from your email but many hotels will have this option or you can find an internet café and do it there for a small fee.
Chiang Mai Railway Station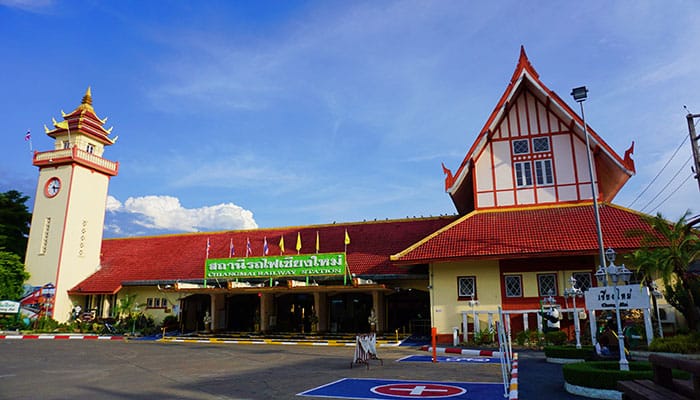 In Chiang Mai there is only one train station, so there's no confusion about where to go! Chiang Mai Railway Station first opened in 1922 although the current station dates to after WW2 when it was rebuilt after being destroyed by Allied Forces. The station is situated just under 4 kilometers from Old Town and about 2 kilometers from the city's night bazaar area so it's in quite a central location, easy to reach by transport, whether tuk-tuk or shared truck taxi.
Arrival by Train in Bangkok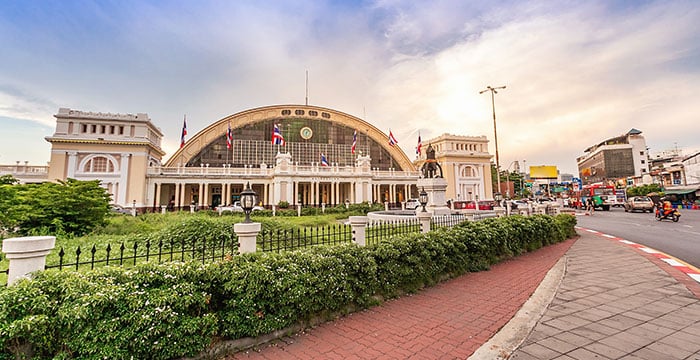 Train stations in Bangkok are going through some changes, with the new Bang Sue Grand Terminal due to take over operations for long-distance trains in the Thai capital. Before that happens, the trains from Chiang Mai to Bangkok will first stop at Bang Sue Junction before going onwards to Bangkok's historic and well-loved railway station, Hua Lamphong, right in the heart of Bangkok. One of the unique things about the train right now is that it passes right through parts of Bangkok that you probably wouldn't usually see. The little back streets of Bangkok are quite eye-opening, especially passing through Rot Fai Market where the sellers are right beside the train tracks and customers have to scramble out of the way while the train passes through!
Did you find this guide useful?
Click on a star to rate it!
Average rating: / 5. Vote count: