For many visitors to Thailand the highlights of a trip include spending time in the capital city, Bangkok, then heading off to one of the country's beautiful beach resorts for some fun and relaxation. Phuket is the ideal place to do this – it's an island province in the south of Thailand and is home to some of the country's most popular beaches, as well as luxurious resorts and spas, culture, shopping and nightlife.
Read about:
• Bangkok to Phuket by Flight
• Bangkok to Phuket by Train
• Bangkok to Phuket by Bus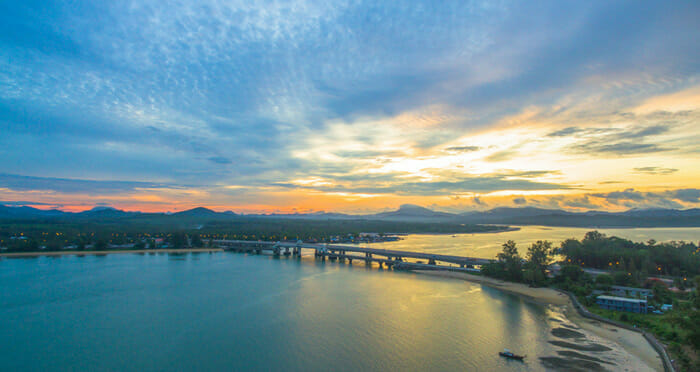 It's quite a distance between the two destinations; about 840 kilometers (525 miles) so the journey can be a long one and, to make it worth your while you'll want to stay in Phuket for at least a couple of nights. Transport options include flights, private car, train and bus. If you're thinking of traveling from Bangkok to Phuket here's our guide as to the best ways to travel.
Flights from Bangkok to Phuket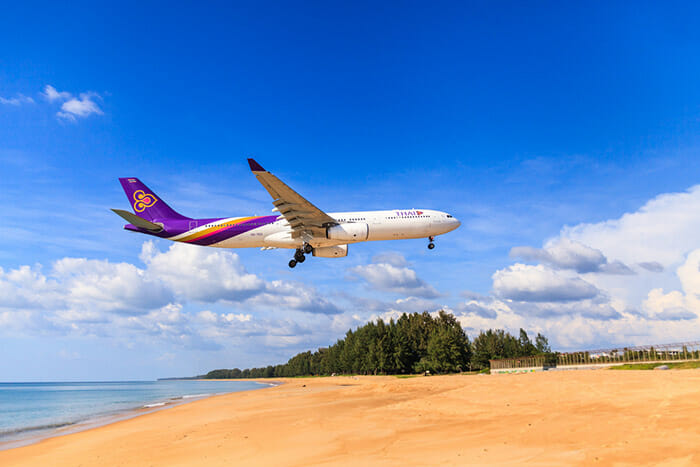 Because there's such a long distance between the two places, many travelers will choose to take a flight from Bangkok to Phuket because it's the quickest option. Definitely in terms of speed, flights cannot be beaten but the downside is that this will be the most expensive way to travel so if you're exploring Thailand on a shoestring budget, a flight could well be out of your price range. But, if you do have the cash to spare, a flight from Bangkok to Phuket will only take about an hour and twenty minutes in the air, so you could leave Bangkok in the morning, and be sunning yourself on a beach in Phuket by the afternoon!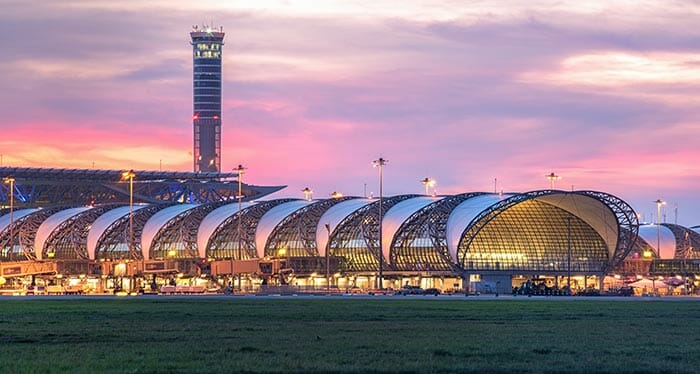 With over 50 flights per day between Bangkok and Phuket there's certainly plenty of choice. Many different airlines offer this route as it's one of the most popular flight routes in the country, both for visiting tourists and for Thai pats heading south. The great thing about having so much choice is that you can shop around for a good deal on your plane ticket, and this is something that you should definitely do as ticket prices can vary tremendously. Factors that may lower or increase airfares include the season (whether it's rainy season or high season), the day of travel (Fridays and Saturdays will generally cost more as will returning to Bangkok on a Sunday), whether it's a one way or return ticket and if it's a return ticket how long you're staying for. Bear in mind that during Thai holiday periods airfares will be inflated and it will be more difficult to even find a seat on a plane during these times so it's best to avoid them if you can.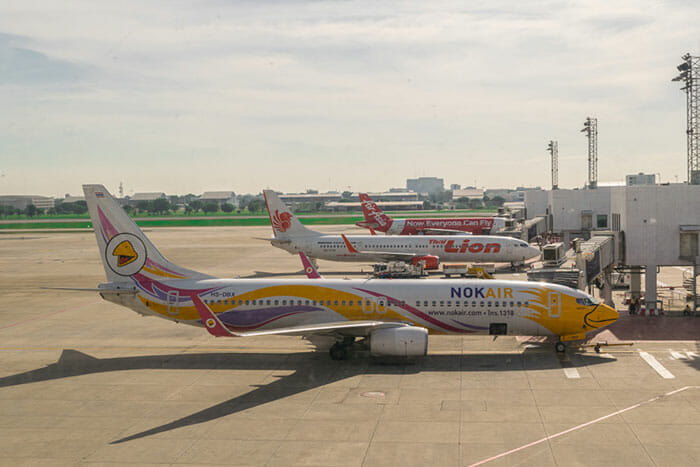 Another thing that will affect the airfare is which Bangkok airport you're departing from. The lower cost airlines tend to use Bangkok Don Mueang Airport and include Nok Air, Thai AirAsia and Thai Smile, while Bangkok Airways, Thai, and Thai Vietjet Air have their flights from Bangkok to Phuket departing from Suvarnabhumi Airport. On arrival in Phuket you'll land at Phuket International Airport which is located in the north of the island. Depending on where you're heading in Phuket there are several options for transfers from the airport including a shuttle bus to Patong Beach, municipal airport bus, minibus and taxi.
Traveling by Train from Bangkok to Phuket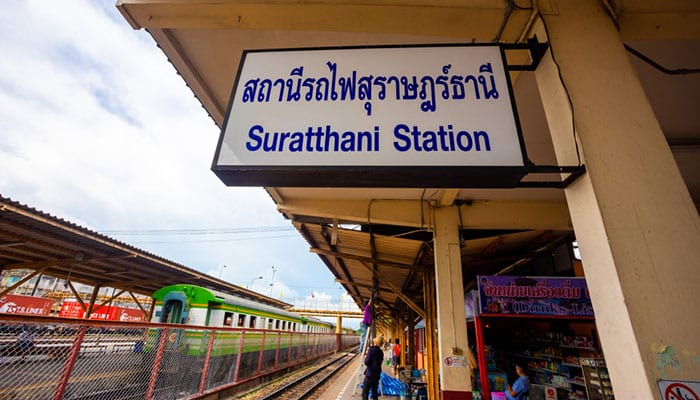 Getting from Bangkok to Phuket by train is another option. There is no train service direct to Phuket so what you'll actually have to do is take a train from Bangkok to Surat Thani and then a bus the rest of the way. There are advantages and disadvantages to traveling this way, so weigh up the pros and cons before deciding how you want to travel.
On the down side, taking a train and bus does take a long time. There are three trains per day departing from Bangkok and the train portion of the journey takes around 8 hours. You'll then have another 5 or so hours in a bus. If you travel by train during the day you will get to see plenty of scenery as you travel down Thailand but it will be hotter so many tourists opt for the overnight sleeper trains as you can sleep while you travel. These trains arrive in Surat Thani in the early morning then you'll take the bus and get to Phuket around lunchtime.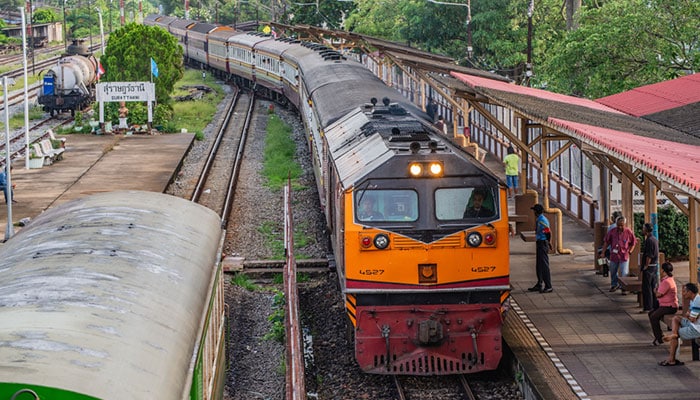 On the plus side, you can buy a combined ticket that includes both the train and the bus so this makes life a little easier. The buses that you travel on with the combined ticket are modern and air conditioned so the journey will be comfortable. Many other operators do run buses to Phuket from the train station – there are around 14 per day and prices and comfort levels will vary.
Buses from Bangkok to Phuket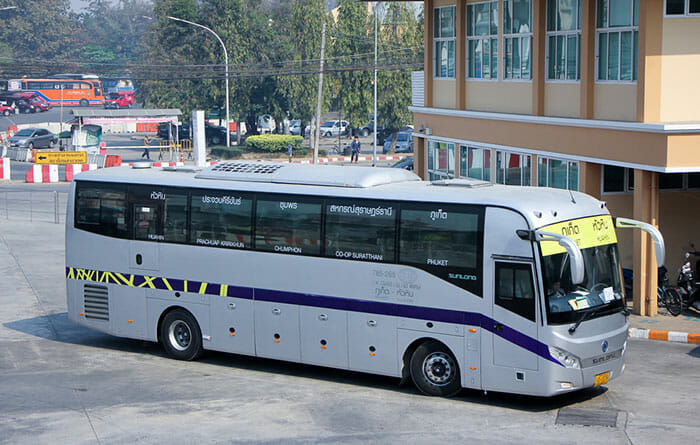 As you might expect, the most affordable way to travel from Bangkok to Phuket is by bus, but with affordability do come some issues. First is the length of time it takes – this could be anything from 13 to 16 hours. At the lower end you might actually save yourself some time taking a bus direct from Bangkok to Phuket rather than taking the train and bus option, but buses are often renowned for being uncomfortable, hot and cramped. The adage "you get what you pay for" comes to mind! But, not all buses are bad. There are public buses, but if you pay a little more you can travel with one of the private bus companies including Transport Co for which you can book your seat in advance. Booking in advance in advisable as you can sometimes get better price and you're guaranteed a seat. If you just turn up on the day you want to travel you may be out of luck.
One final word of warning regarding buses from Bangkok to Phuket – it's best not to buy your ticket from any of the companies operating out of Khao San Road as they're renowned for bad service and items going missing in transit.
So there you have it, three options for traveling from Bangkok to Phuket. Catch a flight if you want to get there fast and you can afford the ticket; take a train and bus if you want a reasonable compromise, or take the bus all the way if you want the cheapest way to travel between the two.
Can you get a boat from Bangkok to Phuket?
It's not possible to get a boat from Bangkok to Phuket, but there are plenty of other transport options. Search on 12Go and you'll find numerous ways to get from Bangkok to Phuket to suit all budgets, from the cheap buses, to a train and bus combination, to the more expensive flights; which might cost you more, but will save a lot of time.
Is there a train from Bangkok to Phuket?
There is not a train that will take you all the way from Bangkok to Phuket, but you can travel most of the way. Take a train to Surat Thani (about an 11.5-hour journey), then transfer onto a bus for the remainder of the trip to Phuket. You can buy tickets separately through travel website, 12Go, but getting combined tickets is usually less hassle.
Are there any direct trains from Bangkok to Phuket?
While there isn't a direct train from Bangkok to Phuket, you can still travel the majority of the distance by train. Start at Bangkok's new Krung Thep Aphiwat Central Terminal and head to Surat Thani railway station. From Surat Thani, catch a bus to Phuket. The combined train and bus trip takes around 16 hours to cover the distance of 640 (train) + 240 (bus) kilometers. Total 880 Kilometers or 550 miles.
Can you get a sleeper train from Bangkok to Phuket?
It's possible to book an overnight sleeper train for a more comfortable journey to Surat Thani railway station. From there you will need to catch a bus to Phuket. Since Phuket is not connected to the Thai railway system.
How far is Bangkok from Phuket?
By air, it's about 680kms (423 miles) from Bangkok to Phuket and there are around 50 flights per day, taking 1.5 hours. You can travel cheaper by bus but it's a long journey, adding 165kms, so buses take between 12 to 15 hours. If you book a flight early through 12Go, you can get some great deals that don't cost much more than a VIP bus.
Did you find this guide useful?
Click on a star to rate it!
Average rating: / 5. Vote count: