Situated about 625 kilometers (390 miles) north east of Bangkok is the city of Nong Khai. Set on the banks of the Mekong River, Nong Khai is just opposite the Laos capital city of Vientiane, and is a popular gateway to Laos from Thailand. Many tourists pass through Nong Khai on their way into and out of Thailand, but not so many stop to enjoy the beauty that this city has to offer. If you're planning a trip to Nong Khai from Bangkok, why not set aside a day or two to explore this charming city with its laidback atmosphere and beautiful scenery?
The two main options for travel from Bangkok to Nong Khai are by bus and by train, and, covering the extensive distance between these two cities does take a long time. There is a faster option, flying, however, you'll actually be flying to Udon Thani a neighboring city. We give detailed information on all of these travel options below, so continue reading to find out more.
Bangkok to Nong Khai by Train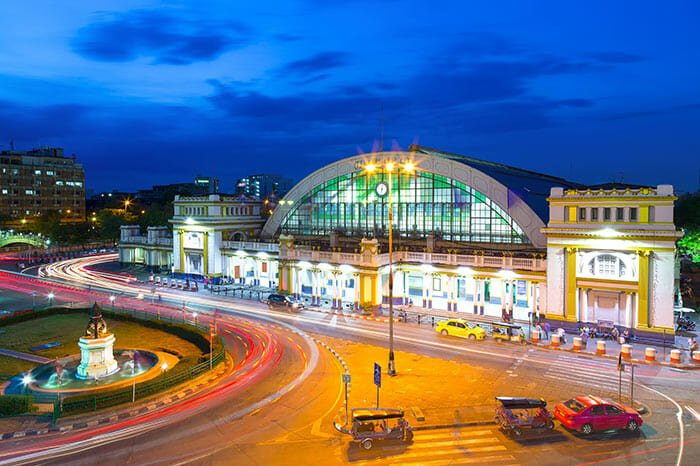 A popular way to get from Bangkok to Nong Khai is by train, and, as with many rail journeys in Thailand, it's relatively inexpensive for travelers on a budget. Thai Railways operates the trains on this route, and you will have several different departure times to choose from, as well as several different carriage options.
Leaving from Hua Lamphong in Bangkok, you could choose a daytime trip, or an overnight one. Daytime trains depart at 08:20, and are scheduled to take around 9 hours and 25 minutes, and there are advantages and disadvantages to choosing this option. The advantage is that because you are traveling in daylight hours, you will get to see miles upon miles of the beautiful Thai countryside that you might not ever get the chance to otherwise see. The train arrives in Nong Khai around 17:45 so you'll be in the city in time to check in to a hotel and enjoy a leisurely dinner. 2nd Class seats with air conditioning can be bought for this particular train, and because you're only buying a seat and not a sleeper cabin, the price is really very affordable.
There are also two overnight trains that you could choose. Traveling overnight means that you don't get to see that beautiful passing scenery, but you will arrive in Nong Khai the next morning, ready for a day of sightseeing. The drawback is that both overnight trains arrive very early in the morning – from Bangkok at 18:35 arrives at 04:15, and the 20:00 train arrives at 06:45 so this could well be too early to start sightseeing, and too early to check into a hotel, if that's what you're planning to do. But, if you buy a ticket for a sleeper cabin you will hopefully have had some rest, and it could be argued that you haven't wasted a day by traveling or had to spend extra money on a hotel room. Of course, sleeper cabins are more expensive than a standard seat on the train, so if you are trying to stick to a budget it's worth researching all the different options.
The Bus from Bangkok to Nong Khai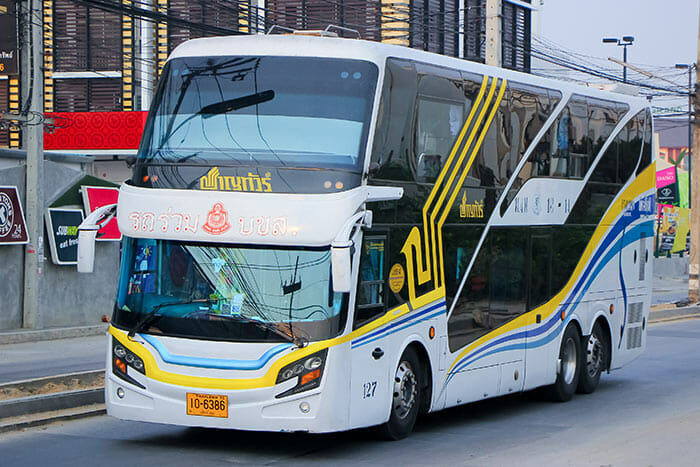 While some rail options are affordable, the bus from Bangkok to Nong Khai will save you even more money. There are several bus options to consider: Chan Tour provide VIP buses that depart from their offices very close to Morchit Bus Terminal. Their VIP buses are well equipped with air conditioning, snacks and food service, a steward, toilets, and TVs, and they have a number of different departure times to choose from. Three buses depart in the morning, at 07:00, 08:00, and 09:00, arriving in Nong Khai in the evening. The journey is scheduled to take almost 11 hours, but it could be faster if traffic is good. There are then three overnight buses, departing from Bangkok at 19:30, 20:30, and 21:45, and these will arrive in Nong Khai early the next morning. These buses are also scheduled to take close to 11 hours, but traveling overnight if often faster so be prepared that you could arrive earlier than planned.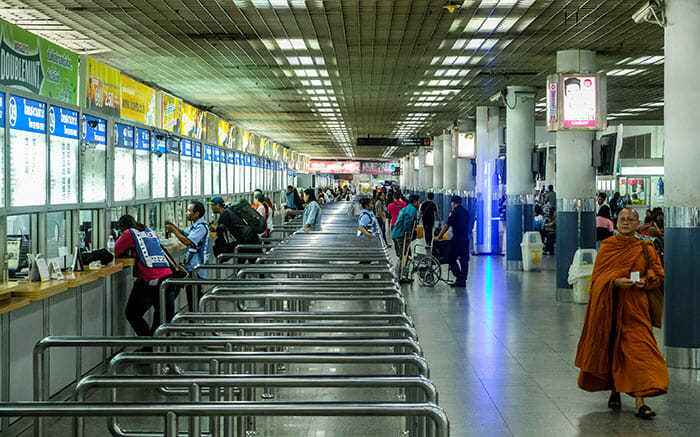 From Morchit Terminal in Bangkok, you can also travel with several other bus companies: Sawadee Esan, Air Udon, and Budsarakham Tour. If you're trying to save money you should choose an Express bus as these are the cheapest. The Express service basically means that you're not getting quite as many creature comforts as on the VIP service but you will still have air conditioning, toilets, snacks, and a steward onboard, so it's far from being limited. VIP buses add food and TVs to the mix, and it could be argued that their seats are a little more comfortable. There are both morning and evening departures with these companies, so you can travel overnight if desired.
Fly from Bangkok to Nong Khai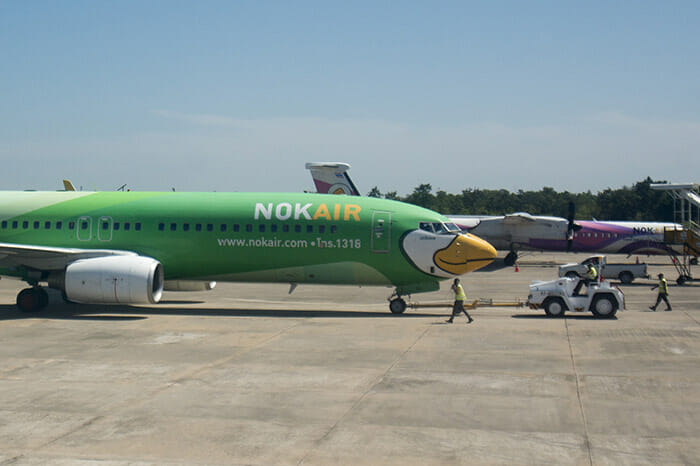 The third option is to fly, but as mentioned above, you will not be flying to Nong Khai, but from Bangkok to Udon Thani a bigger neighboring city. This is not a problem, as you will then have just a short 1-1.5 hour journey to Nong Khai. From Udon Thani Airport cheap air conditioned minibuses are offered at 300 thai bath per person.
It's good that there are numerous flights to choose from each day so you can find the one that suits your schedule, and, with prices not too dissimilar to the train from Bangkok to Nong Khai.
There are four different airlines to choose from and three out of those four fly from Bangkok's Don Mueang Airport – Nok Air, Thai AirAsia, and Thai Lion Air, while Thai Smile flies to the Suvarnabhumi Airport in Bangkok. So, where you need to be in Bangkok might dictate which of those airlines you ultimately choose. The flight takes only 1 hour.
So there you have the options for getting from Bangkok to Nong Khai, ranging from very cheap, to very expensive!
How useful was this post?
Click on a star to rate it!
Average rating / 5. Vote count: