When you want to get away from the hustle and bustle of Bangkok and experience something a little different, Pattaya is one of the closest destinations you can get to for hitting the beach. The coastal resort city has long been a popular weekend getaway for locals, expatriates and tourists, and like some of the Soi's in Bangkok Pattaya has ample go-go bars and beer bars for a fun evening. So if you want to experience part of the Thai beach culture, what is the best way to get from Bangkok to Pattaya? We take a look at the differences between taxis and buses.
Read about:
• Bangkok to Pattaya by Taxi
• Suvarnabhumi Airport to Pattaya by Taxi
• Central Bangkok to Pattaya by Taxi
• Bangkok to Pattaya by Bus
• Bangkok Airport to Pattaya by Bus
• Don Mueang Airport to Pattaya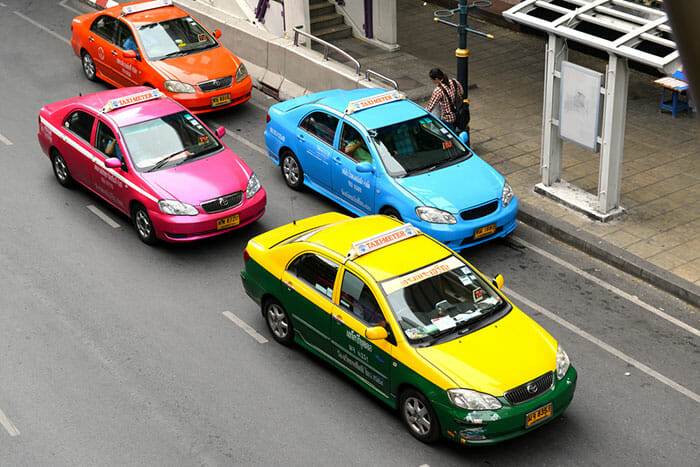 Bangkok to Pattaya by Taxi
Nothing beats a taxi for door-to-door convenience! Of course a taxi will cost more than other options but when you consider the convenience and it's often worth paying the higher price.
It's about 150 kilometres (94 miles) from Bangkok to Pattaya, and how long it takes to drive between the two does depend on traffic. You'd usually be looking at a max of 2 hours in off-peak times but this can be more during rush hour and on Fridays as everyone heads down to Pattaya for the weekend. Part of the appeal of Pattaya is the weekend vibe of the city, but it's lively any day of the week if you're worried about a horrendously long drive on a Friday.
When you're taking a taxi from Bangkok to Pattaya you might be coming from a hotel in the city centre or from the airport.
From Suvarnabhumi Airport to Pattaya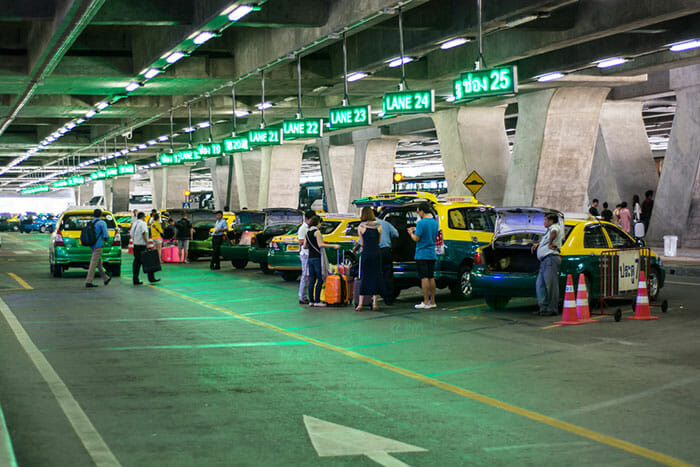 Suvarnabhumi Airport is on the Pattaya side of Bangkok so it is a little closer and hence the journey time should be quicker. This also means it should be cheaper to get a taxi from the airport, but you may need to factor in the highway tolls if taking the express route – the express route isn't necessary outside of peak travel times – this will add 60 baht to the price. Expect the journey time to take around 80 to 90 minutes and remember that the official meter-taxi price is 1050 baht. Sometimes the driver want to negotiate a fixed price before leaving the airport but this never allows you to get it cheaper then the meter price.
Another trick is to come out of the airport on the departure level. Taxis will be dropping off passengers at this level but generally there aren't many people to pick up. If you can grab a taxi here you'll be saving money because the driver doesn't have to pay the airport fee of 50 baht.
Wherever you go to get a taxi from Bangkok airport to Pattaya you should make sure it is a properly licensed taxi. Those that serve the airport must meet certain criteria such as being less than 5 years old, air-conditioned (thank goodness), and the driver should have an Airports of Thailand certificate.
From central Bangkok to Pattaya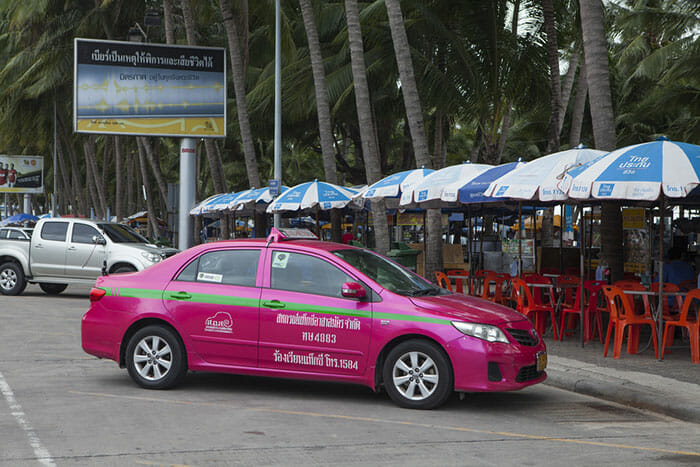 Travelling from the centre of Bangkok to Pattaya you'll have a few more options when it comes to picking up a taxi. Hotels can always arrange a taxi for you and if you're in one of the upmarket hotels you would expect the taxi's they use to be reputable and reliable (as should all licensed taxis operating in the city), and it saves you having to negotiate a price with the driver. When you arrange a taxi from Bangkok to Pattaya through your hotel or a travel agency you should expect to pay a premium for the service so the price will be around 1500 baht.
1500 baht is actually the official meter-taxi rate from the city, but as always you can negotiate on this price. You're in a much better negotiating position if you simply pick up a taxi on the street, but be sure to confirm the price you're going to pay before the driver sets off.
Bangkok to Pattaya by Bus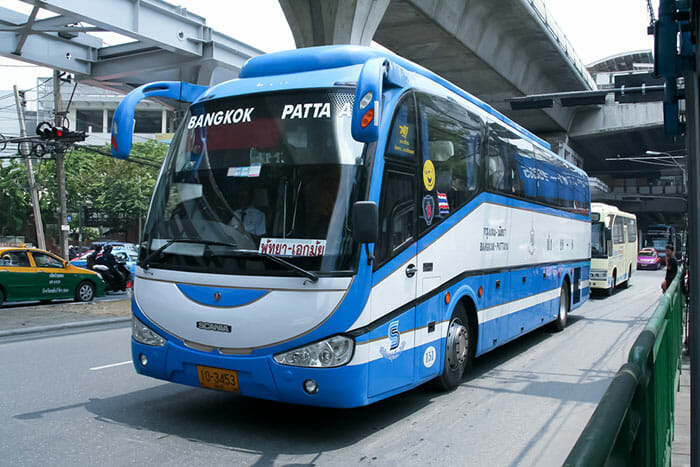 Buses are considerably cheaper than taxis when going from Bangkok to Pattaya. There is a regular and frequent service between the two cities so with multiple buses departing every day you shouldn't have a problem getting a ticket for one. Of course, being a cheaper option, a bus from Bangkok to Pattaya does have a few drawbacks – it's not door to door service for one thing so you'll still have to get yourself to the bus station in Bangkok and from the bus station once you get to Pattaya. If you have a lot of luggage with you this can be a hassle. You'll also be sharing a bus with plenty other people so if you prefer peace and privacy when travelling then a bus is not the way for you!
First Class or Second Class Bus?

The other drawback to using buses is the time it takes. First class buses are essentially non-stop though there will be a few stops in Bangkok and in Pattaya for picking up and dropping off passengers at places other than the main terminals. Even so, the journey time should be somewhere around 2 to 2.5 hours. Depending on where in Bangkok you are getting on the bus the ticket will cost somewhere between 100 and 120 baht.
Second class buses are a strange option because they're not much cheaper than their first class counterparts (around 100 baht), they don't have air conditioning, and they stop all over the place, so they take considerably longer to get from Bangkok to Pattaya. If you aren't in a hurry and you don't mind sitting on a non air conditioned bus for several hours then pick this option!
Bus from Bangkok Airport to Pattaya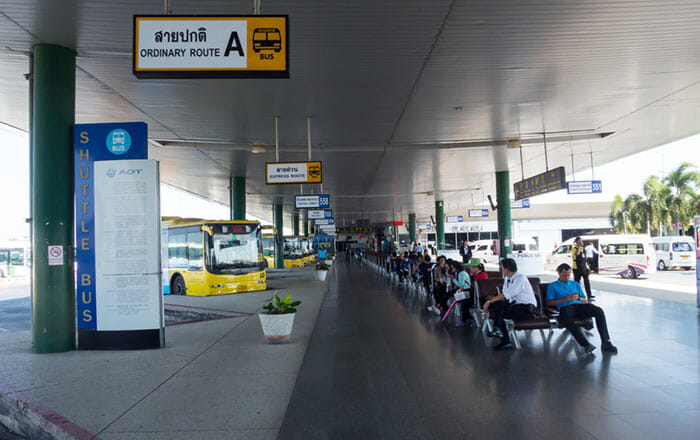 Another option when travelling from Bangkok airport to Pattaya is the public bus. Buses depart from Suvarnabhumi Airport about 5 times per day and again they cost in the region of 100 baht depending on whether you're going to Pattaya or onwards to Jomtien.
When considering your options for travel from Bangkok to Pattaya it really comes down to convenience and cost. Buses are wonderfully affordable so these might be the first choice for backpackers looking to travel around on a budget, but if you don't mind spending the extra a taxi is far more convenient and should be the more comfortable option too.
Did you find this guide useful?
Click on a star to rate it!
Average rating: / 5. Vote count: