Phuket is a true jewel of Thailand and an essential destination for any traveler seeking the ultimate Thai experience. This enchanting island has it all: natural beauty, a deep-rooted cultural heritage, mouthwatering cuisine, and a bustling nightlife scene.
The immense popularity of tourism in Phuket is well-founded. Its mesmerizing beaches, featuring pristine waters and soft, white sands, transport you to a tropical haven. For adventurous souls, Phuket's breathtaking underwater world awaits exploration through scuba diving and snorkeling.
Rich in history dating back centuries, Phuket offers a glimpse into its past through visits to ancient temples and engaging in local customs and traditions. No trip to the island would be complete without indulging in its exquisite street food. Or try food from all over the world available in this tourist hotspot.
In conclusion, for those seeking a destination that seamlessly blends natural splendor, cultural wealth, and endless excitement, Phuket is the perfect choice.
Famous places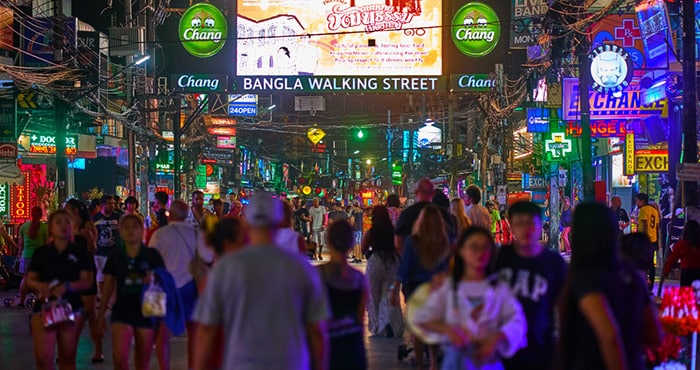 Patong Beach
As a top tourist destination in Phuket, Patong Beach captivates visitors with its pristine crystal-clear waters, powdery white sands, and lively ambiance. Catering to various interests, it offers sunbathing, swimming, and an extensive nightlife scene.
A thriving tourism hub, Patong Beach boasts an array of hotels, eateries, bars, and shops waiting to be discovered. It's an ideal location to bask in the sun, savor delectable local dishes, and immerse oneself in the island's tempting nocturnal scene.
Phuket Old Town
Phuket Old Town offers visitors an opportunity to delve into the island's rich cultural heritage. This enchanting neighborhood, with its historic buildings and monuments, serves as a perfect setting to explore Phuket's storied past and traditions.
As you wander through the streets of Phuket Old Town, you'll feel transported to a bygone era. Admire the stunning Sino-Portuguese architecture and visit museums that provide insights into the island's history. Regardless of whether you're a history enthusiast or simply seeking a different experience, Phuket Old Town presents an intriguing and distinct destination worth exploring.
Wat Chalong Temple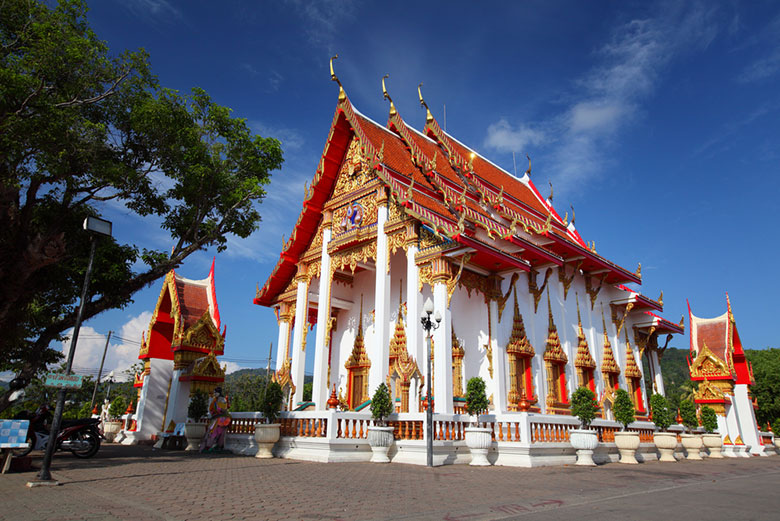 Wat Chalong Temple stands as one of Phuket's most renowned and venerated religious landmarks. Boasting breathtaking architecture and serene surroundings, this exceptional temple is an essential stop for those intrigued by Thai culture and religion.
As visitors explore Wat Chalong Temple, they can gain insights into Buddhism and Thai traditions while appreciating the detailed carvings and exquisite artwork embellishing the temple's structures. This tranquil and spiritual sanctuary provides an ideal setting for quiet introspection and meditation.
Things to do in Phuket
Scuba Diving
From experienced divers to first-timers, Phuket offers an incredible scuba diving experience. With its crystal clear waters and abundant marine life, you can explore the underwater realm through reef or wreck dives – sure to be a memorable adventure! Whether you're looking for a unique way to enjoy your vacation or simply exploring the depths of the ocean, Phuket is the perfect place to do it.
Thai Cooking Classes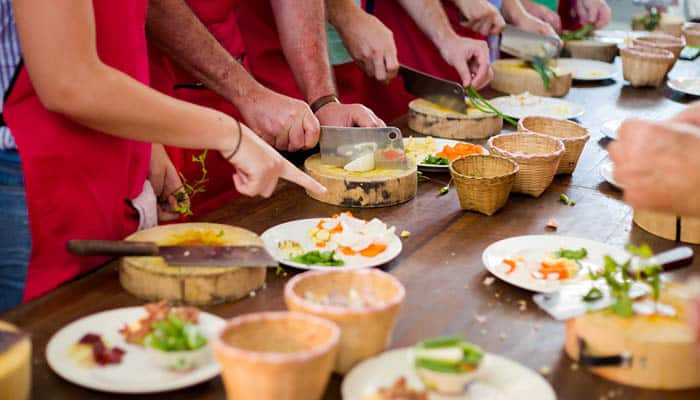 If you love food, don't miss the opportunity to explore Thai cuisine and cook traditional dishes in Phuket! Cooking classes are available throughout the area, where you can learn about ingredients, techniques, and recipes from local experts. At the end of your class, you'll get to savor the delicious results of your hard work. It's the perfect way to bring a taste of Thailand home with you!
Elephant Sanctuaries
Phuket is the perfect destination for those wanting to get close to elephants safely and responsibly. Visitors can explore the many elephant sanctuaries here, where they have the opportunity to feed, ride or simply observe these majestic creatures. For more information on Phuket's elephant sanctuaries, visit Phuket Elephant Sanctuaries. It's an experience that will stay with you forever!
Getting to Phuket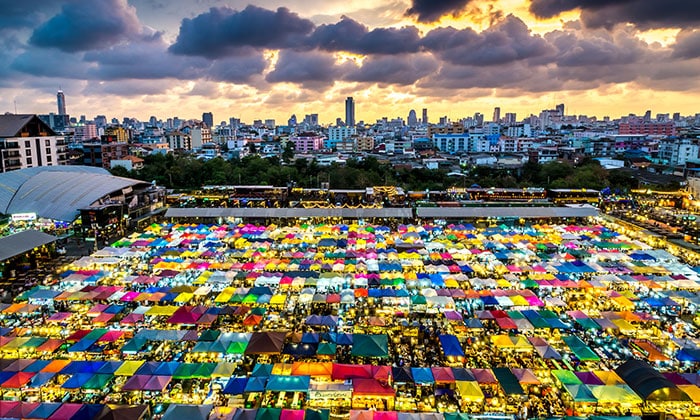 Bangkok to Phuket
There are several ways to travel from: Bangkok to Phuket – Go by Bus, Train or Flight?
Flights are the quickest option but also the most expensive. There are over 50 flights per day to choose from Bangkok to Phuket. Fares vary depending on several factors, including season, day of travel, and length of stay. Prices are also affected by which airport in Bangkok you depart from and the airline you choose. The lower-cost airlines tend to depart from Don Mueang Airport, while the more expensive airlines use Suvarnabhumi Airport.
Getting from Bangkok to Phuket by train involves taking a train from Bangkok to Surat Thani and then a bus the rest of the way. The train portion of the journey takes around 8 hours, with another 5-6 hours by bus. Although it takes a long time, traveling by train allows you to see the scenery of Thailand and can be done in a more relaxed pace. However, overnight sleeper trains are also available for those who prefer to sleep while traveling.
Traveling by bus is the cheapest option for getting from Bangkok to Phuket, with several bus companies operating on this route. The journey takes around 11-12 hours, including several stops along the way. Buses come in different classes, from basic to luxury, to accommodate different budgets and comfort levels.
Krabi to Phuket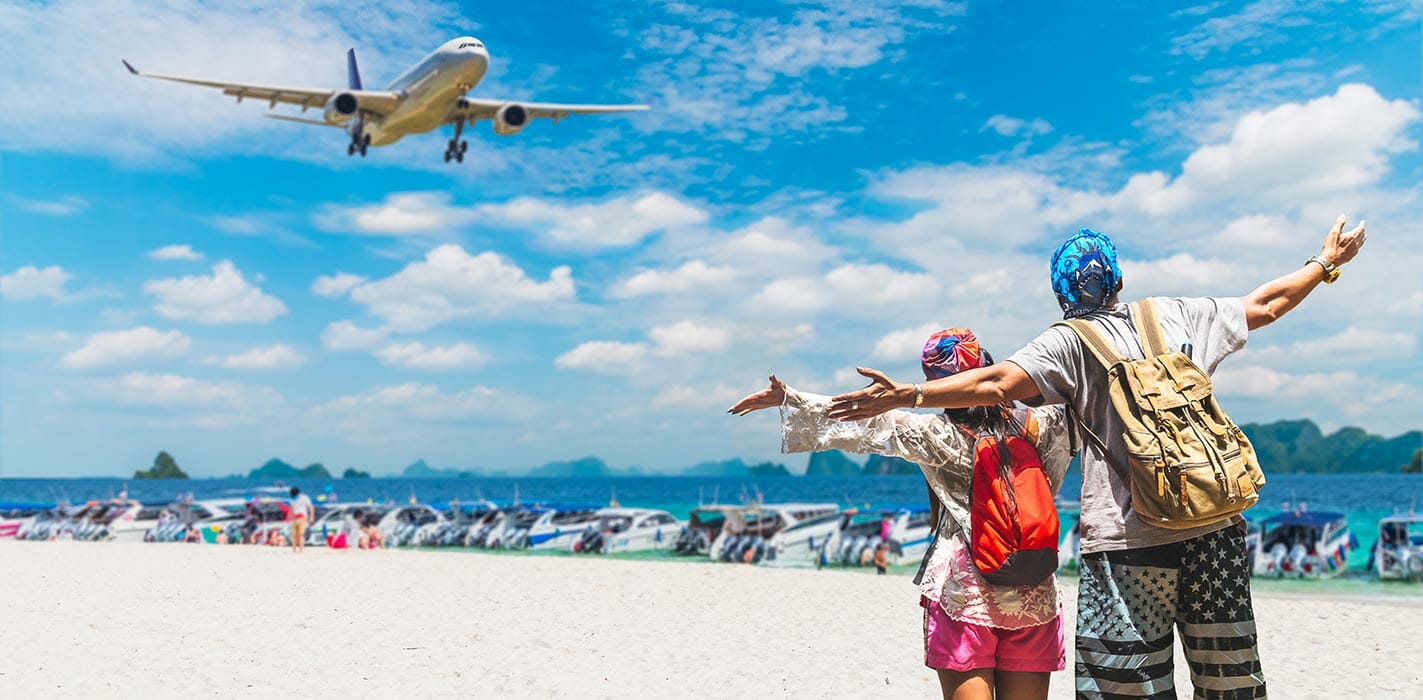 Krabi Town, often overshadowed by nearby beach resorts like Ao Nang and Railay, offers a genuine glimpse of local culture and a distinct atmosphere. Many tourists travel from Krabi to Phuket. The distance between Krabi and Phuket is around 165 kilometers (103 miles), and there are multiple transportation options to choose from, such as buses, minibuses, taxis, ferries, and speedboats.
Buses are a popular and affordable choice, with both government-run and private options available. The government-run buses are cheaper but less comfortable, while private buses offer a higher level of comfort. Minibuses are also popular, providing the convenience of hotel pick-ups, though they have less legroom and can take longer due to multiple stops.
Taxis offer a true door-to-door service and usually take around 2 hours for the journey, but they can be expensive. Booking a larger vehicle and sharing with friends or family can make this option more affordable. Ferries, on the other hand, offer a scenic and spacious alternative to road travel, though they can take longer and may not be suitable for those prone to seasickness. Lastly, speedboats are the fastest but most expensive option, taking only around 45 minutes to cross between the two destinations.
For a comprehensive guide on these transportation options, read the original article.
Pattaya to Phuket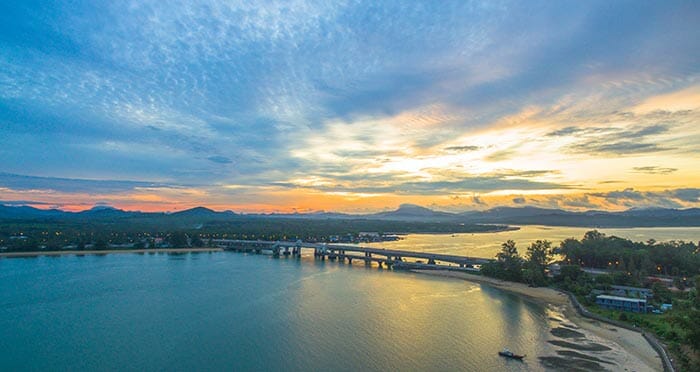 Pattaya and Phuket are two of the most popular beach destinations in Thailand, but each has its unique character. Pattaya is known for its beaches and nightlife, while Phuket is known for its beautiful beaches and more relaxed atmosphere. When traveling from Pattaya to Phuket, you have several options, including flights and buses.
Flights from Pattaya to Phuket are the quickest option, with direct flights available between the two cities. Thai AirAsia and Bangkok Air both offer flights, with Thai AirAsia being more affordable but with no checked baggage allowance. You can fly from the U-Tapao Pattaya Airport and upon arrival at Phuket International Airport, you have several options for getting to your final destination.
Traveling from Pattaya to Phuket by bus is a more affordable option, popular with budget travelers. Buses are a convenient and safe way to travel in Thailand, but the journey takes longer than flying. You can find bus tickets easily, but be prepared for the long journey.
Read more about the different options for traveling from Pattaya to Phuket.
Other guides to Phuket
Traveling from Phuket
Phuket to Koh Samui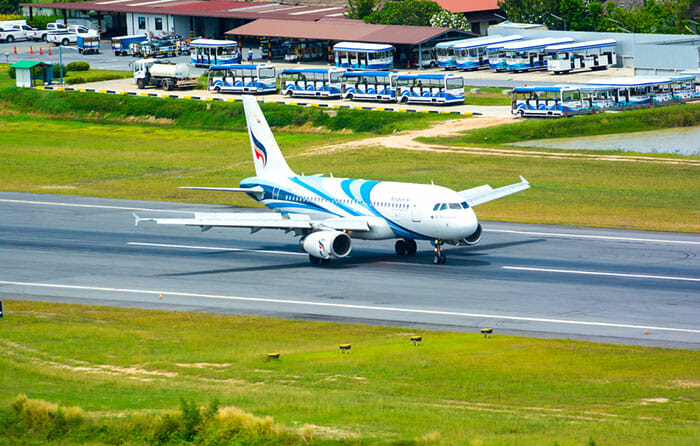 Phuket and Koh Samui are two popular destinations in Southern Thailand and it is easy to travel between these two locations. There are several options available including flights, driving, bus and ferry.
If you're looking for a more leisurely pace, then driving is a good option. Renting a car is a great way to see the wonderful scenery along the way, but remember that Koh Samui is an island not connected to the mainland, so you will need to catch a ferry.
If you'd prefer to take a slower pace and soak up the scenery, then renting a car is your best bet. Keep in mind though that Koh Samui is an island which isn't connected to the mainland, so you'll have to catch a ferry in order to get there. Enjoy the beautiful views on your drive!
Bus and ferry are a good option for those who prefer someone else to do the driving and enjoy the passing scenery. There are several options for bus and ferry combined tickets, and comfort levels vary. The trip takes between 8 to 9 hours and arrives at Na Thon Pier on Koh Samui, from where you will make your own way around.
For more detailed information, read the full Phuket to Koh Samui – Go by Bus or take a Flight? article.
Phuket to Phi Phi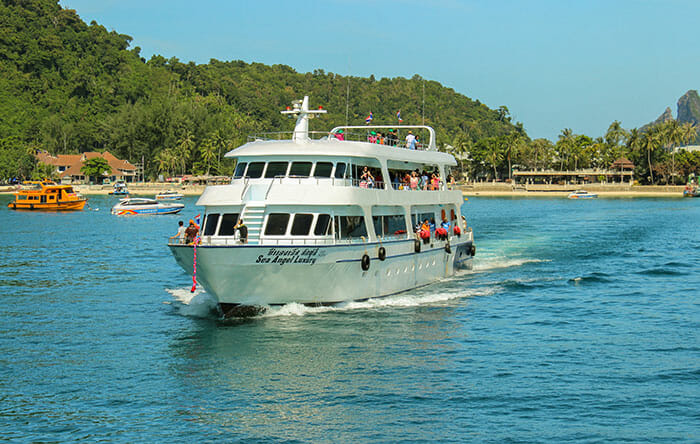 To travel to the Phi Phi islands, one must take a boat as there are no airports. There are three main options for traveling from Phuket to Phi Phi: all-inclusive tours, speedboats, and ferries.
An all-inclusive tour is the most expensive option but includes several benefits such as a pickup from the hotel, lunch on Phi Phi, stops of interest along the way, and even snorkels. Tour durations can vary, and the number of passengers can range from 18 to 45.
Speedboats offer more flexibility in terms of time and location, and can be taken directly from some of the beaches in Phuket. For those traveling in a large group, a private speedboat charter is also a popular option, although it is more expensive.
Ferries are the most affordable option and depart from two different terminals on Phuket: Rassada Pier and Sea Angel Pier. The ferry ride will take between 1.5 and 2 hours, and there are several different ferry companies to choose from.
For more detailed information about traveling from Phuket to Phi Phi, read the post.
Phuket to Krabi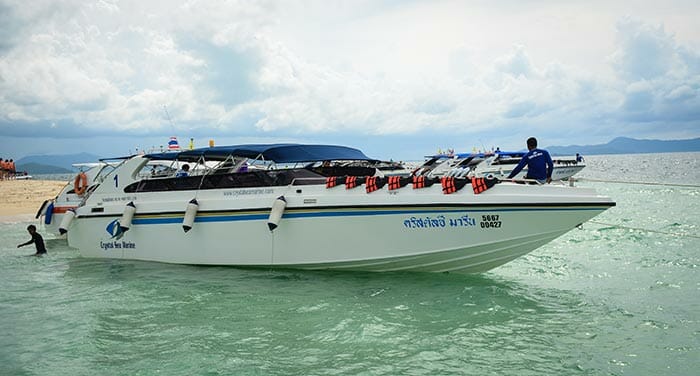 Phuket and Krabi are two popular destinations in southern Thailand that offer contrasting atmospheres and different ways of life. Traveling from Phuket to Krabi can be done by road or by boat.
On the road, you have the option of traveling by bus, minibus, or taxi. The bus is the most popular mode of transportation due to its cheap cost and frequency of departures. The minibus provides a more comfortable option, while a taxi is the most comfortable option but also the most expensive.
For those who enjoy sea travel, there is the ferry and speedboat option. The ferry is scenic and comfortable, but it takes a longer time compared to the other options, with journey times of around 8.5 hours including a 5-hour stop on the island of Phi Phi. The speedboat is the fastest option with journey times of around 2 hours, but it is also the most expensive. It terminates at the resort town of Ao Nang, which is about 19 kilometers from Krabi town.
Travel from Phuket to Krabi – Go by Ferry, Minibus, Bus or Taxi?
More travel guides from Phuket:
• Phuket to Surat Thani
Did you find this guide useful?
Click on a star to rate it!
Average rating: / 5. Vote count: