The Philippines provides travelers with an array of activities and experiences. From its stunning natural scenery to the vibrant culture and traditions, the Philippines offers something for everyone – whether you're looking for adventure or a peaceful getaway. The Philippines has so much to explore and all the natural beauty, it's no wonder why it is one of the world's top vacation destinations. Come and see for yourself why the Philippines is a destination like no other!
Read about:
• Best time to visit Philippines
• Places you should definitely visit in Philippines
• Getting around in Philippines
• Travel inside Philippines cities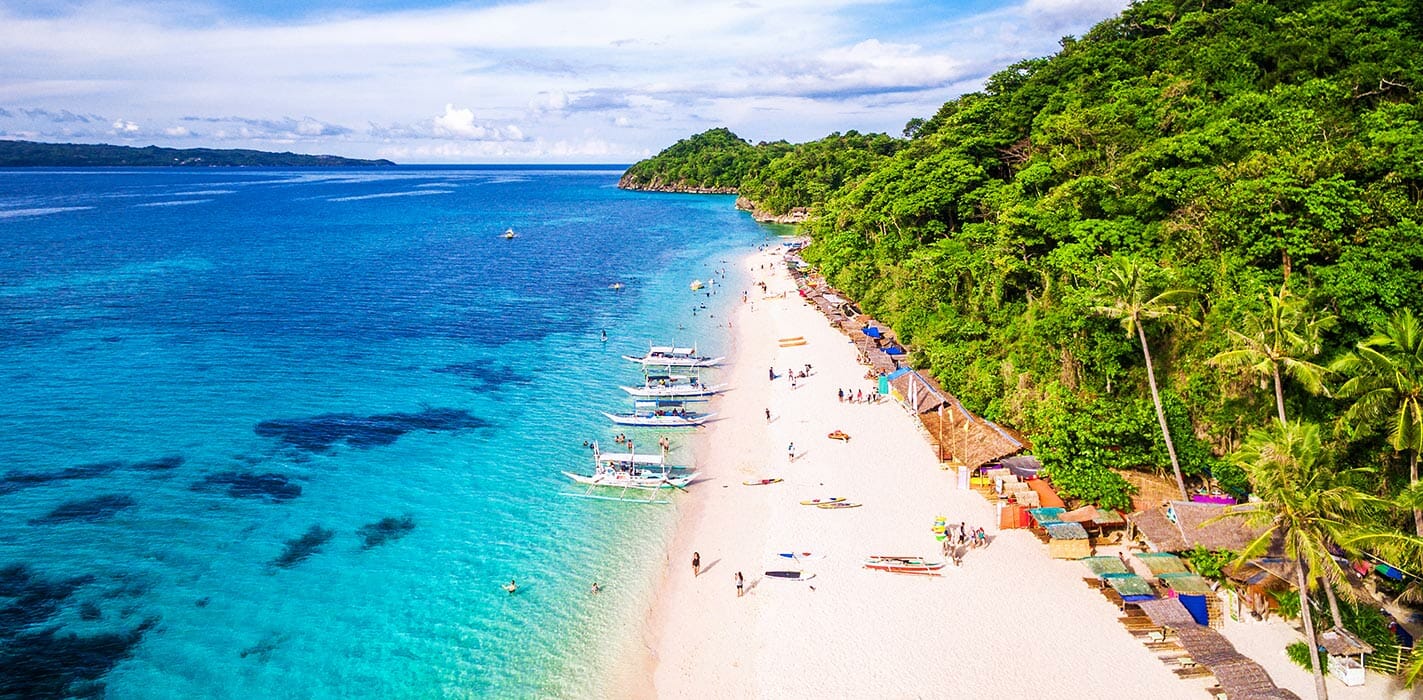 The Philippines offers countless opportunities for those looking to explore stunning natural wonders. It is home to some of Southeast Asia's most breathtaking beaches, from the pristine white sands of Boracay Island to the sweeping black cove of San Vicente in Palawan. The country is also home to beautiful forests full of life, while rice terraces add bold hues to the landscape. Those who love outdoor activities will be delighted with the many volcanoes – perfect for fascinating hikes and sightseeing excursions.
The cultural heritage of the Philippines is just as rich as its natural features. With influences from both Spanish colonization and American occupation over centuries, Filipino culture has developed into a unique blend of East-meets-West flavors, making it a fascinating place to explore. Visitors have a chance to learn about various indigenous cultures, as well as participate in traditional festivals such as Kadayawan sa Davao or Sinulog Festival. Filipino people are known for their warm hospitality and friendliness towards tourists, which further adds to the charm of this country.
When it comes to food, the Philippines has become famous for its delicious cuisine that combines indigenous ingredients with Spanish and Chinese influences. Adobo is one dish you must try when visiting – braised meat in soy sauce, vinegar, garlic, and other spices – but there are plenty more options such as sinigang (sour soup), lechon (roast pork) or kare-kare (oxtail stew). You'll also find dishes from all over the world thanks to the country's international presence, which can be found in places like Manila or Cebu City!
With so much on offer in terms of sights & sounds, activities & recreation – not forgetting tantalizing cuisines – it's no surprise why many travelers make their way back again and again to experience all that this nation has to offer! Whether your perfect holiday involves exploring nature trails or simply lounging on a paradise beach – you won't regret exploring this fascinating country!
Best time to visit Philippines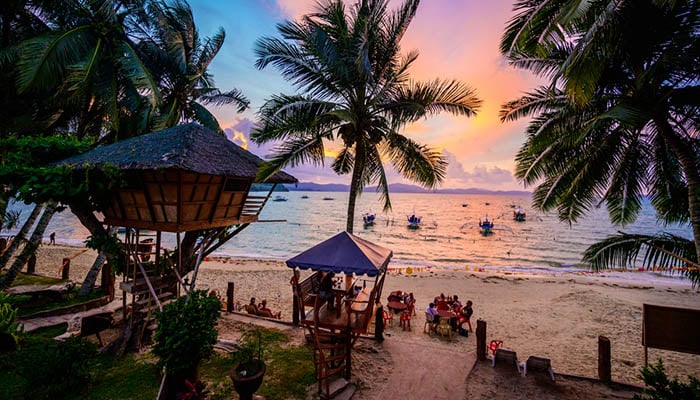 The best time to visit the Philippines depends on your personal interests and what you want to explore. The dry season runs from November to April. It is the most popular time for outdoor activities such as beach getaways and exploring the many attractions the Philippines has to offer. During this period, there is minimal rain and humidity levels are comfortable – perfect for enjoying the outdoors without worrying about getting wet!
But if you're looking for a more immersive experience with unique festivities, consider timing your trip around one of the many festivals celebrated throughout the year. For example, Sinulog Festival takes place in Cebu City in January and celebrates the Santo Niño – Child Jesus – with colorful parades and lively traditional dances. Similarly, Moriones Festival occurs in Marinduque in March or April and reenacts the story of Jesus' passion with costume parades. Last but not least, Panagbenga Festival takes place in Baguio City every February with flower-filled floats that represent the city's beauty.
No matter when you decide to go, be sure to take advantage of all that the Philippines has to offer by taking some time to explore its diverse regions and cultures. From sprawling beaches along its coastlines to remote islands off its shores, there's something for everyone here – plan ahead and make your dream vacation a reality!
Places you should definitely visit in Philippines
Manila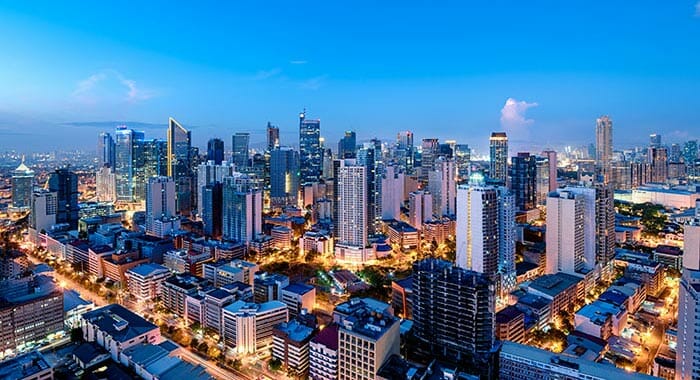 Manila is the bustling capital of the Philippines, located on the island of Luzon. It is the country's largest city and is home to a population of over 12 million people. Manila has long been a hub for business, education, and entertainment, and boasts many world-renowned landmarks. The historic Intramuros district is one such landmark, with its 16th-century Spanish-walled city that was once the seat of power during Spanish colonization.
Another iconic spot in Manila is Manila Bay; this beautiful bay can be seen from many parts of the city and features an incredible view of both natural and man-made structures. Also not to be missed is Rizal Park, a 58-hectare historical urban park dedicated to Philippine national hero José Rizal.
Cebu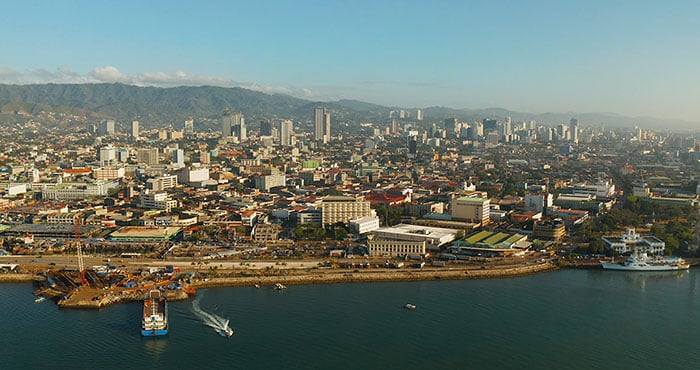 Cebu is another popular destination in the Philippines, located on the island of Cebu in Central Visayas. It is one of the oldest cities in the country and is home to a population of over 4 million people. Cebu City has become known for its beautiful beaches combined with a rich culture and heritage sites.
Some must-see spots include Magellan's Cross which marks Ferdinand Magellan's arrival in 1521; Taoist Temple was built by Chinese immigrants who settled in Cebu; and finally, there's also Taoist Cemetery, where visitors can find tombs from various Chinese clans dating back centuries ago.
Puerto Princesa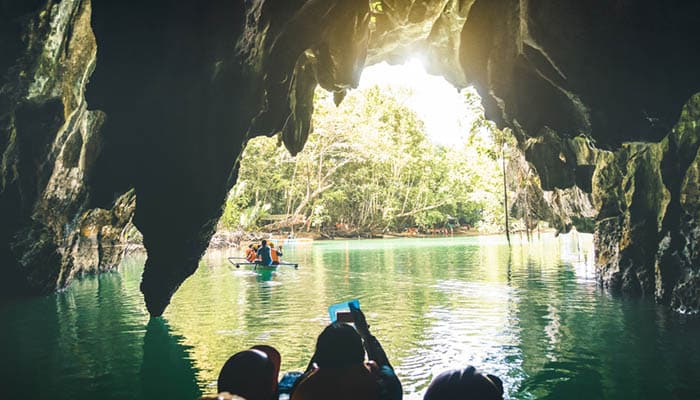 Puerto Princesa, located in Palawan province in the westernmost part of the Philippines, is another stunning city with plenty to offer visitors. Puerto Princesa has a population of about 250 thousand people. It enjoys quite a mild tropical climate throughout most months year-round. One cannot miss out on visiting Puerto Princesa Subterranean River National Park – it was declared one of the UNESCO World Heritage Sites due to its underground river system. It features unique wildlife species along with spectacular limestone formations such as stalactites, stalagmites, large chambers, and cave domes.
Other attractions include Honda Bay islands which offer crystal clear waters perfect for swimming or snorkeling activities; plus an interesting Iwahig Penal Colony where inmates work on agricultural projects while serving their sentences instead of just being confined within four walls behind bars like typical prison facilities elsewhere around the world.
El Nido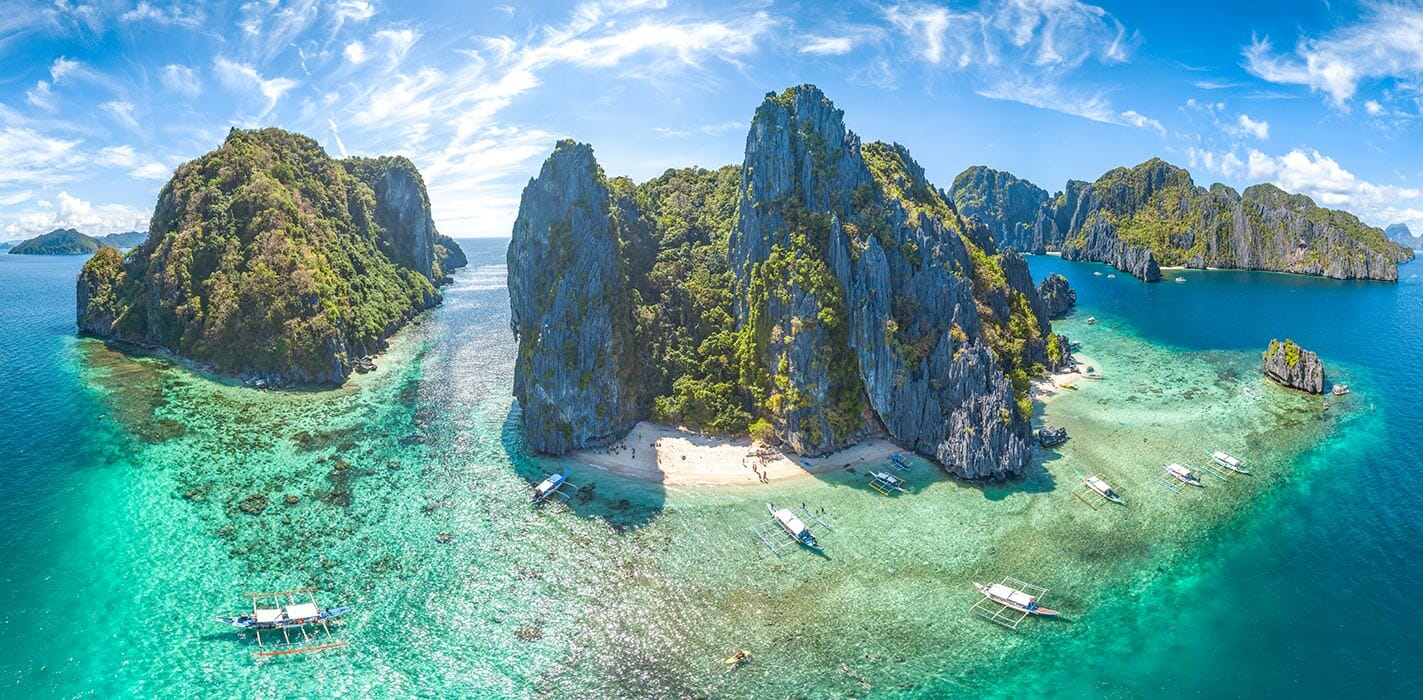 El Nido is a small but picturesque town located on the beautiful island of Palawan in the western Philippines. It is renowned for its world-class beaches, crystal clear water, and stunning rock formations that have made it a popular destination for both active and leisure travelers alike. El Nido offers a wide range of activities such as snorkeling and diving, as well as peaceful waterfronts perfect for relaxing on the beach or enjoying a picnic in one of its many lagoons.
Dumaguete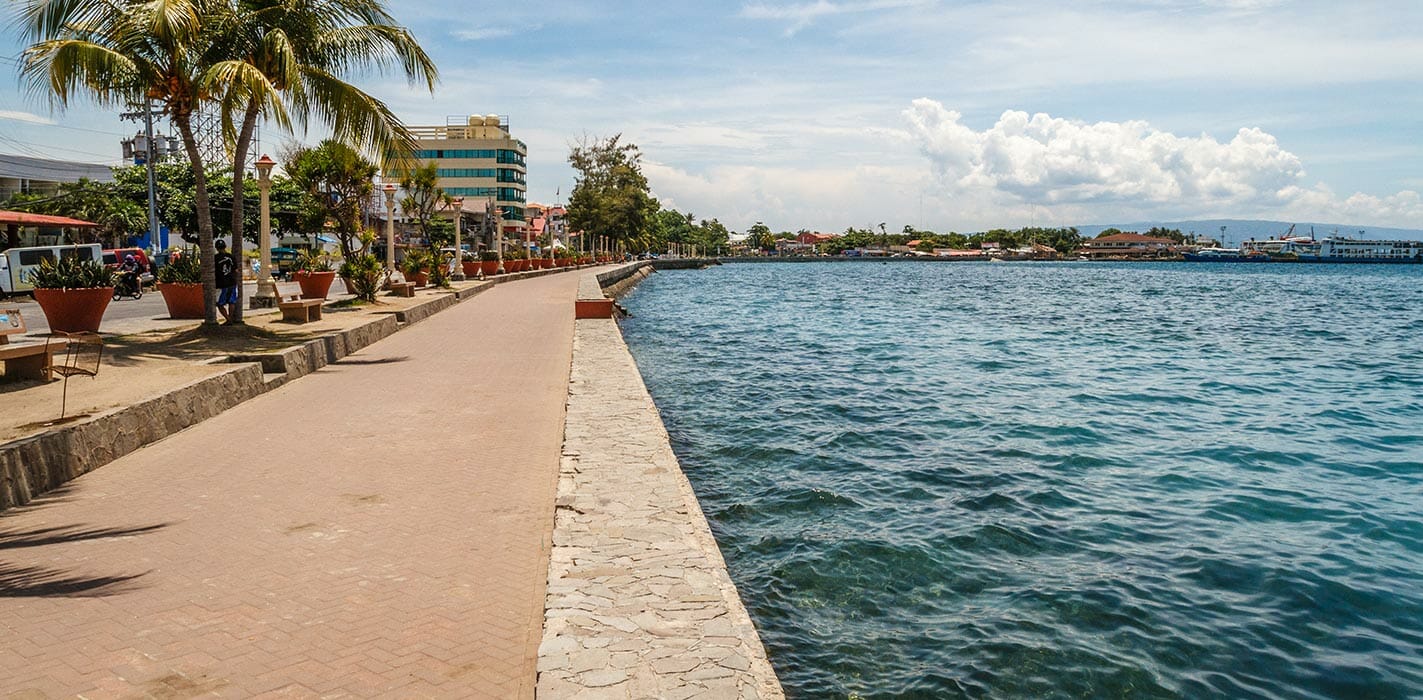 Dumaguete is situated on the stunning island of Negros in the central Philippines. This vibrant city has all sorts of attractions, from beaches to universities. Giving it an energetic atmosphere unlike anywhere else. Dumaguete offers eco-tourism sites that are sure to please any nature lover with nature reserves and parks close by, making it an ideal destination for those wishing to explore and step away from the hustle and bustle of city life.
Coron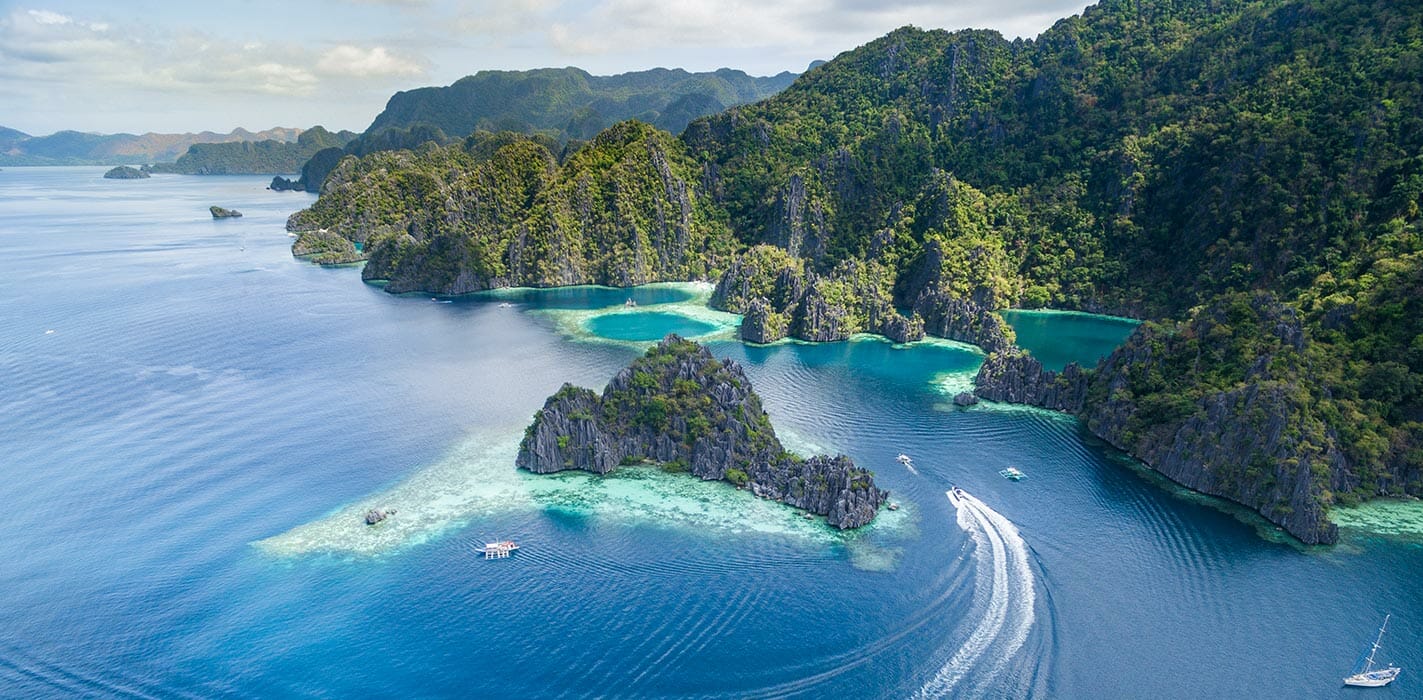 Coron is another small town found on the island of Palawan in the western Philippines and is known for its breathtakingly beautiful natural environment along with its various water sports activities. Including snorkeling and diving at shipwrecks, which have become popular among tourists over time. Moreover, Coron is home to Kayangan Lake – considered one of the most beautiful lakes in all of the Philippines – making it a must-visit spot when exploring this part of the country.
Boracay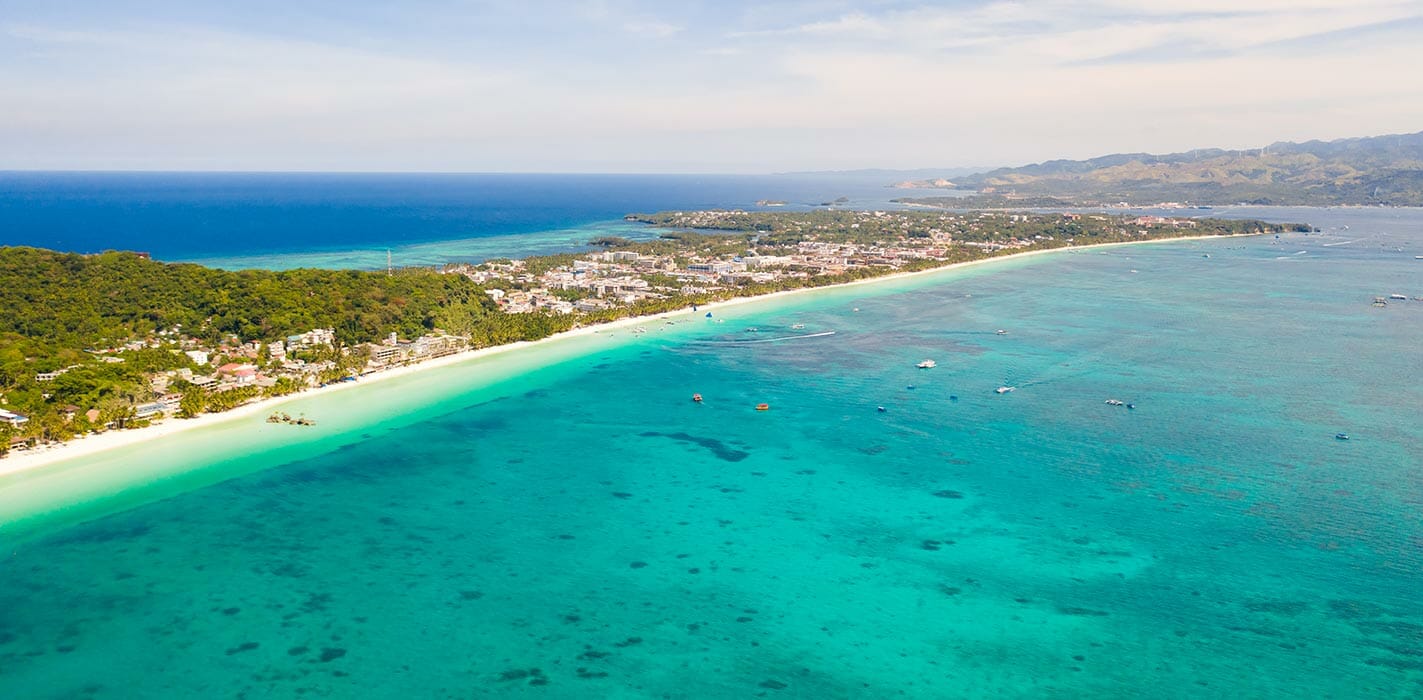 Boracay, located in the western Philippines, can be easily accessed by boat from mainland ports nearby. It's renowned for its white sandy beaches lined with palm trees swaying gently with every breeze that blows through. Boracay caters to those looking to relax with plenty of tranquil spots on the beach or exciting activities like bar-hopping or even windsurfing – something to suit everyone's tastes! Apart from being a perfect beach holiday destination, Boracay also boasts some tasty seafood restaurants where visitors can indulge their appetite after days spent under glorious sunshine!
Getting around in Philippines
It's easy to travel between the islands and cities, whether you prefer to take a ferry, train, or bus.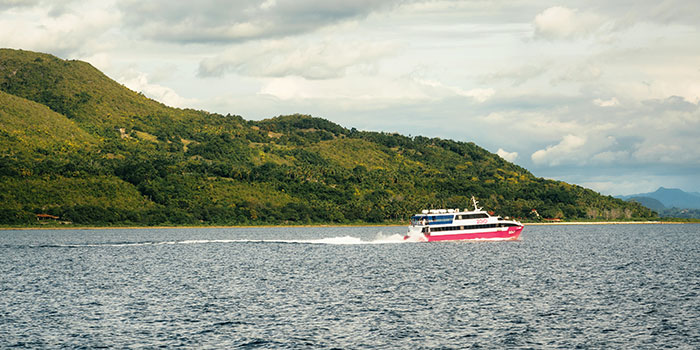 The ferry is the most popular way to get around in the archipelago. Ferries have an extensive network of routes, which offer economy and air-conditioned cabins as different services. Travelers can find ferries departing from major ports such as Manila, Cebu, or Davao, connecting many destinations throughout the country.
Trains are another great option for those who want to explore the country in a more leisurely way. Even though there isn't an extensive railway network, travelers can still find a route from Manila to Legazpi operated by Philippine National Railways. This rail line has several stops along the way and provides first-class cabins for more comfort during your journey.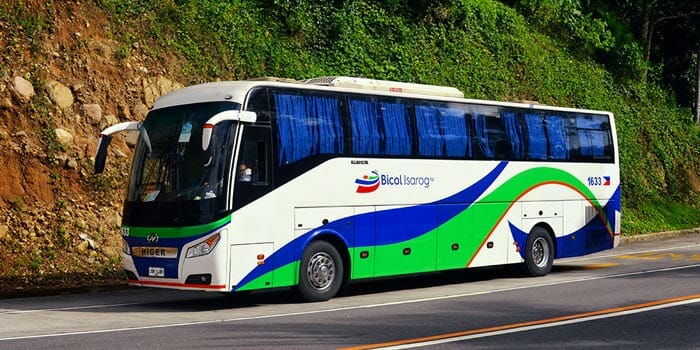 Buses are one of the most economical ways to get around in the Philippines; they come in different types ranging from air-conditioned coaches to local jeepneys that can take you everywhere in no time! Major cities and towns provide plenty of options with regular departures that cover almost every destination across the country.
No matter what your budget and preference may be, there's always something suitable for traveling between cities in the Philippines. Ferries tend to be cheaper while trains provide a more comfortable and scenic journey; buses are also affordable but don't forget about jeepneys which are perfect if you're looking for something less pricey but still efficient!
Travel inside Philippines cities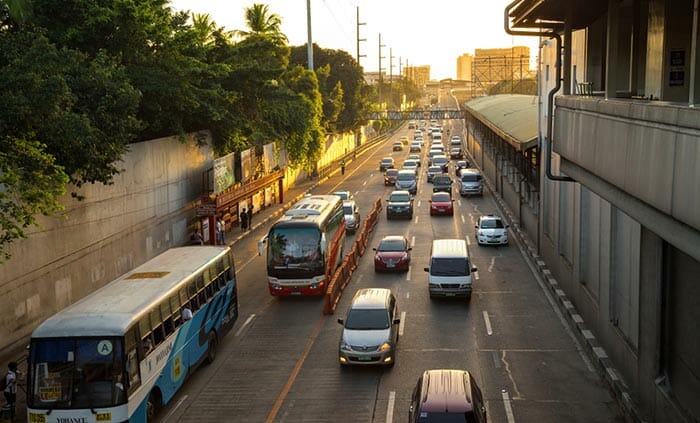 The cities of the Philippines boast a wide range of transportation options for visitors and locals alike. One of the most popular and affordable ways to get around is by Jeepney. These modified jeeps can hold up to 20 people, run on fixed routes, and are definitely cheap.
Taxis are available in major cities, although it's important to use a reputable company and negotiate the fare beforehand.
Tricycles are another option for shorter trips; three-wheeled vehicles that can seat four passengers is a common sight in smaller towns and cities.
For those looking for something a bit more convenient, Grab is a popular ride-hailing app that allows users to book private drivers with just a few taps.
Finally, those on a tighter budget can opt to take public buses which operate in the big cities but tend to be crowded and not as comfortable as other forms of transport.
No matter what mode of transportation you choose, getting around in the Philippines shouldn't be too difficult. Whether you're traveling short distances or longer ones, there's sure to be an option that suits your needs depending on your budget and convenience level. Be sure to plan ahead so you don't end up stranded somewhere!
Did you find this guide useful?
Click on a star to rate it!
Average rating: / 5. Vote count: