Offering an enticing combination of the world's most beautiful beaches and some of the best nightlife in Thailand, it's easy to see why the islands of Koh Phangan and Phuket are among the most popular destinations in the country. Long popular with backpackers, these two islands also offer a great deal to couples and families too, whether you enjoy lazy days on the beach, diving, snorkeling, shopping or dining, there's a little bit of everything here. Experience the best of Thailand's island life by traveling from Koh Phangan to Phuket; it's a favorite route for tourists that has plenty of transport options to choose from.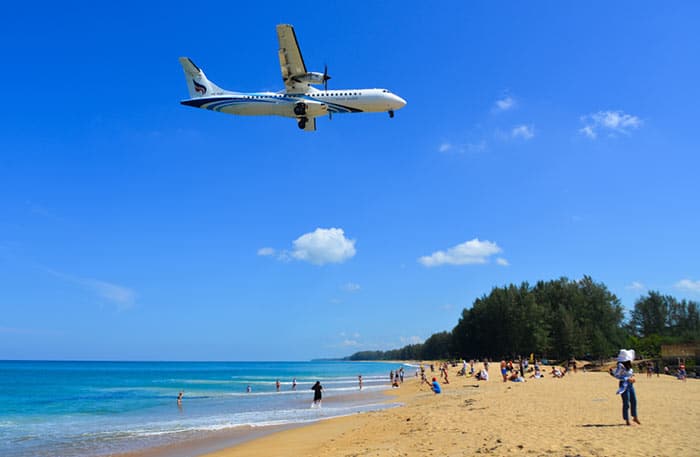 Options for Travel from Koh Phangan to Phuket
The straight line distance from Koh Phangan to Phuket is only around 265 kilometers (165 miles), if you were able to go directly from one island to the other, across the mainland of Thailand. Koh Phangan is situated off the east coast, in the Gulf of Thailand, while Phuket is off the west coast, in the Andaman Sea, so you do have to cross the mainland as there is no way around otherwise. Phuket is connected to the mainland via a bridge, making it easy to get to this island, however, Koh Phangan is too far off the coast to be connected by a bridge and hence it's not possible to travel by road from here. A smaller sister island to Koh Samui, Koh Phangan doesn't have its own airport either, leaving boats the only option to get off Koh Phangan. Even so, there are a lot of options to get you from Koh Phangan to Phuket, including flying from Koh Samui, and all inclusive tickets that include ferries, buses and transfers to hotels.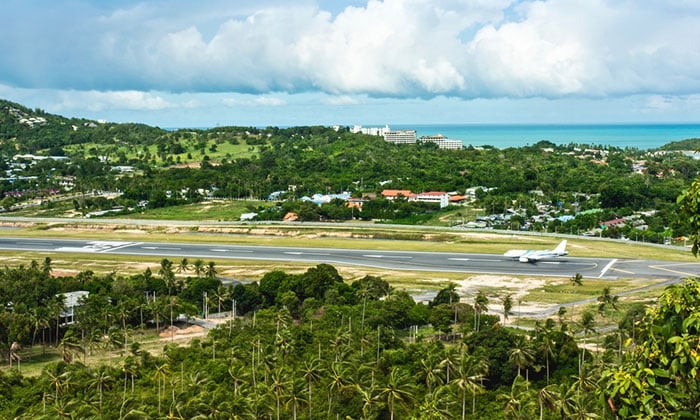 Flight from Koh Phangan to Phuket via Koh Samui Airport
Koh Phangan is too small to have its own airport, and being only a short distance from Koh Samui (home to the Samui International Airport) it is easy to get to and from Koh Samui via boat to make use of the flights coming in and out of there. One of the most popular and frequent flights out of Koh Samui is to Phuket, so there are several options per day when it comes to flying, but you will need to choose a ferry from Koh Phangan to Koh Samui that will get you there in time for a connecting flight.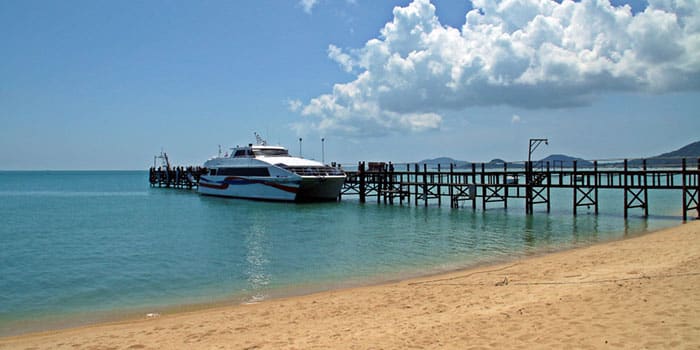 The good news is that boats to Koh Samui take as little as 30 minutes if you're traveling on Lomprayah's speedboat. This company has four speedboats departing every day, spread across the day, making it easier to find one that fits in with your schedule. They depart at 8am, 11am, 12:30pm and 4:30pm, and as mentioned, they take only 30 minutes to reach Koh Samui. Most speedboats arrive at the Maenam Pier on Koh Samui, which is a short distance to the north of the Koh Samui Airport. You could also go to Nathon Pier but this is on the west coast of the island and would take longer to get to the airport from here. Once on Koh Samui you should easily be able to get transport to the Koh Samui Airport, whether that's in a shared van or a taxi.
Direct Flights to Phuket are with Bangkok Airways and they have three departures per day at 8am, 11am and 6:15pm, so the evening flight would be the best if you're coming over from Koh Phangan. The flight itself is less than an hour, so this is definitely a quick way to travel from Koh Phangan to Phuket, but with flights costing more than buses, it is also the most expensive. The best ferry speedboat would be the 12:30 as this gets you to Koh Samui at 1pm, leaving ample time to get to the airport and check in. You will notice that this means you'll be waiting a bit longer at the airport than you would usually need to for checking in etc, and with this delay, flights to Phuket Airport are not necessarily the fastest way to get from Koh Phangan. It just depends on how you like to travel and what budget you have set aside.
Independent Ferry and Bus from Koh Phangan to Phuket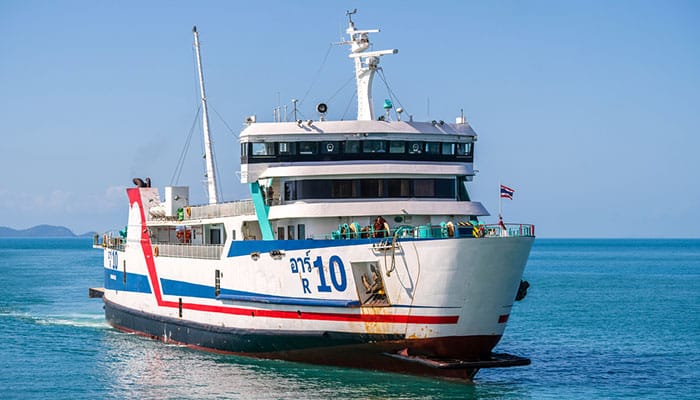 If you're looking to save as much money as possible, then you will want to travel the cheapest way from Koh Phangan to Phuket and that is to travel independently by ferry and bus or van. You can get combined tickets if you want everything taken care of for you, including transfers, but these will cost a little more – details on these below. Buying your ferry ticket and then getting on a public bus or van from the mainland across to Phuket is the answer for budget travelers.
There are lots of ferries departing every day from Thong Sala Koh Phangan to the mainland, arriving in the Surat Thani area, and you can book tickets either at the Thong Sala Pier or online through 12Go. Raja Ferry has five departures per day arriving at Donsak Pier. From here you can get transfers into Surat Thani and then buy a ticket on either a public bus or a minivan to get you across to Phuket. Raja Ferry takes 2.5 hours, then you have the transfer time into Surat Thani, plus the time it takes to get to Phuket, so this can be a very lengthy journey. Phantip Travel is another ferry provider to Surat Thani for a further option, and both Raja and Phantip do offer a transfer to the bus station that can speed up your travel time and can be included in your ferry ticket price. This is definitely worthwhile to spend a little more and have the transfer included. Ferries depart from Thong Sala Pier throughout the day with both companies, at 5am, 8am, 11am, 2pm and 5:30pm.
Koh Phangan to Phuket by Speedboat and Van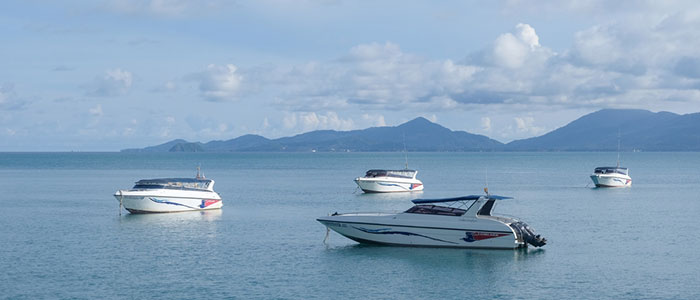 When you're happy to spend a few more dollars to get a complete travel service from Koh Phangan to Phuket, a combined speedboat and van ticket is the way to go. These are cheaper than catching a flight, and potentially faster than flying when you look at the journey time from door to door. This package can be booked through the travel website, 12Go, and all connections for the journey are guaranteed.
Lomprayah will get you from Koh Phangan to Phuket in just 6.5 hours when traveling by speedboat to Surat Thani on the mainland and then a van to Phuket. The drive to Phuket still takes a long time because it is around 240 kilometers (150 miles) and the roads are not high-speed highways so it's going to be around 4 hours on the road. The scheduled arrival time in Phuket (Lomprayah's Phuket Town office is where the van stops) is 5:30pm.
This combined ticket from Koh Phangan to Phuket is cheaper than a flight but if you want to save more money while still enjoying the complete service, you can travel by ferry and bus.
Koh Phangan to Phuket by Ferry and Bus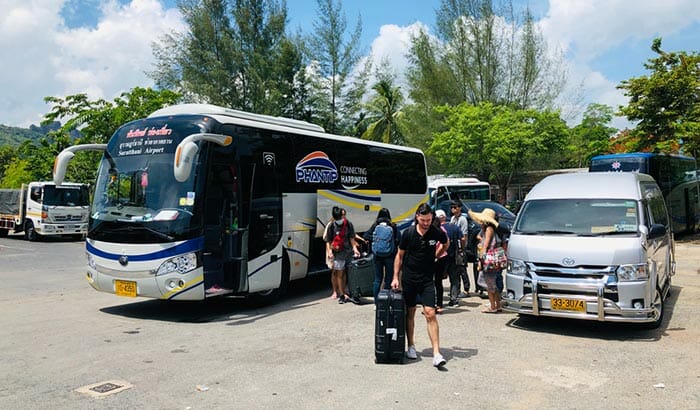 The ferries that we mentioned earlier, operated by Raja Ferry and Phantip Travel, also offer an all-inclusive ticket that will get you all the way from Koh Phangan to Phuket. The best thing about these is that they are incredibly affordable – the cost is more than if you were traveling independently, but less than the speedboat option – these tickets are about half the cost of Lomprayah's speedboat and van. The downside is that they do take longer because the ferry travels at slower speeds than the speedboats do, and the buses travel a slightly different route to the Lomprayah vans.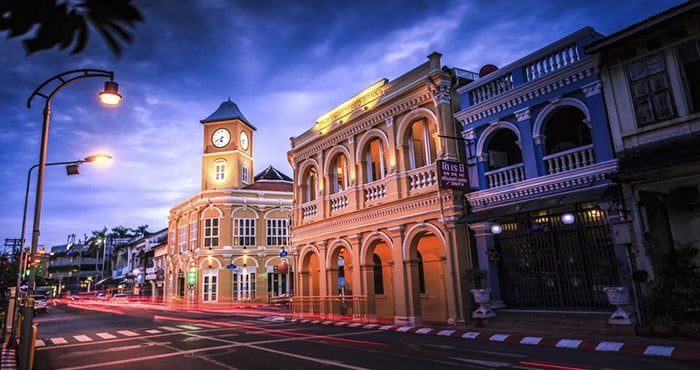 Arrive in Phuket Bus Terminal 1 or 2 in Phuket Town
If you're an early bird and like the idea of arriving in Phuket late afternoon, you can travel with Raja Ferry, leaving Thong Sala Pier at 5am and arriving at Phuket Bus Terminal 1 at 4pm. This therefore takes 11 hours, which is actually the longest journey time from Koh Phangan to Phuket. You may prefer to stay in bed a little longer and take the next ferry as that one is operated by Phantip and departs at 8am but only takes 8.5 hours in total, getting you to Phuket Bus Terminal 2 at 4:30pm, just 30 minutes later than that earlier ferry.
Another two ferry options have you arriving in Phuket in the evening: the 8am Raja Ferry arrives in Phuket at 6pm, while the 11am Raja Ferry gets to Phuket at 8pm. There really isn't much difference in the ticket prices between these two companies and across the different ferry times, so just choose whichever one suits your schedule best. All of these combined ticket options can be purchased through 12Go in advance if you want to have your booking all sorted prior to the day of travel.
Taxi from Koh Phangan to Phuket

It is worth mentioning this one final option. It is the most expensive, but also the most convenient so it's great if you have the money to spend and want more of a VIP service.
A private taxi with BangkokTaxi24 will take you the entire journey, picking you up from your hotel on Koh Phangan and dropping you right at the door of your hotel in Phuket. For convenience, this is absolutely the best service and if you're dividing the cost between a few people the price actually is not that crazy. It does take a long time, however, with the scheduled journey time advertised as 12 hours. The actual time will depend on when you depart, ferry connections, and where in Phuket you are going. You can book this service online through 12Go as well.
So, there really are a lot of good options for travel from Koh Phangan to Phuket: flights, ferries, combined tickets, and private taxis can all get you from one island to the other.
How useful was this post?
Click on a star to rate it!
Average rating / 5. Vote count: