Set on Thailand's west coast, on the Andaman Sea, Khao Lak is not just one village, but a series of small villages known for their peaceful atmosphere and nearby scuba diving opportunities. While tourist-oriented, Khao Lak prides itself on not being overly developed, making this an ideal retreat for couples or families seeking the quieter side to Thailand's beaches. While only about 60 kilometers (37 miles) north of the island of Phuket, Khao Lak is a world away from Phuket's busy beaches and bars, yet it's easy to get to. If you're looking for somewhere quieter to spend your days in Thailand, or you're heading here for some amazing scuba diving, read on to discover how you can travel from Phuket to Khao Lak.
Read about:
• Taxi from Phuket to Khao Lak
• Bus from Phuket to Khao Lak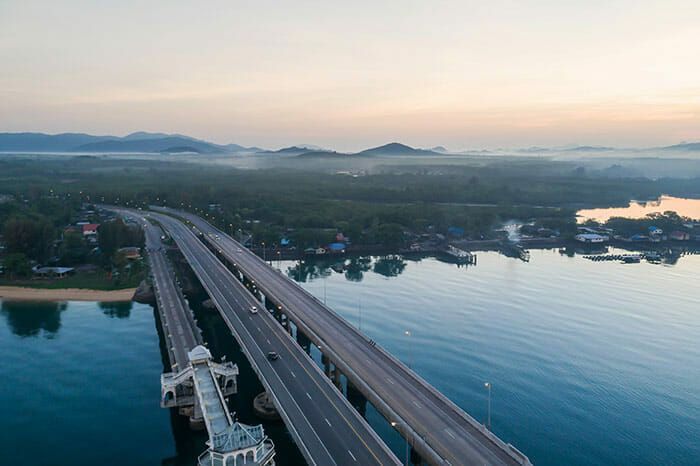 Options for Travel from Phuket to Khao Lak
Depending on where you are on the island of Phuket, the distance to Khao Lak varies. It's only about 60 kilometers from the northern end of Phuket, but if you're starting from Phuket Town (towards the southern end of the island), the journey increases to about 110 kilometers (69 miles). Then there's the airport; Phuket International Airport is about 75 kilometers (46 miles) distant. Wherever you're starting from in Phuket, there are basically two options to get you to Khao Lak: buses and taxis. Buses have the benefit of being cheaper, but they're not as flexible, while taxis can be booked from anywhere in Phuket and take you directly to your hotel in Khao Lak, so there are pros and cons to either way.
From Phuket to Khao Lak by Taxi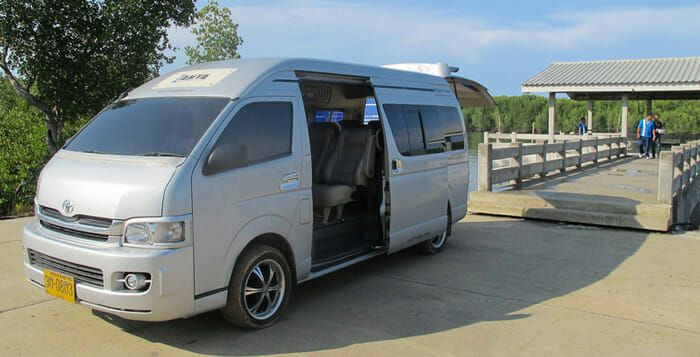 We'll start by looking at taxis from Phuket to Khao Lak. Really the only downside to traveling by taxi is the cost as it will be considerably more than traveling by bus, but, if you're traveling with a few other people and are splitting the cost of the taxi between you, suddenly they don't seem quite so expensive!
Taxis have many advantages to traveling by bus. While long-distance buses in Thailand can be surprisingly comfortable, those used on shorter distances weren't designed specifically with comfort in mind! The seats can be harder, and you'll have less leg room than on the VIP buses, and there's likely going to be less space for you to store your luggage as well. That being said, when you're only going to be on a bus for a few hours, you may be happy to sacrifice a little comfort in order to save yourself money, so it's something you should weigh up depending on your own circumstances and your budget.
Back to the taxis though – private taxi companies can be booked in advance and they can pick you up from anywhere in Phuket and drive you directly to your destination in Khao Lak. The door-to-door service is definitely a huge advantage over the buses as it's likely to be faster, and it's hassle-free too. And, there are multiple sizes of taxis you can choose from depending on how many people you're traveling with. You could book anything from a standard size comfort sedan, all the way up to a 9-passenger van.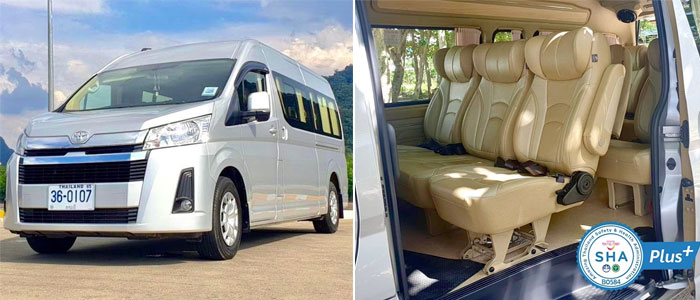 Taxis charge an all-inclusive rate, so it doesn't matter how many people are in the taxi, the cost will stay the same. Obviously, the larger the vehicle, the more it will cost, but if you are able to split the cost of a van between nine people it's really quite cheap.
Use an online travel booking website such as 12Go.asia and you'll be able to see search results from multiple taxi companies, departing from numerous different places on Phuket including the airport, popular beach towns, and Phuket Town itself. It's easy to book using their website, and you know exactly what you will be paying for the trip from Phuket to Khao Lak unlike if you just happened to pick up a taxi on the street. Depending on where you're starting on Phuket, the taxi is likely to take between 80 minutes to over 3 hours, so it can vary a lot, but the great thing is that with a taxi, you book it for a time to suit you rather than having to work around bus schedules.
Bus from Phuket to Khao Lak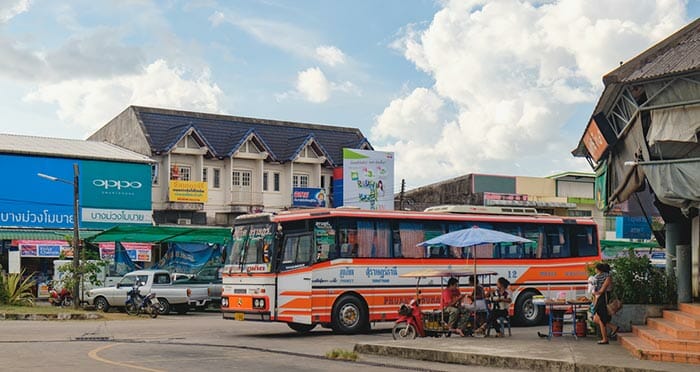 There are many advantages to traveling by taxi from Phuket to Khao Lak, and even the cost isn't too bad if you're traveling as part of a group. However, if you're traveling alone or with just one other person, taxis quickly become unaffordable. This is when the bus becomes the better option.
If you're used to traveling independently, catching a bus in Thailand is not going to phase you but it is somewhat less convenient than traveling by taxi! For a start, you'll need to know the route the bus is taking if you're planning to pick it up somewhere along the way. If you've landed at Phuket Airport, for example, and want to catch a bus to Khao Lak, you'll have to first get yourself to the main road which is about 5 kilometers (3 miles) from the airport. Once there you'll need to flag the bus down. Look for red buses that are heading towards Takuapa, Ranong, or Surat Thani as all of these bus routes will pass through Khao Lak.
If you're picking up a bus from Phuket Town there is usually somebody around who can speak enough English to let you know which bus to get on, but, being as these are local buses you cannot book your tickets in advance or use a site such as 12Go to buy tickets. You'll have to get your ticket on the day of travel.
While the buses won't be incredibly comfortable, they will mostly have air conditioning, and, depending on where you start from, the bus from Phuket to Khao Lak is going to take anywhere from 2 to 4 hours.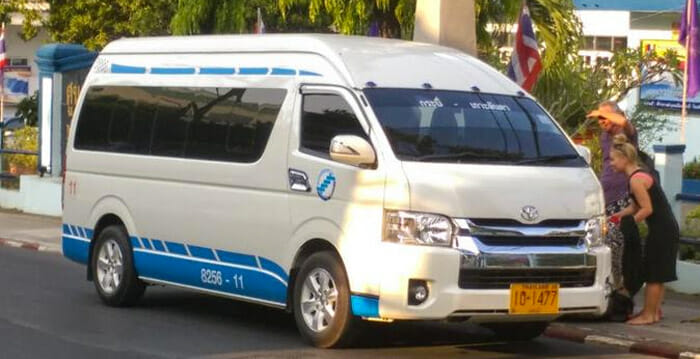 For a little more flexibility there is a third option and that's a shared minivan. These are cheaper than taxis but more expensive than buses, and the drawback is that they usually wait until they're full to start their journeys, but if you're coming into Phuket Airport and don't want to find a bus on your own, this could be a good option.As always, your choices for getting from Phuket to Khao Lak come down to budget and schedule. If you want to save money and you're not rushing around, getting a bus can be a great option. If you're someone who prefers to get your travel plans all arranged in advance, booking a taxi through 12Go could be the best option for you, or, if you want the middle ground, opt for a shared minivan to get you to Khao Lak.
Did you find this guide useful?
Click on a star to rate it!
Average rating: / 5. Vote count: