Island hopping in Thailand is a great way to see the best of this beautiful country and to make the most of its variety of beaches, activities, culture, restaurants and nightlife. While there are similarities, no two Thai islands are exactly the same, so don't think if you've seen one, you've seen them all! Take Koh Tao, for instance, with its amazing scuba diving and great affordability, situated in the Chumphon Archipelago near the western coast of the Gulf of Thailand. After Koh Tao, Phuket will feel much busier and livelier, perfect for enjoying some nightlife and shopping, or just more days of relaxing on the beaches. Continue reading to discover the different ways you can get from Koh Tao to Phuket.
Read about:
• Options for travel from Koh Tao to Phuket
• Flight from Koh Tao to Phuket Via Koh Samui
• Koh Tao to Phuket by Ferry and Bus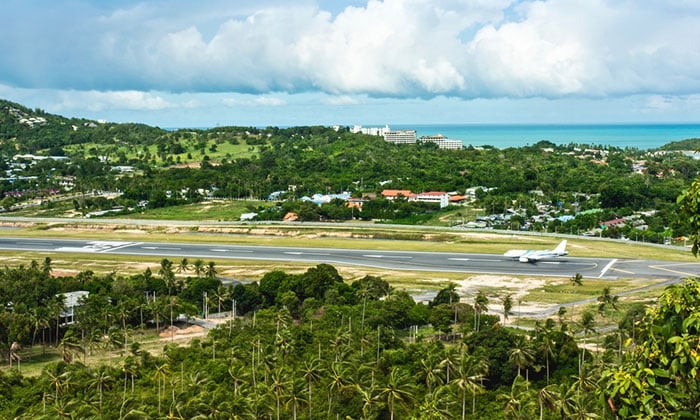 Options for travel from Koh Tao to Phuket
There are only a few options for travel between Koh Tao and Phuket, because with Koh Tao being a small island, transport options are limited. However, don't let this put you off making the trip as it's still a popular route. It's about 380 kilometers (238 miles) from Koh Tao to Phuket via Surat Thani, on the mainland. You will have to travel to Phuket via somewhere else, either Surat Thani or via Koh Samui is an option too. The latter will mean you can then catch a flight from Koh Samui direct to Phuket, so this is potentially a faster way to get between these two islands. The more common way to travel, especially popular for anyone on a tighter budget, is by ferry and bus or van.
Flight from Koh Tao to Phuket Via Koh Samui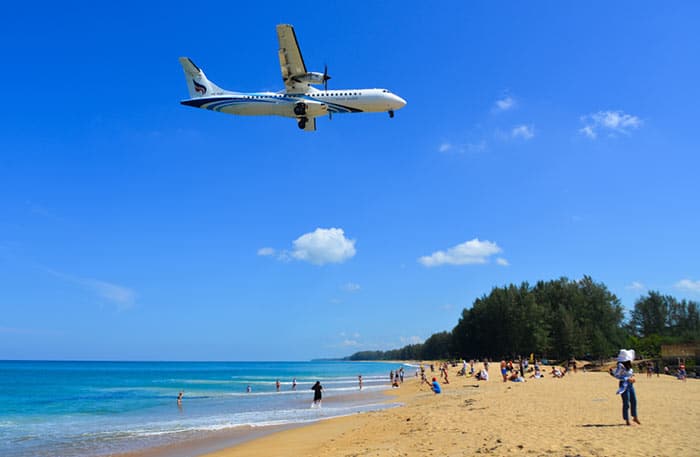 Catching a flight from Koh Tao to Phuket may sound complicated on the surface but it's actually a pretty easy journey if you can make the connections work. Going by ferry and bus the entire way can be a very long journey so that's why you might want to consider flying if you're pushed for time. It will cost considerably more, but for time, convenience and comfort, this is a viable way to get from one island to the other.
Direct flight with Bangkok Air

from Koh Samui Airport to Phuket Airport

It is probably best to check the flight schedule first and then work your ferry booking around that. Bangkok Airways is the only airline that flies between Koh Samui and Phuket, so you don't have a lot of flights to compare, however, do check their most up-to-date schedule. At the time of writing, they had six direct flights per day; two in the morning (at 8am and 11:25am), and the rest in the afternoon up to the last one leaving Koh Samui at 7pm. To be able to catch the morning flights, you would need to get to Koh Samui from Koh Tao the night before as there are no very early ferries, so it's best to plan for the later flight.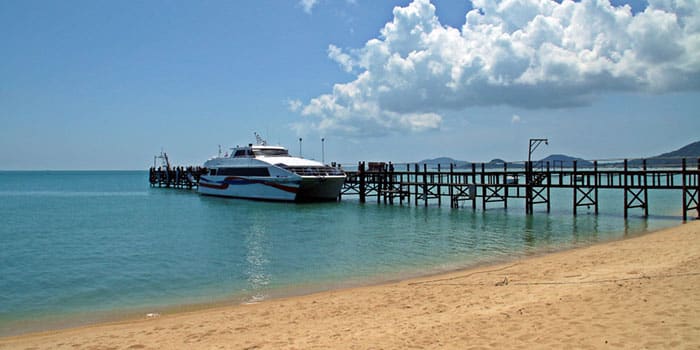 Leave Koh Tao: Mae Haad Pier Early or the Day Before to Catch Flight
Now for the ferry part of this journey, which is required to get you from Koh Tao to Koh Samui. There are a couple of ferry operators: Lomprayah and Songserm. Lomprayah operates a catamaran departing Koh Tao at 9:30am and 3pm. You will want to catch the ferry that arrives to the Mae Nam/Pralarn Pier rather than Nathon Pier as this is closest to the airport, and unless you want to spend a night on Koh Samui, catch the early one to get you to the airport in time for the afternoon flight. You will have a few hours to kill as the ferry arrives at 11:15am.
Book Ferry Ticket and Check Departure Times Online
Songserm ferry is also an option as they depart Koh Tao at 9:30am, arriving on Koh Samui at 1pm. Songserm is slightly cheaper than Lomprayah but there's not much in it. You can book ferry tickets as well as your flights all online at 12Go.
Koh Tao to Phuket by Ferry and Bus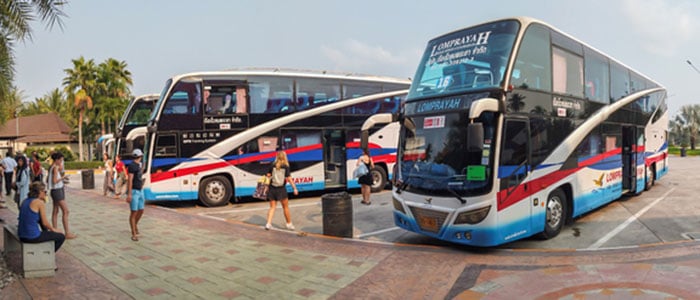 Taking the ferry and bus from Koh Tao to Phuket is the more commonly used route and there are a few different transport providers who offer this as a complete package, for one ticket price. Some are considerably slower than others, so do carefully check departure and arrival times when booking because your journey could be as quick as 9 hours or as slow as 13.
Combined Ferry and Bus tickets with Lomprayah from Mae Haad Pier
Reputable transport company, Lomprayah, is probably your best bet for ferries from Koh Tao to Phuket. As mentioned above, they are one of the companies that offers a complete package to get you from Koh Tao to Phuket for one price, with all their connections guaranteed in case there is a delay somewhere along the way. There is just one departure per day from Koh Tao, and the journey does involve several different legs. You will first take a high-speed catamaran from Koh Tao to Donsak Pier (near Surat Thani) on the mainland. This departs Koh Tao at 9:30am. Next is a bus from Donsak that drives across the mainland to the Andaman Sea coast where you board another high-speed ferry to Rassada Pier on Phuket. The final leg of the journey is a transfer from Rassada to Phuket Town. The total journey time is just 9 hours, getting you to Phuket Town at 6:30pm, in time for dinner!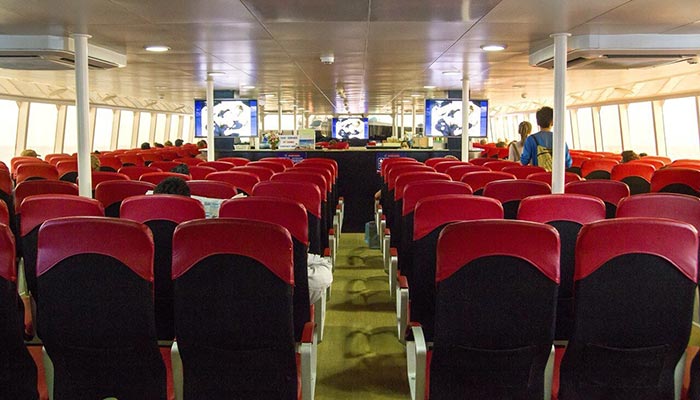 Combined Ferry and Bus with Fame Tour from Mae Haad Pier
Another option for an all-inclusive ticket is with Fame Tour. This route is bookable through 12Go where you can read reviews from fellow passengers to see what others thought of this company and their service. As with Lomprayah, all connections are guaranteed so you can rest assured that you will be taken care of should there be any delays along the way. The main drawback with this company is the lengthy time that it takes to get from Koh Tao to Phuket. The entire journey is 19 hours, so that's more than double Lomprayah's service. The ferry departs Koh Tao at 9pm, so this is actually an overnight service that will eventually get you to Phuket (Phuket Bus Terminal 2) at 1pm the following day.
This might be a good option for traveling from Koh Tao to Phuket if it was cheaper, but the price is actually very similar to that charged by Lomprayah, so you're really not gaining anything. The only reason you may want to take this slower journey is if you have plenty of time to spare and you enjoy taking things slow, immersing yourself in the Thai culture, and enjoying the scenery!

Seatran and independent ferry services from Koh Tao to Phuket
As of now, these appear to be the only two ways to get from Koh Tao to Phuket by ferry and bus on an all-inclusive ticket, although in the past another well-known Thai company, Seatran Discovery, did offer this route as well. They had a very similar route to Lomprayah, except for the transfer to Phuket Town not being included, but their service was a cheaper option, taking around 11 hours in total. It's worth mentioning Seatran Discovery because it is likely that they will begin offering this service again in the future, so do look out for them when booking your journey from Koh Tao to Phuket.
One final option is to travel independently and not book an all-inclusive ticket. If you're confident booking ferries and buses and can figure out what you need, you could save a little money this way by taking the ferry from Koh Tao's Mae Haad Pier to Surat Thani, then finding a bus to Phuket. There are plenty of buses that travel this route every day, with multiple departures, making this a potentially good option if you like to do things your way and not be dictated by a tour company schedule.
So, while most travelers will just stick to the tried and tested ferry and bus from Koh Tao to Phuket, catching a flight is an option too. It's tough to say whether flying will be any faster when you have Lomprayah's fast 9 hour service, but if you're a jetsetter who likes to fly everywhere, catching the ferry to Koh Samui and taking a flight to Phuket from there may be what you prefer. It will be the most expensive way to travel though, whereas Lomprayah's ticket price is fairly reasonable and gives you peace of mind that every part of the journey is taken care of for you.
Did you find this guide useful?
Click on a star to rate it!
Average rating: / 5. Vote count: