If you're traveling around Thailand, the chances are pretty good that you will be passing through, or staying in, Surat Thani at some point during your trip. This city is a popular transport hub for the country, linking the capital, Bangkok, in the north, with some of Thailand's best islands and beaches in the south, plus it has its own attractions like the night market. From Surat Thani you have lots of options, but one of the most popular island destinations is Phuket. Its crystal clear waters and tropical beaches are a big tourist draw, as are its nightclubs and bars, but Phuket is also an amazingly scenic place, with mountains and rainforests inland, as well as having many family or couple-friendly resorts to stay in if you're not looking for nightlife.
Read about:
• From Surat Thani to Phuket by Bus
• From Surat Thani to Phuket by Van
• From Surat Thani to Phuket by Taxi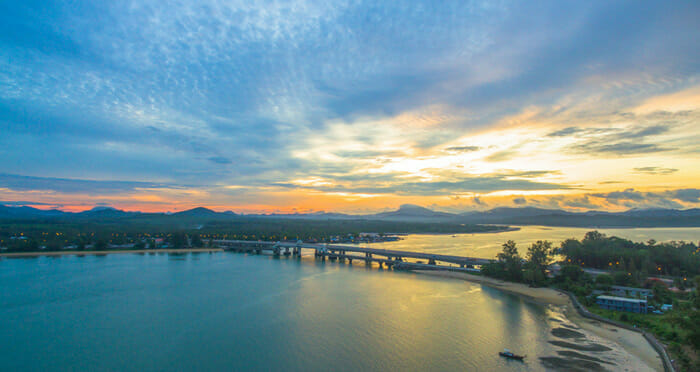 Options for Travel from Surat Thani to Phuket
If you could travel by air in a straight line, the distance from Surat Thani to Phuket is only 170 kilometers (106 miles), so these two destinations are not a long way apart. Even though both Surat Thani and Phuket have airports, there are no flights going between them. If you did want to catch a flight, you would need to first fly from Surat Thani to Bangkok, and then catch a flight from Bangkok to Phuket. As this isn't really a feasible option, you should look at the alternatives: buses, vans and taxis. All are readily available, and buses and vans are very affordable.
From Surat Thani to Phuket by Bus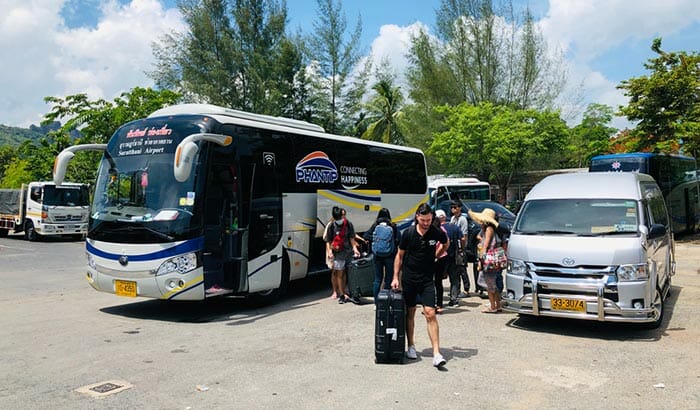 The majority of tourists traveling from Surat Thani to Phuket will go by bus as this is the cheapest way to travel. There are a few different bus companies you could choose from, but we would recommend Phantip as they're reliable, provide lots of different bus options per day, and can be easily booked online using the travel website 12Go.asia. Phantip have both bus and van options, but more on the van options below. For buses, you can decide on whether to catch the bus from Surat Thani Train Station, or from the center of town at the Downtown Transportation Hub (Talad Kaset 2), as Phantip has departures from both of these points in Surat Thani to Phuket.
Departing from the train station, the journey from Surat Thani to Phuket takes about 4.5 hours, and the bus leaves at 7:30 am, arriving at Phuket Bus Terminal 2 at 12:00. You'll be traveling on a standard bus with air conditioning, so although it is comfortable enough, don't expect any additional services onboard.
If you leave from the town center, you have more departure times to choose from and the journey is a little longer. Buses leave at 7:00am, 11:30am, 1:30pm, and 3:30pm and arrival times in Phuket vary depending on the time of the day you're traveling, and what traffic volumes are like, but travel times could be from 4.5 to 5.5 hours. As with the train station departures, these are also standard buses with air conditioning.
When you search for these options for bus travel from Surat Thani to Phuket on 12Go, you'll also find another option with Phantip. This is a combined ticket that includes pick-up by taxi from most hotels in Surat Thani Town. This is a very convenient option, as you don't have to make your own way to the train station or the downtown hub, but it does increase the ticket cost to almost double that of just the bus.
From Surat Thani to Phuket by Van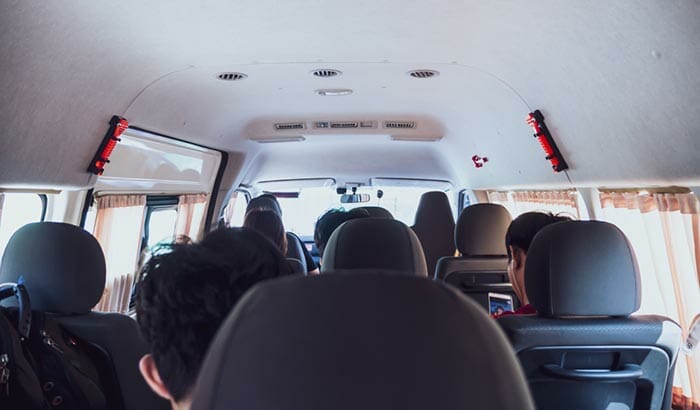 As mentioned above, Phantip also operates van services from Surat Thani to Phuket, which can also be booked online through 12Go. Going by van from Surat Thani to Phuket is a little more expensive than the bus (by a few dollars), but it should get you to Phuket faster than the bus, with scheduled travel times of 4 hours.
Vans depart from the Downtown Transportation Hub in Surat Thani and there are more departures each day for you to choose from, making it a little more convenient to fit in with any existing schedules you may have. Vans depart on the hour, starting at 8am, and the last one departs at 6pm.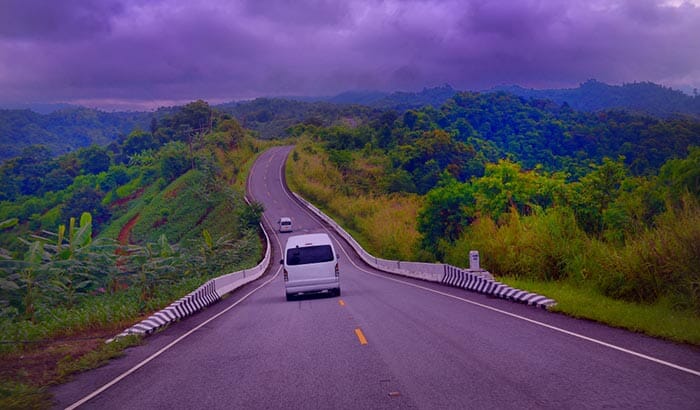 Aside from the added convenience of traveling by van from Surat Thani to Phuket, you're not gaining much else. Vans will have less space than the buses so you may feel more cramped, but if you prefer to travel in a smaller vehicle than a bus, it may be a good idea for you.
Taxi from Surat Thani to Phuket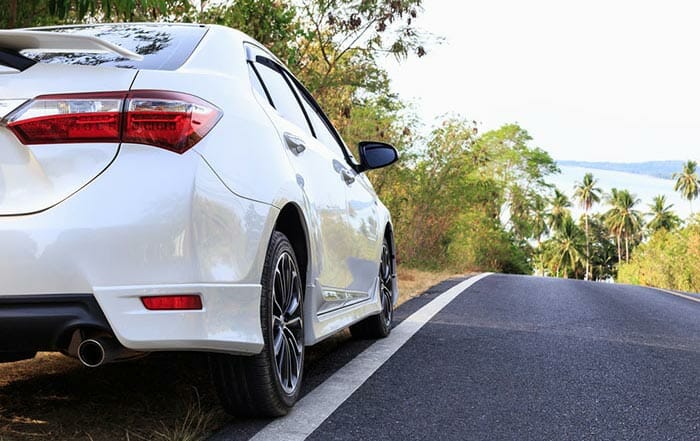 The third and final option for traveling from Surat Thani to Phuket is by taxi. You may be surprised to hear that booking a private taxi is also incredibly easy when you use 12Go. Their search results include these taxis, and there are options from five different taxi companies with several different types of vehicle available, so you'll always find a good number of choices and flexibility.
You can choose where to get picked up from in Surat Thani, and there are plenty of drop-off options in Phuket too. Prices do vary quite a lot, so be sure to check through the search results to find the right vehicle and price combination for you. There are economy or comfort sedans that will hold only two passengers, SUVs suitable for four, or vans that can hold up to nine passengers. In terms of affordability, the vans provide the best value for money as you're paying one price for the entire van which you can then split between everyone. If you're traveling as part of a group or larger family this can end up being quite an affordable, and more private way to get from Surat Thani to Phuket.
Across the buses, vans and taxis, you can see that there are always multiple ways for you to travel from Surat Thani to Phuket, and it should be easy for you to find one that fits in with your existing schedule, and your budget.
Did you find this guide useful?
Click on a star to rate it!
Average rating: / 5. Vote count: