When you want to experience the southern most reaches of Thailand, the city of Hat Yai is a great place to do so. The city itself is known for being a commercial hub and shopping destination, with some excellent day markets, night markets and floating markets to explore, so this is certainly a great place to do your shopping in Thailand! And once you've got some great shopping deals, it's time to hit the beaches. Head north west to Phuket to soak up the sun on beautiful beaches by day, and enjoy the lively nightlife scene by night. There's stunning scenery here too, if you're into hiking and want to explore its inner rainforests and mountains.
Read about:
• Flight from Hat Yai to Phuket
• Hat Yai to Phuket by Bus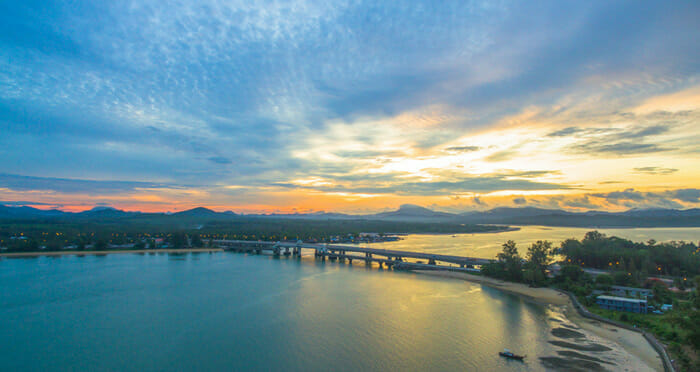 Options for Travel from Hat Yai to Phuket
The shortest route via road from Hat Yai to Phuket is around 430 kilometers (269 miles), so it is quite a long distance from one city to the other. And, if you have had any experience of roads in Southeast Asia, you'll know that they are not always in the best condition. Even with good road surfaces, highways tend to be only one lane each way, and as you'll be crossing over some hilly terrains, the roads are quite winding, which makes the journey even slower. Despite this, getting from Hat Yai to Phuket by bus is a very common and popular way to travel, mostly because it's so cheap to get around by bus in Thailand. But, if the thought of an all day bus ride doesn't appeal, don't worry as you can also catch a flight from Hat Yai to Phuket!
Flight from Hat Yai to Phuket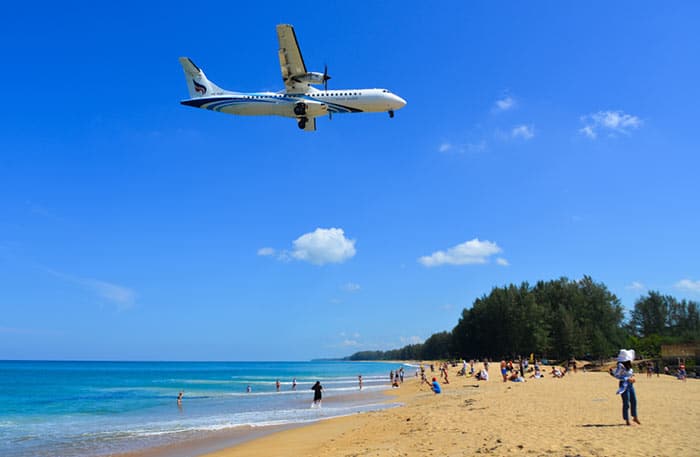 While the cost of catching a flight from Hat Yai to Phuket can be restrictive for anyone traveling around Thailand on a budget, the appeal of getting to Phuket in just one hour makes the flight feel a little more affordable! True enough – you're going to pay roughly five times more for a seat on an airplane compared to a seat on a bus, but if you can book your airplane seat as far in advance as possible, and you're a little flexible on your day of travel, you can save yourself a few more dollars.
The main factor that keeps flight costs that much higher is that there is only one airline that flies from Hat Yai to Phuket, and that's Bangkok Air. One of Thailand's most prestigious airlines, Bangkok Airways tends to charge more than other airlines anyway, but included within the price of the ticket you do get a 20 kg luggage allowance. There is just one flight per day too, so do make sure you book your seat in advance. You can book online through 12Go.asia by doing a search for available travel options from Hat Yai to Phuket and you'll also be able to see the bus schedules and prices too before making your decision on which mode of transport to book.
The flight departs from Hat Yai International Airport at 9:20am and arrives at Phuket International Airport just one hour later. So, in terms of speed, this is a very fast way to get from one city to the other, but do bear in mind that Phuket Airport is about 32 kilometers (20 miles) from the center of Phuket City, so you will have to add the time to will take to transfer from the airport. Even bearing this in mind, flying from Hat Yai to Phuket is still much faster than taking the bus.
Hat Yai to Phuket by Bus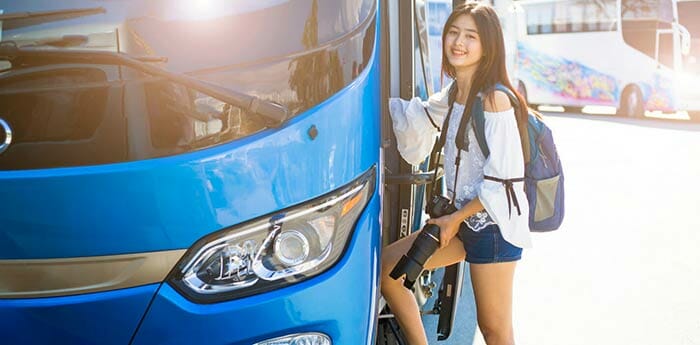 Although it's a much longer journey, traveling by bus from Hat Yai to Phuket does have several advantages. First there's the cost – traveling by bus is considerably cheaper than flying, so it's the perfect way to travel on a budget. The second advantage is that there are far more buses departing every day than there are flights. With only one flight each day, you're restricted to leaving Hat Yai in the morning, but if you travel by bus there are seven departures each day, spread at times across the day. This gives bus travel an extra flexibility that allows you to plan around your existing schedule and depart when it suits you.
Bus tickets can be booked online through 12Go. You'll see on their website that booking a bus from Hat Yai to Phuket is very easy and you get instant confirmation. The bus company is Sri Trang, and they offer two types of buses: Express and VIP 24. The Express buses are the cheapest but don't expect any luxuries onboard – you basically pay for a seat and get nothing else. If you do prefer more comfort, the VIP 24 bus will cost about another 50% over and above the Express ticket, but you will get more space, comfier seats, washrooms, snacks, steward service, and TV's.

There is just one VIP 24 bus from Hat Yai to Phuket per day, so if you wan to take advantage of the extra creature comforts, be sure to book this further in advance. Do note though, that this bus departs Hat Yai at 7:30pm and arrives at Phuket Bus Terminal 2 at 3:55am so it's not a good time to be arriving in Phuket.
For a more sociable arrival time, choose one of the Express buses that depart earlier in the day. The earliest is at 8am, arriving in Phuket at 3pm. You could also leave Hat Yai as late 1pm and get to Phuket for 8pm, in time for a late dinner!
The biggest drawback with traveling by bus is that they take a long time to get from Hat Yai to Phuket. The scheduled travel time is 7hours for the Express buses, and 8 hours 25 minutes for the VIP 24 buses, so this is a long time to be cooped up on a bus. But, traveling by bus you get to see more of the beautiful Thai scenery; something you don't really experience from an airplane! You'll have to choose whether you ant to get from Hat Yai to Phuket quickly but more expensively, or slowly and cheaply.
Did you find this guide useful?
Click on a star to rate it!
Average rating: / 5. Vote count: