Phuket and Krabi are two of the top tourist destinations in Southern Thailand. On the one hand, Phuket is a lively destination with plenty of tourist infrastructure. Phuket still offers fabulous beaches and many other attractions. On the other hand, Krabi offers a more relaxed pace of life that gives visitors an authentic look at Thailand. Phuket and Krabi's contrasting atmospheres make both destinations so popular with tourists. Traveling from one to the other is an easy journey and an incredibly scenic one. Read on to find out how to travel from Phuket to Krabi.
Read about:
• Ferry from Phuket to Krabi
• Speedboat is usually the quickest option
• Catch a bus the cheap option to Krabi
• Go by Minibus from Phuket to Krabi
• Travel with a comfortable Taxi to Krabi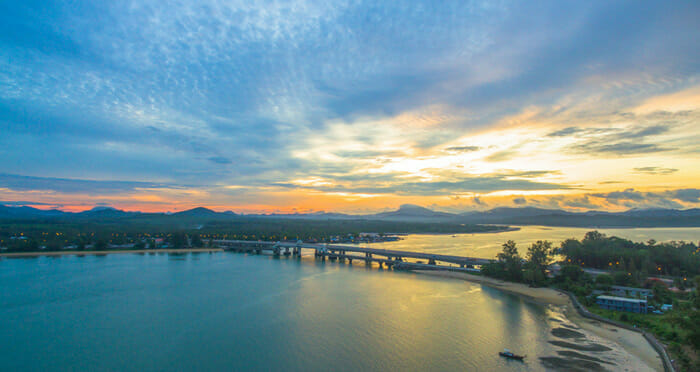 Options for Travel from Phuket to Krabi?
Traveling from Phuket to Krabi is quick and easy. The distance from the Phuket bus terminal to the Krabi bus terminal is only 165 kilometers (103 miles). Depending on how you're traveling and what the traffic is like, you will be looking at a journey time of between 2 and 3 hours. Going by road, you have several travel options: bus, minibus, and taxi. You can also travel from Phuket to Krabi by boat, so we'll start by giving you information on the ferries and speedboats.
Ferry from Phuket to Krabi

Taking the ferry from Phuket to Krabi offers scenic views and a comfortable journey. One advantage of the ferry is that it allows you the freedom to walk around and stretch your legs, which is more than you can do when traveling by bus. However, the ferry ride is the second priciest option (after speedboats), with a ticket price of approximately 700 THB. Despite this, it's currently the fastest way to get to Krabi, boasting a journey time of only 2 to 2 and a half hours. Those 2 hours goes by quick as it is a truly fantastic experience to glide past beautiful islands while soaking up the sun.
Ferries set sail from Rassada Pier in Phuket at 8.30 am and dock at Ao Nang beach in Krabi around 10.30 am. If your destination is Railey Beach, expect an additional 15-minute ride. Keep in mind that a free pickup from your hotel in Phuket is included when you book your ticket online under Taxis and Ferries.
Speedboat is usually the quickest option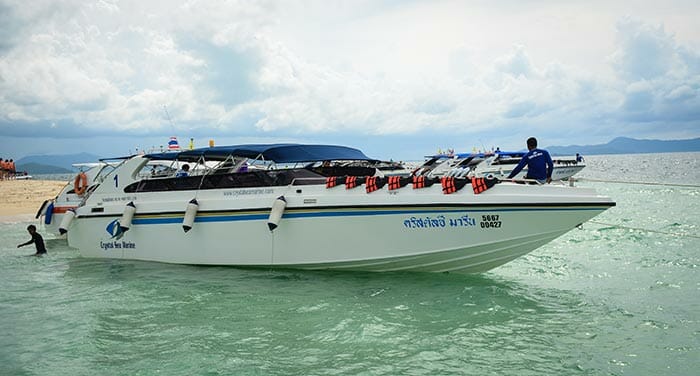 Speedboats are another option if you enjoy traveling on the water. Compared to buses, taxis, minibusses, and ferries, speedboats are the fastest way to get from Phuket to Krabi. However, they do not arrive in Krabi Town itself. Speedboats take a route that terminates in the resort town of Ao Nang, about 19 kilometers (12 miles) from Krabi Town. Therefore be aware of the end destination before choosing this option. While fast (it takes around 2 hours from Bang Rong Pier) speedboats are also the most expensive form of transportation from Phuket to Krabi. Koh Yao Sun Smile offers 2 departures per day from Bang Rong Pier, Phuket to Nopparat Thara Pier, Ao Nang. Koh Yao Sun Smile speedboats also make a stop at Railey Pier.
If you don't like the cost of speedboats, or the extended time it takes for ferries, don't worry, there are still plenty of transport options between these two destinations.
Catch a bus the cheap option to Krabi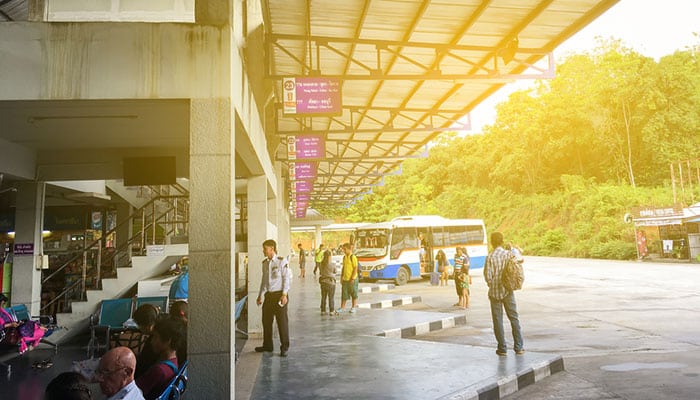 Buses are the most popular transportation option to Krabi for several reasons. With frequent departures, you will never have to wait long and they are cheap. Journey times are usually around 3 hours and it's a nice way to meet some locals and spend time looking at the passing scenery. The drawback with the buses is that they are from point A to point B – so you'll have to make your own way to and from the bus terminal in each town. In Phuket, it's best to catch a bus from Phuket Bus Terminal 2 as there are more frequent departures from here.
Go by Minibus from Phuket to Krabi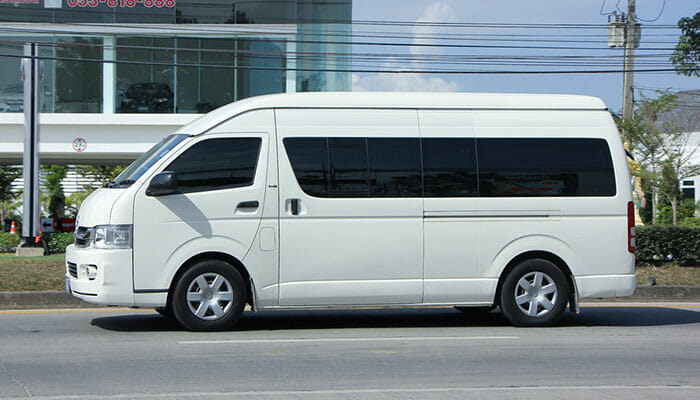 Minibusses are an option that offers a little more convenience. If you book a minibus from Phuket to Krabi you can usually get them to pick you up right at your hotel. This saves you the journey time and cost of getting to the bus terminal. A minibus costs a little more than the regular buses do, but it's worth the money for that door-to-door convenience. The downsides to minibusses are that you'll have a little less legroom than on a regular bus, and, it can be tedious having to stop at lots of hotels before getting on the way. However, once all the pickups have been completed, the drive will be fast (and potentially hair-raising!). All in all, you should be looking at about a 3-hour journey time.
Travel with a comfortable Taxi to Krabi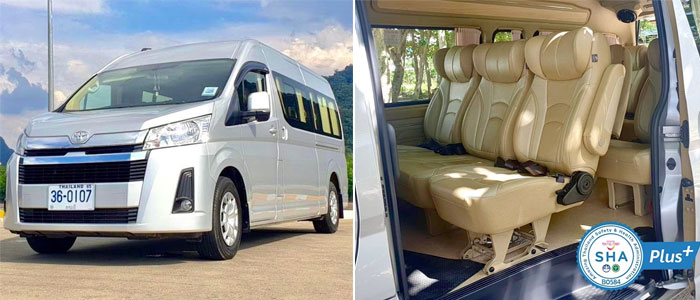 The final option is to travel by taxi from Phuket to Krabi. You could argue that going by taxi will be more comfortable than by bus or minibus. Taxis also offer greater flexibility with services door-to-door. If you like, you can even get the driver to stop at some places of interest along the way. Taxis are far more expensive than buses or minibusses with prices comparable to what you'd pay for a speedboat. However, the taxi rate can be split between several passengers, making it more affordable. Depending upon where in Phuket you're traveling from, the drive should take around 2 – 2.5 hours.
How do you get from Phuket to Krabi?
Even though Phuket is an island, it's linked to the mainland via a bridge. You can therefore travel from Phuket to Krabi both traveling by road or by ferry. Book private taxis for a convenient door-to-door service. Go by a regular bus for good value or a minibus for a combination of comfort and value. The fastest alternative speedboats take as little as 120 minutes.
How do I get from Phuket Airport to Krabi?
There are two ways to get from Phuket Airport to Krabi: by minibus and ferry, or by bus. There aren't any direct buses, so going this way is not ideal. Taking a minibus and a ferry is best as you can buy combined ticket that covers the entire journey from the travel agent, 12Go. All connections are guaranteed when you book through their website.
How long is a boat ride from Phuket to Krabi?
Traveling directly from Phuket to Krabi by boat, your only option is a speedboat which is about an 80-minute journey. Speedboats won't take you into Krabi Town, instead stopping at beach resorts Railay or Ao Nang. Regular ferries are much cheaper but not direct, with most going via Phi Phi Island where you'll have to wait for several hours.
How long does it take from Phuket to Krabi?
Going by road, it's around 160 km (100 mi) for travel by bus, minibus, or taxi. Journey times vary with pickup and drop-off points and the provider. Taxis are the fastest, taking around 2.5 hours. A small minibus takes around 3.5 hours, while minivans are roughly 3 to 4 hours. Speedboats are the fastest from 120 minutes, all these options are available through 12Go.
Did you find this guide useful?
Click on a star to rate it!
Average rating: / 5. Vote count: