Krabi Town is often overlooked as a destination in its own right, instead serving as a hub for getting to the nearby popular beach resorts of Ao Nang and Railay, but Krabi Town itself deserves a closer look. With its own unique personality, this market town offers a more genuine look at the local culture and a very different atmosphere to the likes of Ao Nang. Whether you're staying for a few days or just passing through, many tourists like to head to Phuket from Krabi as it's easy to get to and relatively close. Phuket's dose of lively nightlife and great beaches makes this one of Thailand's top destinations.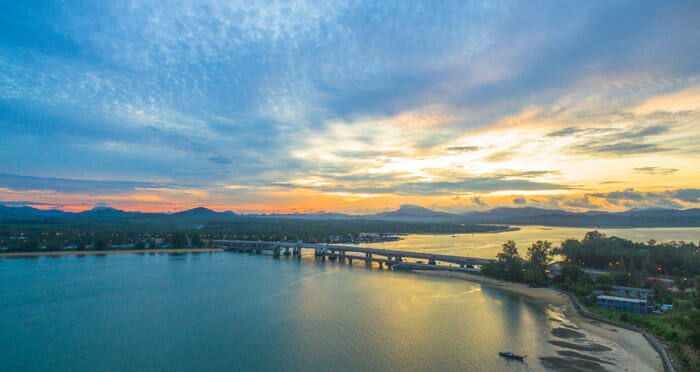 Options for Travel from Krabi to Phuket
Krabi sits just inland from the coast on the eastern side of Phang Nga Bay, directly opposite the island of Phuket so to get from one to the other by road you'll have to drive around this large bay. Even so, it's not too far from Krabi to Phuket with a distance of about 165 kilometers (103 miles) from one bus terminal to the other, and along the way you'll be passing through not just one but three national parks so the scenery is pretty special! By road you can make the trip by bus, minibus or taxi but you can also hop on a ferry or speedboat and cross the water rather than driving around the bay. There are good and bad points to all the different modes of transport, and we'll discuss them all below.
From Krabi to Phuket by Bus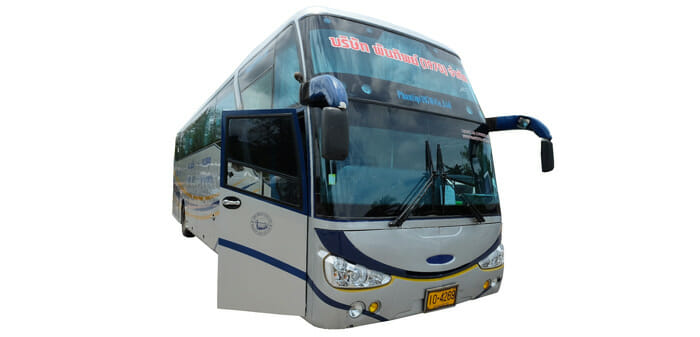 Going by bus from Krabi to Phuket is usually the most popular way for people to travel between these two destinations because the buses are cheap and there are plenty of them! You also have a couple of different bus options to consider – there are the government-run buses and there are also private buses.
Government-run buses depart frequently from Krabi to Phuket and they're the cheapest way to travel compared to all other options. The journey time should be somewhere between 2.5 to 3 hours so it's not the fastest way to go, and because these are public buses they will likely not be as comfortable as you would like for a journey of that length. Even so, traveling by public bus is a great way to immerse yourself in the local culture as you'll be sitting alongside locals and enjoying the scenery as you go.
If you want to travel by bus but would prefer a higher level of comfort, consider a privately-run bus. These are still cheap compared to some of the other modes of transport and tickets can be booked online through 12Go.asia for travel with Phantip. The only drawback with this is that the scheduled travel time is a huge 7.5 hours which can seem confusing seeing as a public bus can make it in 3 hours, however, 7.5 hours is the maximum time allowed for the trip and rarely would it take this long. Phantip buses depart from the Krabi Sea Pearl Terminal and arrive at Phuket Bus Terminal 2 which is where the public buses would also come to.
Minibus from Krabi to Phuket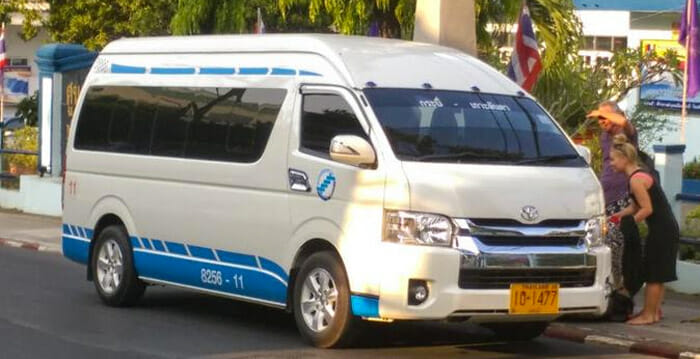 Minibuses from Krabi to Phuket are also very popular. They do cost a little more than the buses but you're paying for the convenience of being able to pick-up a minibus in multiple different places. You can book locally for the minibus to pick you up at your hotel and this saves you the time and cost of getting to the bus terminal first. Minibuses will have a little less leg room than a standard bus, and it can be frustrating stopping at multiple hotels along the way as it adds lots of time to the overall trip, so it could be a 3 to 4 hour journey, all told.
Two other potential drawbacks with taking the minibus from Krabi to Phuket are that the people who drive the minibuses are renowned for driving fast and a little recklessly, so it's not recommended for nervous passengers even though accidents are rare. The second is that once you get to Phuket everyone has to get off the minibus at the same place (often a travel agency), so it's not a true door-to-door service.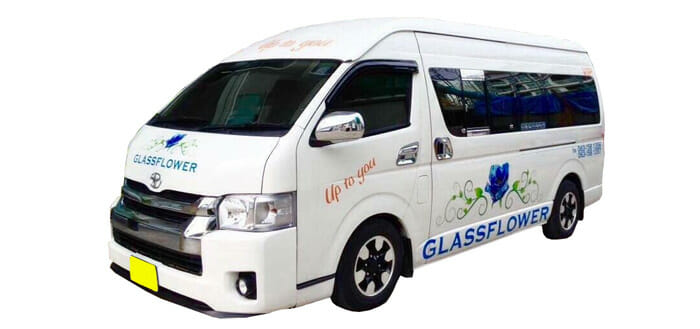 If you would like a true door-to-door service then you should choose to travel from Krabi to Phuket by taxi. Take a look at the reputable travel website 12Go as they have multiple options for booking taxi services between these two places, using a variety of local companies such as Glassflower and Andaman Taxis. You can book for pick-up in various places, whether it's from your hotel in Krabi or in neighboring Ao Nang, to save you the trouble of traveling into Krabi first.
Taxis should take around 2 hours to complete the journey, taking you directly to your hotel or resort in Phuket, but they are expensive. A standard size comfort car makes this a pricey trip for just one or two passengers, but if you book a 9-passenger van and share it with friends or family, the price per person drops substantially and makes this a feasible option.
The Ferry from Krabi to Phuket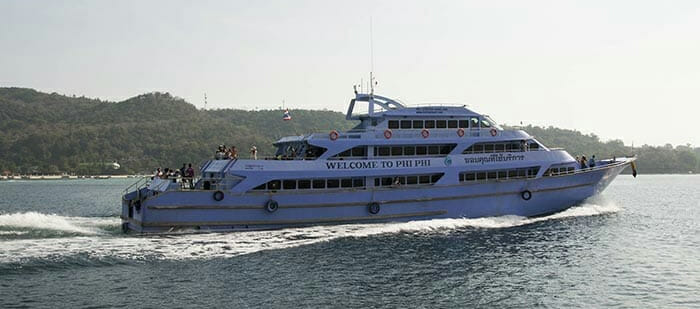 When traveling by road doesn't appeal, taking a ferry from Krabi to Phuket is a great alternative as you'll still be enjoying the beautiful scenery. Ferries have the advantage of giving you more space and the freedom to wander around, which you certainly cannot do in a taxi or bus, but the Andaman Sea can be rough so this wouldn't necessarily be a good way to travel if you suffer from sea sickness.
There are also a number of different options when it comes to traveling by ferry. The regular ferry service from Krabi departs from the Khlong Jilard Pier about 4 kilometers from the town so you'll need a bus or taxi to get there, but, this ferry stops first at Koh Phi Phi for as much as 3 hours so the total ferry travel time can be around 7 hours.
If you're staying in Ao Nang you can get a boat directly from there on a daily departure during high season, and usually every other day in low season, and this does not stop at Koh Phi Phi.
Krabi to Phuket by Speedboat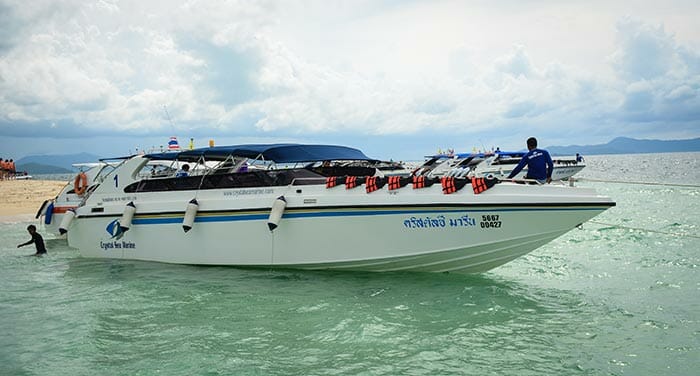 Then there's the speedboat option. These large speedboats depart from Railay, so if you're in Krabi you'd need to make your way there first. This isn't a problem though as you can book joint tickets for a transfer by van to Railay and then the speedboat to Phuket through 12Go. This adds some time to your trip but once you're on the speedboat from Railay to Phuket this is the fastest way to travel. The crossing itself only takes about 45 minutes. Speedboats are expensive but the trip can be fun and it's fast too!
Despite Krabi and Phuket being quite close together there are ample options for traveling between the two places. Weigh up your decision on which to book depending on time of year, your schedule, and your budget then choose the buses if you're trying to save money, or the speedboats if you want to get from Krabi to Phuket quickly and aren't traveling on a budget.
How do I get from Krabi to Phuket Airport?
There are two ways to get from Krabi to Phuket Airport: by ferry and van, or by bus. There aren't any direct buses, so going this way is not ideal. Taking a ferry and a van is best as you can buy a joint ticket that covers the entire journey from travel agent, 12Go. All connections are guaranteed when you book through their website.
How long is a boat ride from Krabi to Phuket?
Traveling direct from Krabi to Phuket by boat, your only option is a speedboat which is about an 80-minute journey. However, speedboats won't take you right from Krabi Town, instead stopping leaving from Railay or Ao Nang, where the beaches are. Regular ferries are much cheaper but not direct, with most going via Phi Phi where you'll wait for several hours. Check 12Go for all the schedules and to buy tickets.
How long does it take from Krabi to Phuket?
By road it's around 160kms (100mi) to travel by bus, van or taxi. Journey times vary with pickup and drop-off points and the provider. Taxis are fastest, taking around 2.5 hours. A bus with Phantip is scheduled as 7.5hrs, while vans are roughly 3 to 4 hours. Speedboats are fastest overall, as little as 65 minutes, and all these options can be booked through 12Go.
How useful was this post?
Click on a star to rate it!
Average rating / 5. Vote count: