While the island of Phuket is renowned for its beautiful beaches and party atmosphere, there's a collection of islands not too far away where the beaches are even more beautiful. Ko Phi Phi is home to some of the world's most stunning beaches, set across its six different islands in the Andaman Sea of the Krabi Province in Southern Thailand. Made famous for featuring in the movie The Beach, Phi Phi has grown in popularity over the years to become one of the top tours for tourists visiting Phuket. There is no shortage of tour companies offering trips between Phuket and Phi Phi, and although these islands have seen a lot of development over the past few decades, there are still plenty of quieter spots for you to find where you can relax and unwind away from the bustling atmosphere on Phuket.
Read about:
• All-Inclusive Tour from Phuket to Phi Phi
• Speedboat from Phuket to Phi Phi
• Ferries from Phuket to Phi Phi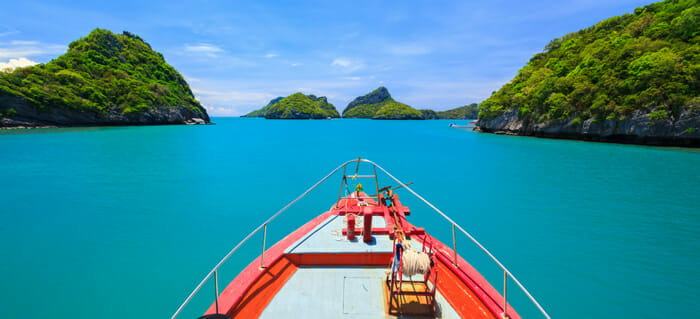 Travel Options from Phuket to Phi Phi
With the Phi Phi islands being so small there are no airports, so, this means the only way to travel to Phi Phi is by boat. Having said this, you won't be short on choice. There are ample tour companies who will provide you with an all-inclusive price, plus there are the public ferries if you're looking for a more affordable option and want to do your own thing. The final option is a speedboat to Phi Phi – they have the advantage of being fast, and can be more flexible than the other options. Read on to find out more information on each of these three options.
All-Inclusive Tour from Phuket to Phi Phi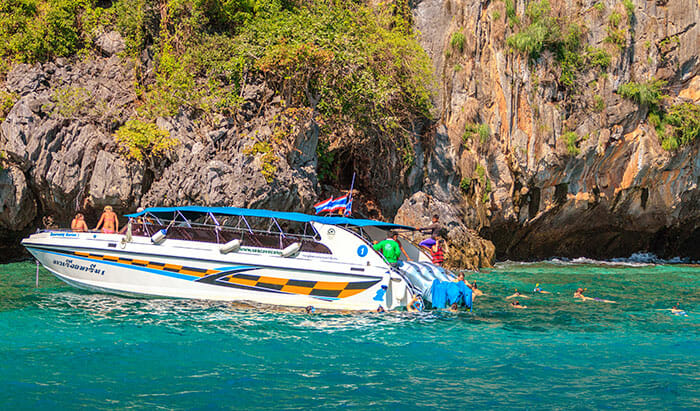 By far the most expensive way to travel from Phuket to Phi Phi is on an all-inclusive tour, however, being 'all-inclusive' you are of course getting more for your money. This is a great option for tourists who like to have everything arranged for them and who prefer to sit back and relax while someone else takes care of all the details. There are so many different agencies offering these boat tours so if you search around you may be able to find a better deal, and, if you book directly you should also be able to negotiate some money off the list price. Having said this, because they are so common, you can easily book through one of the many tour desks located around Patong, or in most of the other major tourist destinations on Phuket. There's also the option to have your hotel organize the tour on your behalf, though do expect to pay an extra premium for doing it this way around.
The nice thing with an all-inclusive tour is that you get lots included, so when you break down the price it's not actually too expensive. Exact inclusions may vary but you can expect a pickup from your hotel on Phuket, lunch on Phi Phi, stops of interest along the way, and even snorkels included for swimming stops.
Tour durations can vary. You can book a half day or a full day, and depending on what you pay you could be on a speedboat with as many as 45 other passengers for cheaper tours, or as few as 18 passengers for the more expensive ones.
Speedboat from Phuket to Phi Phi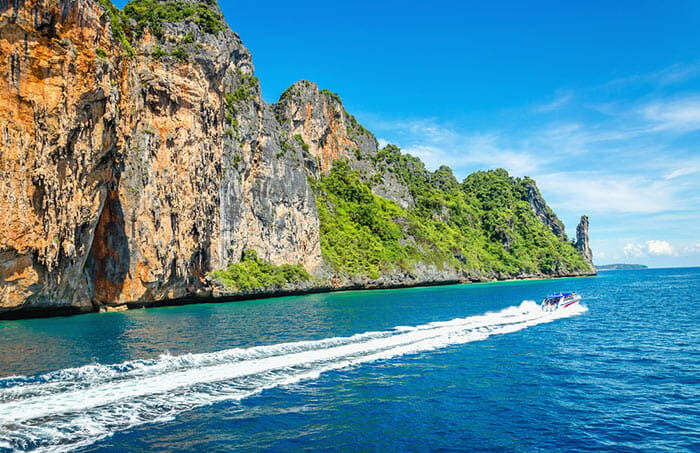 While the all-inclusive tours use speedboats to transport you to Phi Phi from Phuket you can also choose to travel on a speedboat without paying for all the extras. Speedboats can be taken directly from some of the beaches on Phuket, however, you should plan to book your seat at least the day before to guarantee a spot. For the best flexibility, and great if you're traveling with a larger group, one of the most popular ways to travel between Phuket and Phi Phi is by private speedboat charter. Yes, this is way more expensive than the other options but it does give you flexibility in that you can start and end exactly where you want to with beach to beach service right to the resort of your choice. This saves you time in the long run, not having to travel by land from the port to your hotel or resort.
Ferries from Phuket to Phi Phi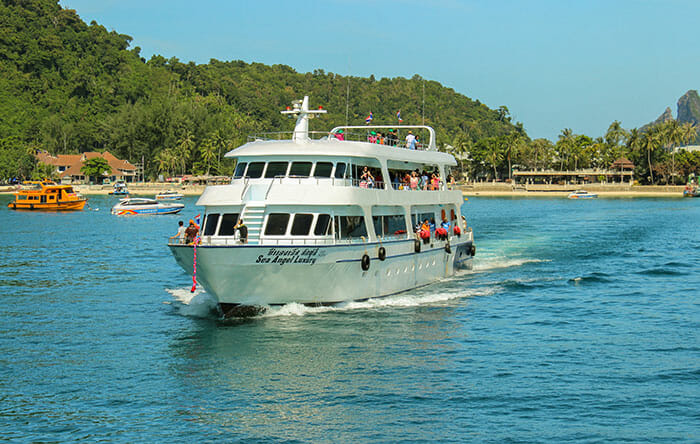 Tourists looking for the cheapest way to travel from Phuket to Phi Phi will find that ferries are affordable and frequent, and you can get cheaper rates than advertised if you plan just a little in advance. Ferries depart from two different terminals on Phuket: Rassada Pier and Sea Angel Pier.
The ferry ride will take between 1.5 and 2 hours, and, as you might expect, there are several different ferry companies to choose from. Standards vary between them – some ferries will wait to depart until they are completely full meaning that you won't have a particularly comfortable ride as you'll be crammed in with many other passengers. Others depart exactly on schedule, regardless of how full they are.
Although the ticket price if bought at the pier is reasonable, you can save yourself several hundred baht by purchasing your tickets in advance, online, so this is highly recommended if you know when you want to travel. Sometimes you will get a discounted ticket if you're purchasing a return rather than one-way, however, if you get a one-way ticket it then gives you a little flexibility if you should decide to stay on Phi Phi for a day or two. Once you've decided to return to Phuket, buy your ferry ticket through the guesthouse you are staying in as they will usually be able to offer you a discount of a few hundred baht off the advertised price.
How do you get from Phuket to Phi Phi?
Ferries and speedboats both operate regularly between Phuket and Phi Phi, with journey times depending on the speed of the ferry as well as your departure point on Phuket. You're not just limited to booking the ferry yourself – check out 12Go and you'll find many options for departure points including van service pickup from hotels, the airport or the beach, included in the ticket price.
How long is the speedboat from Phuket to Phi Phi?
The various speedboat operators quote different lengths of time to get from Phuket to Phi Phi. Tigerline Travel quotes 45 minutes, while Bundhaya Speed Boat and Koh Ngai Camping says 1 hour, all departing from the main Rassada Pier on Phuket. It's best to book tickets in advance through travel website 12Go, where you can compare prices, read reviews, and check schedules.
How much is the ferry to Phi Phi from Phuket?
The cheapest ferries are usually the 'local' ones that are not as comfortable or well-equipped as the high-speed ferries. Buy tickets for Chaokah Travel Center local ferries through 12Go from around 400 baht, or opt for the nicer high-speed ferries or speedboats for which you should expect to pay at least 700 baht, up to 1,500 baht. You can also add transfers from hotels when booking through 12Go.
How much does it cost to go to Phi Phi Island?
The cost depends on where you're coming from. Krabi and Phuket are two popular starting points with prices for ferries from Phuket starting around 450 baht, up to 1,500 baht for a speedboat and lots of prices in between. Prices are as low as 400 baht from Krabi, which includes high-speed ferries. You can find prices and buy tickets with all the main ferry companies through 12Go.
Did you find this guide useful?
Click on a star to rate it!
Average rating: / 5. Vote count: