To witness the best scenery that Thailand has to offer, we recommend you plan a visit to both coasts of Southern Thailand. Phuket, off the west coast, is the best place to see the striking karst formations of the Andaman Coast, and while Phuket does have some great beaches you'll find even better beaches on the beautiful island of Koh Samui, off the eastern coast and within the Gulf of Thailand. So, if you're already spending time in Phuket, how easy is it to get to Koh Samui? Very easy! There are many different options for travel from Phuket to Koh Samui, so read on to find out more.
Read about:
• Flights from Phuket to Koh Samui
• Driving between Phuket and Koh Samui
• Bus and Ferry from Phuket to Koh Samui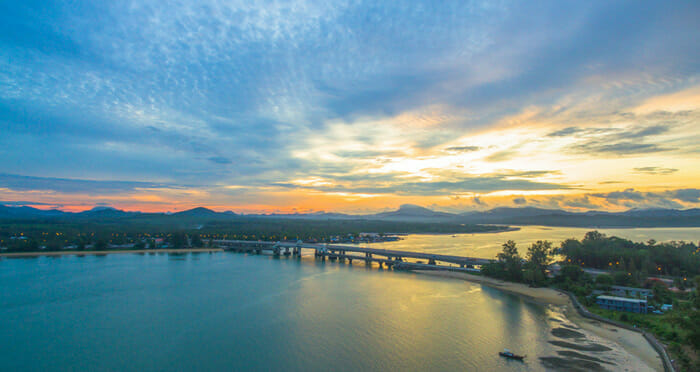 Different Ways to Get from Phuket to Koh Samui
Because this is a popular tourist route, there are a good number of options for traveling between these two prime Thai destinations. If you're looking for the speediest way to cover the distance (over 300 kilometers) then a flight is by far the quickest way though it's also the most expensive. Driving is quite an experience as you get to see wonderful scenery along the way, but remember, Koh Samui is an island not connected to the mainland so you'll need to catch a ferry. Of course, there are companies who offer inclusive tickets if you're traveling by bus, covering both the bus and the ferry ride all in one price. Let's take a closer look at all the different ways to get from Phuket to Koh Samui.
Flights from Phuket to Koh Samui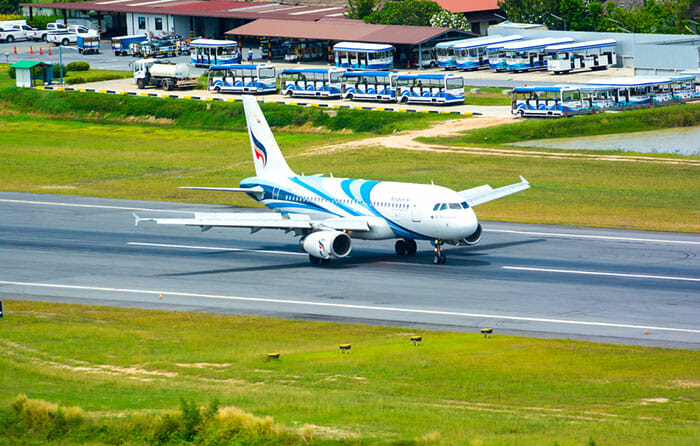 There is just one airline offering flights from Phuket to Koh Samui, and that's Bangkok Air. The good thing is that there are several flights per day so you can choose which one suits your itinerary and budget the best. Unfortunately, with Bangkok Air having the monopoly on this route, there's no competition from other airlines and hence the fares can be high. Having said this, when you compare how long a flight takes as opposed to a bus and a ferry, you're gaining so much time by flying. It's less than an hour between Phuket Airport and Koh Samui Airport and even when you add on the extra time for checking in and security, you're still well up. Bearing this in mind, flights from Phuket to Koh Samui are by far the best option for anyone who is limited for time.
Driving between Phuket and Koh Samui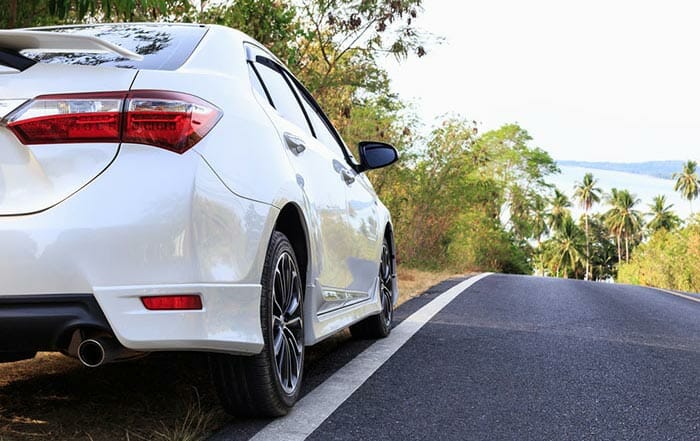 If you're not so pushed for time and like to meander along, stopping on the way to see more of Thailand's wonderful scenery, then driving is a great way to travel from Phuket to Koh Samui. A rental car gives you far more freedom, and if you're dividing the cost and the driving between several friends, it's not actually too expensive. By road, the route is around 350 kilometers (219 miles), and if you were driving directly there it would take around 6 hours. However, the advantage with this route is to take your time, so you could plan to take two days with an overnight stop somewhere along the way, such as Surat Thani, then catch an early ferry the next morning.
The Raja Ferry Port is set up so that private vehicles can be driven onto the ferries, so you can take your rental car all the way over to Koh Samui and use it to get around the island too.
Bus and Ferry from Phuket to Koh Samui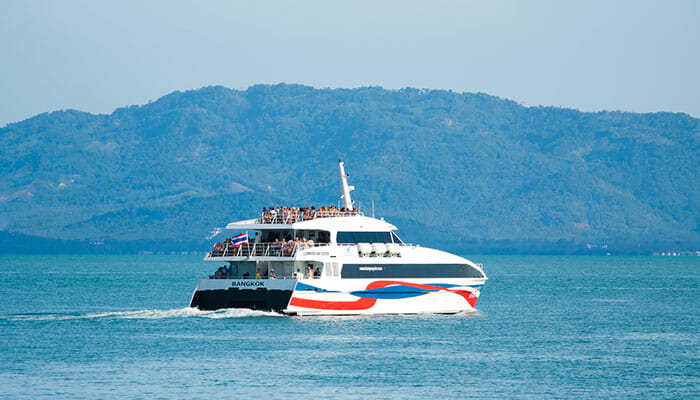 If you prefer to have someone else do the driving while you watch the passing scenery, a bus and ferry to Koh Samui would be a good choice. Believe it or not, there are several different options for bus and ferry combined tickets so again, you can pick the best option for your budget. The cheapest option is a bus from Phuket Bus Terminal 2 although, being the cheapest option comfort levels are not as good as other choices. The bus is air conditioned though there are no toilets onboard. It will however make two stops along the way for you to get out and use the facilities. The bus will take you to the ferry for the crossing to Koh Samui, and once you arrive at Na Thon, on the island, you will make your own way around. The bus leaves Phuket in the morning, and the trip takes between 8 and 9 hours.
If comfort levels are important to you, choose one of the more luxurious and hence more expensive bus and ferry options. Departing from the Lomprayah office, the buses are nicer and you'll take a high speed ferry across to Koh Samui which has a small café where you can buy refreshments before sunning yourself on the sundeck and admiring the views. These routes take around 6 hours 45 minutes.
Spend a little more and you can get a hotel transfer by van from the port on Koh Samui. This is useful if you want more of a door-to-door service without the worry of finding a taxi and getting to your hotel, and the price is reasonable as it's lumped in to one inclusive ticket.
So, there are many different options for travel from Phuket to Koh Samui. You can take your time, speed along, enjoy more luxury, or opt for the budget transport if you're traveling on a shoestring!
How long is ferry from Phuket to Koh Samui?
Because Phuket and Koh Samui are on different sides of Thailand, you can't travel just by ferry. Instead, you'll first have to take a bus to the east coast, then catch the ferry from there. Phantip, Raja Ferry and Seatran sell combined tickets that include the bus and ferry for a total journey time around 7 to 10 hours, which you can buy through 12Go.
How do you get from Phuket to Koh Samui?
With Phuket in the Andaman Sea, and Koh Samui in the Gulf of Thailand, it's quite a long journey, so the quickest way is to fly with Bangkok Airways, leaving Phuket 5 times per day. Compare flights with other options on 12Go as this travel site sells tickets for flights, as well as bus and ferry combined tickets which will save you money, but the journey takes much longer.
How do you get to Koh Samui?
Thailand's second largest island has its own airport, so getting to Koh Samui is really easy from cities like Bangkok, Phuket, Chiang Mai etc. Flights can be pricey though, so you can save money by catching a ferry from the mainland or one of the neighboring islands. If you look at 12Go, they give search results for flights and ferries as well as transfers from multiple departure points.
How many piers are there in Koh Samui?
There are four main ferry piers on Koh Samui, staggered at different points around the coast of the island: Pralan Pier, Nathon Pier, Lipa Noi Pier, and Big Buddha Pier, plus there are many smaller piers for charters and tour boats. Research where your ferry will arrive and choose your accommodation accordingly to avoid a long transfer, then book your ferry tickets at 12Go.
Did you find this guide useful?
Click on a star to rate it!
Average rating: / 5. Vote count: