Phuket is an island that offers a little bit of everything, whether you're looking for a high-end beach resort, luxurious spas, and days lazing on the beach, or you're into the party scene and want to make friends by day on Patong Beach or by night in its clubs and bars. Phuket has amazing scenery too and features some of the country's most popular beaches. After staying on Phuket you may be wondering how any other Thai resort area could live up to what Phuket has, but Ao Nang definitely comes close. Ao Nang features great dive sites and places to rock climb so there are different activities to enjoy here. With beaches framed by limestone cliffs and easy access to the gorgeous Phi Phi Islands, Ao Nang has ample to keep all travelers occupied.
Read about:
• Phuket to Ao Nang by Ferry
• Speeding Through the Waves: Speedboat to Ao Nang
• Bumpy Road Ahead: Phuket to Ao Nang by Bus
• Comfort and Convenience with a Minibus
• Phuket to Ao Nang by Taxi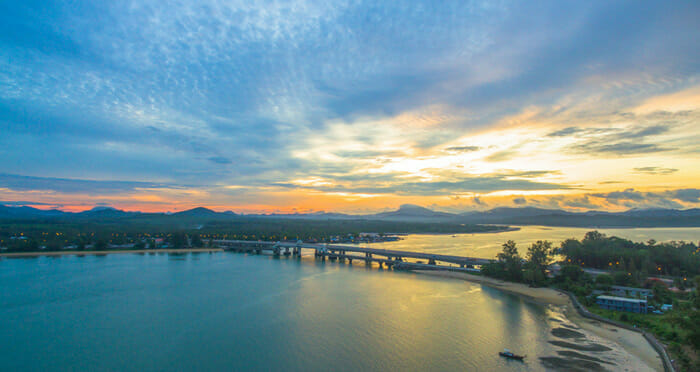 Options for Travel from Phuket to Ao Nang
Although Phuket is an island, it's connected to the mainland via a road bridge so this makes coming and going from the island far easier than it would have been in the past. Phuket is on the west coast of the Andaman Sea, while Ao Nang sits on the east side, so if you are traveling by road you'll need to traverse the northern edge of the bay to get from Phuket to Ao Nang. While busses are popular across Thailand, the route from Phuket to Ao Nang is not one that's covered by any bus companies at this time but don't worry, there are still a couple of different ways to travel – taxis and minivans are popular if you want to go the road route, but you could also catch a ferry or a speedboat that takes you right across the bay.
Phuket to Ao Nang by Ferry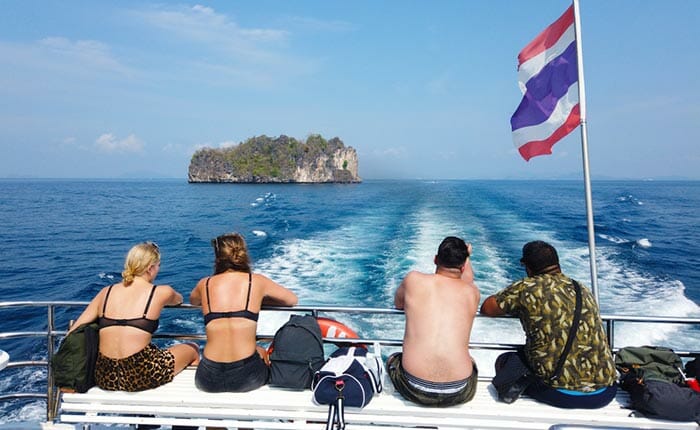 It's always nice to travel by boat because you're paying for transportation but can also make the most of sightseeing too. Getting from Phuket to Ao Nang you'll be traveling across Phang Nga Bay, past some of Thailand's other islands, and this makes it a very scenic journey. You will usually have the option to sit inside the ferry, or take advantage of the sun deck, soak up some rays, and watch the passing scenery.
But, boat travel isn't always good for everyone. These waters can be quite rough, so if you're prone to seasickness you may be better opting for a taxi instead. To be honest, if the water is too rough the ferry will not operate, so you have that peace of mind, but if you've booked the ferry and then find that it's cancelled it can be an extra hassle trying to find alternatives. The good news is that if you book through a travel website such as 12Go.asia, you will get instant confirmation of your booking, and options for refunds, plus if you booked the ticket in advance and there was adverse weather, you can always talk to the people at 12Go about alternatives.

Usually during the peak season, ferries would be operating all of the time unless there was some unusual weather, and they do get booked up most days, so booking your ferry from Phuket to Ao Nang in advance is always highly recommended. During the low season (from May to October) catching a ferry can become a bit more hit and miss as the weather is changeable.
If you would like to take the ferry from Phuket to Ao Nang, there are a few different options available which impact the journey time. If you catch a direct ferry with Ao Nang Travel, the journey will only take around 2 hours but this does mean departing from Phuket at 8:30am. There are later ferries but they involve having to change onto a different ferry at the Phi Phi Islands. You could argue that traveling this way allows you to see even more scenery, so it's great if you're in no rush, but it does add 2 hours to the trip. You can go this way with Chaokoh Travel Group, bookable through 12Go.
Speeding Through the Waves: Speedboat to Ao Nang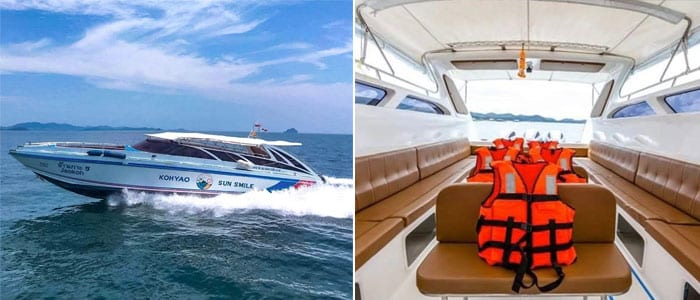 Speedboats are another option if you enjoy traveling on the water. While fast (it takes around 2 hours), speedboats are also one of the most expensive transportation options from Phuket to Ao Nang.
Koh Yao Sun Smile offers 1 departure per day at 9:30 am from Bang Rong Pier, Phuket. The speedboat arrives at Nopparat Thara Pier, Ao Nang, at 11:30 am.
Green Planet also offers 1 daily speedboat from Bang Rong Pier departing at 3:00 pm to nearby Railey Pier. From Railey Pier to Ao Nang Beach, it is possible to get a shared 100 Thai Bath long tail boat or charter a private one. The ride takes around 10 minutes.
Bumpy Road Ahead: Phuket to Ao Nang by Bus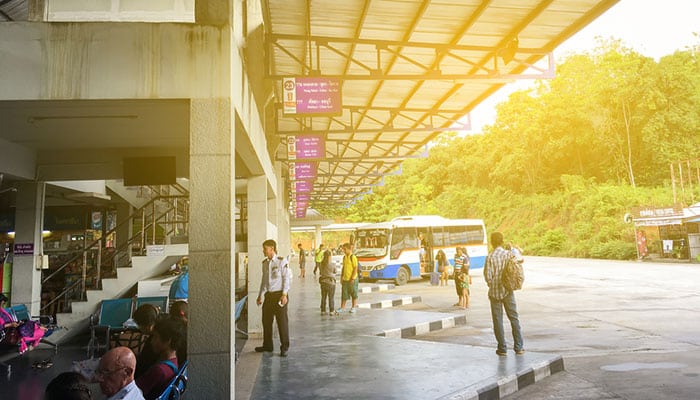 Navigating from Phuket to Ao Nang by bus is inconvenient as there is no direct bus route between these two locations. It involves multiple transfers with extended travel times, making it a less convinient option compared to minibuses.
Travelers will have to get from Krabi Bus Terminal to Ao Nang. It is about a 30-minute trip. The most straightforward way is to take a local songthaew (a converted pickup truck with two rows of seats in the back) or a tuk-tuk.
Comfort and Convenience with a Minibus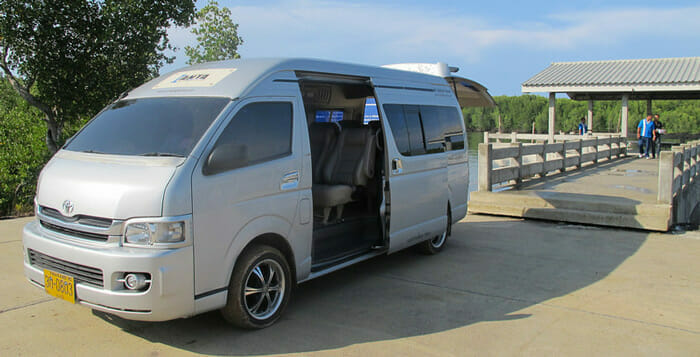 Opting for a minibus provides a lot of conveniences. For instance, if you secure a booking with 438 Phuket Krabi Transport from Phuket Bus Terminal 1 to Ao Nang, they offer the added benefit of dropping you off directly at your hotel. This saves you the journey time and cost of getting from the Krabi bus terminal. The first minibus starts as early as 6:40 am from Phuket Bus Terminal 1. After that, they depart every 40 minutes until the last minibus leaves at 4:00 pm.
A minibus costs a little more than the regular buses, but it's worth the money for that door-to-door convenience. The downsides to minibusses are that you'll have a little less legroom than on a regular bus. The drive will be fast (and potentially hair-raising!). All in all, you should be looking at about a 3.5-hour journey time.
Phuket to Ao Nang by Taxi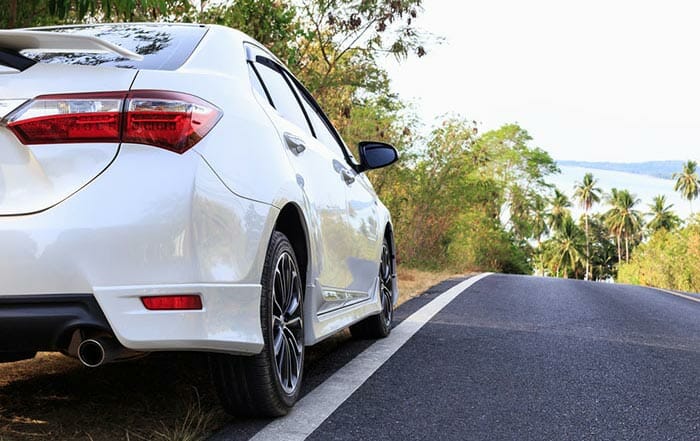 Across the year, ferries are usually the most popular way to get from Phuket to Ao Nang, but taxis are a good alternative, especially during the low season or if the weather is bad, or if you just don't like traveling on the water.
The biggest drawback with traveling by taxi is the cost, however, you can shop around and save yourself a few dollars as there are several different private taxi companies to choose from. You can also choose the right vehicle for the number of passengers – if you're traveling as a family, for example, you'll find that it's actually cheaper to take a taxi from Phuket to Ao Nang than it is to take the ferry as with the taxis you pay one set price, no matter how many people are in the vehicle. So, you could book a 4-passenger SUV, or a 9-passenger van and even save money when the cost is divided between you all.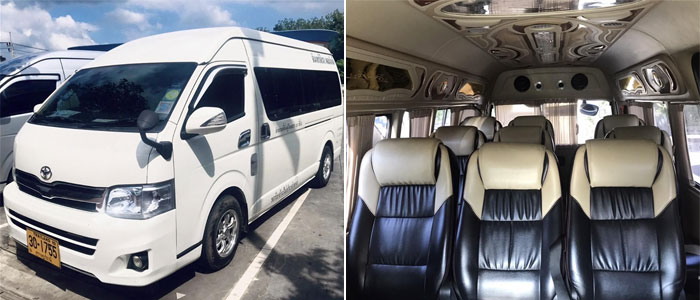 Private taxis can also be booked through 12Go, and if you use their search you'll see many different results for a variety of pick-up points on Phuket. There's Phuket Airport, for example, or hotels in Patong or Phuket Town, and you will be dropped right to the door of your hotel in Ao Nang, so taxis add extra convenience as they have door to door service.
One thing to bear in mind is the travel time. By road it's about 150 kilometers (94 miles) from Phuket International Airport to Ao Nang, and even further if you're coming from Phuket Town or Patong. Often the taxi companies quote a journey time of just one hour, but making the drive from Phuket to Ao Nang in an hour is simply not possible; it's going to be at least 2 hours. Even at 2 hours, you're still saving time over the ferry as the fastest ferry will get you to Ao Nang in 2 hours but you would need to get to and from the pier at either end so it would end up being closer to 3 hours on the ferry.
Choosing between ferries, speedboats, buses, minibuses, or taxis from Phuket to Ao Nang depends on a few things. The time of year, your comfort with sea travel, and if you are prone to seasickness will all impact your decision. Consider them carefully, and you will find the best transportation option for your journey.
Did you find this guide useful?
Click on a star to rate it!
Average rating: / 5. Vote count: