Two of Thailand's most popular destinations for backpackers and the partying crowd are, without a doubt, Phuket and Koh Phangan. With its lively bars and beaches, the island of Phuket includes places like Patong and Phuket Town, while the island of Koh Phangan is best known as the home of the infamous Full Moon Party. It's not surprising then, that many tourists choose to travel from Phuket to Koh Phangan to soak in the party atmosphere. Even so, both Phuket and Koh Phangan have some of the world's most beautiful beaches and if you prefer peace and quiet there are still many places on either island where you'll find it!
Read about:
• Flights from Phuket to Koh Phangan
• From Phuket to Koh Phangan by Ferry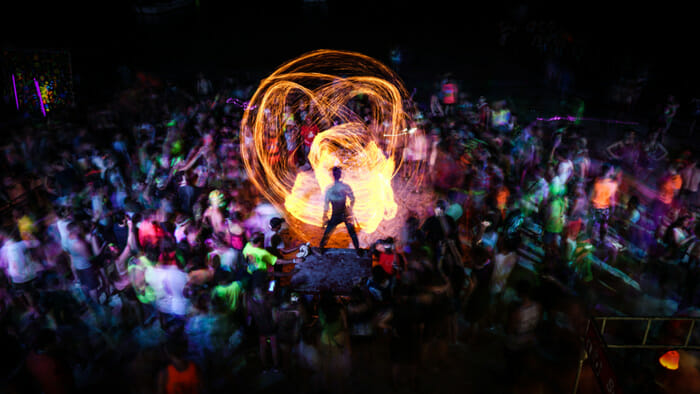 Options for Getting from Phuket to Koh Phangan
On a map it might not seem like it's too far to get from Phuket to Koh Phangan, but in reality it can be quite a trek. The shortest distance by road is around 340 kilometers (212 miles), but that does include some meandering while the road avoids rivers and mountains. Also remember that while Phuket is connected to the mainland via a bridge, Koh Phangan is not. This means that if you opt to travel by road, you will have to get on a ferry to leave the mainland and cross over to Koh Phangan. The good news is that many tour companies offer combined tickets so you can buy one to get you all the way there. An easier and less time-consuming option is to catch a flight, but even this is not as straightforward as it first sounds; it's expensive, and you can't fly direct to Koh Phangan as there's no airport on the island.
Flights from Phuket to Koh Phangan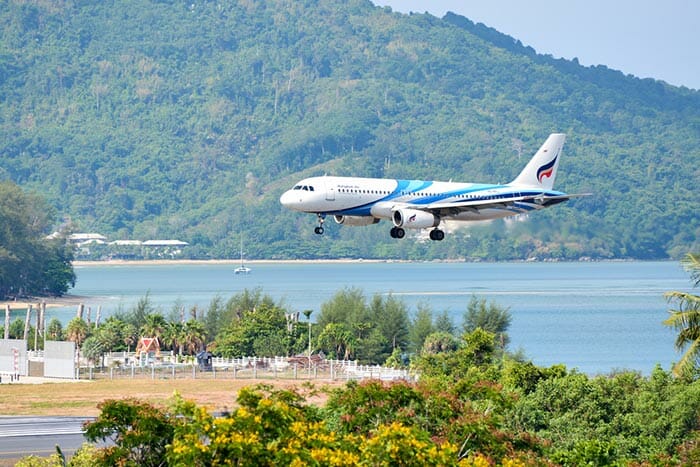 If you like to reach your next destination in as little time as possible, going by air is usually the best way to travel, however, when we're talking about getting from Phuket to Koh Phangan, this isn't necessarily the case! For starters, there is not actually an airport on the island of Koh Phangan so this means you'll have to fly to the neighboring island of Koh Samui and then get a ferry from there. While the flight from Phuket is a mere 55 minutes, and the ferry from Koh Samui to Koh Phangan is only 30 minutes, you will have a long wait at Koh Samui before you can get on a ferry. So, while it seems like a much faster option on the surface, do your research before committing to a flight because you could be spending a lot more money and not getting to Koh Phangan much quicker than you would by other means.
Although it's expensive, the good news is that there are joint tickets available so if you book a combined ticket you'll be covered for both the flight and the ferry. This can make travel plans a lot easier.
From Phuket to Koh Phangan by Ferry

Considering the cost and time a flight takes, the majority of travelers will opt for far more affordable options, which are always readily available and easy to book. You can choose combined tickets, or, if you prefer, you can travel a little more independently and catch a bus to Surat Thani and then take a bus and/or ferry from there. This will involve a little more research and will no doubt add to your journey time, but it will save you a few dollars.
Our recommendation is a combined ticket because you know that everything is already booked and taken care of, and when you get your tickets through a reputable tour company you'll have peace of mind should anything not go to plan.

The quickest way to travel by bus and ferry from Phuket to Koh Phangan is with Lomprayah. This well known and respected Thai travel company offers two departures a day from Phuket, with a total journey time of around 7.5 hours. This combined ticket involves taking a bus from the Lomprayah office in Phuket Town, traveling to Surat Thani and then transferring to the high-speed ferry. The bus portion of the journey is around 4 hours, while the ferry takes about 3 hours. If you like this option, be aware that you should book it at least two days in advance, and if it's around the popular Full Moon Parties, you should probably book it as far in advance as you can as the ferries and buses can get booked up.
Other travel companies also offer different pick-up points from Phuket, including individual hotel pick-ups in Patong with Phantip and Lomprayah – this journey can take between 10 and 11 hours – buses from Phuket Bus Terminal with Phantip and Seatran Discovery, and a Phuket Airport departure with Lomprayah. Journey times vary depending on where you're starting from, but they also vary with the company as some will pick up passengers along the way, adding a lot of time to the journey. Phantip is a company that tends to do this, but the advantage is that Phantip offer the cheapest combined bus and ferry tickets from Phuket to Koh Phangan, so it's a good option if you're traveling on a budget.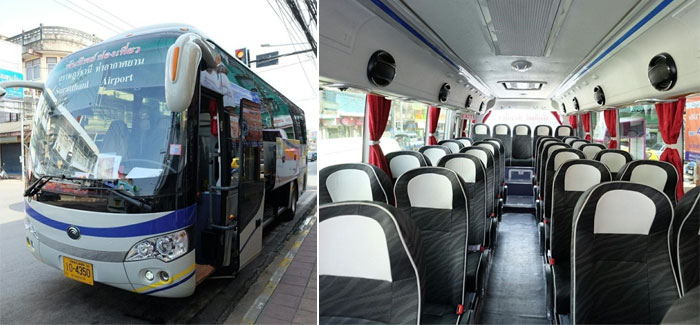 Whether you choose to travel with Lomprayah, Seatran Discovery or Phantip, buying a combined ticket through a reputable agent like 12Go.asia is always recommended unless you particularly wanted to spend some time in Surat Thani. Traveling independently and going via Surat Thani will likely save you some money but you could find that you'll be stuck a night in Surat anyway, which means sleeping in the bus station or getting a hotel room!
How do I get from Phuket to Koh Phangan?
On paper, it looks as though flying is the fastest option, but you'll have to fly from Phuket to Koh Samui and then catch a ferry to Koh Phangan from there. With the expense and the extra time and hassle transferring, you're better off traveling by bus and ferry. It takes a little longer but is much cheaper, and you can buy joint tickets on the website, 12Go.
How do you get to Koh Phangan Full Moon Party?
Koh Phangan's monthly Full Moon Party attracts hundreds of extra visitors to the island, making it challenging at times to find boats. Because of this, it's best to book your seat in advance, and you can do this at 12Go. They sell tickets for many different ferry companies, from numerous departure points, including pickups from hotels or airports on joint tickets, so your whole journey is taken care of.
Did you find this guide useful?
Click on a star to rate it!
Average rating: / 5. Vote count: