We've all heard of Phuket – Thailand's largest island and one of the country's most popular tourist destinations. It's known for its lovely beaches and mountainous rainforested interior, but also for its vibrant nightlife in places like Patong, ready and waiting for anyone who likes to party! You may not have heard of a nearby island named Koh Yao Yai though. Although it's a large island, Koh Yao Yai and its sister island Koh Yao Noi have flown beneath the radar for many tourists, leaving these undiscovered gems to be explored by a smaller number of visitors. Also great for its beaches, Koh Yao Yai has amazing diving and you can enjoy all this for a lower price than on Phuket too! So, what are you waiting for? Here's how to travel from Phuket to Koh Yao Yai!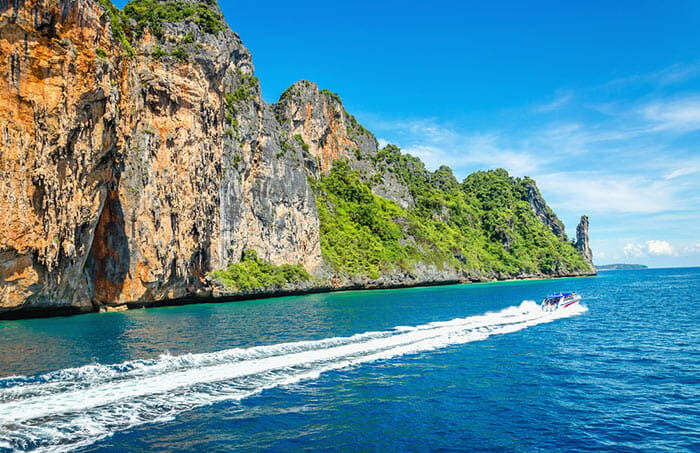 Options for Travel from Phuket to Koh Yao Yai
It's surprising how undiscovered and undeveloped Koh Yao Yai is, considering its size and its proximity to Phuket. It's actually one of 44 islands in this group, situated at the southern end of Phang Nga Bay in the Andaman Sea, and is roughly half way between Phuket, to the west, and Krabi, to the east. In distance, it's about 23 kilometers (14 miles) from Phuket – although this does depend on where in Phuket you're starting from – so traveling from one island to the other does not take especially long. Going by boat is the only way you can get to Koh Yao Yai, as there isn't an airport here, but there are a number of boats running back and forth throughout the day, giving you several choices whether you want to go by public or private speedboat, or if you want to include a transfer to your hotel.
Phuket to Koh Yao Yai by Speedboat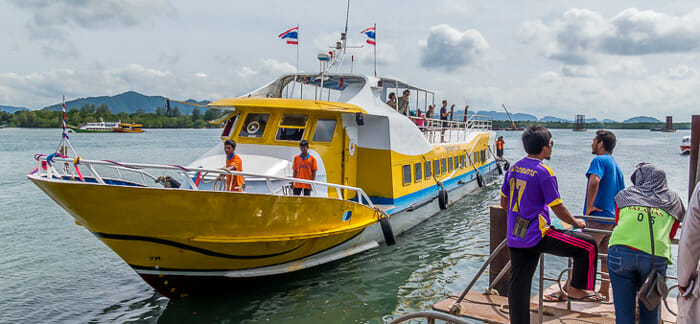 As mentioned above, the exact journey time from Phuket to Koh Yao Yai will depend on where in Phuket you're starting from. Phuket Town is right in the southern end of the island, further away from the piers on Koh Yao Yai, so traveling from here will take longer if you catch a boat direct from here. The alternative, which will result in a faster overall journey time is to travel north on Phuket first and take a boat from one of the piers on this part of the island. From here, journey times can be as short as 15 minutes, with most taking around 30 minutes.
Tigerline Travel is one of the speedboat companies you could consider. Their boats take just 15 minutes to cross from Phuket to Koh Yao Yai, however, they only offer this service twice per day currently. The speedboat departs from Ao Po Pier on Phuket at 08:00 and 10:00 and arrives at Klong Hia Pier, at the northern end of Koh Yao Yai at 08:15 and 10:15 respectively. While the service is nice and quick, you may find that leaving Phuket at 8 or 10 in the morning does not work for you and need to consider a different boat company instead.
Koh Yao Sun Smile is a great alternative as they have three speedboats from Phuket to Koh Yao Yai per day. These include a morning departure at 09:30, lunchtime departure at 13:30, and an early evening departure at 17:00. These boats leave from Phuket's Bang Rong Pier, which is towards the northern end of Phuket, and they arrive at Chong Lard Pier 30 minutes later. Chong Lard Pier is a little way east of Klong Hia Pier, so there is not much difference in which pier you arrive at on Koh Yao Yai as they are both in the same area, in the north of the island.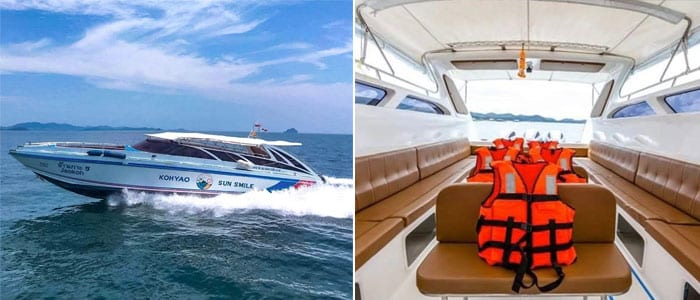 You can book your speedboat tickets for Phuket to Koh Yao Yai in advance using an online booking service such as 12Go. Here you can see photos of the boats that they use to give you a better idea of what the boat looks like. They are speedboats but are designed to carry multiple passengers so they are not really small. However, traveling by speedboat can be quite rough at times, so do consider this if you're prone to sea sickness.
Phuket to Koh Yao Yai by Private Speedboat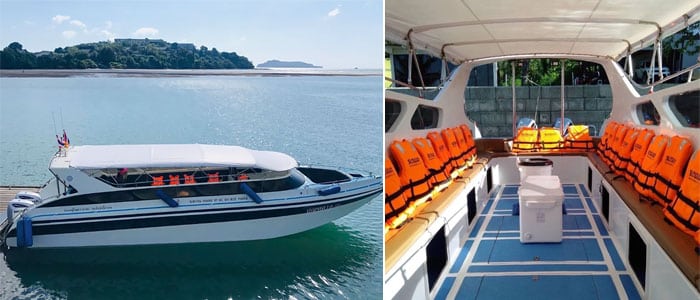 Regular speedboats are very reasonably priced for the journey from Phuket to Koh Yao Yai, so these are great for most travelers, but if you want to arrive in style or you feel that the schedules mentioned above don't work for you, take a look at the private speedboat from Phuket to Koh Yao Yai. The benefit of a private speedboat is that you can select what time you would like to leave Phuket – they operate between the hours of 08:00 and 16:00, so any time between those hours would work.
The private speedboats depart from Yamu Pier on Phuket, and they arrive at Chong Lard Pier on Koh Yao Yai about 45 minutes later. Tickets for the private speedboat are sold as an all-inclusive which includes up to a maximum of 10 passengers. When you split the ticket price between 10 passengers it does reduce the cost per person considerably, but it will still work out at about double the ticket price for a regular speedboat from Phuket to Koh Yao Yai. If keeping to a budget is important for you, the private speedboat probably isn't going to work, but if you're traveling with a group and want the convenience of being able to travel whenever you want to, it's a great option that can be booked in advance through 12Go.
Phuket to Koh Yao Yai by Ferry and Taxi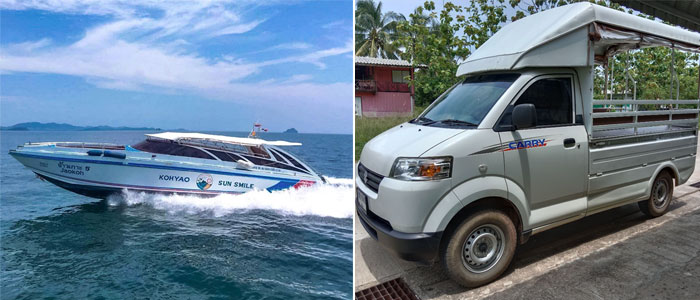 A final option if you like the convenience of having your trip and transfer arranged in advance is to book a ferry and taxi combined ticket. This includes a journey on the regular speedboat, leaving at 09:30, 13:30 or 17:00 from Phuket as well as a transfer to your hotel of choice on Koh Yao Yai. The cost is a little more, obviously, but not having to worry about figuring out a transfer once you arrive can save time and hassle. Combined ferry and taxi from Phuket to Koh Yao Yai can also be booked through 12Go.
How far is it from Phuket to Koh Yao Noi?
It's roughly 32kms (20mi) from Bang Rong Pier, Phuket to Koh Yao Noi, crossing the Andaman Sea.
How far is it from Phuket to Koh Yao Yai?
It's about 23kms (14mi) from Phuket to Koh Yao Yai, crossing the Andaman Sea. Tickets for speedboats and fast ferries can vary in price substantially, so it pays to compare options at 12Go. Here you can see the different schedules, costs, and customer reviews before deciding to book, and add transfers to your booking too.
How long is the Speedboat from Phuket to Koh Yao Yai?
A Speedboat from Phuket to Koh Yao Yai will take around 30 minutes, depending on which pier you depart from, and which ferry company you use. Check 12Go to compare the prices and services, and book online. You can depart from Bang Rong Pier with Koh Yao Sun Smile, or for more choice, opt for Ao Por Pier with Tigerline travel, Phuket departure.
How do you get to Koh Yao Yai?
The island of Koh Yao Yai is just off the coast of Southern Thailand, in the Andaman Sea. Close to both Phuket and Krabi, you can buy Speedboat and Ferry tickets to Koh Yao Yai online at 12Go. It is a 40 minutes boat ride from Krabi and 30 minutes from Phuket.
How useful was this post?
Click on a star to rate it!
Average rating / 5. Vote count: