Two of the best known and most visited destinations in Thailand are Koh Samui and Phuket, and for good reason! These two places are full of spectacular scenery and beaches, with postcard perfect views that you will see on pictures advertising Thailand around the world. Koh Samui is the country's second largest island and has those breathtaking beaches and mountainous rainforest interior, set on the Gulf of Thailand, while Phuket, Thailand's largest island, is in the Andaman Sea with its spectacular karst coastline, gorgeous beaches and plentiful nightlife. To experience the best of Thailand's coastal scenery, why not visit both of these places? There are lots of options for getting from Koh Samui to Phuket, so read on to find out more.
Read about:
• Options for Travel from Koh Samui to Phuket
• Flights from Koh Samui to Phuket
• Driving from Koh Samui to Phuket
• Taxi from Koh Samui to Phuket
• Ferry and Bus from Koh Samui to Phuket
• Ferry and Van from Koh Samui to Phuket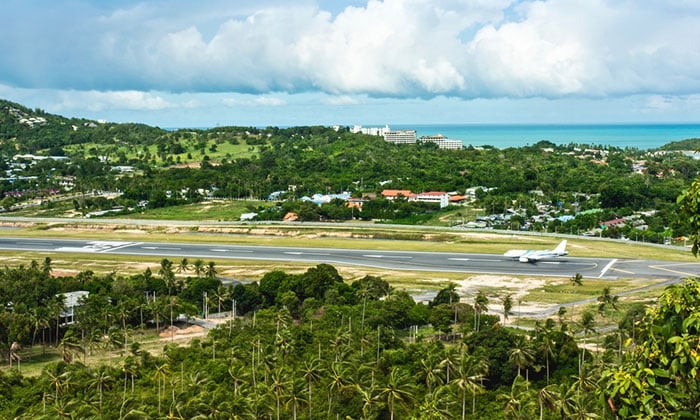 Options for Travel from Koh Samui to Phuket
As the crow flies, the distance from Koh Samui to Phuket is around 250 kilometers (156 miles), traveling right across the narrow strip of land that makes up Southern Thailand. If you were flying between the two, this is roughly the route that an airplane would take, but going by land (or rather, by sea and land) you would be covering a greater distance. Yes, there are flights from Koh Samui to Phuket and there are also combinations of ferries and buses, giving travelers a range of options when it comes to cost and speed.
Flights from Koh Samui to Phuket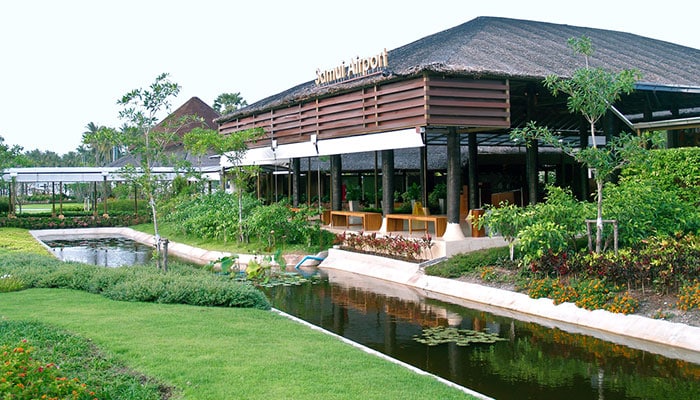 The airport at Koh Samui is substantially smaller than Phuket International Airport and so Koh Samui only handles a few flights per day in comparison. Koh Samui's airport, Samui International Airport, is owned and operated by Bangkok Airways so this airline has a monopoly on flights to and from Samui, and the number of flights departing each day is limited compared to other airports in Thailand. All of this means that Bangkok Airways' flights from Koh Samui are expensive and can often cost 3 times more than what budget airlines would have charged if they were allowed to fly. Even so, Samui International Airport does have flights to Phuket every day, flying direct with Bangkok Airways. Schedules are subject to change depending on time of year and demand, so do check with Bangkok Airways or do a search on a travel website such as 12Go, for the latest schedules and to make a booking when you want to travel.
You can be sure that during peak season there will be at least five flight from Koh Samui to Phuket per day. As these flights are all direct, they are scheduled to take an hour although often the actual flight time is even quicker than this.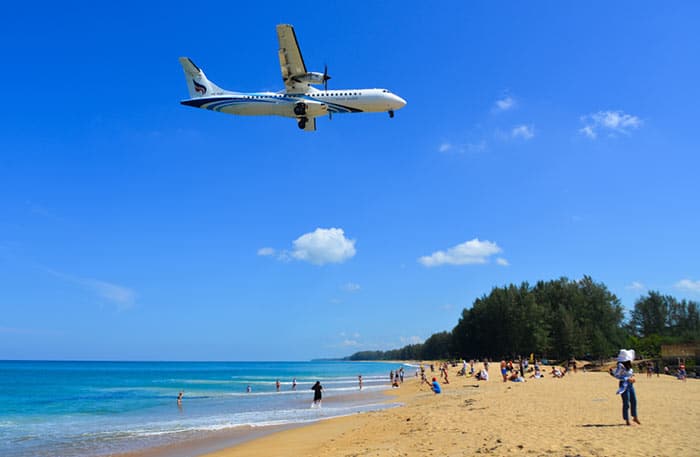 Samui Airport is only 2 kilometers outside of the main town, Chaweng, so it is quick and easy to travel to the airport for your flight. Once you arrive at Phuket International Airport you will have a little further to travel if you're heading for the main resort areas. The airport is in the north of the island, about 32 kilometers from the center of Phuket Town, but with so many resort areas and lovely beaches to visit, there are good options for traveling from the airport to your final destination. If you have a hotel or guesthouse booked, check with them whether they offer an airport pickup service, or can arrange a taxi for you.
Driving from Koh Samui to Phuket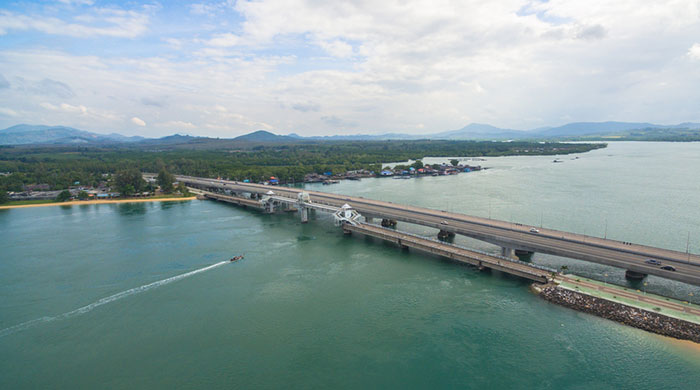 If you like to do things independently, then driving yourself from Koh Samui to Phuket is a wonderful option for the independent traveler. Of course, being an island you cannot drive all the way from Koh Samui to Phuket. Phuket is also an island, but it is connected to the mainland via a bridge, so you won't need to catch a ferry for the last leg of your journey.
Driving from Koh Samui to Phuket increases the distance. It's about 345 kilometers (215 miles) via the ferry and road route and should take around 6 hours, but that depends upon ferry connections. If you rent a car in Koh Samui you can take the ferry from the Raja Ferry Port and drive your car right onto the ferry. It costs more to take a vehicle compared to just a passenger fare, but the car fare does include the ticket for the driver, so it's really not that much more when you consider the convenience.
Driving yourself may feel challenging in a foreign country but driving from Koh Samui to Phuket is very different to driving around Bangkok, for example, as the roads are quieter in Southern Thailand. The benefit of driving yourself is that you can spend as much time as you like, exploring along the way, so you get to see far more places and sights that you wouldn't normally see when taking public transportation.
Taxi from Koh Samui to Phuket

When you like the comfort of a car but want somebody else to take care of the driving, take a taxi from Koh Samui to Phuket instead! Private taxi companies offer sedan style cars as well as 6 passenger vans that will pick you up from your hotel in Koh Samui and drive you all the way to your hotel in Phuket. For convenience you cannot beat this because the whole journey is taken care of for you, leaving you to simply sit back and relax, and enjoy the scenery.
Taxis from Koh Samui to Phuket can be booked through 12go, so even the booking is easy! Select whether you want a car or a van, depending on how many people you're traveling with. Obviously the more people you are with, the less the per person price is because you're splitting the all-inclusive rate with others. When divided between several people, traveling by taxi is not as expensive as you might think. It's cheaper than flying, and although it does take longer (journey times are advertised as being 8 hours door-to-door) you do get the ultimate in convenience by traveling by taxi.
Ferry and Bus from Koh Samui to Phuket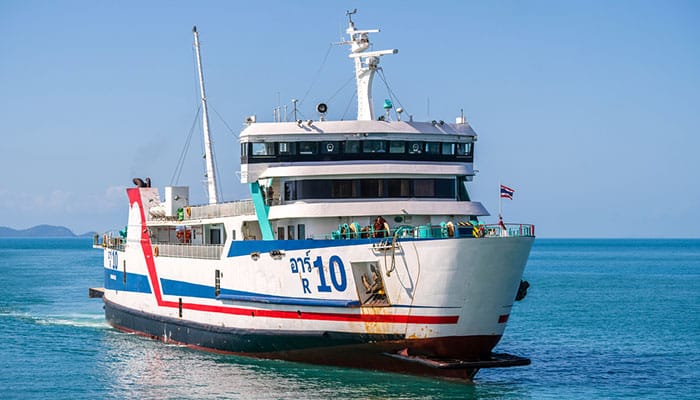 You can also book other transport options through 12Go, including ferries and buses. The benefit of booking the whole trip through a travel website is that all your connections are guaranteed. This means if there is a problem somewhere along the way, such as a delay or the ferry doesn't operate for some reason, it is guaranteed that you will get from Koh Samui to Phuket by some way or another as they will get you on the next possible ferry or bus to ensure a smooth journey.
There are a few different options for ferries and buses from Koh Samui, but all of them are very affordable when compared to flying or the cost of driving yourself. This makes bus and ferry travel the most popular way to get from Koh Samui to Phuket because it is the cheapest way.
Travel with Raja Ferry
If you can find your own way to the Raja Ferry Port which is at Lipa Noi Pier on Koh Samui, you can get a ticket that includes the Raja Ferry to Donsak, near Surat Thani. Once off the ferry, you will board a bus (which may travel via Surat Thani and involve a change of buses in the town) to Phuket. This service departs five times a day, at 5am, 9am, 11am, 12pm, and 1pm. The 5am journey is scheduled to take 11 hours while the later journeys are scheduled to take between 8 and 9 hours. On arrival in Phuket, you're dropped off at the Phuket Bus Terminal 1 which is conveniently situated right in the heart of Phuket Town.
There are also services arriving at Phuket Airport and Phuket Bus Terminal 2. This is Phuket's main long distance bus terminal. This bus terminal was built outside of the town so it could be a good option if you are staying elsewhere on Phuket, but if you're planning to stay right in Phuket Town it's probably best to book the arrival to the Number 1 bus terminal.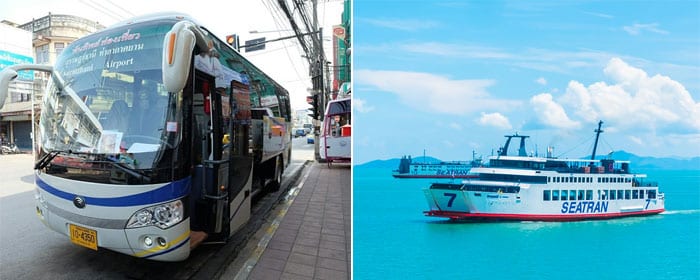 Traveling with Phantip Bus and Seatran Ferry
There is also another option to travel with Phantip on the Seatran ferry from Koh Samui. The good thing about this option is that it is more convenient as well as faster. Seatran ferries depart at 8:00, 10:00, and 12:00, and once off the ferry, you take a bus to Phuket, arriving at Phuket Bus Terminal 2. This journey can take as little as 6.5 hours. Additionally, you can choose a transfer all the way to your hotel, which includes a taxi for the last leg of the journey.
The above options are the cheapest options for ferry and buses from Koh Samui to Phuket. There are more expensive options if you want a slightly more tailored service, all bookable through 12Go. This is with Phantip as well but it includes a pickup service from your hotel on Koh Samui. However, do check before booking as there are some areas of Koh Samui that they do not offer a pickup service from. Once off the ferry, you will board a bus to Phuket and be dropped off at your hotel in Patong, Kata, or Karon. So, although this is a convenient service, it only works if you can be picked up from your hotel on Koh Samui and are planning to stay in Patong, Kata, or Karon when you reach Phuket.
Ferry and Van from Koh Samui to Phuket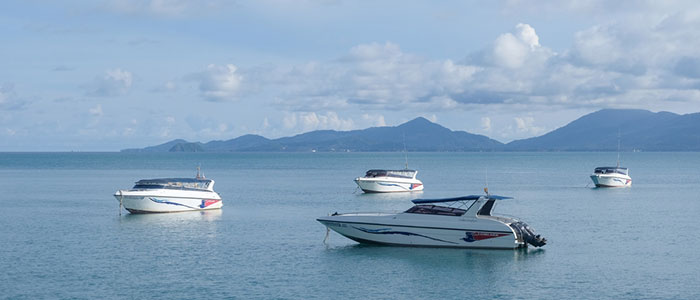 As if you didn't already have enough options to consider, there is one more to look at! An alternative to buses is a van, and reputable Thai company, Lomprayah, offers such a service from Koh Samui to Phuket. The boat departs from Nathon Pier and rather than a ferry, this is a high-speed boat, great for people who like to travel a little faster! It arrives in the Donsak area of Surat Thani, and from here you get on a van for your transfer to Phuket, which arrives at the Lomprayah office in Phuket Town. From here you can get local transfers to your hotel. This option is advertised as taking a total of 5 hours and 45 minutes.
As you can see, there are many options for traveling from Koh Samui to Phuket. Your choice will probably come down to how much time you have, and what your budget is. Flights from Koh Samui to Phuket are quickest, but bear in mind the transfer times at either end and this is the most expensive way to travel. Renting a car will be more expensive but may work out affordable when divided between a few people, as will going by private taxi. The cheapest options are ferries and buses and for the best convenience, book the whole trip through a travel website like 12Go so that your connections are guaranteed.
Koh Samui - Phuket
฿ 6,460–6,995
4h 55m – 9h 45m
→

Business

07:00, 09:15, 11:45, 15:00
Koh Samui - Phuket
฿ 6,950–13,200
8h
→

SUV 4pax

→

Van 10pax

→

Luxury VIP Van

→

Luxury SUV

→

Comfort Car

→

Comfort

→

Van 9pax

→

Economy
Koh Samui to Phuket travel FAQ
What is the flight time between Phuket and Koh Samui?
Travel time for direct flights to Phuket Airport are scheduled to take 55 minutes. Bangkok Airways flies a propeller plane ATR 72 for the short 250 kms/156mi journey. Plane tickets are pricey and cheap tickets are rare to find since Koh Samui Airport is owned by Bangkok Airways and they have a monopoly on flights to and from the island.
How do I get from
Koh Samui to Phuket

?

There are numerous ways to travel from Koh Samui to Phuket, with the fastest and most expensive being a one hour direct flight with Bangkok Air. Most tourists choose the cheaper way, which is by bus and ferry. Journey time with Phantip Travel is 6.5 hours but it is substantially cheaper than flying.
Is K
oh Samui

near Phuket?

Phuket is on the west coast of Thailand while Koh Samui is an island off its east coast, in the Gulf of Thailand, and it's about 250 kms/156mi in a straight line between them.
How do you get to Koh Samui?
Thailand's second largest island has its own Koh Samui Airport. There are no cheap flights since Bangkok Airways is the only airline. But you can save money by catching a ferry from the mainland or one of the neighboring islands.
How many piers are there in Koh Samui?
There are four main ferry piers on Koh Samui, staggered at different points around the coast of the island: Pralan Pier, Koh Samui Nathon Pier, Lipa Noi Pier, and Big Buddha Pier, plus there are many smaller piers for charters and tour boats. Research where your ferry will arrive and choose your accommodation accordingly to avoid a long transfer.
Where is the ferry port in Koh Samui?
Being a large and very popular island, Koh Samui has several ferry ports, usually called piers. Which one you use will depend on where you're coming from or going to. The four main ones are: Pralan Pier, Nathon Pier, Lipa Pier, and Big Buddha Pier, which is closest to the Koh Samui Airport.
Did you find this guide useful?
Click on a star to rate it!
Average rating: / 5. Vote count: