Once you've visited the spectacular beaches and seen some of Thailand's most beautiful scenery in the Phi Phi Islands, it's time to head back to Phuket. While Koh Phi Phi still has a relatively quiet atmosphere, Phuket is vibrant and full of resorts, markets, restaurants and nightlife, providing quite the change from the relaxing atmosphere of Phi Phi. Even so, Phi Phi is fast becoming one of the country's hotspots for tourists, attracting hundreds of people, whether for a day trip or longer, and there are ample ways of getting between Phi Phi to Phuket to transport everyone.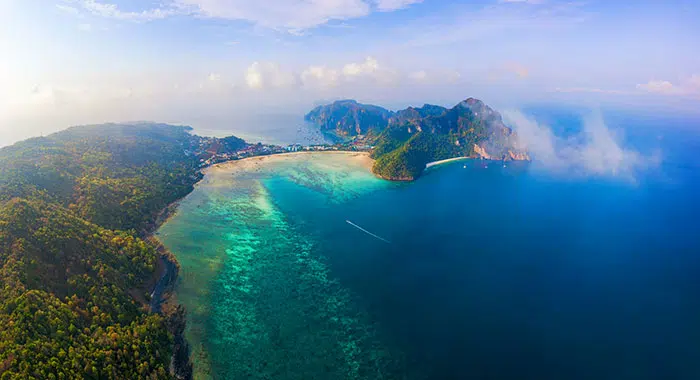 Options for Travel from Phi Phi to Phuket
The Phi Phi Islands are made up of six islands, situated in the Andaman Sea, roughly half way between the east coast of Phuket and mainland Thailand. Koh Phi Phi Don is the largest and most populated of the islands, and hence attracts many tourists, although the beaches of Koh Phi Phi Le, the second largest island are so spectacular that this island also attracts many visitors. As all six islands are very small, transportation and general infrastructure is a bit lacking. There are no airports on any of the islands, and not many roads, but that doesn't matter because there are no vehicles on Phi Phi either! If you want to travel from Phi Phi to Phuket, the only way to go is by boat. Boat services are very good though, with plenty of options when it comes to traveling by water. There are ferries, offering the best value for money, and there are speedboats, the fastest way to travel. A third option is to buy a ticket that also includes transfers to a hotel in Phuket or to the airport.
Ferries from Phi Phi to Phuket

Ferries, meaning regular ferries, not speedboats, are very abundant from Phi Phi to Phuket. There is not just one ferry company but several, and ferry times and journey times all vary so there's a lot to consider when booking ferry tickets! The good news is that you can see schedules and ticket prices with all of the ferry companies when using travel website, 12Go. This website is recommended because it makes it so easy to compare everything and to book online, rather than having to search through countless other websites that may only give you options for one of the ferries.
The first thing to remember is that schedules can change. There will be more ferries operating during the really busy times of the year, while during the off season ferries will be limited and there may be cancellations due to rough water, for safety reasons.
The most basic looking ferries are operated by Chaokoh Travel Center and Phi Phi Cruiser. These two companies offer the cheapest ferry from Phi Phi to Phuket, and are usually packed full of passengers because they are the best value for money. Chaokoh Travel Center ferries depart daily at 9am from the Ton Sai Pier and the scheduled journey time is 1 hour and 45 minutes, arriving at Rassada Pier on Phuket at 10:45am. The ferry with Phi Phi Cruiser leaves later in the day at 3pm from Ton Sai Pier, arriving 2 hours later at Rassada Pier. Currently, these two ferries charge the same for a ticket.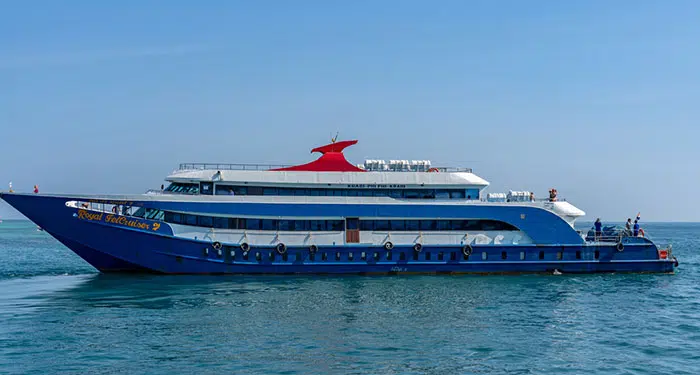 Andaman Wave Master offers the third type of ferry from Phi Phi to Phuket. They have departures from Ton Sai Pier but also from Phi Phi's other pier at Laem Tong Beach, on the opposite end of the island. Their ferries look a little more modern than the previous two mentioned, and they are a bit larger, although surprisingly they take longer to make the trip from Phi Phi to Phuket. The benefit of traveling on a larger ferry is that the journey will be more stable and not as choppy as with the smaller ferries – great for somebody who can get a little seasick. From Ton Sai Pier the scheduled journey time is 2 hours, departing at 11am, plus another ferry departs at 2:30pm. Their standard class tickets are only a few dollars more than those of Chaokoh and Phi Phi Cruiser, but they also offer upgraded seats for a higher price in First Class and Premium Class. The difference with these sections of the boat is that they are smaller but have fewer seats in them, and the seats are far more comfortable than those in Standard.
The ferry from Phi Phi's Laem Tong Beach Pier departs at 10am and it takes up to 3 hours to reach Phuket. You would only really choose this ferry route if you were staying on the northern end of Phi Phi as it would save you a journey across the island to get to Ton Sai Pier. So, it's convenient for anyone staying at this end of the island but otherwise probably not worth the bother. There is sometimes also a later ferry, departing from Laem Tong at 1:30pm.
Speedboats from Phi Phi to Phuket

The faster way to get from Phi Phi to Phuket is by speedboat. Instead of taking a couple of hours, speedboats take just one hour so they are a great choice for anyone who doesn't have a lot of time. Of course, with speed comes a higher price, but the cost of a speedboat compared to a ferry is not considerably more expensive so unless you were traveling on a really tight budget, speedboats could still be an option.
When we say 'speedboat', we're not talking about a small boat that holds only a few passengers! These are large speedboats that hold multiple passengers and should be safe to travel on. Because they travel at faster speeds, the ride can be quite bumpy at times so not a great choice for anyone who suffers from seasickness! And, if the water is very choppy on your day of travel, the boat will travel at slower speeds or may even be canceled. This doesn't tend to be a problem in high season, but may be more of an issue outside of high season.
There are multiple companies operating speedboats from Phi Phi to Phuket. Most of them run from Ton Sai Pier to Rassada Pier on Phuket and take about an hour. There are a few variations though, with a service to Bang Rong Pier on Phuket provided by Koh Yao Sun Smile, taking 2.5 hours, and you can also travel with this same company to Naka Island, if you want to do something different. Naka Island is a small island just off the north eastern coast of Phuket and is home to a few resorts.
The other companies operating speedboats from Phi Phi to Phuket include PP Sabai Marine, Seatran Phuket, Phi Phi Kanichta Tour, and Bundhaya Speed Boat. There are multiple departures throughout the day, and ticket prices are fairly comparable across the different companies. Tickets for all of these speedboats from Phi Phi to Phuket can be booked online through 12Go. It is highly recommended that you book your tickets in advance to ensure you get a seat, and be aware that some will not accept bookings on the day of travel.
Taxi and Ferry from Phi Phi to Phuket

If you're someone who enjoys having everything taken care of for you, giving you more time to sit back and relax, a combined ferry and taxi from Phi Phi to Phuket could be the answer. Bookable through 12Go, with all connections guaranteed for your peace of mind, you can catch either a ferry or a speedboat from Ton Sai Pier or from Laem Tong Pier and be met when you reach Phuket for a transfer to the hotel of your choice. This is a very convenient option that will save you time and hassle, great if you already have your Phuket hotel booked and so you know where you're going. The cost of this to-the-door transfer is obviously more than just the ferry ticket, and you may be able to find cheaper taxis or songthaews to take you to your hotel, but you cannot beat this option for convenience.
For a cheaper variation on this service, you could opt for a Phuket hotel transfer. Rather than driving direct to your hotel of choice, you will share a minivan with a few other passengers and get dropped at your hotel. This option takes a little longer because it's not direct, but it does save you money. Do check that your hotel of choice is within their drop-off area before booking, otherwise you will incur an additional cost.
Ferry and Van from Phi Phi to Phuket Airport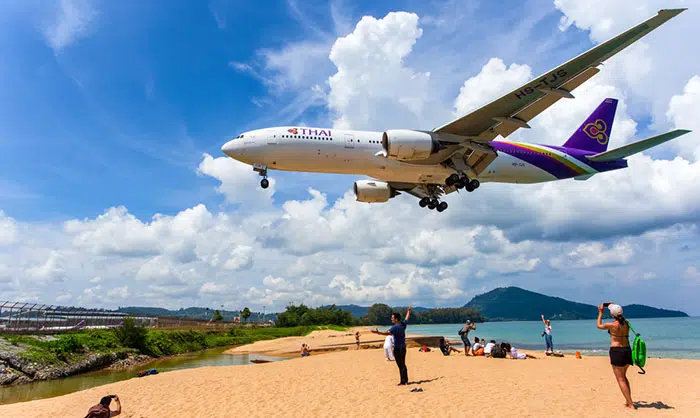 When your vacation is over and you just need to head back to the airport, there is one final choice when it comes to getting from Phi Phi to Phuket. You can buy a ticket that includes the ferry or speedboat as well as a van transfer right to Phuket Airport. This is very convenient if you can match up the times and get to the airport in time for your flight, saving you having to find public transport or a different van or taxi shuttle.
You can book these services through 12Go too, and again, all connections are guaranteed. The price for this is more than for a hotel transfer because the airport is further away and it takes longer to get there, but, it's well worth the cost for the convenience of this service and not having to worry about finding a different way to the airport.
To conclude, getting from Phi Phi to Phuket there are lots of different options for different budget levels. Opt for the basic ferry service if you want to save money and don't mind if it takes a little longer. Spending a bit more and going by speedboat will get you to Phuket faster, and there are more options for departures throughout the day when compared to the ferries. For the ultimate in convenience, get a combined ferry and taxi ticket that gets you right to your hotel, or if you need to get to Phuket Airport you can buy combined ferry and van tickets for that too.
Koh Phi Phi - Phuket
฿ 450–1,601
45m – 5h
→ 

Speedboat

09:30, 11:45, 13:00, 13:30, 14:30, 17:30

→ 

Local

09:00, 14:00

→ 

High Speed Ferry

09:00, 11:00, 14:30

→ 

Standard Class

07:30, 09:00, 13:30, 14:30

→ 

First Class

07:30, 09:00, 13:30, 14:30

→ 

Premium Class

07:30, 09:00, 13:30, 14:30
How useful was this post?
Click on a star to rate it!
Average rating / 5. Vote count: