Whether you're in Krabi Town, arriving at Krabi Airport, or staying at one of the beach towns on the coast of Krabi Province, there are several different ways that you can travel from Krabi to Koh Lanta, depending upon the time of year. Koh Lanta is an island (in fact it's three islands, but more on that later), so getting there will involve a ferry ride, however, the island is very close to the coast of mainland Thailand so a car ferry only takes a short amount of time. Either way, because Koh Lanta is so easily accessible, it's a popular choice for tourists who want to get a taste of Thai island life including beautiful beaches, limestone outcrops and even rainforests.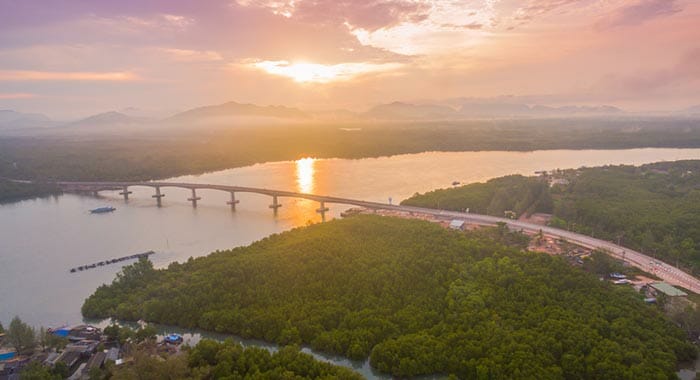 Because Koh Lanta consists of three major islands it can get a little confusing. The first island is called Koh Klang and it's right by the mainland, separated only by a small river which you'll cross by road bridge. The next island is Koh Lanta Noi, meaning Small Lanta, and it's connected to Koh Lanta Yai by a road bridge. Koh Lanta Yai (Big Lanta Island) is where all the major tourist development is as this island boasts a long coastline with nine beautiful white sand beaches and plenty more. For the purpose of this guide, when we refer to Koh Lanta we're really referring to Koh Lanta Yai as this is where you'll be heading on your travels between Krabi and Koh Lanta.
Travel by Road from Krabi to Koh Lanta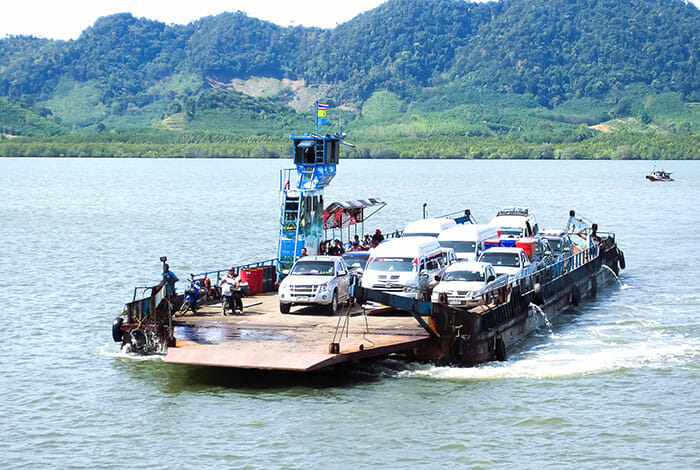 Traveling from Krabi to Koh Lanta is easy as there are lots of different possibilities for your journey. Now, if you were reading the paragraphs above you'll have read that Koh Lanta is an island and getting there involves a ferry ride, however because the ferry crossing is so short you'll see that it's barely mentioned in travel guides because it's all part of the journey by road. So, bear this in mind. The other thing to bear in mind is the time of year you are traveling. You can get to Koh Lanta from Krabi by road right through the year, regardless of season, unlike the other two options discussed below.
So, what are your options for traveling by road from Krabi to Koh Lanta? Well, you can rent a car yourself if you're comfortable driving and navigating on Thailand's roads. The benefit of having your own car is that you can run to your own schedule and can make stops along the way if you want to. You'll also have use of the car while you're visiting Koh Lanta. Cars can be rented from Krabi Airport.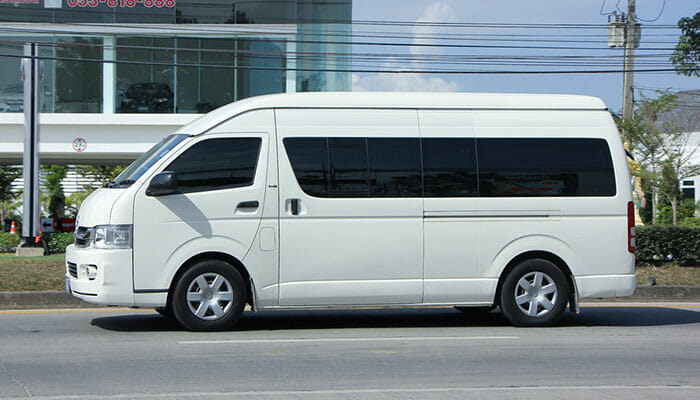 Alternatively, if you're arriving at Krabi Airport and don't feel like driving yourself, there are a couple of options for you. Private minivans can be hired for up to 6 passengers. These are great if you're traveling with your family or friends as the cost can be split between you. You pay for the minivan as a whole, not just for the seats you use, so whether you're just a couple or there are 6 of you, you will pay the same set price. The nice thing is that you have the minivan all to yourselves and can make the most of the air conditioning and less cramped conditions over taking a public minivan (see below). And, when you get to Koh Lanta you can get dropped right at the door to your hotel. You can get private minivans for hotel pickups too, not just from the airport.
Public minivans can also be picked up at the airport, or from your Krabi hotel. The advantage is that these are cheaper but there are drawbacks – the public minivans are always crowded and therefore tend to be hot. There is often not enough space for your luggage, which can be a huge problem, and even if you have booked a seat in advance you're not always guaranteed to get a seat as the driver tends to pick up other passengers along the way. Add to this the fact that the minivan will then stop at lots of hotels for drop-offs in Koh Lanta and you can see why families prefer a private minibus!
Ferries from Krabi to Koh Lanta
As mentioned above, taking a ferry from Krabi to Koh Lanta is not going to be an option if you're traveling in low season (generally May to late October) because of rough seas, but, if you're visiting between November and April the passenger ferry is a very nice way to travel from Krabi to Koh Lanta.
You can either catch a ferry from Krabi Town itself, from the Krabi Passenger Pier, or if you're in Ao Nang you can get a ferry from there. In Ao Nang boats leave from the Nopparat Thara Pier and there are free pick-ups from Ao Nang Beach. The ferry crossing takes around 2 hours 15 minutes from Ao Nang, and about 2 hours from Krabi Town.
Express Speedboat to Koh Lanta from Krabi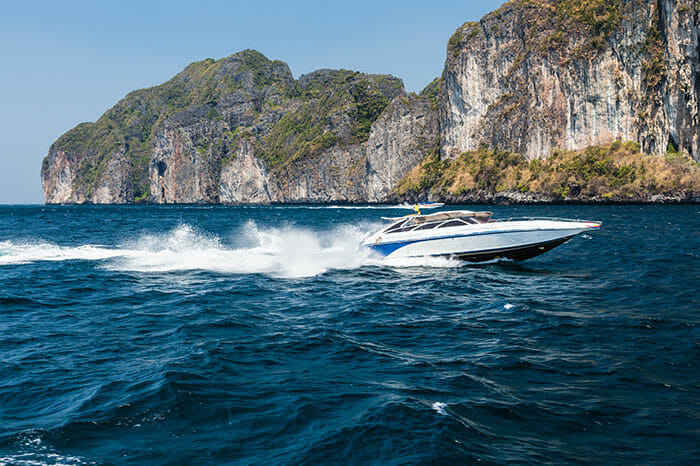 One other option you might like to consider for the high season, is an express speedboat service. If you're traveling to Koh Lanta from Krabi between November and April, this is the fastest way to get there. A combined ticket will include pickup by private minivan from Krabi Airport. You will then be driven to a speedboat pier where you will get on your speedboat for the 10 to 15-minute express ride to Koh Lanta Pier. Once there, you will be met and driven direct to your Koh Lanta hotel.
In all honesty, this route only saves you a short amount of time but, it's a fun and thrilling way to get to Koh Lanta from Krabi!
How do you get to Koh Lanta?
The islands of Koh Lanta are just off the coast of Southern Thailand, in the Andaman Sea. Close to both Krabi and Trang, you can buy combined tickets to Koh Lanta for airport pickup by van or taxi if you search online at 12Go. Enter your departure point and you'll see results for many different ways you can get to Koh Lanta, then book easily on their website.
How useful was this post?
Click on a star to rate it!
Average rating / 5. Vote count: