With its striking limestone cliffs lining the shores and bays, and easy access to beautiful islands, Krabi is one of the most scenic areas of Thailand. Gateway to the Phi Phi Islands and some of the world's best scuba diving, as well as gorgeous beaches, Krabi attract visitors from all corners of the globe. And if scuba diving is your thing, you might like to head to the island of Koh Tao once you've checked out all of the diving available around Krabi. Koh Tao, meaning Turtle Island, has long been an important breeding ground for hawksbill and green turtles, while the diving community has really grown in the past few years. Koh Tao is known as one of the best diving spots in Thailand but it's also a great destination for land lovers too with opportunities for hiking, bouldering and rock climbing.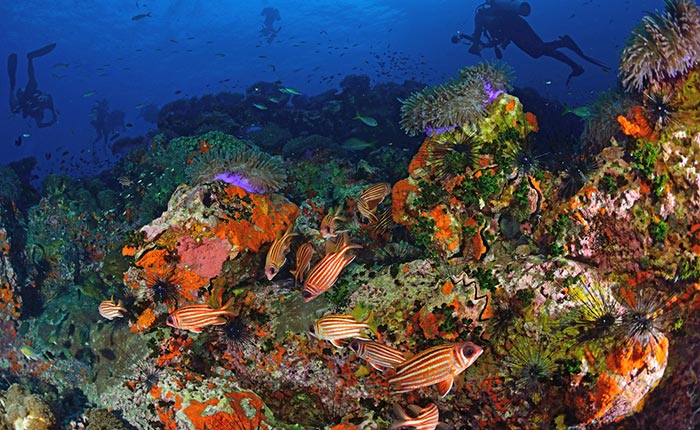 Options for Travel from Krabi to Koh Tao
If you're planning to travel from Krabi to Koh Tao to make the most of Thailand's great diving destinations, there are a couple of different ways you can make the trip. To start with you'll need to be aware that Koh Tao is off the eastern coast of Southern Thailand, while Krabi is closer to the western coast. This means you'll have to travel across the peninsula before getting on a boat to Koh Tao. In a straight line, the distance between them is only about 240 kilometers (150 miles), which doesn't sound like much, but you need to allow plenty of travel time. A van (or bus) and ferry combined ticket is usually the most popular way for people to get from Krabi to Koh Tao as it's convenient and affordable, but there is another option. You could also fly from Krabi to Koh Samui and then get a boat from there but we'll discuss both options in detail below.
From Krabi to Koh Tao by Bus and Ferry

Despite the journey taking around 7.5 hours, traveling from Krabi to Koh Tao by bus (or van) and ferry is easily the most popular way to get from one place to the other. It's very convenient because you can buy combined tickets that cover the entire journey with just one company, so you don't have to worry about being left on a roadside, or missing a connection, as you'll be traveling with one company the entire way. This also helps to keep costs lower for you as combined tickets are very affordable.
There are three well known and respected Thai tour companies who offer tickets from Krabi to Koh Tao: Lomprayah, Songserm, and Seatran Discovery. The service you will receive across all three is very comparable so there's not much to separate one from the other. Prices are very similar and they all take roughly the same amount of time to make the trip. Perhaps the only way to decide which one suits you best is to look at their timetables and see which one coincides best with your plans.

You can book combined bus and ferry tickets from Krabi to Koh Tao online at 12Go.asia. Their website is extremely easy to navigate and you can book and get instant confirmation which is always better than having to wait hours for emails to arrive in your inbox!
The exact journey will involve getting a bus or van from Krabi Town to Donsak, over on the west coast. This part of the trip takes around 3 hours. You'll then transfer onto a ferry, which takes a further 3 hours as the ferry travels via Koh Samui and Koh Phangan. With time added for transfers, this makes it up to the roughly 7.5 hour journey time.
Flight from Krabi to Koh Tao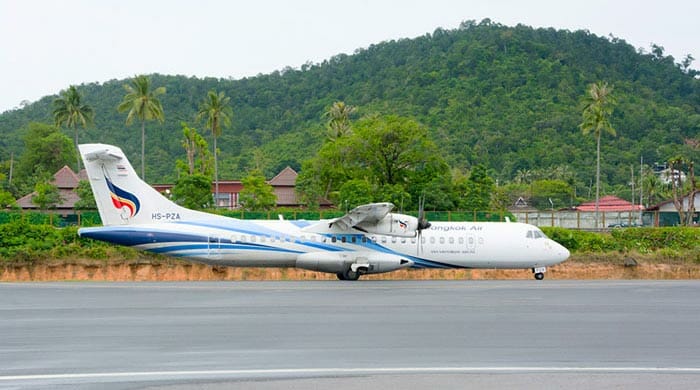 Another option you may like to consider is to fly. However, getting from Krabi to Koh Tao is not quite as easy as simply boarding a flight at Krabi and then arriving in Koh Tao an hour later because there is actually no airport on the island of Koh Tao. Instead, you would need to catch a flight to Koh Samui and then get a ferry from there. But, when you consider that the usual ferry route mentioned above includes stopping at Koh Samui anyway, you're not really losing anything.
The main issue with traveling this way is that it will cost more than the bus and ferry and you will have to buy the airplane ticket, then arrange the ferry separately as you cannot buy a combined ticket for this. This puts the cost up but it also can make it a little difficult to arrange your schedule as there is only one airline, Bangkok Airways, offering flights, and they have just one flight per day from Krabi to Koh Samui. If you have any delays you may not be able to connect with the ferry in time and this could mean an unplanned night in Koh Samui.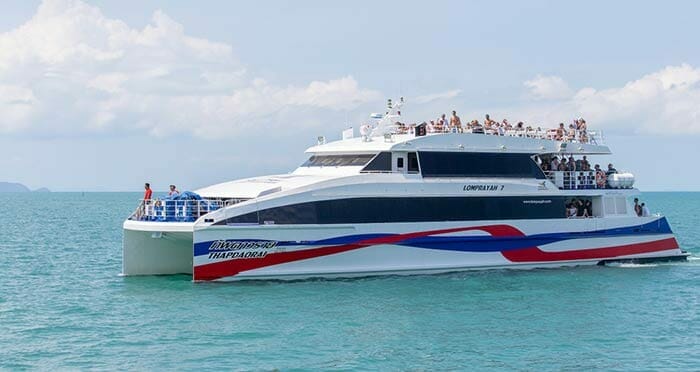 The advantage with traveling from Krabi to Koh Tao this way, is that you'll have a shorter ferry ride which can be good if you're not great on the water. Ferries from Koh Samui to Koh Tao can take as little as 1.5 hours, compared to around 3 hours if departing on a ferry from Donsak.
If you're okay with the longer ferry ride and don't mind spending a few hours on a bus or van as well, we would recommend getting from Krabi to Koh Tao by using the first option: a combined bus (or van) and ferry trip. It takes longer, but it's convenient and very affordable, and it allows you to see more things along the way, and you can easily book your tickets for the entire trip through 12Go!
How useful was this post?
Click on a star to rate it!
Average rating / 5. Vote count: