The Phi Phi Islands are home to some of the most breathtaking coastal scenery in the world, with its spectacular lagoons framed by limestone cliffs, white sand beaches and palm trees, it doesn't get much better than this! Made famous by the movie 'The Beach', Phi Phi has grown tremendously in popularity but because it's not the easiest place to get to, visitor numbers and growth remains at a reasonable level. Once you've visited this gorgeous island group, you probably won't want to leave, but if you do, you'll need to get over to the mainland and the town of Krabi. Here we give you all the options for traveling from Phi Phi to Krabi.
Read about:
• Options for Travel from Phi Phi to Krabi
• Ferry from Phi Phi to Krabi
• Phi Phi to Krabi by Speedboat
• Ferry and Taxi or Van from Phi Phi to Krabi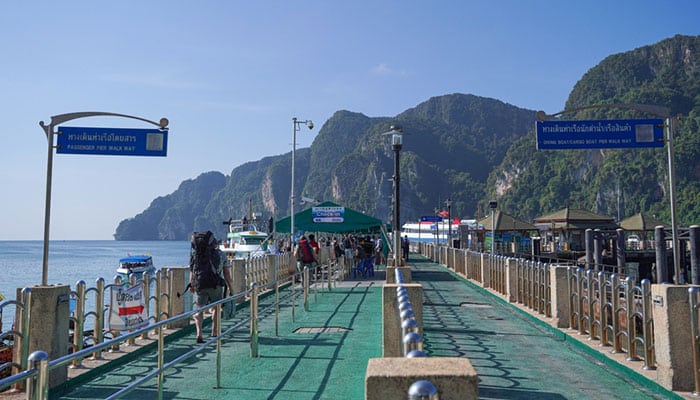 Options for Travel from Phi Phi to Krabi
Because Phi Phi's islands are so small there is no airport here so the only way you're going to get to and from the islands is by boat. Don't worry though, Phi Phi is a popular place so this means there are always plenty of boats to choose from and different types of boats depending on your schedule and budget. There are standard ferries as well as speedboats, if you want a faster journey, and there are also options when it comes to where in Krabi you would like to arrive because you can get tickets that include transfers to Railay or Ao Nang.
Ferry from Phi Phi to Krabi

Ferry and speedboat services from Phi Phi to Krabi depart from the main pier on Phi Phi Don (the largest of the islands), services depart from Ao Ton Sai Pier. This is a government operated pier that not only handles ferries and speedboats but also commercial boats and others, and is usually known for being very well run and efficient, making it a more pleasurable experience for any tourists traveling through here.
There are currently four different companies operating a service between Phi Phi and Krabi, and three of these are speedboats (see below for more info on the speedboat services). In the past, Andaman Wave Master was one of the major ferry companies serving this route, and they had departures from Phi Phi to Klong Jilad Pier, Krabi Town twice per day. According to their website, they are no longer operating the Phi Phi to Krabi ferry but do keep them in mind in case they decide to start operating it again with the way things are changing for the better in the travel world right now.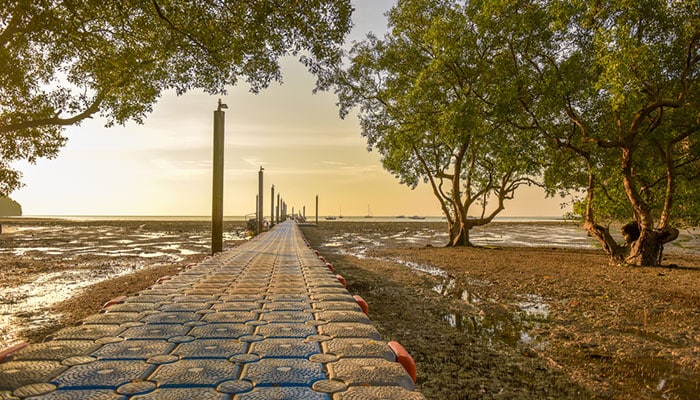 As of now then, there is just one company running a ferry as opposed to a speedboat. Ao Nang Travel and Tour has one ferry departure per day that offers passengers two options when it comes to arrival point. The ferry departs Phi Phi at 3:30pm and arrives at East Railay Floating Pier a couple of hours later. If you want to get off here you will then need to switch onto a longtail boat to take you to the beach. The longtail boat transfer is included in the ticket price when booking through 12Go, a good travel website that will show you all the route and ticket options.
With Ao Nang Travel and Tour, the second choice is to stay on the original ferry and get off at Nopparat Thara Pier, arriving at 6pm. The benefit with this is that you don't have to transfer onto a longtail boat – maybe this is good if you suffer from sea sickness! Ticket prices for both options are the same. Nopparat Thara Pier is suitable for travelers going to Ao Nang beach.
Phi Phi to Krabi by Speedboat

In addition to the ferry, there are three companies operating a speedboat from Phi Phi to Krabi: Koh Yao Sun Smile, Chaokoh Travel Center, and Phi Phi Kanichta Tour. The price of a ticket is roughly the same across all three companies so you won't save a lot by choosing one over the other, but you will find that traveling by speedboat from Phi Phi to Krabi is more expensive than the ferry – roughly about double the price. What you're paying for is a faster service as scheduled timetables show that speedboats can make the journey in as little as 45 minutes, compared to over 2 hours for the ferry. This means speedboats are a great idea if you need to get back to Krabi quickly.
The speedboats are fairly large, holding multiple passengers, but because they are considerably smaller than a ferry and they travel at faster speeds, the ride can be quite bumpy. For this reason, people who suffer from motion sickness may not do well on a speedboat.Speedboats from Phi Phi to Krabi depart later in the day, so there are no morning departures currently. The earliest is at 1pm with Koh Yao Sun Smile. Their speedboat drops off at East Railay Floating Pier, just about 40 minutes after departing Phi Phi, so it's a very quick service. If you wanted to take a longtail boat from here to Railay Beach you could, but unlike with the ferry mentioned above, the price of this is not included in the speedboat ticket. After stopping at Railay, the speedboat continues around the coast to Nopparat Thara Pier in Ao Nang, arriving at 2pm.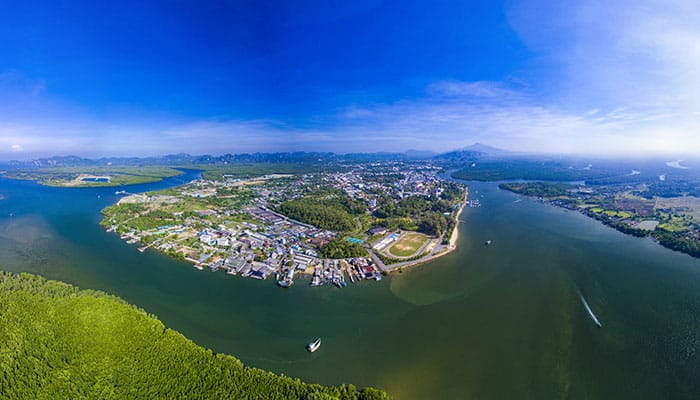 Chaokoh Travel Center is the next speedboat to depart Phi Phi to Krabi. They leave Ton Sai at 2pm and have a drop off at East Railay Floating Pier as well. This company is a great choice if you want to get all the way into Krabi Town as opposed to one of the beach resort areas as their speedboat then arrives at Chaofar Pier, this Krabi Town pier is very close to Krabi Walking Street, restaurants and places to stay.
Phi Phi Kanichta Tour is the final company with a speedboat from Phi Phi to Krabi. They depart from Phi Phi at 3pm, and like the others before them, they have a drop off at East Railay Floating Pier 45 minutes after departing. They are also a good choice for anyone wanting to get into the center of Krabi as their speedboat then arrives at Krabi Marina, which is just a little south of the Chaofar Pier that Chaokoh Travel Center uses, but still a good central location with lots of amenities close by. The boat arrives there at 4pm.
Ferry and Taxi or Van from Phi Phi to Krabi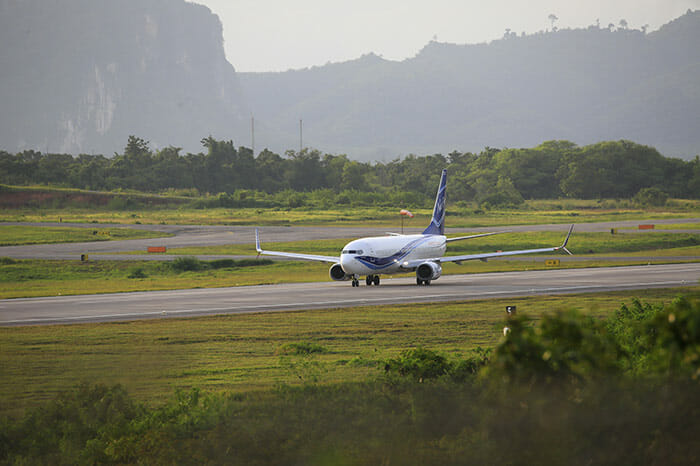 All of the above mentioned ferries and speedboats are bookable online through 12Go, plus there are a few other options you can book through 12go too, if you enjoy the ultimate convenience when traveling!
Koh Phi Phi to Krabi Airport and Krabi Town
Combined taxi or van and ferry tickets can be booked through 12Go. Prices vary depending on whether it is a ferry or a speedboat service, and whether you are going to Krabi or Ao Nang. This all-inclusive ticket includes the transfer to your hotel, if you're staying in the area, or you can opt for a van transfer that will take you directly to Krabi Airport. This is great if you have a flight booking and need to get to the airport as it makes the journey very easy and convenient and doesn't cost the earth. However, if you are trying to catch a flight, please make sure you allow yourself ample extra time because there can sometimes be unexpected delays with the ferries and you wouldn't want to miss your flight. The good thing with booking these through 12go is that all connections are guaranteed, so this means if there is a delay on the ferry, your van will still be waiting for you when you get off.
Getting from Phi Phi to Krabi you can see there are lots of good options available. As always, choices come down to how fast you want to get to your destination, where in the Krabi area you want to reach, and whether you would like a transfer to your hotel or to the airport included in the price.
Leaving Phi Phi? Don't miss our guides from Phi Phi to Koh Lanta and Phi Phi to Phuket.
Leaving Krabi? Don't miss our guides from Krabi to Koh Tao, Krabi to Koh Phangan, Krabi to Koh Lanta and Krabi to Koh Lipe.

Koh Phi Phi - Krabi
฿ 400–1,116
45m – 2h
→

Speedboat

13:30, 16:00

→

High Speed Ferry

09:00, 10:30, 13:30, 15:30

→

Local

09:00, 13:30

→

Standard Class

10:30, 15:30
Did you find this guide useful?
Click on a star to rate it!
Average rating: / 5. Vote count: