As a gateway to the spectacular Phi Phi Islands, the town of Krabi is a very popular destination in Southern Thailand that is surrounded by some of the world's most beautiful scenery. Whether you're visiting to enjoy that scenery, to go snorkeling, or to explore national parks, the region around Krabi Town has something for everyone. And, if those are the things you enjoy doing most when on vacation, you're going to want to visit the island of Koh Lipe afterwards. Although just a small island, Koh Lipe (also spelt Ko Lippy) is on the edge of the Tarutao National Marine Park and is a popular place for snorkeling as its waters are home to around 25% of the world's tropical fish species. It has lovely beaches too and some nightlife if that's what you're looking for! Getting from Krabi to Koh Lipe is easy with several different ferry options available.
Options for Travel from Krabi to Koh Lipe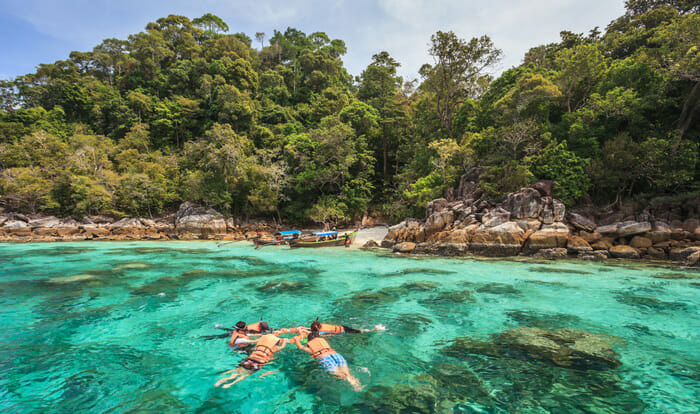 There is no airport on the small island of Koh Lipe, so your only option is going to be getting here by boat, however, there are a few different travel companies giving you a variety of ferry routes to choose from so you're not restricted to just one. As the crow flies it's around 180 kilometers (113 miles) from Krabi to Koh Lipe, but in reality the distance is further than this as ferries and vans don't usually travel in straight lines! It's important to note that the journey time can vary quite substantially depending on which route you opt for, but you're going to be looking at traveling anywhere between 4 hours and 15 minutes, all the way up to 7 hours. Out of these options you may prefer a longer ferry ride and not spend much time in a van, or you could travel a greater distance by road and have a shorter ferry ride. All the different options are covered below.
High-Speed Ferry from Krabi to Koh Lipe
There are three different departure points for high-speed ferries and speedboats going to Koh Lipe. From the Klong Jilad Pier in Krabi Town, from the Hat Yao Pier in Trang, or from the Pakbara Pier in Satun.
Krabi Klong Jilad Pier to Koh Lipe

From right in Krabi itself you can take a high-speed ferry all the way to Koh Lipe departing from the Klong Jilad Pier at the southern end of the town. This is probably the most convenient way to get to Koh Lipe, especially if you're staying right in Krabi Town, as it's easy and quick to get to the pier and you'll be traveling the entire distance by ferry. Although the ferry does not go directly to Koh Lipe (it stops at a few islands along the way) this is still one of the fastest ways to travel from Krabi to Koh Lipe, taking around 4.5 hours.
Tigerline Travel offers this particular route, traveling on their modern high-speed ferries which include air conditioning on the inside deck. Being one of the fastest ways to get from Krabi to Koh Lipe, this ferry trip does cost more than other companies but if you want to get there quickly it could be worth paying the extra. Another benefit of traveling this route is that the ferry departs at a sociable hour, leaving Krabi at 9am and arriving at Koh Lipe around 1:30pm.
Tigerline Travel also has several other options, including a pick-up from Krabi Airport that takes you to the high-speed ferry, so this is very convenient if you've just flown in to Krabi.
Krabi to Koh Lipe via Pakbara Pier

While there are some departures from Hat Yao Pier in Trang with Tigerline Ferries, most of the other ferries and speedboats to Koh Lipe depart from Pakbara Pier. The journey from here is shorter, taking around 90 minutes to get to Koh Lipe, but then you need to add the transfer time from Krabi down to Pakbara. This section of the journey will be done in a van and is included in your ticket, assuming you have bought a combined ticket from Krabi. We would highly recommend buying a combined ticket for convenience and peace of mind, especially when booked through a reputable tour company, and you can then choose which travel company to go with – options include Smart En Plus and Jolly Travel. Both of these include hotel pickup from Krabi, transfer to Pakbara, and the ferry crossing to Koh Lipe. Although the ferry doesn't take as long from Pakbara, the drive from Krabi to the pier will take around 3.5 to 4 hours making the total journey time around 7 hours.
The benefit of traveling this particular route is that it's cheaper than the ferry from Krabi to Koh Lipe and it includes hotel or airport pick-up, but it does take several hours longer.
Important Information on Ferries to Koh Lipe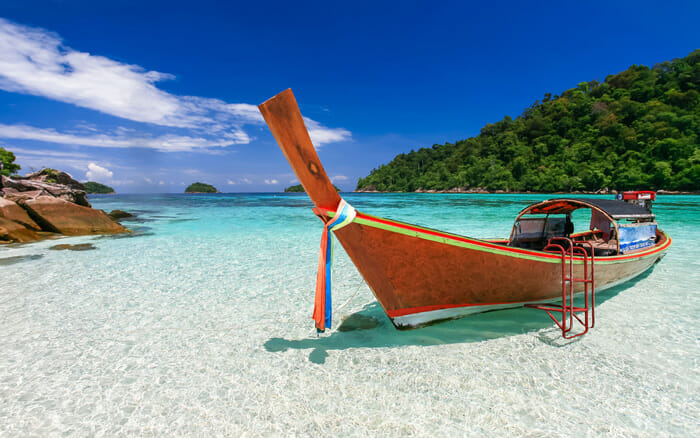 Whichever ferry route you choose to take you'll need to bear in mind this important information. Being such a small island, Koh Lipe does not have a pier that's large enough to handle the high-speed ferries and speedboats. For this reason, all boats will stop offshore of Koh Lipe at an open water pier, and from here you will need to get off the ferry and get onto a longboat that takes you to shore. The fee for this longboat is not included within the price of the ferry, so you'll need to pay when you get there. It's just a minimal amount, but something to be aware of.
You also need to know that because Koh Lipe is considered national park land, there is a national park entrance fee that you will have to pay on arrival as well. Once paid for, it is valid for seven days if you happened to leave Koh Lipe and come back.
One final thing to bear in mind if you're traveling on a ferry from Pakbara is that there is a ferry pier fee that must be paid by anyone departing from there. Again, it's a fairly minimal amount, but something to remember as it's not included in your ticket.
How do you get from Krabi to Koh Lipe?
There are speedboats and high-speed ferries departing from the Krabi area to Koh Lipe, such as with Tigerline Travel from East Railay or the Klong Jilad Pier in Krabi Town. These are the fastest and most expensive options, but you can save money and spend longer traveling by taking a van to the south before catching a ferry. All of these options are bookable online through 12Go.
How do you get to Koh Lipe?
Situated in the Andaman Sea in Southern Thailand, Koh Lipe is a very small island that's accessible only by boat. In the high season there are ferries and speedboats arriving from places like Trang, Phi Phi, Pak Bara, and even Langkawi in Malaysia. In low season there is only a speedboat from Pak Bara. All of these options can be booked online through 12Go.
How useful was this post?
Click on a star to rate it!
Average rating / 5. Vote count: