Located slightly inland from the Andaman Sea coast in Southern Thailand, Krabi Town can often be overlooked by tourists rushing through on their way to some other better-known destination. Although it may not be on the coast and therefore lacks beaches (there are great beaches very close by), Krabi Town actually has quite a lot to offer even if you just use it as a base for exploring the stunning scenery of Krabi Province. The town may not have the nightlife and bustling feel that many Thai towns do, but it does show a more authentic side to Thai life. Whether you're just heading to Krabi Town on your way to somewhere else, or are thinking of staying a while, here's how you can get from Krabi Airport to Krabi Town.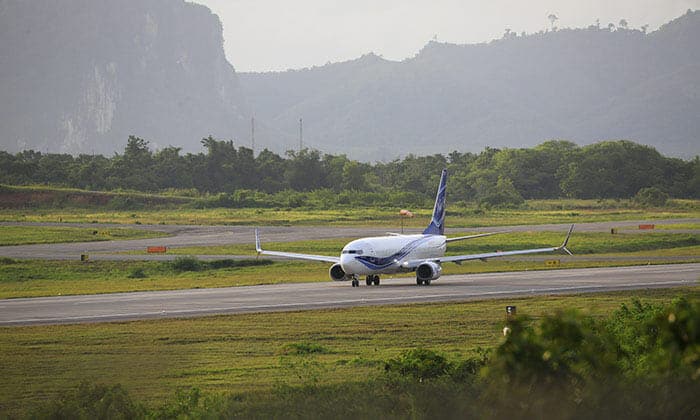 Options for Travel from Krabi Airport to Krabi Town
Krabi International Airport sits just a short distance east of the town and handles a large number of domestic flights from Bangkok as well as international flights mainly to and from China and Scandinavia, plus a few others. With plans underway to double the airport's capacity, it's likely that the number of flights to Krabi Airport will increase in the future and open up more routes, helping to further put Krabi Town on the tourist map.
By road it is only around 11.5 kilometers (7 miles) from Krabi Airport to Krabi Town, so if you were driving directly into town the journey should only take around 20 minutes. Even though it's just a short distance, there are actually a surprising number of options to transport you from the airport into town. There is an airport shuttle bus, regular taxis, private taxis, minivans, songthaews, or you could rent a car.
Krabi Airport to Krabi Town by Airport Shuttle Bus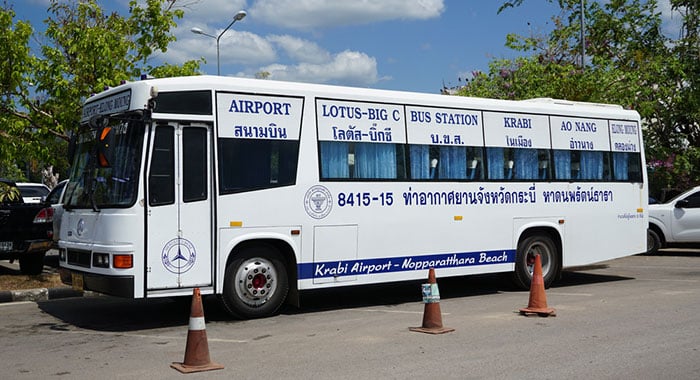 The Krabi Airport Shuttle Bus is always a good option because the bus will be outside the terminal a short while after each flight arrives, ready to pickup passengers from every flight into Krabi. The bus is affordable, at around 100 baht for the journey into Krabi Town, and it offers a kind of unique service whereby the driver will drop you where you want to go. So, if you have a hotel already booked in Krabi Town, you can tell them the name and they will drop you right at the door, or as close as possible to it. This makes the shuttle bus a very good option in terms of affordability and convenience because you are essentially getting a door- to-door service. The shuttle does not need to be booked in advance. You can simply buy a ticket in the arrivals hall. Any of the counters will sell the same ticket, so there's no difference if you go to one desk over another.
There are two drawbacks to the shuttle bus from Krabi Airport to Krabi Town: first is that because it is difficult to know how many times and where the bus will stop, it can take a lot longer to travel the short distance from the airport into town. If your hotel is one of the last to drop at, you could be on the bus for a long time. The second drawback is that although the buses will arrive at the airport in time for each flight landing, they will not necessarily leave the airport quickly. This is because they prefer to wait until they have a good number of passengers on the bus before departing. For this reason, you could buy a ticket, get on the bus and then be sitting there for some time before you even go anywhere. The good news is that the buses are air conditioned, so at least you will have somewhere cool to wait!
Taxi from Krabi Airport to Krabi Town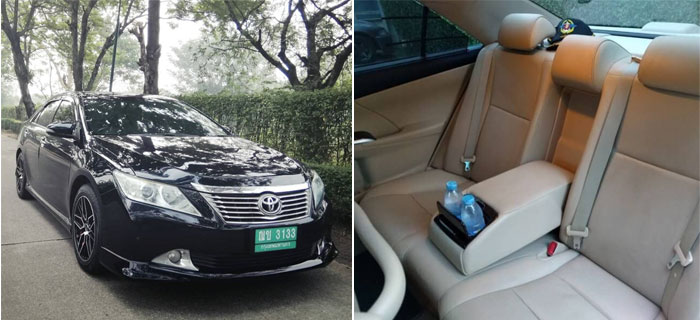 Taking a taxi from Krabi Airport to Krabi Town is more expensive, but it is a faster and perhaps more convenient way to travel if you just want to get on with your journey and not have to wait for the shuttle bus.
There are two types of taxis that you could use. One is a private taxi service that you can book online through a travel website such as 12Go. Their search results allow you to compare the different services, book and pay online in advance so that you know there will be a taxi ready and waiting for you when you leave the terminal. There are three different private taxi companies that you can book through 12Go: Andaman Taxis, BangkokTaxi24, and Call Me Taxi. Each of these offers a service from Krabi Airport to Krabi Town, whether you want to be dropped off at a Krabi hotel or elsewhere in the town. When the cost is split between a few passengers, it ends up being only a little more expensive than the Airport Shuttle bus.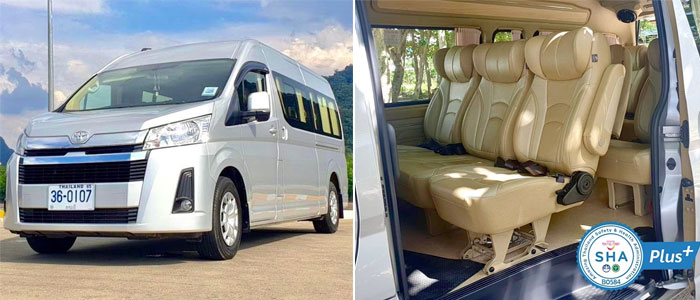 The second option is a local taxi company. There will be taxis waiting outside the terminal and if you want to get a ride with one of them be advised that fares are fixed and that you have to pre-pay. This is good because it means you are not being overcharged; you just have to buy a coupon beforehand from one of the counters inside the terminal and then give that to the driver. The cost for this is going to be similar to the private taxis that you can book online, but the benefit of booking beforehand is that you know there will definitely be a taxi there waiting for you and guaranteeing you a ride.
Krabi Airport to Krabi Town by Minivan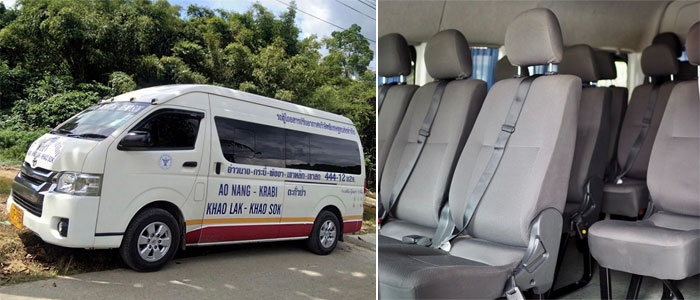 For a cost somewhere in between taxis and the airport shuttle, you can take a minivan from Krabi Airport to Krabi Town. These can also be booked online through 12Go, but there are only two departures per day to choose from so this may not be a good option if the times don't coincide with your arriving flight. Departures are at 11:00am and 14:30 and the vans travel direct to Krabi Bus Terminal, taking about 20 minutes.
These are 14-passenger vans so you will be sharing with several other people, depending on how full the van is, and with the drop-off being at the bus terminal this is a good option if you're catching a bus to somewhere else in Thailand, as long as the timing works out.
Songthaew from Krabi Airport to Krabi Town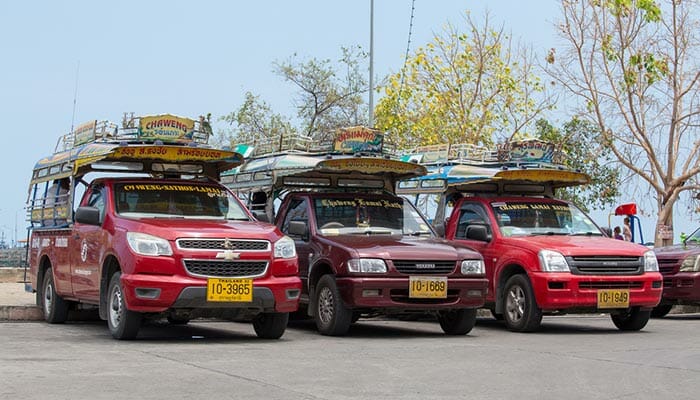 With so many good and affordable options to travel from Krabi Airport to Krabi Town, taking a songthaew should only be used as a last resort or if you really, really want to get around by songthaew! Traveling like this might save you money, but because you will have to walk out of the airport onto the main road outside the airport, it won't necessarily save you time. Basically, you will have to flag down a songthaew to take you into Krabi Town and although it is cheaper than the options given above (how much cheaper depends on how well you can negotiate with the driver!) it does involve some hassle.
The best, most affordable option to travel from Krabi Airport to Krabi Town is definitely by the Airport Shuttle Bus. You may have a slightly longer journey time using this, depending on demand on the day and depending on which hotels they are dropping at, but it is a good and easy option. Or, for more money but a faster travel time, opt for a private or public taxi from right outside the terminal building.
Read our other guides from Krabi Airport, it is the place to connect with some of Thailand's most beautiful destinations, like Koh Lanta and Ao Nang Beach. Also don't miss our guide how to get from Krabi to Phi Phi.
How much is a taxi from Krabi Airport to Ao Nang?
The Taxi ride from Krabi Airport to Ao Nang should cost around 700 THB.
How much is a taxi from Krabi Airport to Krabi town?
The Taxi ride from Krabi Airport to Krabi Town is a quick and easy 500 Thai Baht.
How much is a taxi from Krabi town to Ao Nang Beach?
You can get a Taxi from Krabi Town to Ao Nang Beach for around 550 THB.
How do you get from Krabi Airport to Krabi Bus Station?
Krabi Airport Shuttle buses can take you all the way from Krabi Airport to Krabi Bus Station prices for bus tickets start at 100 THB. Journey times can be quite long tho.
How long is the Taxi ride from Krabi airport to Krabi Town?
The Taxi ride from Krabi Airport to Krabi Town is a breeze. It only takes about 20 minutes and prices start at 500 Thai Baht, which comes out just over $14 as well!
How useful was this post?
Click on a star to rate it!
Average rating / 5. Vote count: