The islands of Koh Lanta are among the most beautiful in Thailand. Graced by miles-long beaches and great diving spots, Koh Lanta is pretty much everything you would expect from an amazing Thai destination, yet it's quieter and more laid-back that other popular islands. Consisting of three islands, mostly it's Koh Lanta Yai that's visited because it has the most tourist development and is the island you'll probably be staying on! Once you've enjoyed the beaches, it's just a quick trip to Krabi Airport. From here you could travel north to Bangkok and experience the big city, head to other Asian destinations, or perhaps head home as there are plenty of charter and seasonal flights from Krabi Airport!
Read about:
• Koh Lanta to Krabi Airport by Speedboat and Van
• Koh Lanta to Krabi Airport by Van
• Koh Lanta to Krabi Airport by Taxi
• Koh Lanta to Krabi Airport by Ferry
• Krabi to Koh Lanta (Guide)
• Ao Nang to Koh Lanta (Guide)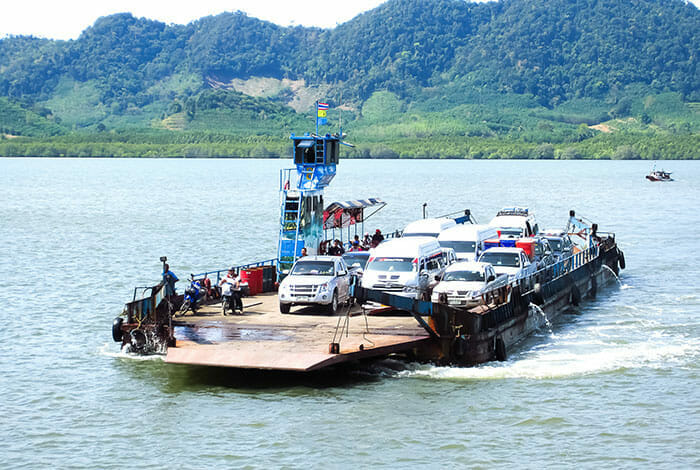 Options for Travel from Koh Lanta to Krabi Airport
The distance from Koh Lanta to Krabi Airport is really not far at all. It's about 72 kilometers (45 miles) by road, and would be even less if you could travel in a straight line! Although Koh Lanta is an island, it's only a very short distance from the mainland, so this makes getting to Koh Lanta quick and easy. It also means that as an island destination, Koh Lanta may appeal to any travelers who don't like traveling across water as it's such a short ferry ride compared to many of the other popular Thai islands. Of course, if you do like traveling by boat, there is an option for a longer boat ride too (on a speedboat), but when heading for Krabi Airport, traveling by van or taxi may be the easiest way to go. We'll discuss all the options below anyway, and you can decide for yourself.
Koh Lanta to Krabi Airport by Speedboat and Van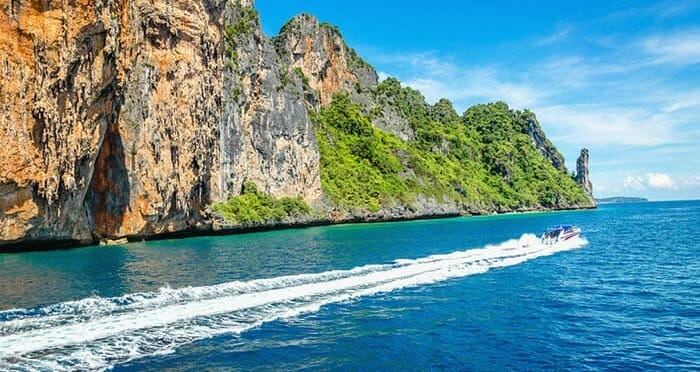 There are a couple of reasons why you may decide against getting from Koh Lanta to Krabi Airport by Speedboat. First, these boats only operate during the high season, which would generally be from November to April. At other times of the year they don't operate because the water is too rough. Rough water is also another reason for not choosing the speedboat option, because even during the high season there can be days when the water is rough and hence the speedboat won't run for safety reasons. This could be annoying if you arranged your tickets in advance.
There are some advantages to traveling by speedboat from Koh Lanta to Krabi Airport though. To start with, you can buy a combined ticket that covers your entire journey, not just the speedboat portion of it. This would include pick up by van from your hotel in Koh Lanta, transfer to Koh Lanta Pier, speedboat ride to Krabi Pier, and then a 45-minute drive in a minivan from Krabi Pier to Krabi Airport. The speedboat portion of the trip only takes 15 minutes and is very scenic. It can be exhilarating too, if you enjoy speed!
Koh Lanta to Krabi Airport by Van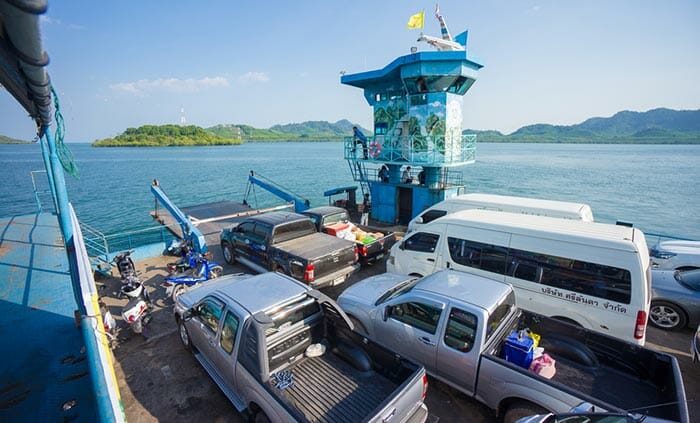 Traveling by van from Koh Lanta to Krabi Airport is always a safe bet as the vans operate throughout the year and aren't influenced by the weather. When you look up about traveling by van from Koh Lanta to Krabi Airport, it's easy to forget that this journey does still involve a ferry ride. The good thing is that the ferry ride is very short – it takes about half an hour, and they do operate year-round.
You can buy combined tickets for the entire journey from Koh Lanta to Krabi Airport which include van and ferry crossing through the travel website 12Go.asia. The whole journey takes about 2.5 hours, so it's relatively fast, and there are a couple of different travel companies offering these tickets through 12Go with various departures throughout the day.
Koh Lanta to Krabi Airport by Taxi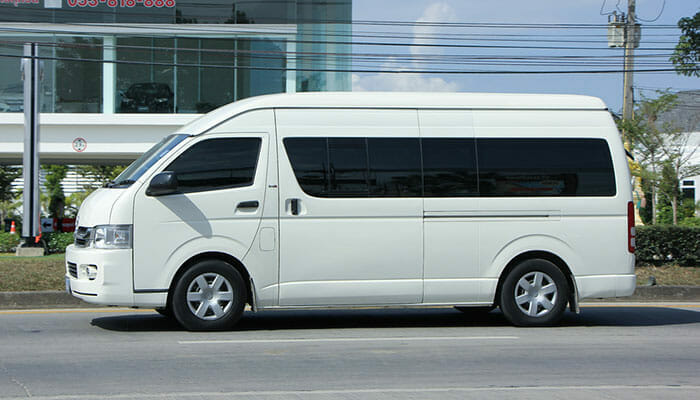 Taxis are another option, and they add more flexibility to your travel plans because you can book a private taxi to pick you up from any Koh Lanta hotel at any time of the day. Rather than having to work around fixed schedules, this means you can leave your hotel at exactly the time you want to go, and can arrive at Krabi Airport in perfect time for your flight. Taxis have the other advantage of being faster than vans (they take around 2 hours) because they drive you directly to the airport rather than having to make stops along the way to pick up other passengers.
Obviously, taxis do cost more than traveling by van because you're paying for a private service, but there are always several different types of taxi vehicles available, so you can choose the size that suits your group best. For example, if you're part of a larger group of friends, or a large family, you can opt for a 9-passenger taxi van. When you work out the cost divided by the number of passengers, this can be an economical way to travel which could even be cheaper than traveling by the standard van service.
Koh Lanta to Krabi Airport by Ferry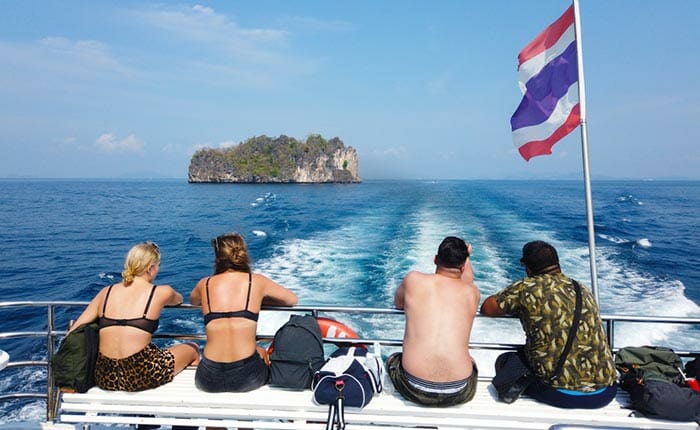 We already discussed the speedboat option, which is only available during the high season, but there's also another boat option that you could consider. A standard ferry operates during the high season also (and stops running during the low season). Rather than just the quick half hour ferry ride, this is a much longer route that sails from Saladan Pier on Koh Lanta. You can buy combined tickets for this too, through 12Go, which include the ferry and a van transfer to Krabi Airport. The ferry goes all the way to Krabi Town and takes around 2 hours, and when you add in the drive to the airport and the time getting off the ferry etc, the entire journey is around 3 hours.
Traveling by boat can be restful and scenic, but this is the slowest way to get from Koh Lanta to Krabi Airport. It is an affordable option though, and if you have time to kill it could be a great way to go. Remember that during the low season, neither the ferries or the speedboats will operate, but the shorter ferry crossing to Koh Lanta will be running throughout the year.
Did you find this guide useful?
Click on a star to rate it!
Average rating: / 5. Vote count: