Although Krabi Town is a coastal town, the town itself is not one of Thailand's beach destinations. This gateway town is better known for its temples, markets, and for its location close to the idyllic Phi Phi islands. While you can travel to Krabi by airplane, you, unfortunately, cannot fly to Phi Phi Islands. There is no airport on this archipelago of six small islands, leaving access by boat the only option. Even so, Ko Phi Phi is easily accessible by ferry from Krabi. Phi Phi Islands are less than 50 kilometers away, and ferries are fast with a travel time of between 90 and 105 minutes. If you've caught a flight down to Krabi, the ferry terminal is about 30 minutes drive from Krabi Airport.
Read about:
• Krabi to Phi Phi by Ferry
• Krabi to Phi Phi by Speedboat
• Ao Nang to Koh Phi Phi

Ferries used to depart from Krabi to Phi Phi from a ferry terminal in the center of Krabi Town. Now there is a new passenger port about 3 kilometers south of the town center. It's officially named Klong Jilad Pier but is more simply known as Phi Phi Island Pier. Free taxi transfers to the pier from the ticket office in the center of town should be included in your ticket price. So do inquire before spending additional money on a taxi yourself. Read on for more information on the ferry options from Krabi to Phi Phi, as well as the alternative: speedboat tour.
Ferry from Krabi to Phi Phi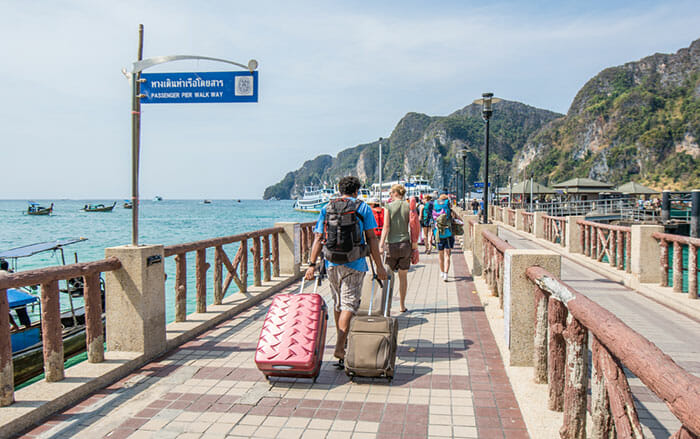 Catching the ferry from Krabi to Phi Phi is convenient and affordable. As mentioned above, ferries depart from the newly built passenger pier to the south of the town. They leave four times per day, making it easy to connect with a ferry if you're coming to Krabi from elsewhere in Thailand. At the time of writing, ferry departure times from Krabi's Klong Jilad Pier are 9 am, 10.30 am, 1.30 pm, and 3 pm.
The ferry journey is approximately 1.5 hours and you'll arrive at the Tonsai Pier on Ko Phi Phi Don, the largest of the Phi Phi Islands. From Tonsai Pier it's just a short walk to many different places to stay or dine.
At the standard price, you're only paying around 550 baht. Booking your tickets early online gives you a saving off the advertised price from the ferry office. You could get as much as 100 baht off the price of each ticket via an online booking.
Speedboat from Krabi to Phi Phi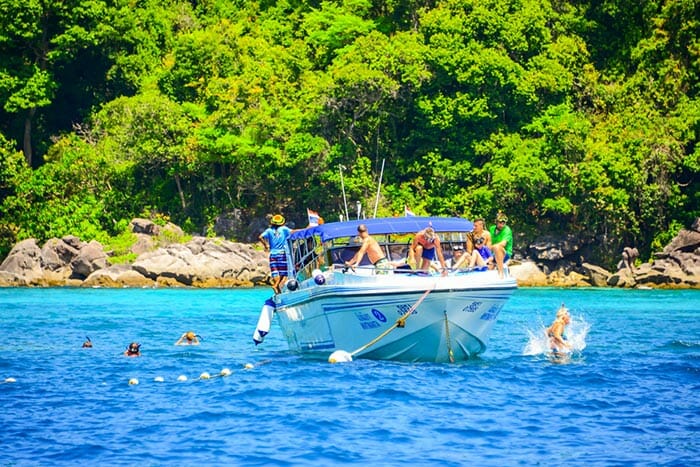 A speedboat tour is a fun and exciting way to see the Andaman sea. Speedboats are more expensive than ferries. But if you buy an all-inclusive tour they can be a great way to see a larger area and more islands within a shorter timescale. So, if you're staying in Krabi and just want to head out to the Phi Phi Islands for a day trip, consider the speedboat tour.
As an all-inclusive package, the speedboat tour from Krabi to Phi Phi includes a lot. So, all things considered, it is quite a good value for the ticket price. However, be aware that you will have to pay an extra National Park fee which is collected by the park ranger and cannot be included in the all-inclusive price. The tour company will be able to provide you with the most up-to-date information on this at the time you book your tickets.
So, apart from the National Park fees, the ticket price will likely include transfers to and from your hotel. It also includes lunch, fruit and water, a mask and snorkel, a lifejacket, a tour guide for the duration of the trip, and insurance. This full-day tour will take you to all the major sights of the Phi Phi Islands, giving you time for lunch (included in the price), and also time for relaxing on a beach or two and/or snorkeling.
While lots of fun, speedboat tours are not recommended for everyone. If you're prone to seasickness the more stable ferry might be a better option for you. The same goes for back problems, the jarring that can be experienced on more choppy waters could pose a problem. Leaving Phi Phi? Don't miss our guide Phi Phi to Phuket.
How do you get from Phi Phi to Krabi?
You can catch a standard or high-speed ferry from Ton Sai Pier on Phi Phi, direct to Krabi, Ao Nang or Railay, taking anywhere between 40 minutes and 1.5 hours. Book these tickets online with 12Go. There you'll also see options for transfers, which are great if you want to go direct to Krabi Airport or Bus Station, or even to a hotel of your choice.
Can you get to Phi Phi island from Krabi?
Yes, you can! Krabi to Phi Phi island is a popular route that's offered by several ferry companies, and you can easily book your tickets online through travel agent 12Go. Local ferries, high-speed ferries, and exhilarating Speedboats are all available, with prices and schedules depending on where in Krabi you're setting off from. You can even get a combined ticket from Krabi Airport.
How long is the ferry from Koh Phi Phi to Krabi?
Ferries from Ton Sai Pier on Koh Phi Phi take between 1.5 and 2 hours to get to the Klong Jilad Pier, just outside Krabi center. Tickets can be bought through 12Go. Ferries are operated by Songserm, Andaman Wave Master, Tigerline Travel, Chaokah Travel Center, and Seatran with lots of departure options each day. You can also add transfers to your hotel or the airport if required.
How much does it cost to go to Phi Phi Island?
The cost depends on where you're coming from. Krabi and Phuket are two popular starting points. Prices for ferries from Phuket to Phi Phi start from around 450 baht, up to 1,500 baht for a speedboat. You can find prices and buy tickets with all the ferry companies through 12Go.
How much is the ferry to Phi Phi?
The cost of a ferry to Phi Phi depends on where you're starting, as there are routes from Phuket, Ao Nang, Krabi, and Koh Lanta. Phuket to Phi Phi is a popular route, starting at around 450 baht for a 'local' ferry, and up to 1,500 baht for a fast-paced Speedboat ride. Expect to pay slightly less for ferries from Krabi, but you can find prices for these on 12Go.
How much is the ferry from Ao Nang to Phi Phi?
Songserm, Tigerline Travel, Andaman Wave Master, and Seatran Discovery are just four of the many ferry companies operating from Ao Nang to Phi Phi. Ticket prices start as low as 400 baht, all the way up to 1,020 baht for a speedboat. If you book online through 12Go, you can add a transfer to your hotel to your ticket for added convenience and a little more cost.
Did you find this guide useful?
Click on a star to rate it!
Average rating: / 5. Vote count: