Characterized by sheer limestone cliffs and the most incredible white sand beaches, Krabi is one of the most scenic destinations in Thailand, and possibly the world. Whether you're visiting Krabi Province and heading to the wonderful Phi Phi Islands, or you're staying around the town of Krabi, this is somewhere you should definitely plan to stay for a while! And when you're done, head north east to the island of Koh Phangan where an amazing party atmosphere awaits! Home of the Full Moon Party, Koh Phangan is the perfect place to kick back and socialize, or spend time on one of its quieter beaches if you're looking for relaxation. Getting from Krabi to Koh Phangan is easy, but which is the best way to travel? Read on to find out.
Read about:
• Flights from Krabi to Koh Phangan
• Bus and Ferry Joint Ticket from Krabi to Koh Phangan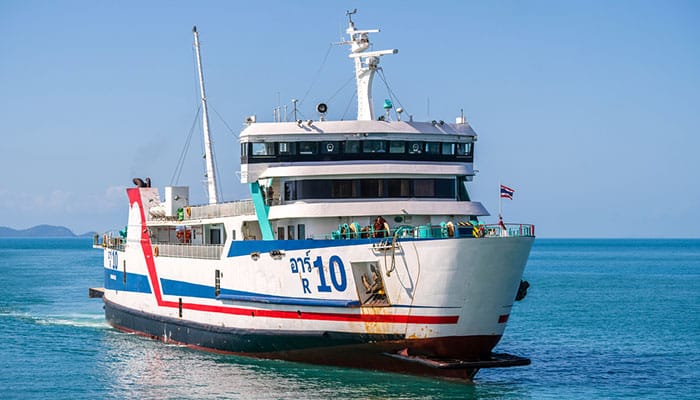 Options for Travel from Krabi to Koh Phangan
Because Koh Phangan is an island you cannot get from Krabi just by road, but you also cannot fly directly there because Koh Phangan does not have its own airport. This means that at least some of your journey is going to be by ferry. There are still several options available to you though, such as flying from Krabi to Koh Samui, going via Koh Samui by ferry, or getting a ferry directly from the mainland to Koh Phangan. Whichever way you choose to travel, you're going to be covering a distance of around 260 kilometers (162 miles) which may not sound like much but can take as much as a whole day.
Flights from Krabi to Koh Phangan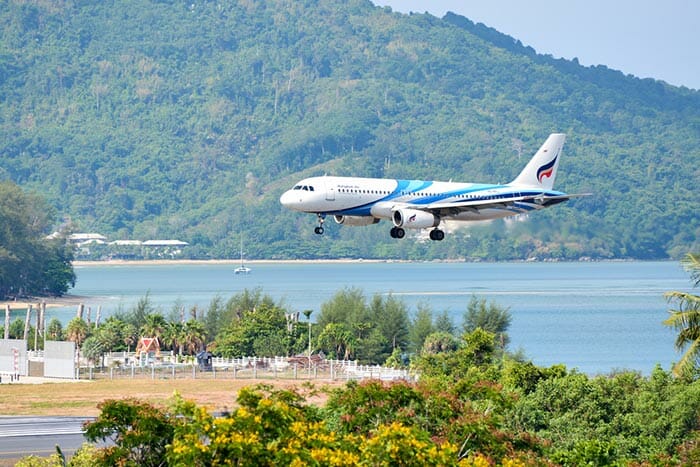 As mentioned above, there is no airport on the island of Koh Phangan so you cannot fly directly there meaning you have to fly to the nearby island Koh Samui. Even so, flying is a viable option if you have the budget – a flight is easily the most expensive way to travel from Krabi to Koh Phangan. But, you really do need to weigh the pros and cons. On the downside, you will still have to get a ferry from Koh Samui to Koh Phangan, so you may decide that the hassle just isn't worth the extra cost.
Another drawback is that only one airline flies from Krabi to Koh Samui, and there is only one flight per day so it's not ideal if you're trying to fit to your own schedule. Bangkok Airways is the airline, and, being that they're the only one offering this flight, they tend to charge more than it might otherwise cost. For these reasons, most tourists will decide to go with a bus and ferry option.
Bus and Ferry Joint Ticket from Krabi to Koh Phangan
Buying a combined bus (or van) and ferry ticket to get you from Krabi to Koh Phangan is easily the most popular way to travel between these two destinations, and with several different companies offering these combined tickets for the entire journey, there are plenty of choices for departure points and times. Prices are very reasonable too, as the different companies are competing for your business somewhat, so traveling by bus and ferry to Koh Phangan is incredibly cheap when compared to flying.

There are a few different ways you can make this trip, depending on which tour company you buy your ticket with. Lomprayah, Songserm, Seatran Discovery, and Phantip are the four companies you can choose from, and their prices are all very similar. Lomprayah is a popular choice as they're a well known and reputable company plus they have three different departure times a day so traveling with them can be a little more flexible. Buses depart from their Krabi Office at 7am, 9am, and 12:30pm, and the total journey time is between 4 hours and 45 minutes, and 5.5 hours, depending on the time of day you're traveling. Lomprayah's ferry is actually a catamaran which is modern and comfortable and well equipped, and you have the choice of sitting on an outer or inner deck.

If you prefer to depart from a different point in Krabi, Songserm has two different options. They have a departure from right in Krabi Town which is ideal if you're staying in Krabi overnight, and they also have a departure from a point a little outside the town, on the main road, at Krabi Andaman Wave Master. The first of those has two departures per day, one at 6am and another at 11am. The Songserm ferry from Krabi to Koh Phangan is a high speed ferry which, like the Lomprayah catamarans is modern and well equipped and has several different seating areas. Traveling with them takes between 6 hours and 15 minutes, and 7 hours and 45 minutes.
Be aware that their early morning departure is a popular one, selling out usually a long time in advance, so if you're trying to get the 6am departure you should book your combined bus and ferry ticket to Koh Phangan as early as you possibly can. It arrives to Koh Phangan around 12:15 giving you the entire afternoon and evening to relax while many other travelers are still making their way!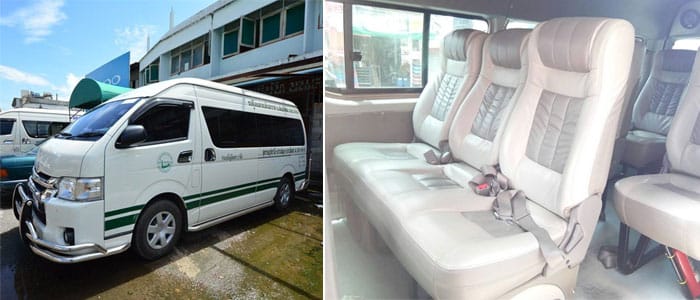 Combined bus and ferry tickets with Phantip tend to be the cheapest out of all the companies, so they could be a good choice if you're hoping to save a few dollars. Buses depart from the Krabi Sea Pearl office in the heart of Krabi Town, at 11:30am and the ferry arrives on Koh Phangan around 6:30pm so the trip with them takes around 7 hours. Check the Phantip schedule and book here.

Seatran Discovery is the final company you could consider. Out of the four, their tickets tend to be priced a few dollars above the other tour companies. Seatran is a reputable company and they operate modern, high-speed ferries with seating areas outside and inside. Buses depart from the Seatran Krabi offices in the center of Krabi at 8am and 11am, taking 5.5 and 6 hours respectively to arrive at Koh Phangan.
Whichever company you choose to travel from Krabi to Koh Phangan with, all ferries arrive at the same place on Koh Phangan, which is the Thong Sala Pier. And, with prices and schedules being quite similar between the different tour companies, you'll probably decide on the one that fits in with your schedule best. But remember, book your tickets as early as possible as some of the popular departure times can get booked up in advance.
Did you find this guide useful?
Click on a star to rate it!
Average rating: / 5. Vote count: