Characterized by tall, sheer limestone cliffs and amazing clear waters, the scenery alone is enough to make Krabi one of Thailand's top tourist destinations. As the gateway to some of the country's best islands too, like the awe inspiring Phi Phi Islands, Krabi really does top the list of must-visit places in the country. After spending time relaxing on some of the world's best beaches, you should head to the towns and cities of Thailand. Surat Thani is a transportation hub for the region, with links north to Bangkok, and it's a good introduction to city life too. With its variety of markets, Surat Thani is a popular shopping destination, but it's also a gateway to many other Thai islands, if it's more of the beach-life you're craving.
Read about:
• Krabi to Surat Thani by Bus
• Krabi to Surat Thani by Minivan
• Krabi to Surat Thani by Taxi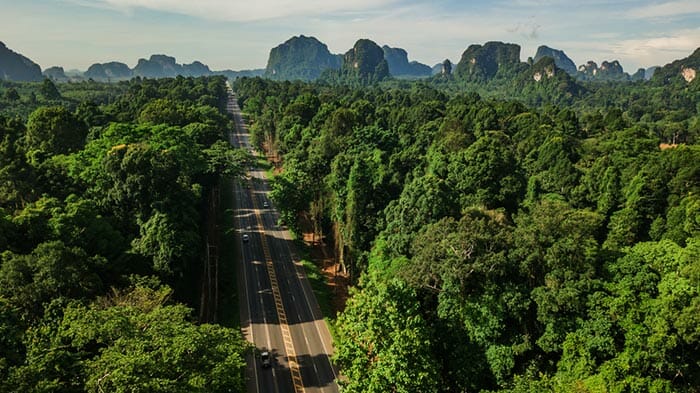 Options for Travel from Krabi to Surat Thani
With both Krabi and Surat Thani being situated on the mainland of Thailand, you don't have to worry about any ferry crossings when traveling between these two destinations. Krabi is set on the west coast, while Surat Thani is set on the east coast, so you'll be driving across part of the Malay Peninsula. By road, the shortest route is around 158 kilometers (99 miles), but if you were able to drive in a straight line, it would be a good deal shorter than this! Even so, getting from Krabi to Surat Thani does not take too long, and there are multiple options for traveling by bus van or taxi.
By Bus from Krabi to Surat Thani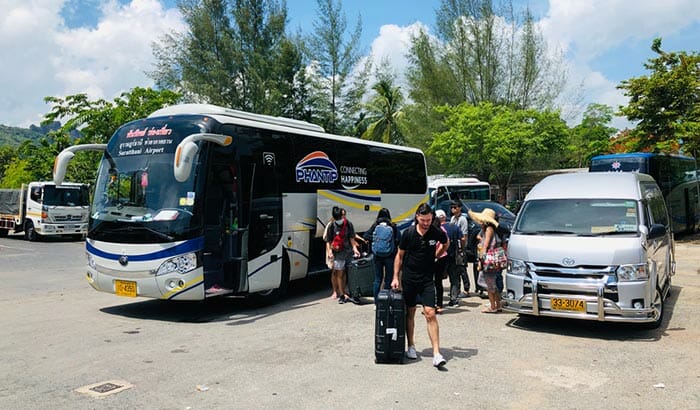 Let's start with the most popular way to get from Krabi to Surat Thani, by bus. Buses are always a popular way to travel around Thailand because there are always plenty of them, and they're always cheap! This makes bus travel especially popular with the backpacking and budget traveler crowds, but, traveling by bus from Krabi to Surat Thani is safe and reliable too.
So, if you're looking for reliability, book your bus tickets through the online travel website, 12Go.asia. They provide detailed search results for the trip from Krabi to Surat Thani, and they sell tickets for the reputable Thai bus company, Phantip. Traveling with Phantip you can depart from Krabi Bus Terminal, arriving at Surat Thani Train Station, making this ideal if you're planning any onward rail travel. They have three of these departures per day by bus from Krabi to Surat Thani, leaving at 8:30am, 11:30am, and 1pm, and the journey takes around 5 hours. The buses are not the really posh ones that you may have experienced on other routes in Thailand, they're standard buses with air conditioning and are more than comfortable for a journey of this length.
If you've been staying in the Ao Nang area of Krabi, you could also consider a van pick-up from any hotel in Ao Nang. Also bookable through 12Go, this service with Phantip adds convenience, but can double the price of the bus. Even so, getting picked up directly from your hotel and being taken to the waiting bus is very convenient, and saves you the hassle of making your own way to Krabi Bus Terminal.
Krabi to Surat Thani by Minivan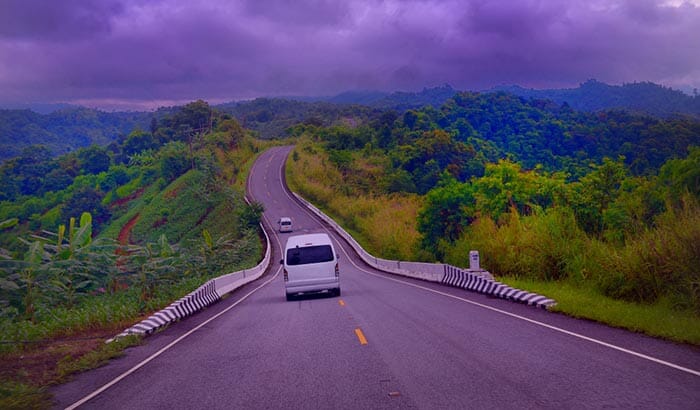 Phantip also provides a number of options for traveling by van from Krabi to Surat Thani. Once again, these can be booked through 12Go, making it easy to see search results, compare prices and schedules, and make an instant booking. There are actually more options for van departures than there are buses, and although vans are a few dollars more expensive than buses and don't give you quite as much space as you would have on a bus, traveling by van from Krabi to Surat Thani is a convenient option if trying to fit in with other travel plans, or if you want different options for departure points.
With Phantip vans, you can start from Krabi Sea Pearl Travel or from Ao Nam Mao Pier, saving you the time, expense and hassle of making your way to the center of Krabi. There are also two arrival points for you in Surat Thani – the train station, or the center of town (the Downtown Hub) – adding to the convenience of traveling by van from Krabi to Surat Thani.
Krabi to Surat Thani by Taxi
If it's convenience that you're looking for, then maybe a taxi from Krabi to Surat Thani would be your best option. You can book with several different private taxi companies through 12Go: Ao Nang Travel and Tour, Phuket Transfer Travel Andaman, Andaman Taxis, and Glassflower. Be sure to compare the different pick-up and drop-off choices that you'll be given, as there are quite a few different options to choose from, whether you want a direct hotel pick-up and drop-off, or you want to go to Surat Thani Airport, or Train Station, you can usually find a combination that gives you the best level of convenience.
Traveling by taxi from Krabi to Surat Thani is faster than by bus or by van, taking roughly 3 hours, so you will arrive in Surat Thani faster, and with taxis you also have the flexibility of booking the taxi for the exact time that you want to leave, rather than having to work around bus or van schedules, which tens to have most departures in the mornings.
The prices for private taxis from Krabi to Surat Thani can vary quite a lot, depending on the company and on the vehicle type, but the best value for money comes when you're traveling with a group of friends or family as you can hire one of the 9-passenger vans and split the cost between you all. 9-passenger vans are readily available if booked in advance, and if you want a little more luxury in your ride, opt for one of Glassflower's VIP 9-passenger vans!
Whether you prefer comfort and speed or the best value for money, the good news is that there are always ample transport options to get you from Krabi to Surat Thani.
Did you find this guide useful?
Click on a star to rate it!
Average rating: / 5. Vote count: