Best known as a transportation hub, connecting places like Bangkok with some of Thailand's most beautiful and popular islands, Surat Thani is the kind of place that many tourists will pass through, but never really spend any time in. And that's a shame, because if you're looking for more authentic Thai experiences, heading into the heart of cities like Surat Thani will show you what working class Thailand is all about. Before you head off to somewhere like Khao Sok National Park, Koh Samui, or Koh Phangan, take a few days to experience Surat Thani – the City of Good People, see its temples and try its great street food. When you've done Surat Thani justice, travel across the Malay Peninsula to its other coast, and the town and province of Krabi. Here you'll find some of the country's most breathtaking scenery, along a coastline characterized by sheer karst rocks, wonderful beaches, and several national parks, and then there are the islands off the coast. Krabi serves as a gateway to the Phi Phi Islands yet has plenty to see and do right on the mainland.
Read about:
• Surat Thani to Krabi by Bus
• Surat Thani to Krabi by Van
• Surat Thani to Krabi by Taxi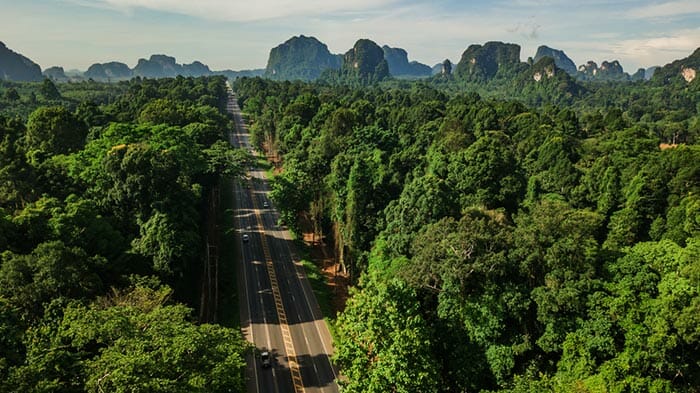 Options for Travel from Surat Thani to Krabi
Getting from Surat Thani to Krabi is just a quick jaunt from one side of the Malay Peninsula to the other. Surat Thani is close to the eastern coast and the Gulf of Thailand, while Krabi is on the western coast and the Andaman Sea. These two towns are connected by road, with the shortest road route covering a distance of about 155 kilometers (97 miles), and with no stretches of water or seas to cross, getting from Surat Thani to Krabi is very easy. There aren't any trains operating this route, so you are stuck with traveling by road, but there are plenty of different options when it comes to your road choices – buses, vans and taxis all operate from Surat Thani to Krabi, and there are frequent departures through the day.
Surat Thani to Krabi by Bus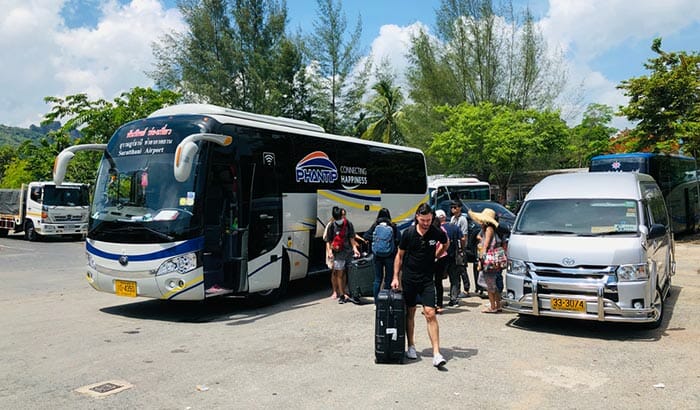 Buses are always a great way to get from A to B in Thailand because they're affordable and there are usually plenty of them to choose from! Getting from Surat Thani to Krabi by bus, you have two options – a private bus and a public bus. The absolute cheapest way to travel from Surat Thani to Krabi is by public bus as these have been priced with locals in mind so that people can get from place to place affordably. As a tourist, you may be wanting a little more luxury and comfort though as the public buses will be basic and you'll be traveling on it for about 4.5 hours so you don't want to feel too uncomfortable.
Traveling by public bus is convenient as there are departures usually about once an hour through the day but, you can't pre-book your tickets. This may not be an issue most of the time, but if you're traveling around Thailand during busy holiday periods, finding seats on public transport can be a challenge. With the public bus, you simply turn up to the bus station, which is in the center of Surat Thani, and buy your ticket just before getting onto the bus. In some way this makes it more convenient if you don't want to be forced into traveling by fixed schedules as it gives you some flexibility, but there is always the worry of not finding a seat.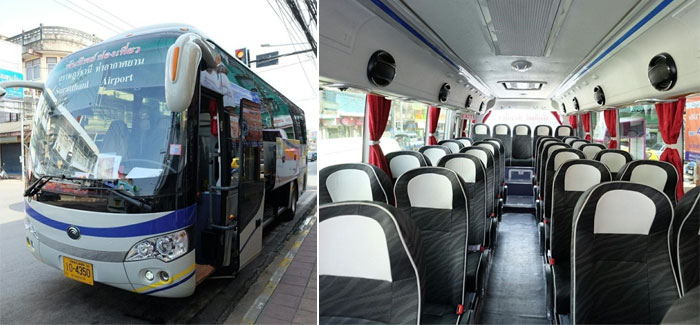 The more reliable way to travel by bus from Surat Thani to Krabi is on a private bus. These buses are usually a little more modern than the public ones and have a higher level of comfort. Phantip operates buses from Surat Thani to Krabi and their buses are comfortable and have air conditioning, a necessity in Thailand! The journey will usually be over a little quicker as well, with scheduled times suggesting a 4 our journey. Of course, you will pay a little more to travel by private bus but you get the added security of being able to book your tickets online through the travel website, 12Go.asia.
Doing this, you know for sure that you have a seat on the bus that you wanted and you don't have to worry about going through the rigmarole of buying a ticket at the bus station. Phantip's buses depart from Surat Thani Train Station, and you can get connections included in the one ticket price to take you directly to your hotel at the Krabi end.
Surat Thani to Krabi by Van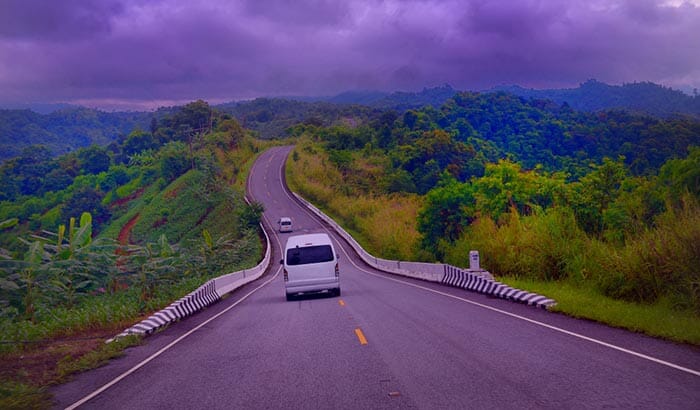 Going from Surat Thani to Krabi there are actually even more options if you travel by van. With vans, you again can take a private service or a public one. The public ones are cheaper although more expensive than public buses, and although on paper it seems that they may be the fastest way to get from Surat Thani to Krabi, they can actually take longer because they travel around picking up passengers to ensure they are as full as possible before heading on their way. A private minivan would not do this as they travel along a more fixed route from Surat Thani to Krabi. You can also book these on 12Go, where you can compare prices between vans, buses and taxis, and book online with instant confirmation.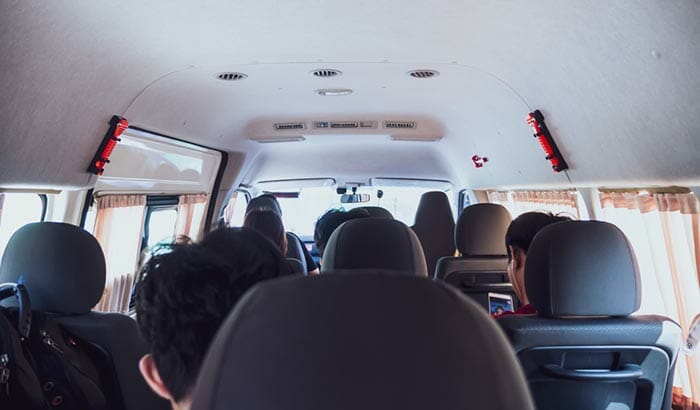 Phantip also operates the majority of private vans and they have departures throughout the day, on the hour, from Surat Thani town. The cheapest of these goes direct to Krabi Van Terminal and takes around 3 hours, according to the website, or you can book a ticket to get you right to where you want to go, such as Railay or a hotel in Ao Nang.
Surat Thani to Krabi by Taxi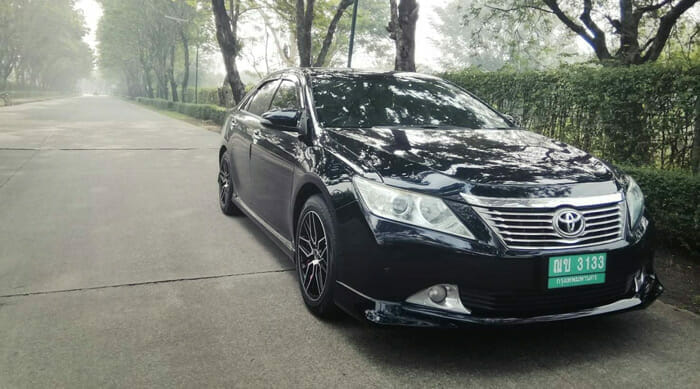 The most expensive way to get from Surat Thani to Krabi is by taxi. Private taxis can also be booked online through 12Go, and they offer journeys with two different taxi companies: Andaman Taxis and BangkokTaxi24. Prices are comparable between the two, and they both have a variety of different vehicles from comfortable sedans to 9-passenger vans. Value for money-wise, booking a van and traveling with friends would be the best as it ends up being about the same cost as the private bus. But, with a taxi you get there quicker and perhaps more comfortably, and you get a direct door to door service.
With so many options to choose from, you should always be able to find a way to travel from Surat Thani to Krabi but do book in advance if possible, to be sure you get what you want.
Did you find this guide useful?
Click on a star to rate it!
Average rating: / 5. Vote count: