When you think of Thailand, you probably think of beaches but this southeast Asian country has spectacular scenery everywhere you look. If you're coming to Thailand to see some of that amazing scenery, there are two places you should not miss: Krabi and Khao Sok. Krabi is the gateway to the stunning Phi Phi Islands and features sheer limestone cliffs and great beaches while several hours to the north is the national park of Khao Sok. With the highest rainfall in Thailand, Khao Sok has lush green and dense virgin jungle that you can explore by boat on the River Sok and see more of those photographic limestone karst formations similar to those in the Krabi area. Whether you want to relax on a beach, hike, kayak, or even go on an elephant safari, you can do all these things when you visit Krabi and Khao Sok.
Read about:
• Krabi to Khao Sok by Bus
• Krabi to Khao Sok by Van
• Krabi to Khao Sok by Taxi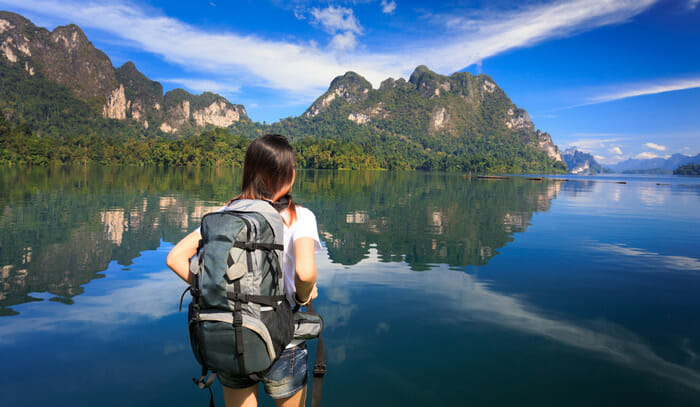 Options for Travel from Krabi to Khao Sok
It's not an especially long distance from Krabi to Khao Sok but because the mountains of Khlong Phanom National Park are in the way, traveling by road means you have to drive further to get around these mountains, adding extra kilometers and time to your trip. Even so, the shortest road route is just under 150 kilometers (93 miles), so it's really not an extensive journey, and can be easily achieved within several hours. Traveling by road is the only option but by road you do have three different transport options: taxi, bus or van. There are also several different starting points, so you may be able to choose where in Krabi to start your journey.
Krabi to Khao Sok by Bus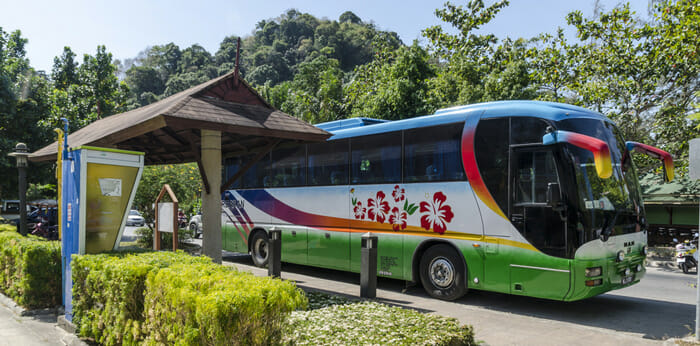 There are buses departing on a daily basis from Krabi to Khao Sok so going by bus is a convenient option as well as being the cheapest way to go. Phantip operate standard AC buses, so they are comfortable buses with air conditioning, but don't expect any other features. You shouldn't need much in the way of other creature comforts anyway, as the journey only takes around 4 hours.
These Phantip buses depart from the Krabi Sea Pearl Travel office which is right in the heart of Krabi Town, so catching a bus from Krabi to Khao Sok is convenient if you're already located right in Krabi Town, but not so great if you're outside town, staying by one of the beaches. Of course, there are always ways to get from your hotel into Krabi itself, whether you can by taxi or take a public bus, plus there are often minibuses available, plying the main routes.
The main drawback with traveling by bus from Krabi to Khao Sok is that it takes longer than other modes of transport. To be honest, the bus journey shouldn't take a full 4 hours, but by putting 4 hours down as the scheduled travel time it does allow for delays as well as for the bus arriving late for the pickup in Krabi. It also allows for the bus to travel at slower speeds than taxis or buses, and this is a necessity on these roads as they can be quite winding.
At the Khoa Sok end of the journey, you'll be dropped off at the Khao Sok Van Station. This is the perfect place to get off the bus as it's right in the heart of the village, close to many places to stay, making it easy to get to your accommodation.
Currently the only scheduled departure by bus with Phantip as at 11:30am from Krabi, arriving into Khao Sok at 3:30pm.
Krabi to Khao Sok by Van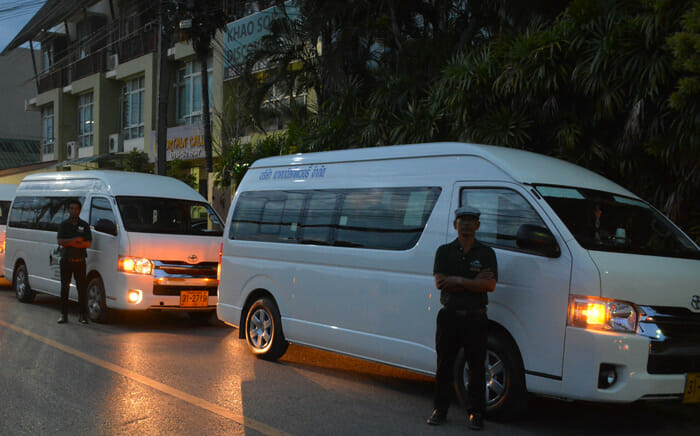 Traveling by van from Krabi to Khao Sok adds a level of convenience that the buses do not offer, as there are more pickup points for van travel. This means you can choose the best departure point to suit where you are staying within Krabi. You can also get a combined ticket that includes a pickup direct from your hotel. This makes it even more convenient if you don't have to worry about traveling across town with your luggage!
You might expect vans to cost more than buses but actually they cost pretty much the same as the buses do. There are two van companies you can choose from, and both can be booked online with the travel website 12Go.asia. Phantip is one of those companies – they offer a pickup by taxi from any hotel in Ao Nang; great if you're staying in the Ao Nang area. With the hotel pickup included, and then a transfer onto their standard AC bus, the total journey time becomes about 5.5 hours.
The second company running vans from Krabi to Khao Sok is Hat Yai World Tour. They operate a 14-passenger van and have three departure points: from any hotel in Krabi Town, any hotel in Ao Nang, or from Ao Nam Mao. The travel times vary depending on where you're starting from, but the journey from Krabi to Khao Sok will be somewhere between 3 hours and 50 minutes to 4.5 hours, and the cost is about the same for all three options.
Krabi to Khao Sok by Taxi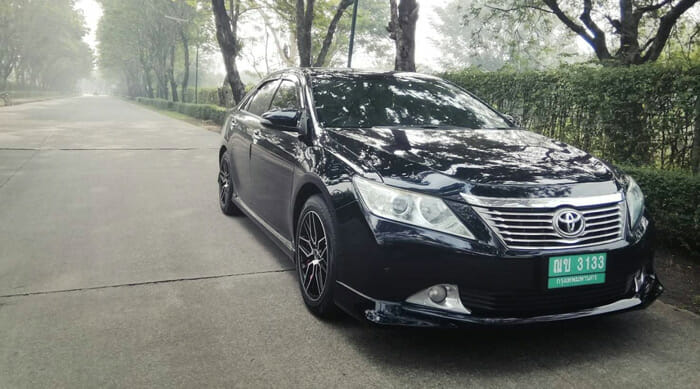 The most expensive way to get from Krabi to Khao Sok is by private taxi. Going by taxi is arguably the most convenient way to travel though, and it will be the fastest too. Although you can get a hotel pickup if you travel by van, going by taxi allows you to be picked up from wherever you want, and taken exactly where you want, and the biggest advantage is that you can travel at whatever time of the day you choose, rather than being fixed to a bus or van schedule.
With this added convenience does come the added cost, and if you're traveling alone or just with one other person, you may come to the conclusion that taxis are just too expensive. With more travel companions the price per person does go down though because the taxi price is fixed. This means it can be divided between how ever many passengers there are. Picking a 9-passenger van, for example, will bring the price per person (assuming you have 9 passengers) down to below the price of a bus, so this is an important factor to bear in mind.
All three travel options for Krabi to Khao Sok can be booked online through 12Go, so you can compare prices and schedules, and read customer reviews before booking.
Did you find this guide useful?
Click on a star to rate it!
Average rating: / 5. Vote count: