Take a break from the gorgeous scenery of Krabi, and head north east to one of Thailand's most famous islands, Koh Samui. Koh Samui is the second largest island in the country and is renowned for its great nightlife, beautiful beaches, coconut groves, and internal rainforests, giving visitors quite the assortment of things to see and do.
Read about:
• Flights from Krabi to Koh Samui
• Ferry from Krabi to Koh Samui

Options for Travel from Krabi to Koh Samui?
The route from Krabi to Koh Samui is a popular one with tourists and hence there are quite a few possibilities to get you from one destination to the other. This is good news for travelers because you can usually find an option to suit all budgets and timescales.
At the expensive end of the spectrum is a flight, but this is the best way to go if you're in a hurry to get to Koh Samui. If you have more time on your hands, travel along with the vast majority of tourists who go by bus and ferry. It will take longer, but you'll save yourself a lot of money!
Flights from Krabi to Koh Samui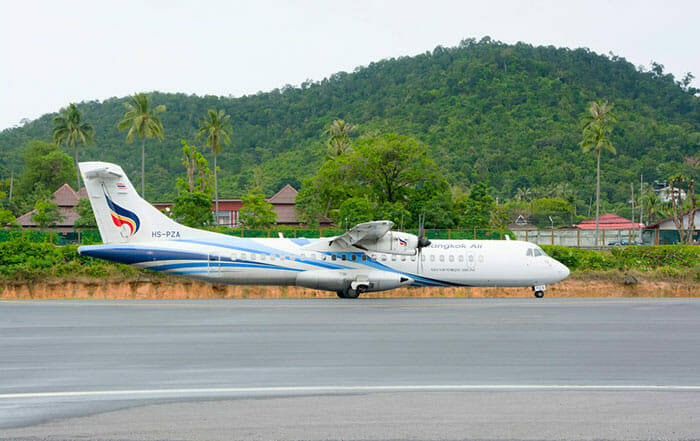 So, let's take a look at the expensive option first. The only airline offering flights to Koh Samui from Krabi is Bangkok Airways, but this is to be expected as Bangkok Airways built the airport in the 1980s to cater to the growing number of tourists visiting the island. Samui International Airport, as it's officially called, is just outside the main town on the island, Chaweng, so it's centrally located which makes it easy to get to hotels and resorts.
Bangkok Airways flies this route once per day, leaving around the middle of the day so you don't have to worry about an early morning wakeup call! The flight from Krabi to Koh Samui is less than an hour, so from airport to airport this is a very quick option. However, when you're looking at the different transport possibilities, remember to bear in mind that you will have to get to the airport in plenty of time to check in and pass through security. Then, if you have luggage to pick up in Koh Samui this will delay you a little as well. In all, you could easily add close to 2 hours to the journey time, so flying isn't always as quick as it seems!
Ferry from Krabi to Koh Samui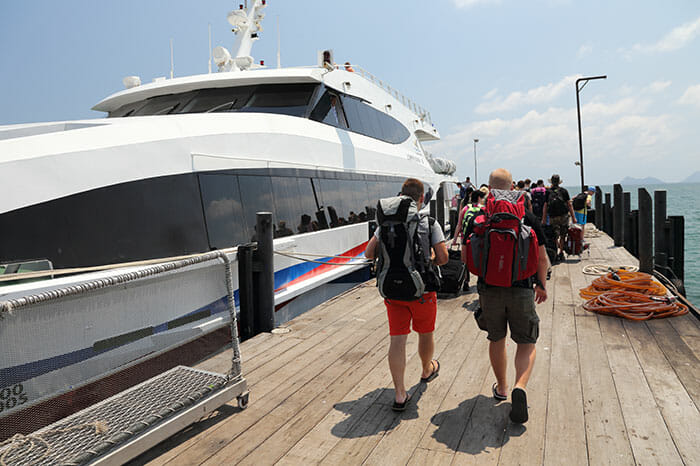 Ferries are the most commonly used form of transport from Krabi to Koh Samui, largely because they are very affordable, but also because there are plenty of options to tie in with your schedule. The journey may be longer than a flight, but if you're visiting Thailand to see as much as you can of this beautiful country, traveling by bus and ferry allows you to see far more than you would from thousands of feet up in the sky!
Travel agents in Krabi can help you with your travel plans, but you'll likely save a little more money if you book your tickets independently. However, you can and should try to get a combined ticket that covers both the bus and the ferry as this makes the whole trip a lot easier and worry-free.
You can pick and choose your exact route and which company you use, depending on where you are in Krabi. Transfers from Krabi Airport can be included, for example, or you could get a pickup direct from your hotel so you don't have to worry about getting to a bus station. If you're close to the Lomprayah office (one of the ferry companies) you can buy your ticket direct from them and get a bus from their office to the pier, and even a minibus service right to your hotel once you get to Koh Samui. Lomprayah is definitely one of the best known and most respected of the ferry companies. From their Krabi office there are around four or five departures per day, and, if you just opt for the bus and ferry you're generally looking at a travel time of around 4 hours thanks to the fact that Lomprayah operates high-speed catamaran ferries from Krabi to Koh Samui. These ferries are comfortable and well maintained, and feature plenty of toilets as well as a place to buy food and drinks.

Seatran Discovery is another reputable company that has ferries from Krabi to Koh Samui. Their high-speed ferries are also of a good standard and have comfortable seating as well as good facilities onboard, so the service is fairly comparable to Lomprayah and just takes slightly longer as the high-speed ferry is not quite as fast as the catamaran.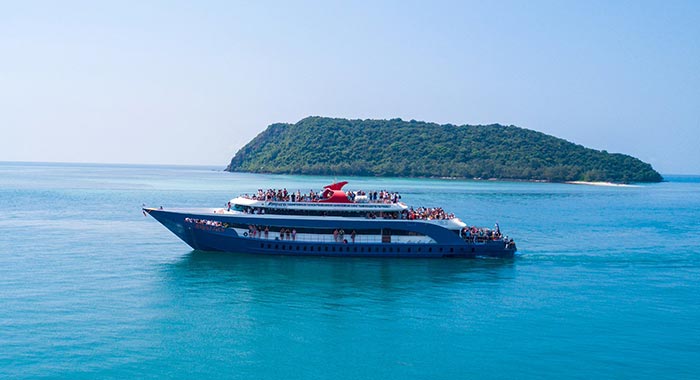 A third ferry company is Songserm. Unlike the first two, Songserm operates a standard ferry that takes longer and is not as well equipped. Seating won't be quite as comfy and there may not be facilities onboard but tickets for the Songserm ferry from Krabi to Koh Samui are usually a little cheaper.
Bear in mind that if you are taking the ferry to Koh Samui from Krabi, your journey will always involve a bus or minibus ride. This is because Krabi is situated on the west coast of Southern Thailand, while Koh Samui is off the eastern coast. You cannot travel the entire way by boat so you'll have to go overland, across the country, in order to get to the ferry piers for your ride to Koh Samui.
How do I get from Krabi to Koh Samui?
There are numerous ways to travel from Krabi to Koh Samui, with the fastest and most expensive being a flight. Most tourists choose the cheaper way, which is by bus and ferry. This will take most of the day but is substantially cheaper than flying. Buy your tickets through 12Go where you can compare flights with the many different bus and ferry joint ticket options.
Is Krabi near Koh Samui?
Krabi is close to the west coast of Thailand while Koh Samui is an island off its east coast, in the Gulf of Thailand, and it's about 190kms/119mi in a straight line between them. Traveling from Krabi to Koh Samui is a popular route with daily flights or van and ferry options, and you can book all of these tickets through travel website, 12Go.
How do you get to Koh Samui?
Thailand's second largest island has its own airport, so getting to Koh Samui is really easy from cities like Bangkok, Krabi, Chiang Mai etc. Flights can be pricey though, so you can save money by catching a ferry from the mainland or one of the neighboring islands. If you look at 12Go, they give search results for flights and ferries as well as transfers from multiple departure points.
How many piers are there in Koh Samui?
There are four main ferry piers on Koh Samui, staggered at different points around the coast of the island: Pralan Pier, Nathon Pier, Lipa Noi Pier, and Big Buddha Pier, plus there are many smaller piers for charters and tour boats. Research where your ferry will arrive and choose your accommodation accordingly to avoid a long transfer, then book your ferry tickets at 12Go.
Where is the ferry port in Koh Samui?
Being a large and very popular island, Koh Samui has several ferry ports, usually called piers. Which one you use will depend on where you're coming from or going to. The four main ones are: Pralan Pier, Nathon Pier, Lipa Pier, and Big Buddha Pier, which is closest to the airport. Book ferry tickets online through 12Go and their search results will show you which pier you need.
Did you find this guide useful?
Click on a star to rate it!
Average rating: / 5. Vote count: