Manila is the Philippines' hugely busy capital city, and is the most densely populated city in the world. Despite the ever-present traffic and noise though, Manila remains a very popular tourist destination because of its great diversity of attractions. Its tall modern skyline is quite the contrast to the history found in the heart of Old Manila, where Spanish colonial architecture stands in the form of churches and a fort. There is history and culture, museums, great shopping and restaurants, and a lovely waterfront too. When the congestion becomes too much, there are many scenic and quieter places to visit in the Philippines. Baguio is one such place, set up in the mountains, and while it's still a relatively busy city it is nothing compared to the likes of Manila. Known as the Summer Capital of the Philippines, Baguio is popular with locals as well as tourists because of its cooler weather, and has attractions that include parks and architecture, plus it's a gateway to areas in the north where backpacking is particularly popular.
Read about:
• Bus from Manila to Baguio
• Manila to Baguio by Taxi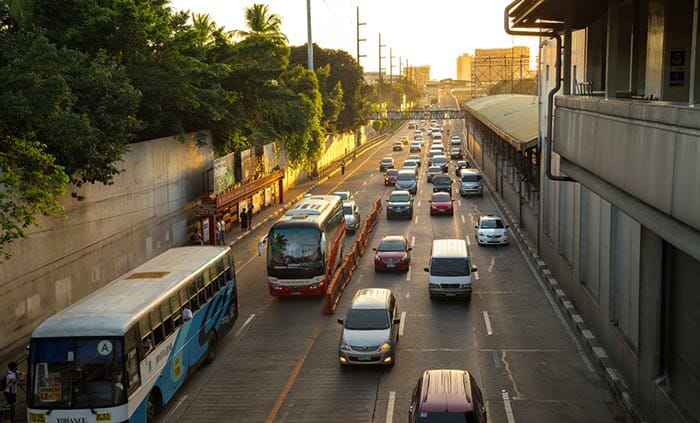 Options for Travel from Manila to Baguio
Baguio is almost directly north of Manila, and the two cities are connected by road. The road journey covers around 245 kilometers (153 miles), and although the trip starts off on roads that are relatively straight, once you start climbing into the mountains, it becomes very winding. Because of this, traveling by road will take longer than you might expect, especially if going by bus, as the buses will have to drive slower and use more caution to remain safe. Buses are a great option though, getting you from Manila to Baguio for a very affordable price, while taxis will get you there faster but cost a lot more. As of now, traveling from Manila to Baguio is only possible using taxis and buses, even though there is an airport in Baguio. The Loakan Airport is only small and has been closed, although plans are in place to possibly re-open it. Whether this results in there being any commercial flights from Manila to Baguio remains to be seen, but watch this space!
Bus from Manila to Baguio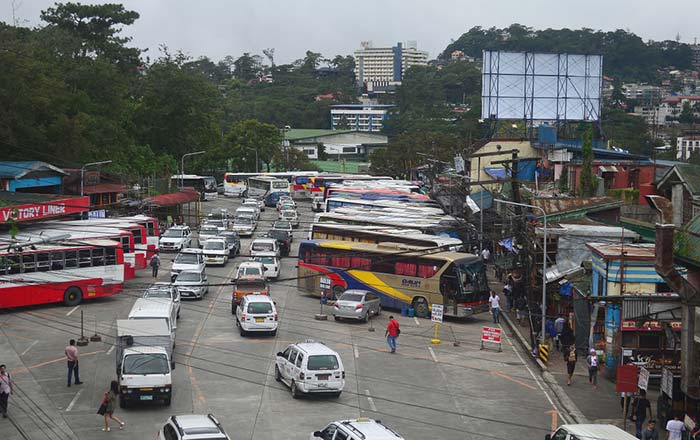 With several different bus companies offering direct buses from Manila to Baguio, traveling by bus is easy and affordable. Compared to some epic bus journeys that you may have taken or heard about in Southeast Asia, it's actually quite a quick journey between these two cities, despite the winding road as you climb up into the mountains. Journey times will be somewhere between 4 and 5 hours usually, depending on from where in Manila you start your journey, and depending somewhat on the time of day that you travel as rush hour traffic can be bad if you're trying to leave Manila during these times.
With a number of different bus companies to choose from, this helps to keep prices lower because of competition between them. It also means that there are always multiple departures every day that you can choose from, so it's good in terms of flexibility.
The travel website 12Go.asia, is a good place to book your bus from Manila to Baguio. They have joined forces with one of the country's reputable bus companies, Victory Liner, to sell tickets for the Manila to Baguio route, making it even easier than before to compare schedules, read customer reviews, and book your tickets right on the website with instant confirmation. It's also very easy when booking through 12Go to compare the different departure points. By searching for Manila, you will get several options, including Sampaloc, near the center of the city, Pasay (south of Manila center), and Cubao, in Quezon City, to the north east of the city center. This gives you the flexibility to choose the departure point that's closest to where you're staying, and it gives you even more choice for departures throughout the day.
The most departures are from Cubao, with the first leaving at 2am and traveling through the early hours of the morning to get you to Baguio by 6:05am ready for a day of exploring. There are more buses at 4am, 5am and 6am, and then at various times through the day with the latest departure at 11:30pm. All of their buses are modern and air conditioned.
Booking through 12Go is quick and easy, especially when comparing multiple departures, but if you wanted to consider a few other bus companies, Joy Bus and Philippine Rabbit also operate buses from Manila to Baguio.
Manila to Baguio by Taxi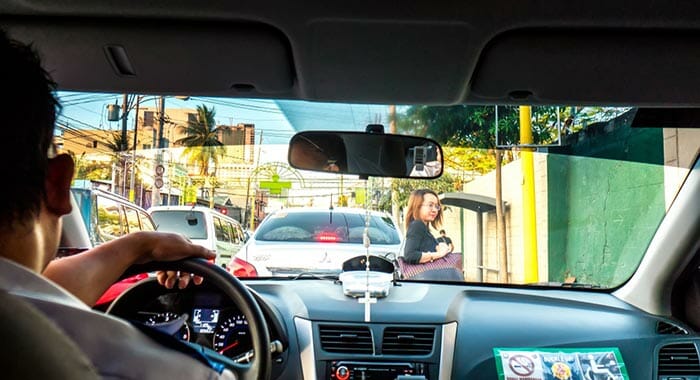 With so many bus options, and the affordable prices, many tourists are very happy to take the bus from Manila to Baguio, but, taking a taxi is another good option, depending on your circumstances.
If you're traveling with friends or family, hiring a taxi to take you from Manila to Baguio will get you up into the mountains faster, and has the benefit of dropping you right to the door of your Baguio hotel, something that cannot be achieved when traveling by bus! But, taxis are more expensive, especially if there are only a few of you traveling together as you are paying a fixed price for the car. The taxi becomes a more economical option if you hire a larger vehicle, such as a 9-passenger van, as you can divide the cost by up to 9 people. It will still work out more expensive than individual tickets on a bus, but you may prefer this option when traveling as a group and looking for greater flexibility and a more personal service.
The good news is that you can also book a private taxi from Manila to Baguio through the website, 12Go. Taxis operated by Anis Transport can pick you up from the Manila hotel, taking you all the way to your hotel in Baguio, and getting you there faster than the bus would do.
With great options for traveling by bus from Manila to Baguio, it's easy to see why buses are so popular. Cheap prices, plenty of availability, and several different departure points usually outweigh the benefits of going by taxi, which is decidedly more expensive.
Did you find this guide useful?
Click on a star to rate it!
Average rating: / 5. Vote count: