Stroll around the densely populated streets of Manila and you'll find something of interest at every turn. This bayside city is the capital of the Philippines and it's one of the oldest cities in the world. It has a bang-up-to-date side in its high-rise skyscrapers, but it also features ample historical sites too, with perhaps the most famous being Intramuros, the colonial walled city. If the Spanish colonial architecture of Manila leaves you wanting to see more, go south to the city of Naga. This was one of the major Spanish-rule cities and it's full of Spanish architectural churches and official buildings, as well as being a great starting point for nearby natural attractions like Mount Isarog National Park with its dormant volcano.
Read about:
• Flights from Manila to Naga
• Manila to Naga by Bus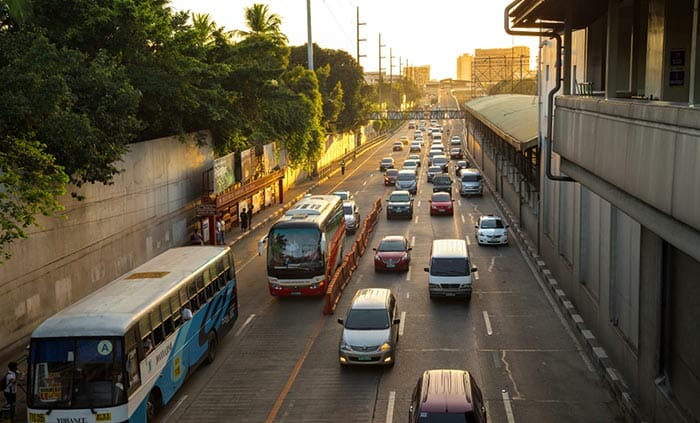 Options for Travel from Manila to Naga
Even though Manila and Naga are both set on the same island in the Philippines, it takes a long time to drive from one city to the other as the roads have to navigate past the many inlets, rivers and bays that divide Manila from Naga. This makes the driving route far longer than it might otherwise be at about 400 kilometers (250 miles), while flying takes a far straighter line from Manila to Naga and only covers a distance of about 260 kilometers (162 miles). Flights and buses are the main options for traveling between these two cities, unless you want to drive yourself. You may see that trains were once an option, but unfortunately after being damaged by a hurricane in 2012, the lines have still not been repaired and it looks likely that they never will be.
Flights from Manila to Naga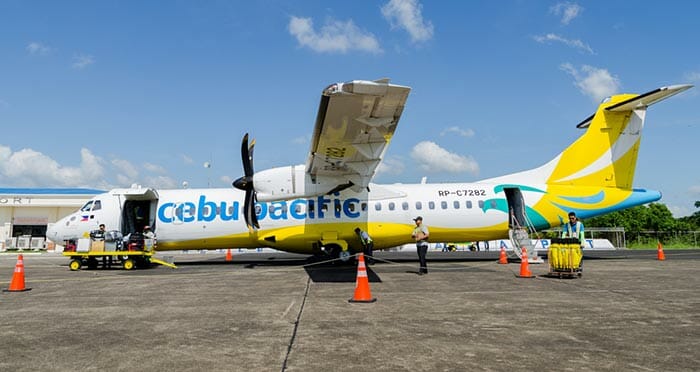 With the road route adding so many kilometers onto your journey, catching a flight from Manila to Naga doesn't seem like such a bad idea! A flight will definitely get you to Naga far faster than driving will – the flight itself is only about an hour and 20 minutes, but remember that you need to add quite a lot of time onto that to get a true sense of how long it will take to get from Manila to Naga. There's also the issue of cost. Catching a flight from Manila to Naga costs far more than it does to go by bus, so you need to also factor this in when making your decision.
There is just one airline flying between Manila to Naga and that's Cebgo. Although Cebgo is officially a low-cost airline, they don't have any competition from other airlines for this route so they can actually get away with charging more for the price of a ticket with no other airlines competing for business. The good news is that there are a few flights each day, and they do currently operate every day of the week.
Flights from Manila to Naga depart from Manila's international airport, Ninoy Aquino, which is about 7 kilometers (4 miles) south of Manila proper, and with regular and affordable transport connections from the city to the airport, getting there is easy. Things aren't quite as easy at the Naga end. Although the airport is named Naga Airport, it's actually located in Pili. This isn't a massive big deal as the airport is stil only 11 kilometers (7 miles) from Naga City, but it does add some time and hassle to your journey as you'll need to make your way to Naga from the airport.
There may be some taxis but you'll have better luck if you walk about 400 meters from the airport to the main highway where jeepneys or buses stop to pick up passengers. It's about a 30-minute ride into the city center from here, depending on the number of stops made.
Manila to Naga by Bus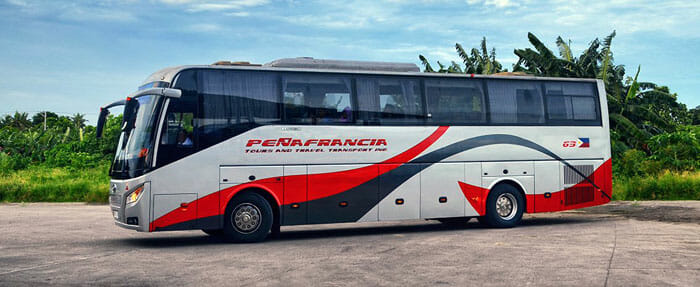 When you add up the cost of catching a flight from Manila to Naga, the affordability of the bus becomes more appealing! Flights may seem fast on the surface, but add in the time it takes to get to Manila's airport and from Naga Airport, as well as all the time you have to spend in the airport itself, and realistically it may end up saving you about half the time the bus takes, but cost you a lot more money as you'll have to pay for airport transfers as well.
Taking a bus from Manila to Naga isn't going to appeal to everyone though, even if you are saving a lot of money. The bus ride takes about 10.5 hours, so this is a long time to be on a bus. Of course, this timing also includes stops along the way as there will be several stops when you can get off the bus and stretch your legs. The good thing about the buses though, is that there are several different companies to choose from, with multiple departures each day. This not only helps to keep the price of bus tickets lower than it might otherwise be, but it also gives you lots of choices for bus types and schedules.
Do look carefully at the different bus types because comfort levels and cost can vary dramatically. If you choose an Economy bus, for example, you'll save the most money but you'll be spending 10.5 hours on a standard bus that has no air conditioning, and fairly hard seats. We really would not recommend this to anyone!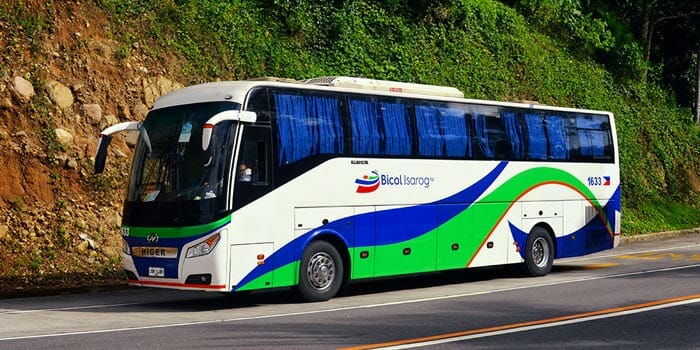 Moving up from Economy, prices do vary a lot across the different companies, so look and look again. You can see results from many of the major bus companies when you do a search with the travel website 12Go.asia. Their results will show you multiple companies and bus types so you can view photos to see what kind of seats they have and whether they have other facilities on board. This is an invaluable website to use when comparing prices and services.You'll see that there are reclining seats – like the Lazyboy seats offered by Isarog Line that look like armchairs they appear so comfy! And there are Regular, Premier, Elite, and Skybus buses too. There's also the option to book a full Sleeper bus from Manila to Naga which has almost fully reclined beds on it if you're hoping to get a better sleep. All of these buses have regular departures through the day and into the night, but we would recommend you get tickets for a night bus and try to sleep along the way so that the journey doesn't feel quite so long.
So, while flights look like the better option, catching a flight from Manila to Naga costs a lot more than a bus does and when you add on all the time to get to the airport and through each side, then into Naga, you're still saving time but perhaps not as much as you might hope. For this reason, catching a bus could be a better idea as it's more affordable and there are many different bus types to choose from.
Did you find this guide useful?
Click on a star to rate it!
Average rating: / 5. Vote count: