Manila is an exciting city with things to see and do at every turn. The capital of the Philippines is one of the most densely populated cities in the world, but when the people are so friendly, it doesn't matter so much! From Spanish colonial architecture to modern-day skyscrapers, historic forts and churches, and contemporary attractions like Manila Ocean Park, the city of Manila has something for everyone. And while Manila does have some great Spanish architecture, nothing compares to the city of Vigan. It's a UNESCO World Heritage Site because of its beautifully preserved streets and buildings. Ride horse-drawn carriages down its cobblestone streets, enjoy fountain light shows, and mouth-watering food from its food stalls, then check out the museums and mansions.
Read about:
• Manila to Vigan by Bus
• Flight from Manila to Vigan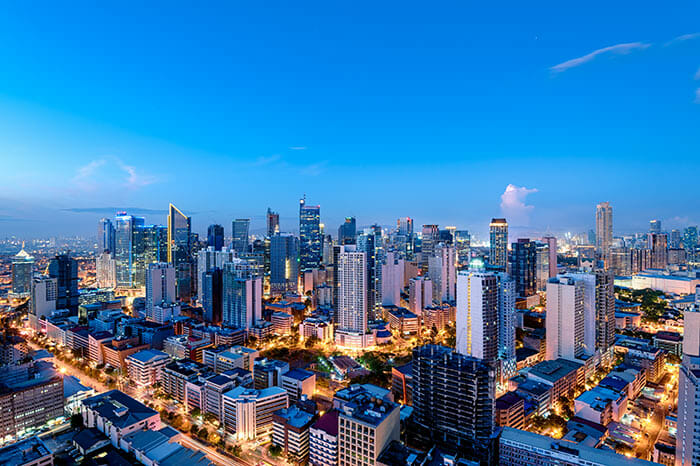 Options for Travel from Manila to Vigan
Vigan City lies just over 400 kilometers (250 miles) almost directly to the north of Manila. Luckily both cities are situated on the island of Luzon, the Philippines' largest island, so you won't have to cross any bodies of water to travel between them, making travel a lot easier than it might otherwise be. The most popular way to travel from Manila to Vigan is therefore by bus as it's a direct service that's affordable and reliable. You could also take a taxi, but with such a great distance between cities this would be very expensive. Another option is to fly, but this also is not without its problems – we'll give you more details below.
Manila to Vigan by Bus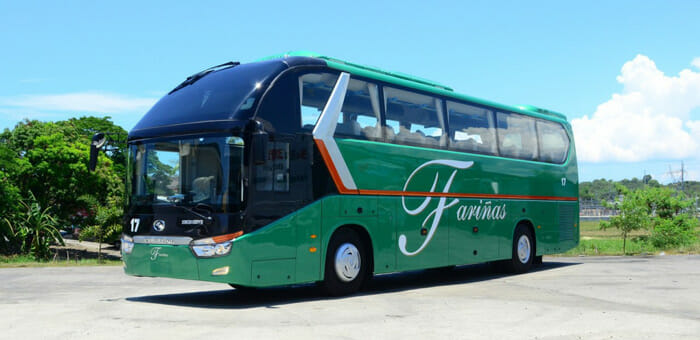 Traveling by bus from Manila to Vigan is quite a long journey but it's affordable and convenient, making this the most popular way to get from Manila to Vigan. There are several different bus companies to choose from, and you can book tickets with two of these through the travel website 12Go.asia: Farinas Trans and Aniceto Bus Lines.
Farinas Trans has more departures each day and they have three different bus types to choose from –1st Class, Deluxe, and Super Deluxe. The difference in price between these three is not a lot, tickets rise by about a dollar from 1st Class to Deluxe, and another dollar from Deluxe to Super Deluxe so you're not going to save much money by opting for the cheaper of the three. And the service isn't really all that different between bus types either. All of the buses are modern and well equipped, providing toilets, air conditioning, wifi and TVs onboard. The only real difference is in the seats; the 1st class buses have rows of four seats with two on each side of the aisle, whereas deluxe and Super Deluxe have just three seats across meaning that the seats are larger and provide more space for passengers.
Buses from Manila to Vigan with Farinas Trans all travel overnight. The earliest departure from their offices in Manila is at 8pm, arriving in Vigan about 8 hours and 15 minutes later, at 4:15am the next day. Their other departures are at 8:30pm, 9pm, 9:30pm, 10pm, 11pm, and the final one is at 11:30pm. This last bus gets you to Vigan at a better time of the day, arriving around 7:45am. If you're able to sleep onboard this would be a good bus to catch as you will arrive in time for breakfast and ready to start your day of exploring, whereas the earlier buses get into Vigan at less sociable times of the morning. If the type of bus is something that concerns you, check the schedules on 12Go as each departure only uses one type of bus, so for example, if you didn't want to travel on the 1st Class bus, don't choose the 11:30pm departure but go for the 11pm or 10pm buses instead.
Buses from Manila to Vigan with Aniceto Bus Lines are cheaper as they use a more standard Express Bus. These buses basically have air conditioning and no other services so you can save yourself several dollars if things like wifi and bigger seats are not a concern for you. Aniceto has just two departures per day: one leaving Manila at 7am and one at 9:30pm. Traveling through the day has the advantage of allowing you to see the passing scenery, but there is more traffic on the roads and so the journey takes longer. If you depart at 7am it will take around 11 hours s you won't reach Vigan until 6pm. Their later bus leaves at 9pm and arrives in Vigan around 6am the next morning, so this may be a better choice. The advantage with traveling overnight is that you are saving yourself the cost of spending a night in a hotel room, so bear this in mind when booking your tickets.
Flight from Manila to Vigan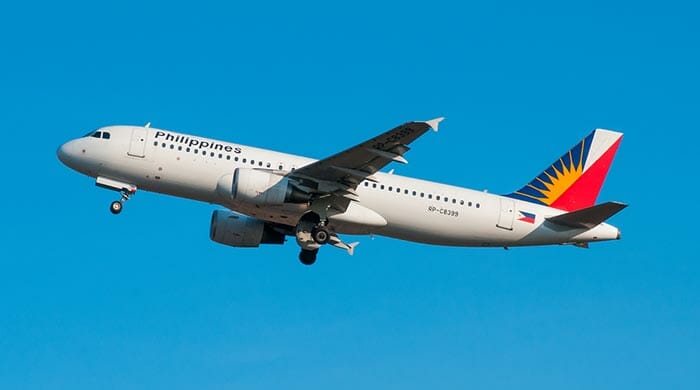 Catching a flight from Manila to Vigan is a little more complicated but we wanted to include it for comparison's sake. Technically, there is a direct flight from Manila to Vigan with a charter airline called Platinum Skies. They fly from Manila's Ninoy Aquino International Airport and arrive at the small Mindoro Airport, also known as Vigan Airport. At the time of writing though, we could not find any information on flight availability so it's possible that this airline no longer has direct flights from Manila to Vigan.
There is also another flight option, and that's to fly from Manila to Laoag International Airport. There are flights with Philippines Airlines (operated by PAL Express) who fly daily from Monday to Saturday and the flight takes around 1 hour and 10 minutes. The problem with this is that Laoag is about 87 kilometers (54 miles) north of Vigan so you'll then have to make your way back to Vigan from here. Luckily there are cheap buses you can catch, or take a taxi. However, you will have already paid a premium for flying so when you add on the cost of a bus or taxi, you may not think catching a flight is worth the cost.
Our recommendation is to stick with the buses and get a direct bus from Manila to Vigan. There are ample choices for bus departures and they're cheap and reliable. A flight would only help if you could find a direct flight from Manila to Vigan, but with flying to Laoag you're not really saving yourself a great deal of time, and it will cost you much more to travel this way.
Did you find this guide useful?
Click on a star to rate it!
Average rating: / 5. Vote count: