If you're visiting the Philippines from overseas, the chances are high that you will have arrived in the country's bustling and chaotic capital city, Manila. While this big city does have some great attractions you may be wanting to leave Manila as soon as possible and head to some of the country's more scenic places. El Nido on Palawan Island in the south west of the Philippines is just the place. Gorgeous sun-kissed beaches and the most crystal clear water you're ever likely to see will greet you in El Nido. Whether you just want to relax or look for some adventures, there are plenty of dive sites and coral reefs to explore underwater and spectacular karst scenery above.
Read about:
• Flight from Manila to El Nido
• Ferry from Manila to El Nido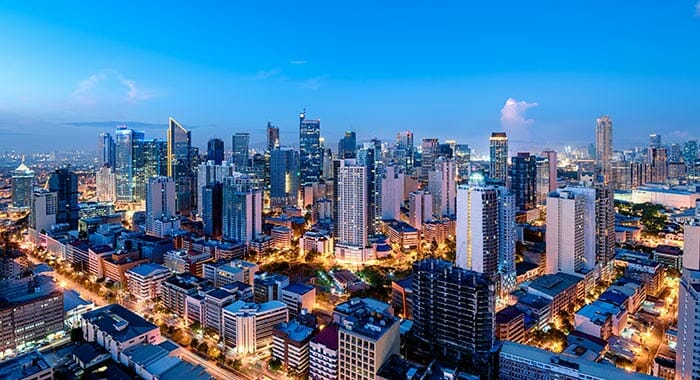 Options for Travel from Manila to El Nido
Up until recently, it was quite the adventure just getting to El Nido! While things have improved quite dramatically as the area has risen in popularity, it can still take a lengthy journey to get from Manila to El Nido. On the map, it may not look too far, but El Nido is set on Palawan Island, with several other islands between it and Manila. This of course means that you cannot simply drive from Manila to El Nido as you'll have to cross several stretches of water. For this reason, flying makes sense because it's quick and easy. Catching a ferry is another option, but this has several drawbacks, not least that there is no direct ferry from Manila to El Nido so this does complicate things. Even so, we'll give you the information you need to make a decision on what you think is the best way to get from Manila to El Nido.
Flight from Manila to El Nido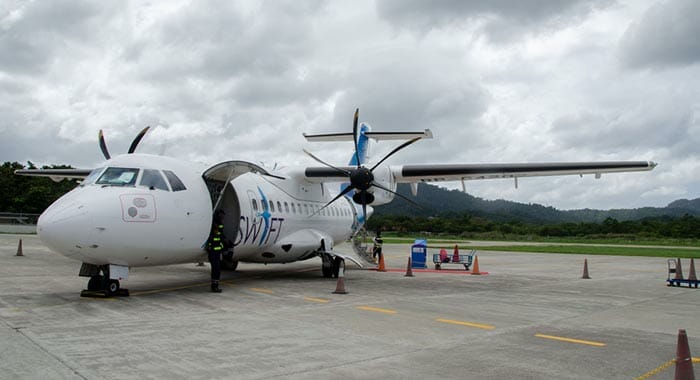 Flying from Manila to El Nido does have its advantages; first and foremost, it's by far the quickest way to travel between these two destinations. You catch a plane from Manila and fly over the ocean and the other islands, and arrive right at El Nido Airport. This is great news because many other smaller destinations in the Philippines do not have their own airports, so the fact that El Nido does have its own airport is a great big advantage for anyone wishing to travel here!
El Nido Airport is only a small airport, and it's owned and operated by AirSWIFT, hence this is the only airline offering any direct flights to here. Usually this would mean you'll be restricted on price and availability, but in actual fact, AirSWIFT offers around six flights per day, every day of the week from Manila to El Nido, and the prices are really quite reasonable. The flight takes just 1 hour and 15 minutes, so catch one of their early morning flights and you could be having lunch on the beach in El Nido!
Just bear in mind that when you fly, you do need to add on the time it takes you to get to the airport and through the airport. If you're in the city of Manila for a few days then you should allow several hours to get back to Manila's Ninoy Aquino International Airport, or perhaps you can plan your schedule so that you arrive in Manila and then walk right to your connecting flight to El Nido. Unless you leave yourself several hours between one flight arriving and the other departing, this can be risky, so perhaps staying the night in an airport hotel could be a good idea. Once you arrive in El Nido, you won't have far to travel as the airport is situated only about 4 kilometers (2.5 miles) from the town.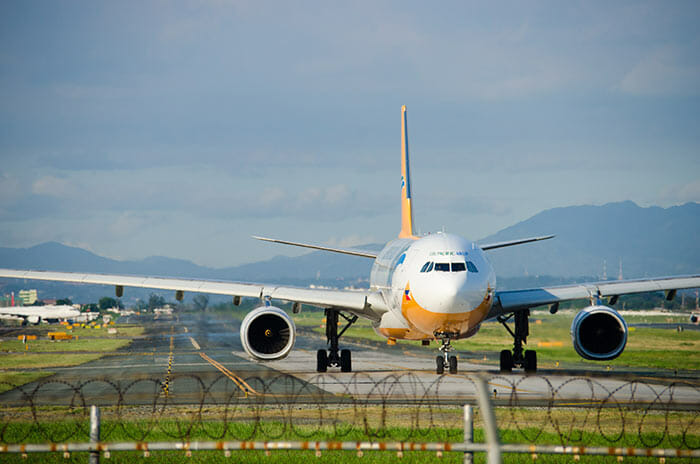 If you like the sound of flying but would prefer to fly with a larger airline, you'll have more options if you consider flights from Manila to Puerto Princesa, and then take a connecting bus or van from there. While this is quite a popular way to travel, it's not really going to save you a lot of time or money. In fact, it's going to add a lot of time to your journey because the transfer from Puerto Princesa to El Nido can take 5.5 hours. Really, the only reason for considering this if you don't have any luck finding a direct flight from Manila to El Nido and need to look at other options. You can easily book flights from Manila, and connecting shuttles to El Nido in a combined ticket on the travel website, 12Go.asia.
Manila to El Nido by Ferry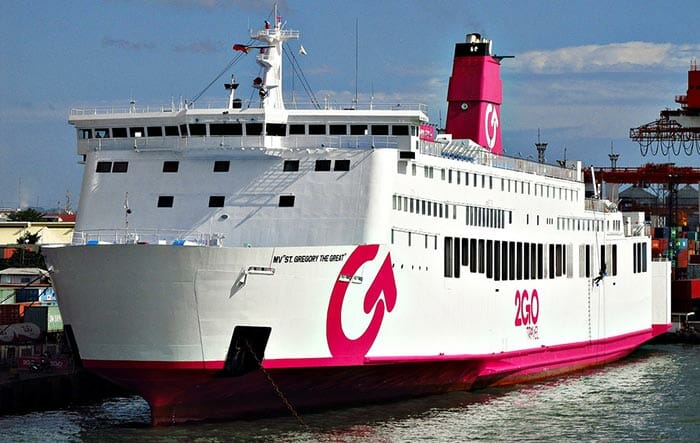 Whether you choose to fly direct from Manila to El Nido, or via Puerto Princesa, you will still be saving yourself travel time over the ferry. Even so, taking a ferry is a feasible option if you're staying in the Philippines for a while and aren't in any mad rush to get to El Nido! It's perfect for the traveler who likes to take their time and is of the opinion that getting there is half the fun! Traveling by ferry from Manila to El Nido definitely gives you time to sit back and relax, take in the scenery and familiarize yourself with the local Filipinos who will be traveling on the ferry too!
Traveling by ferry from Manila to El Nido can be quite restrictive. There is no direct ferry from Manila to El Nido so you'll actually be taking two ferries: one from Manila to Coron and the second from Coron to El Nido. What with having to wait for the second ferry, you're looking at a total travel time of around 21 hours, so this will take an entire day and night out of your vacation. But, it's an experience!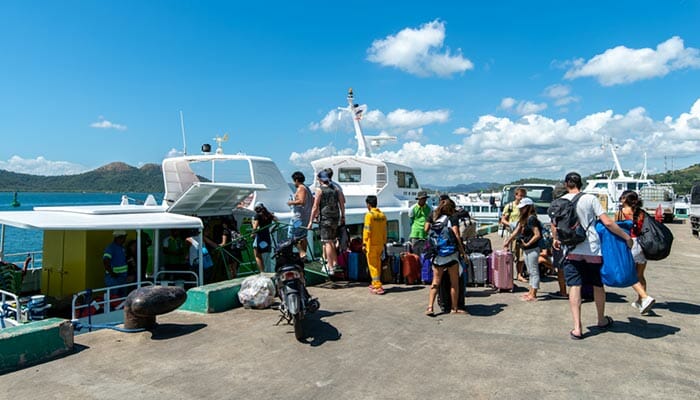 Ferries from Manila to Coron are operated by 2GO Travel who only travel this route on Fridays, so this again will restrict you. The good news is that there are a variety of ticket types available so you may have the chance to save yourself some money if you opt for one of the cheaper types of ferry accommodation. These range from Super Value Class up to Business Class. The ferry from Coron Port to El Nido Ferry Terminal is operated by Montenegro Lines and this is a high-speed ferry that takes about 4 hours to make this trip. The good news is that you can buy both ferry tickets together on the travel booking website, 12Go, making it easy and stress-free to buy tickets.
Unless you want a long and drawn out journey, catching a flight from Manila to El Nido is probably the best way to go, but, if you have the time to spare and are happy to travel on a Friday, catching a ferry from Manila to El Nido is a far more adventurous way to go!
Did you find this guide useful?
Click on a star to rate it!
Average rating: / 5. Vote count: