If you're visiting the Philippines and want to see some of the best bits of this interesting country, you'll probably be starting in Manila, the capital. Rich in colonial influences, this huge and bustling city could keep you occupied for weeks but if you want to head out of the city, where should you go? One of the most popular tourist destinations within easy reach of Manila is the province of Batangas. Here you'll find great beaches and places to go diving, as well as unique scenery such as the Taal Volcano and the nearby Taal Heritage town. With its combinaton of beaches, small islands, scenery and culture, it's not surprising that Batangas is such a popular place.
Read about:
• Manila to Batangas by Bus
• Manila to Batangas by Taxi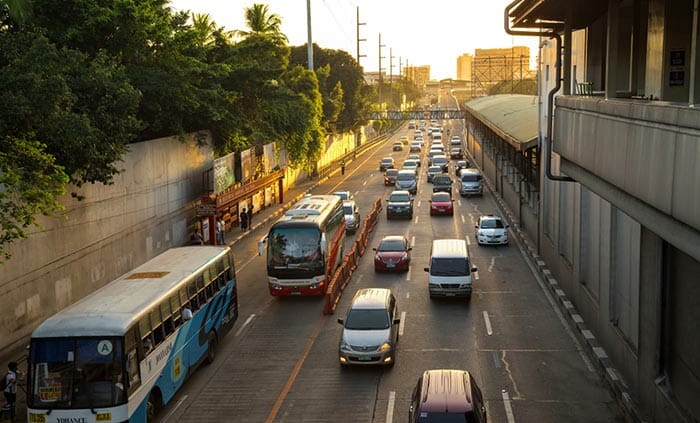 Options for Travel from Manila to Batangas
The Province of Batangas is not far from Metro Manila at all, so you could reach the edge of the province in quite a short time. You'll probably be heading to Batangas City itself though, which is further south, and set on the coast as this is a very important port city, so if we take the distance from the heart of Manila to Batangas City, it's about 110 kilometers (69 miles). Wherever in Batangas you're planning to go, it's really not far from Manila. Buses and taxis are the two most common ways to travel from Manila to Batangas. Buses have the advantage of being the cheapest, while taxis are much faster, but we'll give you all the details on both options.
Manila to Batangas by Bus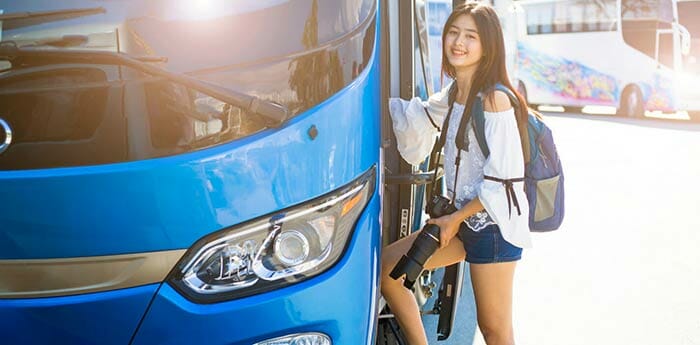 The cheapest option for traveling between Manila to Batangas is always appealing, especially if you're trying to save some money, and going by bus is easily the cheapest when compared to taxis. Having said, this, if you're accustomed to traveling by bus in other Southeast Asian countries, the prices for bus travel in the Philippines may surprise you. Buses are fairly standard in style and facilities, meaning you're not paying extra for ultra-luxurious seats, it's just more expensive to travel around the Philippines than it is somewhere like Thailand, for example.
So, with that out of the way, why would you choose to travel by bus from Manila to Batangas? Well, despite it being more expensive than other countries, traveling by bus is still a lot cheaper than the alternative, so you will be saving yourself some money. Depending on where in Manila you're starting from, and where in Batangas you're heading to, the bus ride should take somewhere around 2.5 hours. So, although the buses are not brimming with creature comforts, for a journey of only around 2.5 hours they are perfectly comfortable enough.
You can book tickets with a private bus company through the travel website 12Go.asia. They sell tickets for travel with Pintados, and they have one departure per day from Manila to Batangas. The bus leaves at 10am from EDSA Cubao, a major transport terminal on the eastern edges of Manila City, and arrives in the City of Tanauan at 12:30pm. Tanauan is a good place to stop because it's very close to Taal Lake and Volcano, so it's a central spot for exploring these parts of Batangas.
This bus is convenient because it's a direct service, but if you wanted more options that will also save you money, look into public bus services. These will not be direct right from Manila – you'll instead have to catch a train first to Gil Puyat LRT, then transfer to the Jam Liner Buendia Bus Terminal and catch a bus from there. This will take you all the way to Batangas City itself, although you could always choose to get off earlier than this.
Manila to Batangas by Taxi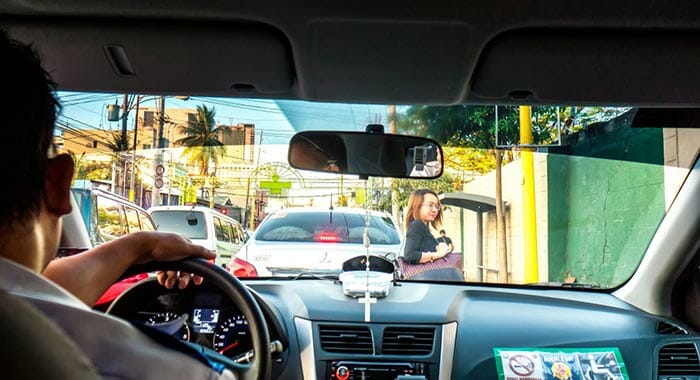 We know that taxis are going to cost a lot more than the buses, but if you want the advantages of speed and convenience, taxis are way more convenient than buses are. The biggest advantage with a taxi over a bus, is that it can be a door-to-door service. You can be picked up from wherever you are in Manila, and dropped right at the door to your hotel in Batangas, or anywhere else in Batangas that you want to go.
Timing also makes taxis a far more convenient way to travel from Manila to Batangas as you can also choose exactly what time you want to leave Manila, allowing you to work around other plans rather than being forced to take a bus that only leaves once per day.
You can book private taxis through 12Go, so when you search for options for travel from Manila to Batangas, you'll see results for both taxi and bus services, allowing you to compare the two. You could book a taxi for pickup from Manila's airport or from a hotel in the city, and you can be dropped off in Batangas City, or somewhere along the way, if you prefer.
Book your private taxi from Manila to Batangas with the taxi company Anis Trans Service, through 12Go. You have a couple of vehicle options with them. Choose an Economy taxi if there's just two of you traveling, but if you have up to 9 passengers then a 9-passenger van is a great idea. Relationally-speaking, they don't cost that much more than an Economy taxi and you are dividing the cost between more people which makes it cheaper for everyone.
Going by taxi should save you a little travel time as well, depending on where you're being picked up and dropped off, as the journey from Manila to Batangas should be between 2 to 2.5 hours. Of course, you'll also be saving yourself the time it takes to get to and from the bus stop to catch the bus, so going by taxi really can save you a lot of time and hassle. Your choice really comes down to cost as the bus is cheaper, but if you can get a group of people together, or you're traveling with friends or family, hiring a larger taxi van could actually end up saving you money over the cost of individual bus tickets anyway.
Did you find this guide useful?
Click on a star to rate it!
Average rating: / 5. Vote count: