As the capital city of the Philippines, Manila is the ideal place to start a visit to this amazing country that consists of over 7000 islands. The most densely populated city in the world, Manila is certainly a bustling place with plenty to see and do, from its colonial history and architecture, to its modern-day skyscrapers and shopping malls, Manila is the perfect introduction to the great diversity found right across the Philippines. From here you have many choices for your next destination, one of the most popular being Dumaguete. A far smaller and relaxed pace of life can be found in this coastal city where there are wonderful beach resorts, dive sites, and a variety of historic buildings to enjoy, plus places like Apo Island marine reserve and Twin Lakes Natural Park are both close by, providing many different activities or a place to just sit back and relax.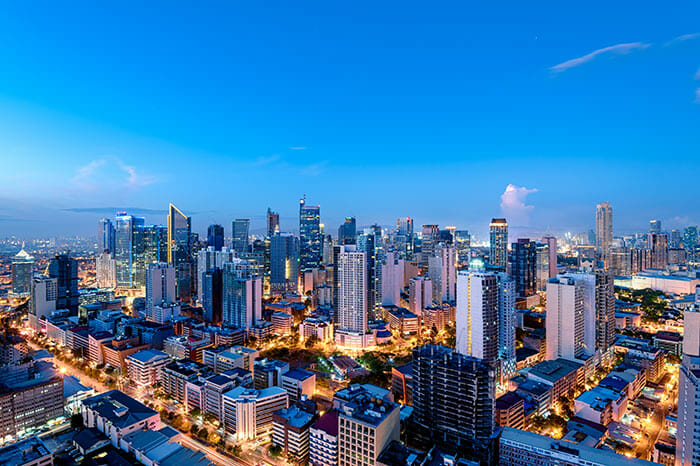 Options for Travel from Manila to Dumaguete
When traveling around the Philippines it's inevitable that you're going to be crossing plenty of stretches of water to get from place to place, with over 7000 islands making up the country. Traveling from Manila to Dumaguete is no exception, with a number of different islands standing between these two destinations. So, with water crossings involved, you'll have to either catch a ferry or take to the air and get a flight from Manila to Dumaguete. Flying has many advantages, largely because of the speed and ease of travel; when flying, the distance is around 620 kilometers (387 miles) as you can travel roughly in a straight line. Going by ferry is different, as the route will wind its way around and between islands. A third option is to drive, if you want a real adventure, driving across islands and then catching ferries to bridge the gaps, but, this does add a lot of distance and time to the trip so it is not something we would readily recommend.
Flights from Manila to Dumaguete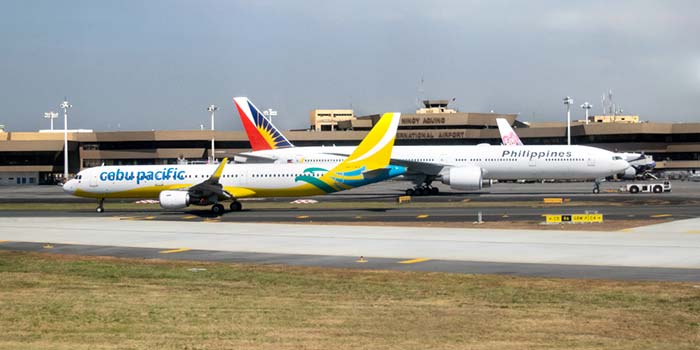 Flying from Manila to Dumaguete has many advantages. It is fast, convenient, and relatively affordable when compared to the price of a ferry ticket. Catching a flight is easily the quickest way to get from Manila to Dumaguete with flights scheduled to take somewhere between one hour 15 minutes, to one hour 40 minutes. Of course, you always need to bear in mind the additional time that flying takes, over and above the actual flight time – you will need to make your way to Manila's airport, the Ninoy Aquino International Airport first, allowing plenty of time to get there. Then add on the time it will take you to check-in and go through security, then waiting to board. This will add a few hours to your trip.
Once you arrive in Dumaguete, you'll be at the Sibulan Airport. This is the official name of the airport although it's often known just as Dumaguete Airport, or Dumaguete-Sibulan Airport, so don't get confused between the different names! The airport is just to the north of the city center, so it's just a quick drive into the city from there and this should not add too much time to your journey. Overall though, you should probably account for a flight from Manila to Dumaguete, and all the other legs of the journey, taking somewhere around 4 to 5 hours in total.
There are two airlines who offer direct flights from Manila to Dumaguete: Cebu Pacific and Philippine Airlines. Both airlines have several flights per day so finding a flight with either one of these airlines should not be difficult. Prices are fairly comparable between the two, with the most variation depending on the time of day you fly, and also on what day of the week you fly. Weekends will tend to be more expensive, as will flights during the middle of the day, so try to get an early morning or later afternoon flight to save some money. Also be sure to book your flight from Manila to Dumaguete as soon as you can because the closer to the ate of departure, the more expensive it will be. You can compare the schedules and prices on the travel booking website 12Go.asia. Through their website you can book tickets with both airlines and get instant confirmation.
Manila to Dumaguete by Ferry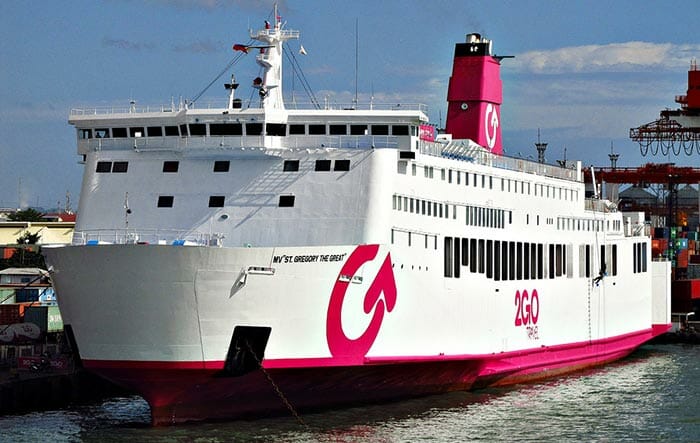 While flying will get you from Manila to Dumaguete in the quickest time, catching a ferry is far more of an experience! With so many islands in the Philippines, ferries are very much a part of everyday life for anyone who wants to travel around, local or tourist. Many locals will take the ferries because they can get much cheaper tickets on a ferry than they can on a flight. The potential cost saving is one of the advantages of taking a ferry from Manila to Dumaguete, but this does depend on what class of ticket you buy; obviously the cheaper the ticket, the less fancy your 'accommodation' will be!
A direct ferry from Manila to Dumaguete is available with the travel company, 2GO. Not to be confused with 12Go, 2GO operates numerous ferry routes around the Philippines, and tickets for their ferries can be booked online, like with the flights, through 12Go. The benefit of booking through 12Go is that you can easily compare ferry ticket options alongside flights, and read actual customer reviews to see what other passengers thought of their experience.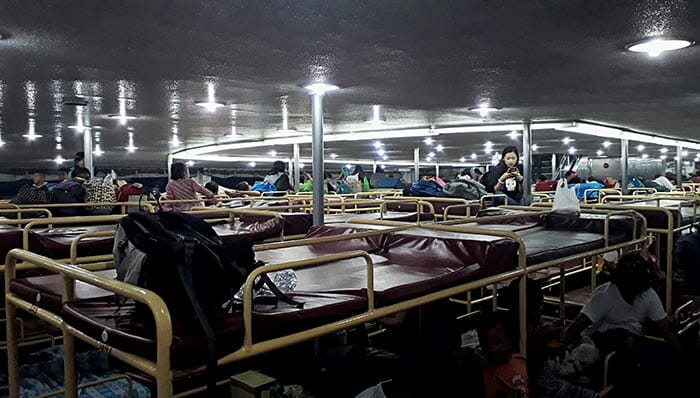 The ferry takes about 26 hours to travel from Manila to Dumaguete, leaving Manila North Harbor Pier 4 and arriving at Dumaguete Port. Carefully consider the different ticket options depending on your circumstances and what level of comfort you would like as classes vary from Super Value Class where you will have a bunk in a large room with as many as several hundred other passengers, to the more luxurious and private berths such as a Cabin for 4, ideal for a family traveling together. Obviously Super Value Class is the cheapest if you're looking to save money, but there's no privacy whatsoever.
Ferries are well equipped with places to eat, shops and some entertainment, and although it takes a long time to travel from Manila to Dumaguete, going by ferry can be a fun experience and allows you to see plenty of beautiful scenery along the way. This is something you don't really get to enjoy when flying, but, flying gets you to Dumaguete fast so is especially beneficial if you don't have a lot of time to spare.
How useful was this post?
Click on a star to rate it!
Average rating / 5. Vote count: