The capital of the Philippines, and one of the most densely populated cities in the world, Manila is busy yet highly interesting city to visit. Set on Manila Bay, the city is full of great contrasting architecture with its colonial Spanish alongside modern skyscrapers providing churches, forts, parks and plenty more to explore. There's no doubting that Manila is an incredibly busy city so when the vast numbers of people become too much, escape the city to a place of solitude and peace, like the island of Coron. Famed for its diving, lovely beaches and beautiful scenery, Coron is the perfect place to spend some time unwinding after the big city.
Read about:
• Flights from Manila to Coron
• From Manila to Coron by Ferry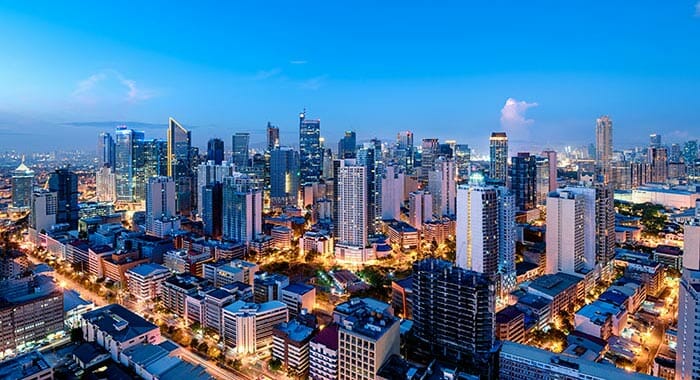 Options for Travel from Manila to Coron
The distance from Manila to Coron is long, and when you add in the natural geography of the Philippines, it's even longer as there are so many islands everywhere! You cannot get to Coron by land alone, being an island itself, so you could take a bus and a ferry to get there. Traveling via land and sea it's a distance of about 440 kilometers (275 miles) and is a very lengthy journey. A far faster way to travel is to catch a flight, and with an airport on Coron, taking the trip by air is very convenient too. Catching a ferry direct from Manila to Coron is also convenient, but again, takes a long time.
Flights from Manila to Coron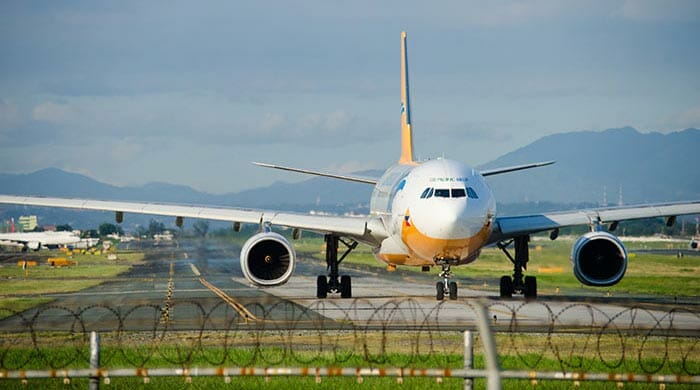 The main reason why you may like to seriously consider catching a flight from Manila to Coron is the speed at which an airplane gets you there. If you're in the Philippines only for a short period of time you're going to want to make the most of the time you have available, and potentially spending an entire day and night traveling from Manila to Coron wouldn't be the best use of your time. By catching a flight, you could potentially be relaxing on the beach in the early afternoon!
There are three airlines to choose from: Air Juan, Cebgo, and Sky Jet so between them you should be able to choose from several different flights every day. This means it's easy to get a flight to fit in with your current schedule – a potential problem when traveling by ferry because of the restricted timetable.
From Manila, flights depart from the Ninoy Aquino International Airport. It was formerly known as – and is still commonly known as – the Manila International Airport. There are connections from the city to the airport but with traffic always being busy, you should allow yourself ample time to get there.
At the Coron end you'll be arriving into the Francisco B. Reyes Airport (formerly called Busuanga Airport). It is far quieter and less busy here than Manila airport, so you'll already get a sense of relaxation when you arrive!
The major drawback with flying from Manila to Coron is the cost. Flying in the Philippines is not as cheap as in some countries, so the cost of the air ticket may come as a shock. But, when you consider the large amount of time you will be saving, and the opportunity to forego a length ferry ride, you may come to the conclusion that flying is worth the extra expense. Flight tickets can be booked through a travel agent, or try the reputable tour company 12Go.asia.
From Manila to Coron by Ferry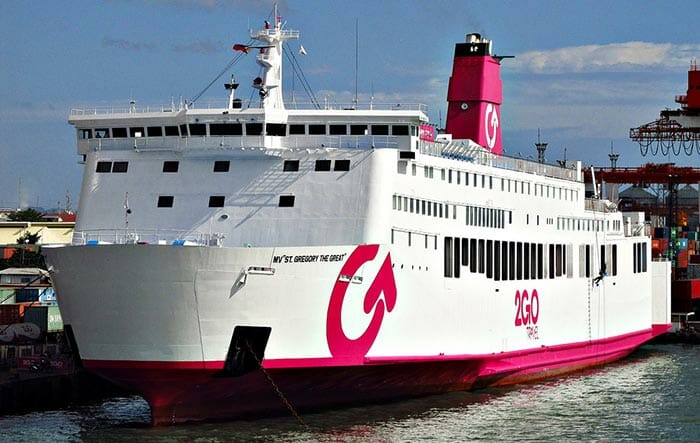 If you look at a map showing the route from Manila to Coron, you could take some of the trip by land and then take a series of ferries across the islands to get you to Coron. This could potentially be fun for the independent traveler but it would be very time consuming and could be problematic trying to figure out when and where the ferries leave from. Luckily there is a more direct route that makes this journey convenient, more affordable, and just as much fun, if you don't mind traveling across the water!
One of the largest land and sea travel service providers in the Philippines is a company called 2GO, so they have a very good reputation. They provide a direct ferry service from Manila to Coron, departing from North Harbor Pier 4 at 7pm, right near the heart of Manila, making it easy to get to if you're already staying in the center of Manila. From here, you'll travel by ferry to Coron Pier, arriving at 6am the next day, so it takes 11 hours.
The biggest problem with traveling by ferry from Manila to Coron is that currently they only operate one service per week and that is on a Friday, so fitting this around your own schedule may be difficult compared to the flexibility of flying. And with only one ferry per week, the sailings can get booked up quickly so be sure to book your tickets as far in advance as you can.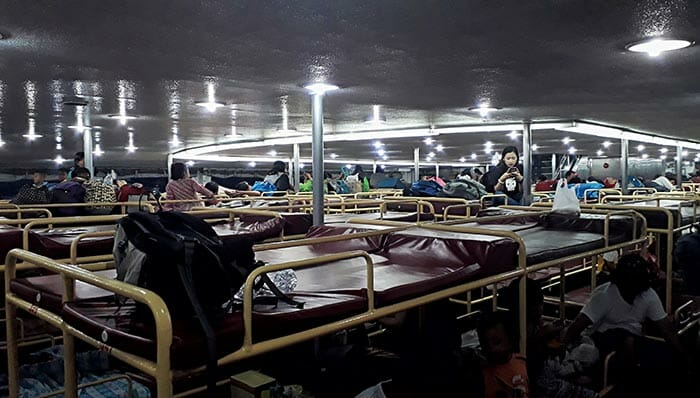 Traveling by ferry can be a fun experience though, so if you do have the time to spare, and the schedule fits in with your existing timetable, do consider traveling this way. The ferry with 2GO has many different accommodation options, so it can suit multiple budgets. If you're trying to keep to a tight budget the cheapest option is Super Value Class, followed by Mega Value Class, Tourist Class, Business Class for 6, Cabin for 4, and finally the most expensive is a Stateroom for 2. Super Value and Mega Value provide the same sleeping accommodation – bunks within a large room, sharing with multiple other people, except that Mega Value has air conditioning while Super Value does not.
Tourist Class gives you a bit more privacy as the rooms are smaller but you'll still be sharing, so if you just want to be with your own family or friends, choose a cabin or stateroom. You may be sleeping for much of the 11 hour journey, but if not, there are facilities onboard including places to eat, a small convenience store, and sometimes and spa and a hair salon.
If you're someone who likes to take things slow while potentially saving yourself some money, the ferry from Manila to Coron is a great idea. But, if you're in a hurry and want to get to Coron as fast as possible, catching a flight from Manila to Coron is the more sensible option.
Did you find this guide useful?
Click on a star to rate it!
Average rating: / 5. Vote count: