Thailand's Koh Tao is a tropical paradise filled with palm-lined beaches, coral reefs and great diving opportunities. With a quieter side to this island, Koh Tao is a perfect destination for families and couples but if its nightlife you want, there's no shortage and places to eat and drink too. After diving your days away, why not head to another of Thailand's top island destinations, Koh Phi Phi? The scenery is quite different here, characterized by limestone cliffs and gorgeous beaches set in sheltered bays. You can enjoy diving and snorkeling here too, or party the night away on one of its soft sand beaches, or just come for a relaxing time in paradise!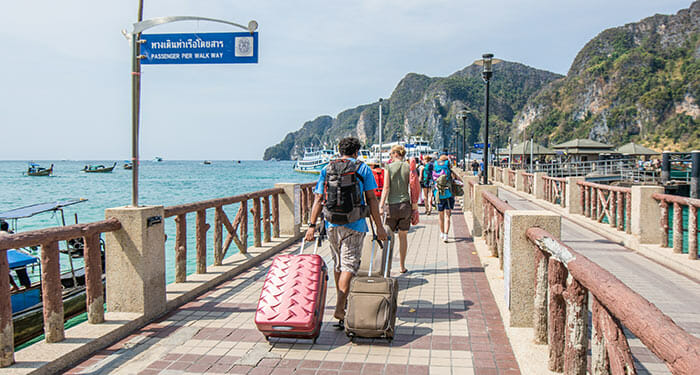 Options for Travel from Koh Tao to Koh Phi Phi
With Koh Tao situated in the Gulf of Thailand and Koh Phi Phi set on the other side of the Malay Peninsula, in the Andaman Sea, you're going to have to cross several stretches of water to get from one island to the other. As both Koh Tao and Koh Phi Phi are small islands, neither of them has an airport so you won't be able to just hop on a plane and catch a flight from Koh Tao to Koh Phi Phi. You could get a ferry back to Koh Samui and fly from there, but that flight would only get you as far as Krabi and then you'd need to catch another ferry to Koh Phi Phi. While this is possible, it's a long journey and will cost substantially more than it would to catch a ferry and bus, and it's unlikely to save you much time.
Koh Tao to Koh Phi Phi by Ferry and Bus

Although it's going to be a long journey, getting from Koh Tao to Koh Phi Phi by ferry and bus is the most convenient, popular, and affordable way to get from one island to the other. Tourists make this trip all the time, so you'll have plenty of travel companions to hang out with along the way, and maybe pick up some tips on places to stay or things to do!
You'll need to allow an entire day for getting from Koh Tao to Koh Phi Phi as the trip takes somewhere between 10 and 10.5 hours and involves an early start. The two major companies offering services on this route – Seatran Discovery and Lomprayah – both have a very good reputation for safety and reliability, and they charge the same so there's no difference in price. Their services are very comparable too and, to make life even easier you can book tickets for both of these through the travel website 12Go.asia. Booking online is very easy and you can book your tickets a long way in advance, if you like to be prepared! We would recommend advance booking as much as possible because ferries can get booked up if you leave it too late.
The good thing is that by booking through 12Go you get instant booking confirmation and there are also options for refunds, should your plans change nearer the date of departure.

With Seatran Discovery you'll depart from Koh Tao at 6:30am on the ferry. There are two transfers along the way – the first is onto a bus that will take you across the Malay Peninsula to the western coast, and once here you'll get on another ferry to go to Ton Sai Pier on Koh Phi Phi. The entire journey takes about 10 hours with Seatran.
With Lomprayah, you'll be leaving Koh Tao even earlier. Their ferry departs at 6am and once on dry land you'll transfer to a van for the drive, before getting on the final ferry to Koh Phi Phi. With Lomprayah, their schedule suggest that it ill take a total of 10.5 hours to get from Koh Tao to Koh Phi Phi.
You should remember that these travel companies always like you to arrive earlier than the scheduled departure time, usually 30 minutes, so do bear this in mind as you'll need to be out of bed even earlier!
Traveling by ferry in Thailand is a very popular way to get around and the ferries are usually very reliable on routes such as Koh Tao to Koh Phi Phi. With Seatran and Lomprayah, booking through 12Go, all connections are guaranteed so this gives you extra peace of mind as you don't have to worry about being delayed somewhere and missing a connection. The combined tickets that you buy cover all legs of the journey, so it also saves you the hassle of having to buy separate tickets and figuring out when and where to buy them. Book online and you can compare both companies before deciding which one to book.
Did you find this guide useful?
Click on a star to rate it!
Average rating: / 5. Vote count: