Island hopping is one of the best ways to see plenty of Thailand's amazing beaches and scenery but with over 1400 islands to choose from, which ones should you visit? Well, two of the best are Koh Phangan and Koh Phi Phi. They're set on either sides of the Malay Peninsula so, strictly speaking it's not just a simple hop to get from one to the other, but they both have something unique to offer: Koh Phangan is famous as the home of the Full Moon Party and features lively bars and beaches with beachside bungalows. Koh Phi Phi's varied landscape with limestone karsts is what this island and its sisters are famous for, along with their gorgeous beaches and clear waters.
Read about:
• Flight from Koh Phangan to Koh Phi Phi
• Koh Phangan to Koh Phi Phi by Ferry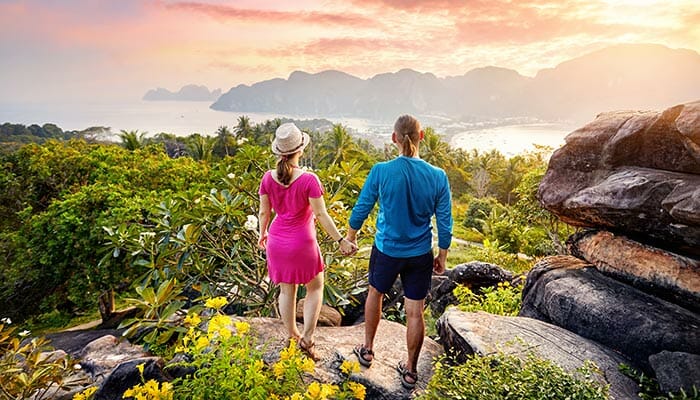 Options for Travel from Koh Phangan to Koh Phi Phi
As these two islands are separated by the Malay Peninsula, getting from one to the other seems at first to be complicated. You can't just hop on a ferry and cross a small stretch of water as there's water, land, and water again to cross. Catching a flight would be the most sensible way to go if there were airports on both Koh Phangan and Koh Phi Phi, but unfortunately neither island has its own airport. Despite this, flying is an option if that's what you prefer, and we'll give you the details for flying and for taking buses and ferries below.
Flight from Koh Phangan to Koh Phi Phi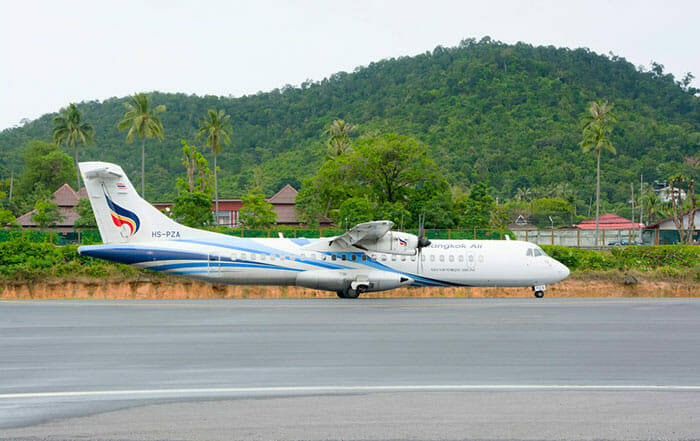 As we said, you can fly from Koh Phangan to Koh Phi Phi, but we wouldn't exactly recommend it because it's not going to save you a significant amount of time, and it's definitely going to cost you more money! Regardless of that, it is an option.
First, you will need to take a ferry across to the island of Koh Samui and then head to Samui International Airport. Luckily, the airport is very close to the Big Buddha Pier, where ferries arrive from Koh Phangan, so it's just a short walk.
Next you'll need to catch a flight to Krabi. There is one direct flight per day from Koh Samui to Krabi, with Bangkok Airways and the flight takes less than an hour. The problem with this is that you'll need to time your ferry from Koh Phangan well, or you'll end up having to stay an extra night on Koh Samui as the flight departs at 12:20pm and you will of course have to be there an hour or so before that. The other problem is the cost; with just one airline, they have no competition and hence prices are high.
After arriving at Krabi Airport you'll have to make your way to the pier for a ferry to Koh Phi Phi. There are several options for this, and you can buy combined tickets for an airport pickup and the ferry from the travel website 12Go.asia. The final leg of this epic trip is the ferry itself, which takes about 90 minutes to get to Koh Phi Phi. But, once you add up all the time for the traveling plus the time in the airport and waiting for connections, and then think about the cost, you can see why we wouldn't recommend traveling by flight from Koh Phangan to Koh Phi Phi!
Koh Phangan to Koh Phi Phi by Ferry

Although it feels as though traveling by ferry and bus from Koh Phangan to Koh Phi Phi takes a long time, it's really no longer than the flight option above. The best thing about taking a ferry and a bus or a van from Koh Phangan to Koh Phi Phi is that you can buy combined tickets that cover the entire journey. Not only can this save you money, but it saves you time and stress too. Buying a combined ticket with one of the travel companies means that your connections should all be guaranteed, so if something were to delay the bus on its route across the Malay Peninsula, you will be guaranteed a ferry ride to Koh Phi Phi even if it wasn't the ferry you were planning to get. These 'connections guaranteed' options are great for peace of mind, and you can buy combined tickets with instant confirmation and refund options through the travel website 12Go.
The total journey time from Koh Phangan to Koh Phi Phi is going to be somewhere between 8 and 9.5 hours, so it does take an entire day to make the trip, but you're going to be treated to some great scenery along the way. The ferry rides are relaxing, whether you choose to sit on the sundeck or inside, and there are facilities onboard, so it's a chance to just sit back and enjoy the scenery.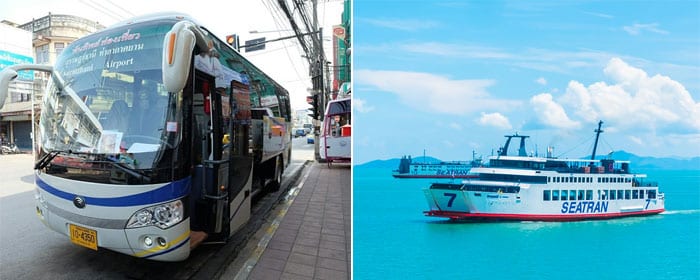 Taking the bus and ferry from Koh Phangan to Koh Phi Phi is affordable and easy with these combined tickets, and there are five different travel companies who operate this route, giving you plenty of options and a slight variety in prices. The companies to consider are Lomprayah, Phantip, Raja Ferry, Seatran Discovery, and Songserm, and all tickets are for departure from Thong Sala Pier on Koh Phangan, arriving at Ton Sai Pier on Koh Phi Phi.
Generally, Phantip offers the cheapest prices for Koh Phangan to Koh Phi Phi while Lomprayah tend to be the most expensive. All of these companies are reputable, but if you want a higher level of service and to travel on newer vans, buses and ferries, then Lomprayah is a good one to go for.
While traveling from Koh Phangan to Koh Phi Phi takes an entire day, it's an experience not to be missed. The scenery you'll see along the way makes the journey worthwhile and with your connections guaranteed by bus and ferry, you can sit back, relax and enjoy the ride!
Did you find this guide useful?
Click on a star to rate it!
Average rating: / 5. Vote count: