With so many gorgeous islands dotted all around the coast of Thailand, choosing only a few is a challenge. The Phi Phi islands rise to that challenge with their scenery that can only be described as stunning. They have pristine beaches, limestone karsts, nightlife (if you want it), and quiet places to relax if that's what you prefer. Getting to Koh Phi Phi is easier than it used to be. Now with regular ferries from Ao Nang, on the mainland. Ao Nang is also worth spending some time in if you enjoy the beach life. From here, longtail boats cruise the waters to other islands. Or stay here and make the most of the restaurants, bars, and shops that line the main street in this small coastal resort town.
Read about:
• Ao Nang to Koh Phi Phi by Ferry
• Ao Nang to Koh Phi Phi by Ferry with Bus or Taxi Pickup
• Traveling during the rainy-season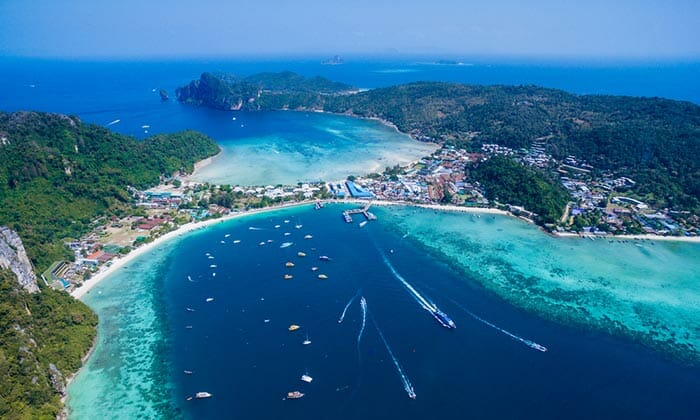 Options for Travel from Ao Nang to Koh Phi Phi
Going direct from Ao Nang to Koh Phi Phi the distance is about 34 kilometers (21 miles), not far at all. With no airports at either Ao Nang or Koh Phi Phi flying is not an option. As Koh Phi Phi is an island, this leaves just one travel option for getting between these two places: going by boat. Many different ferry companies go the route from Ao Nang to Koh Phi Phi, so you shouldn't be short on choices trying to find a ferry. The Competition between the different operators helps to keep prices a little lower than they might otherwise be. Most departures go from the Ao Nang area, rather than from central Ao Nang. So look at the different options carefully, depending on where in Ao Nang you are staying.
Ao Nang to Koh Phi Phi by Ferry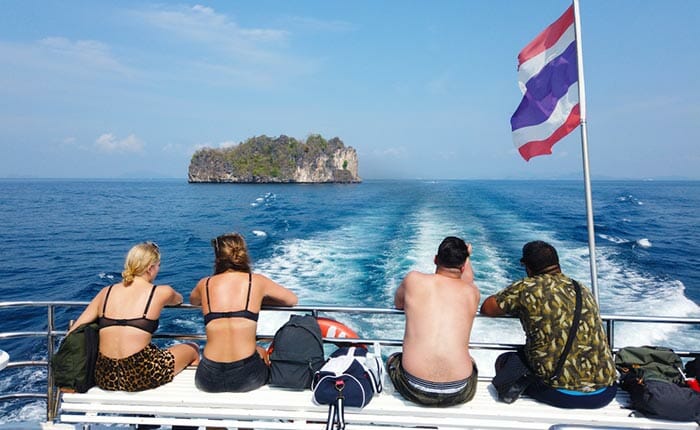 Book ferry tickets for travel from Ao Nang to Koh Phi Phi with the main ferry companies through the travel website 12Go.asia. The advantage of booking on this website is that you can search for all the available ferries on the date you want to travel. You'll see a variety of options for different types of ferries. The ferries are definitely not all the same, so check the type if this matters to you (more on the ferry types below). You will also be able to compare the ferry schedules and prices. And you can book online and get instant confirmation which is great for peace of mind when you're traveling.
The cheapest tickets are for the ferries, rather than speedboats. And prices can vary depending on whether you want to be picked up from your hotel, or from a point somewhere in Ao Nang. You'll see some of the options for these types of tickets below. When booking, look carefully at the departure points. There are more departures from the Krabi Town area than there are from Ao Nang. Make sure you're booking the correct ferry according to where you are starting your journey.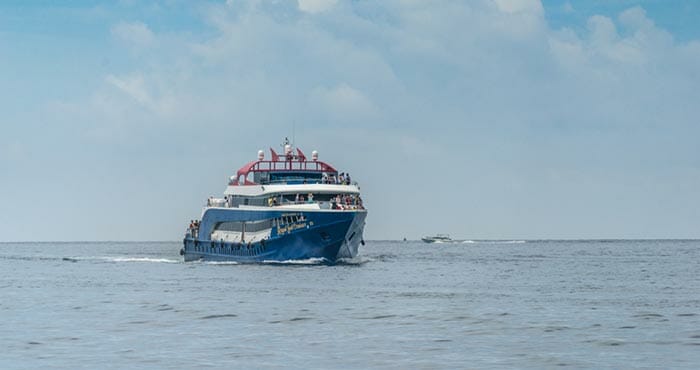 If you want to go to Koh Phi Phi directly from Ao Nang itself, you'll need to get a ferry from the Noppharat Thara Pier. From there it is a daily service with Ao Nang Princess Ferry, which takes around 2 hours, including a short stop near Railay Beach to pick up passengers there.
There are also ferries from Klong Jilad Pier, closer to Krabi Town. From here to Koh Phi Phi you can go with Andaman Wave Master, Songserm, and Chaokoh Travel Center, and these crossings take between 1.5 to 2 hours. Songserm operates a high-speed ferry, Andaman Wave Master has a Standard Class ferry, and Chaokoh uses a Local ferry.
Ao Nang to Koh Phi Phi by Ferry with Bus or Taxi Pickup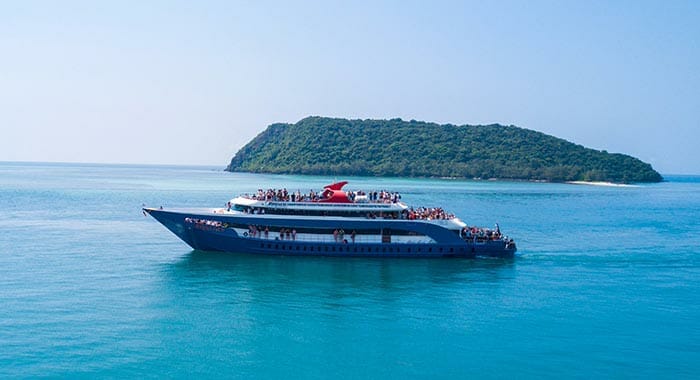 If you're staying in the Ao Nang area and want to get picked up from your hotel, save yourself the extra headache of getting to the ferry pier. You would be expecting hotel pickups to cost more, but the ticket prices are usually the same. The ferry company operates buses that pick up tourists from hotels as an additional incentive to book with them. It's a free added service to make life easier for customers!
Ferry company Songserm offers pick-ups from Ao Nang, Krabi Town, and Noppharat Thara Beach
Traveling during the rainy-season
While the ferries from Ao Nang to Koh Phi Phi generally run all year round, this is still dependent on the weather. If the sea is rough, ferry crossings are going to take longer as the ferries have to travel at slower speeds. If the sea conditions are very rough, ferries could be canceled altogether. You should also be aware that getting seasick is not uncommon when the conditions are bad. Bear this in mind especially if you're traveling outside of the peak season. The rainiest time for this region is between May and November, with the peak rainfall coming from August to October, which is the low season for travel. If you are coming to Thailand during that time, be sure to plan ahead as there could be cancellations on the ferries which could impact your travel plans.
How much is the ferry from Ao Nang to Phi Phi?
Songserm, Tigerline Travel, Andaman Wave Master, and Seatran Discovery are the ferry companies operating from Ao Nang to Phi Phi. Tickets start as low as 400 baht, up to 1,020 baht for a speedboat. If you book online through 12Go, you can add a hotel or beach transfer to your ticket for extra convenience and a little more cost.
How much does it cost to go to Phi Phi Island?
The cost depends on where you're coming from. Krabi and Phuket are two popular starting points. Prices for ferries from Phuket start around 450 baht, up to 1,500 baht for a speedboat. Prices are as low as 400 baht from Krabi, which includes high-speed ferries. You can find prices and buy tickets with all the ferry companies through 12Go.
Did you find this guide useful?
Click on a star to rate it!
Average rating: / 5. Vote count: